Mobile game development has been buzzing everywhere since smartphones are on the market. People spend more time online via mobile devices and, of course, they play mobile games more often. About 55% of all gamers are glued to their phones instead of PCs.
But any development needs a plan to be executed properly. You can start planning by yourself or find a mobile game development company in the USA. 
Either way, this article by RexSoft's gaming experts will help you get started on your new project and win the top spots in the play stores.
Where to start?
Mobile game development is often a time-consuming process so you have to be sure about your idea. Look up forecasts and other data that show the potential popularity of a game you want to create.
For example, if you'll start your way in gaming with puzzles, you will spend less and your game will be released quicker. Puzzles are the most popular mobile gaming genre second only to casinos, so they have a good chance of winning the audience's attention.
They are experiencing fast growth since 2019 and you can hop on this trend of mobile game development.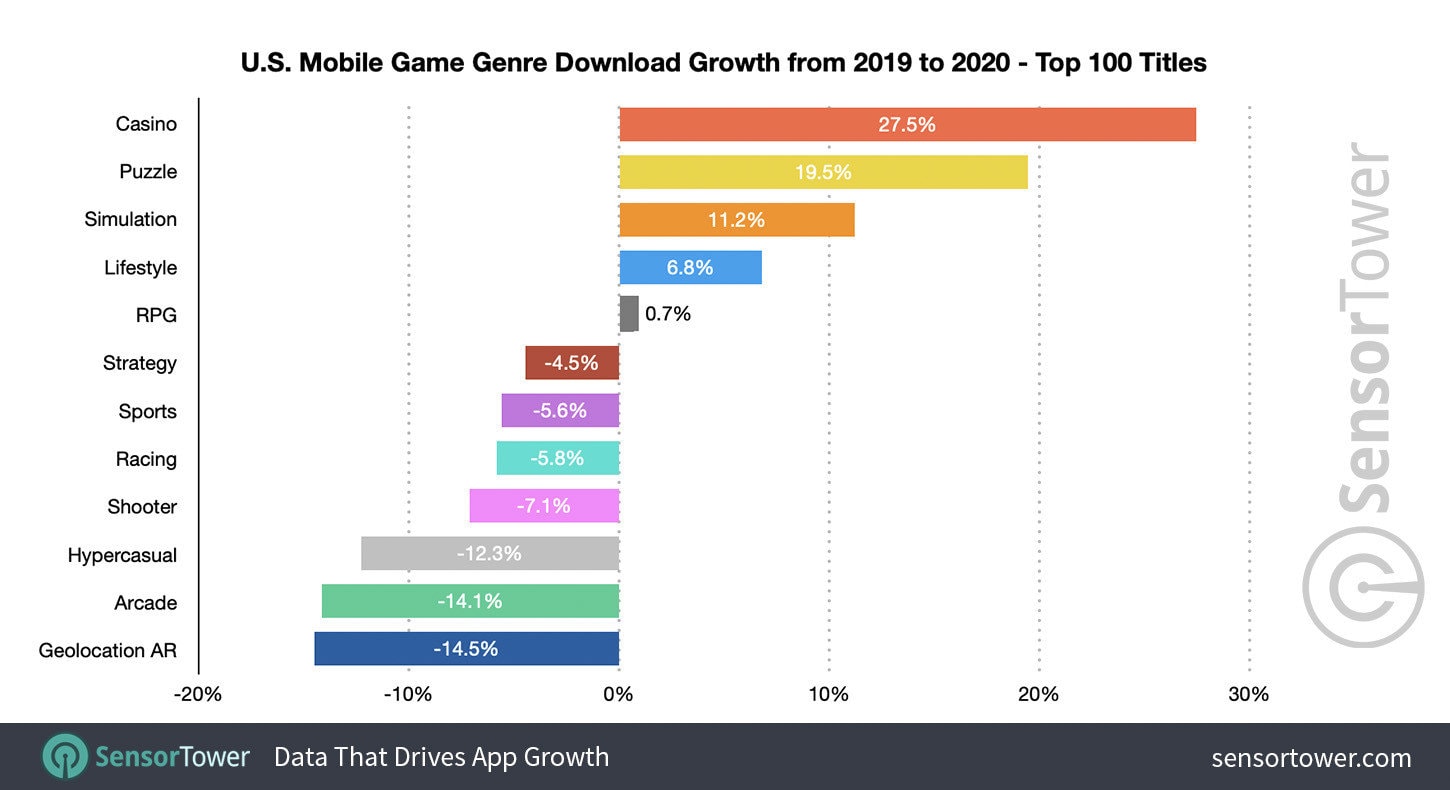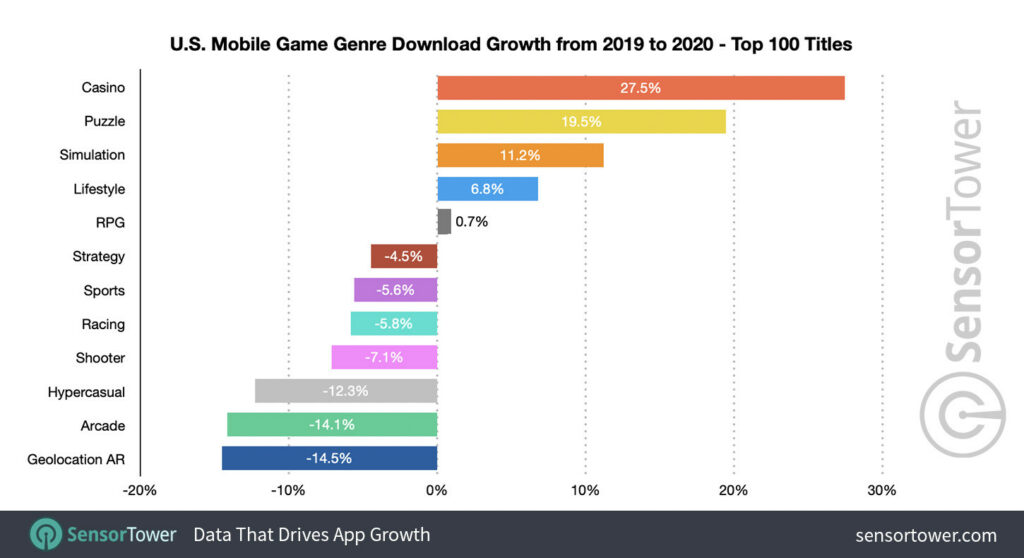 One more issue to pay attention to is the platform you decide to develop a mobile game for. Android is more popular and has more players to see and try out your game, so Android game development needs more time.
iOS game development might be quicker and bring you more return of investment (ROI). A relatively smaller iOS audience is a paradox; they download fewer apps compared to Android users but on average pay 2 times more for mobile games and other applications.
The next step you need to take is to decide on the software and find the best libraries for mobile game design. Whether you need colorful or minimalistic background, smooth animations or no animation at all; it doesn't really matter. The looks and feel of your game must be spot on if you want it to be addictive. For this, you can cooperate with a company that has full-cycle game development services and will be able to provide you with the best solution possible.
What happens next? 
So, you've developed your mobile game and now you're thinking whether it really works well or not? Start with quality assurance and check thoughtfully for any possible bugs or malfunctions. Even the slightest error can ruin the gaming experience for your user.
You can find beta-players if your mobile game is quite big and you need someone to assist you in finding malfunctions or trying how the game really feels.
If you'll cooperate with a mobile game development company, you could also have aid in terms of post-release support. This way if you have an online game, it may encounter any problems in functioning and the professional team of experts could help you nullify them.
Such a service can be extremely helpful when it comes to scaling and the big audience too since it will help your server leverage the load.
Talking about scaling, mobile game development can scale, and if you've developed your solution on one platform you'd probably need it for another one as well. Cooperating with a mobile game development company you could also look for a way to perform cross-platform development or create more levels for scaling of your mobile game. Then, all that will wait for you after your game is released is the transferring process from iOS to Android as well as an exciting process of new features development.
You could make your game more addictive by adding new characters, animations, storylines, design elements, or even locations to play in. It all depends on your mobile game's genre but you still can improve it each time you add more elements to the gameplay.
The only way to create something is to know what your audience wants and what you can give to them. There is no ultimate formula of success or any such thing, all you can really do with mobile development is analyze the data and trust your gut. Remember that any idea lives about six months and you have to make it on time. Your audience is waiting for the next hit in the play store so don't quit now!
And, one more thing. Work only with reliable game development companies. We're at RexSoft have more than 9 years of development under our belt and can help you by consulting, designing, developing, and supporting your software. As a mobile game development company from the USA, we're ready for any challenging task and will be happy to bring your ideas to life.
You have all it takes to succeed so contact us and let's start the mobile game development for you today!