By offering a dependable, scalable, and affordable IT platform, cloud computing has completely changed the healthcare sector. It lets healthcare providers to safely manage, store, and exchange data, promoting stakeholder engagement in real-time. Cloud computing in healthcare is expected to become increasingly important in the future of healthcare IT solutions as a result of the increased need for remote access to healthcare data and services.
Benefits of Cloud Computing in Healthcare IT Solutions
Cloud computing offers businesses and organizations an affordable, secure platform for keeping and sharing sensitive healthcare data. Such a breakthrough results in the emergence of a healthcare IT solution. The advantages of embracing this technology are multifarious:
Increased flexibility and scalability of IT infrastructure: Cloud computing in healthcare IT solutions enables providers to optimize their IT infrastructure according to their changing needs.
Improved accessibility to healthcare data and services: Cloud computing facilitates real-time information exchange among healthcare stakeholders.
Enhanced data security and privacy: Cloud computing enhances data security and privacy, allowing healthcare organizations to protect sensitive patient data from unauthorized access and breaches.
Types of Cloud Computing in Healthcare
Understanding the different types of cloud computing in healthcare is essential for organizations considering adopting cloud-based solutions. Each type has advantages, though there are also risks of cloud computing in healthcare that must be evaluated based on the specific needs and goals of the organization.
Public cloud computing: Healthcare organizations utilize shared computing resources, such as storage and applications, provided by third-party service providers over the internet. Public computing can offer cost-saving scalability without worrying about maintenance costs, though it's crucial to think about data privacy and security as multiple tenants may access data.
Private cloud computing: In private computing, healthcare organizations use computing resources that may be hosted on-premise or by third-party providers. Private computing can be helpful as it offers better control and customization; however, it may require significant investment, so it's essential to consider all options first.
Hybrid cloud computing: This type combines both public and private cloud computing, enabling healthcare organizations to leverage both benefits while maintaining control over sensitive data. Hybrid computing is beneficial as it balances security and accessibility, though it may require more complex management.
Challenges of Implementing Cloud Computing in Healthcare
One of the main challenges of cloud computing is ensuring data security and privacy, as healthcare data is highly sensitive and subject to strict regulations. Therefore, healthcare organizations must carefully evaluate cloud providers' security measures and compliance policies and ensure appropriate safeguards are in place to protect patient data.
Another challenge is interoperability, as healthcare IT systems must seamlessly exchange data with other systems to provide coordinated and effective care. Healthcare organizations must also address issues such as vendor lock-in, cost management, and staff training to implement cloud computing solutions successfully.
Regulations and Standards for Cloud Computing in Healthcare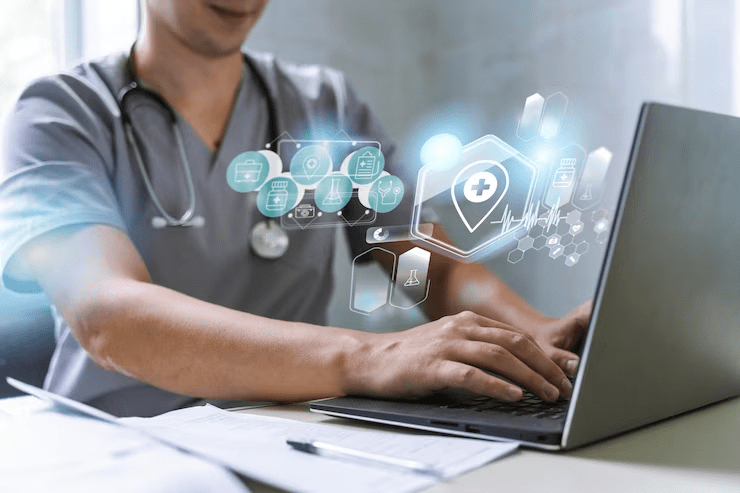 The General Data Protection Regulation (GDPR), the Health Insurance Portability and Accountability Act (HIPAA), and the Health Information Technology for Economic and Clinical Health Act (HITECH) are among the policies and regulations that must be adhered to for healthcare data to be considered compliant. Failure to comply with these regulations can result in significant consequences for healthcare organizations, including fines and legal action. Thus, it is crucial for healthcare organizations to prioritize compliance with these regulations in order to ensure the security and privacy of patients' sensitive information.
Healthcare organizations need to make sure the appropriate contracts and agreements with cloud providers are in place in order to ensure compliance and accountability. Cloud computing systems must also be continuously monitored and managed to fulfil regulatory and compliance needs over time.
Best Practices for Implementing Cloud Computing in Healthcare IT Solutions
Conduct a thorough risk assessment: identify and mitigate potential security and compliance risks, considering data sensitivity and regulatory requirements.
Choose a reliable cloud provider: a provider with experience and expertise in healthcare that can provide appropriate security controls and compliance certifications and verify that the provider is willing to sign a Business Associate Agreement (BAA) is usually the best option.
Ensure that data governance policies and procedures are in place: manage data access, use, and sharing in the cloud and that data is encrypted at rest and in transit.
Implement appropriate access controls: multi-factor authentication and role-based access are good controls that protect sensitive data and limit access to only authorized personnel.
In conclusion
The way healthcare companies store, handle, and exchange data might be completely transformed by cloud computing. Healthcare providers may enhance patient care, reorganize processes, and cut costs by making use of the advantages of various forms of cloud computing.
Although there are benefits to using cloud computing in healthcare, there are also drawbacks, such as security and compliance issues, which must be carefully handled via the use of proper risk assessments, data governance guidelines, access restrictions, and constant monitoring. Yet healthcare businesses may effectively use cloud computing solutions and benefit from this game-changing technology by adhering to best practices and legal requirements.