11 Best Home Inventory Apps for Android and iOS. Do you agree with the idea of creating home inventory? If it's a yes then you need the best home inventory apps that will help you achieve the goal. While some people believe it's not necessary to keep track of your belongings, others find it is useful to organize and calculate their assets.
Taking an inventory of what you own can be tedious whether you live in a small apartment or large house. That's why you need a home inventory app for easier and faster process. Which options are available out there? Scroll through to find the answer.
Best Home Inventory Apps for Android and iOS
In this article, you can know about Home Inventory Apps here are the details below;
There are few home inventory apps available on the market, providing a variety of features for convenient tracking. If you can't decide which tool to download, the following review will help you out.
1. Sortly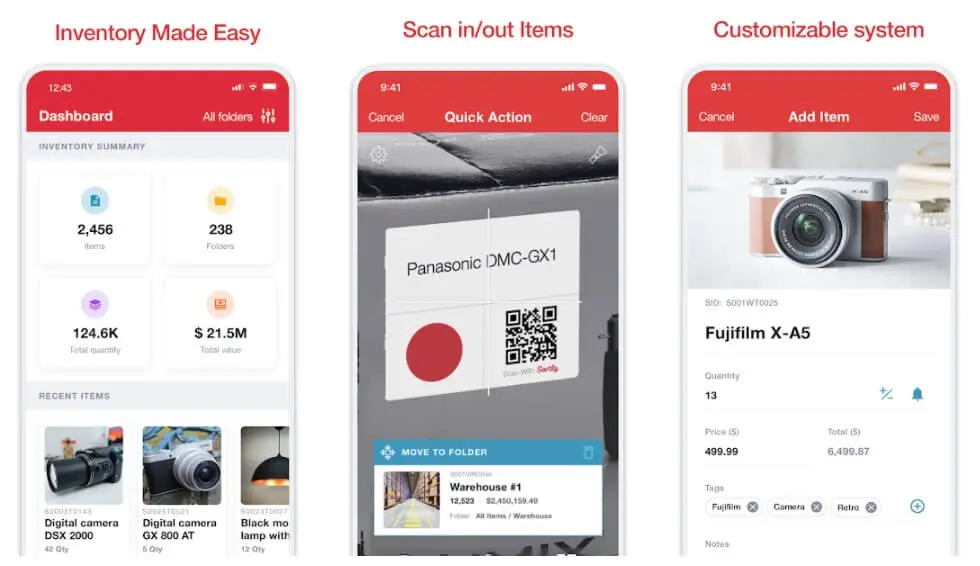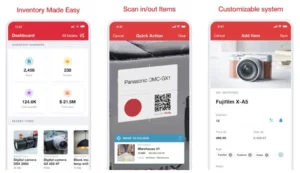 Sortly is a great inventory app for various purposes. Designed to simplify your tracking tasks, it offers a brilliant solution for inventory management. Easily track what you have and where it is on any devices, anywhere anytime.
Whether you want to use it for home environment or business, Sortly promises an easy management system that can be built in a matter of minutes. There are so multiple things to do with this app, such as scanning items, creating labels, and searching labels.
With your data stored in the cloud, it supports automatic data synchronization across devices. Simple visual is another key feature to find in this app, allowing you to add up to 8 images for each entry and group items by preferred categories.
What's great about Sortly is that it has the ability to recover lost data. It also supports offline mode that can be used when you're not connected to the internet.
2. HouseBook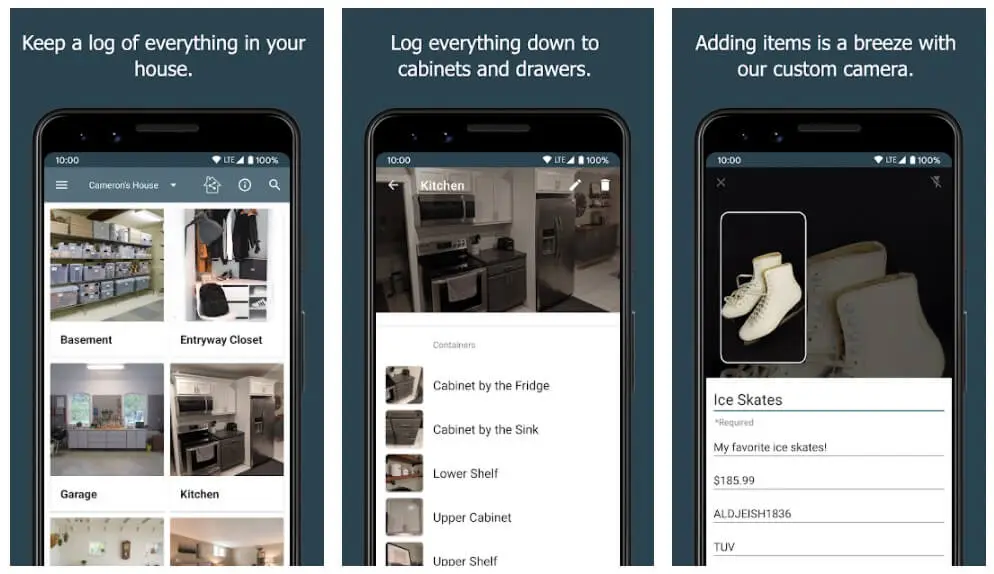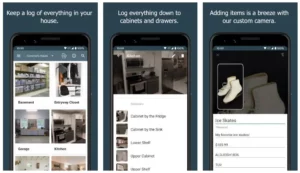 Tracking inventory in your house or business made simple with HouseBook. This is a great app that comes with a boast of simplicity, allowing faster and easier listing for your stuff. Once you input your inventory and take pictures, this app will remember anything.
One of the best things about HouseBook is that it stores your data on the cloud, making it possible to access from any devices. Even if your phone is lost or destroyed, your inventory is available for access. Not to mention it supports Google Assistant for easier search.
What's more, HouseBook has a sharing feature that enables you to share inventory with housemates. They can also add items if needed. It also supports link sharing just in case you want to show your inventory to other people.
Who is this for? HouseBook is ideal for anyone who want to keep track of their belongings. It also works well for individuals who run an AirBnB or business and need to share their inventory with the clients.
3. My Stuff Organizer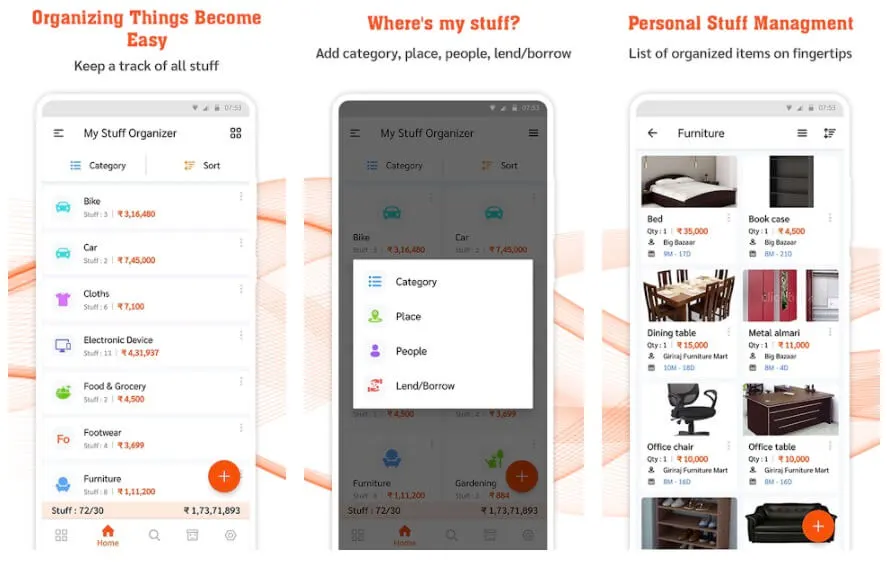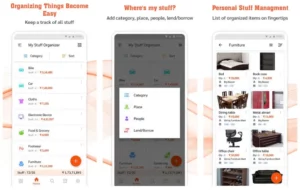 Delivering an awesome user interface, My Stuff Organizer is one of the best free home inventory apps for Android and iOS. This app is equipped with a set of easy to use tools to help you with the job of creating inventory in your home.
This app has dashboard menu where you can find all details about your inventory. There is also a tab bar for smooth and easy switch between features. Barcode scanner is also available to add barcodes of a product and create custom barcodes if you need it.
How to use My Stuff Organizer is completely easy. You will need to select a category and click + to add stuff. Add picture of the item and name it. You can also input detail information such as purchase date, warranty date, and cost of it.
Only with a few taps, keeping track of your stuff is so much easy. Using this app you can easily edit or Share stuff details with your housemates.
4. Encircle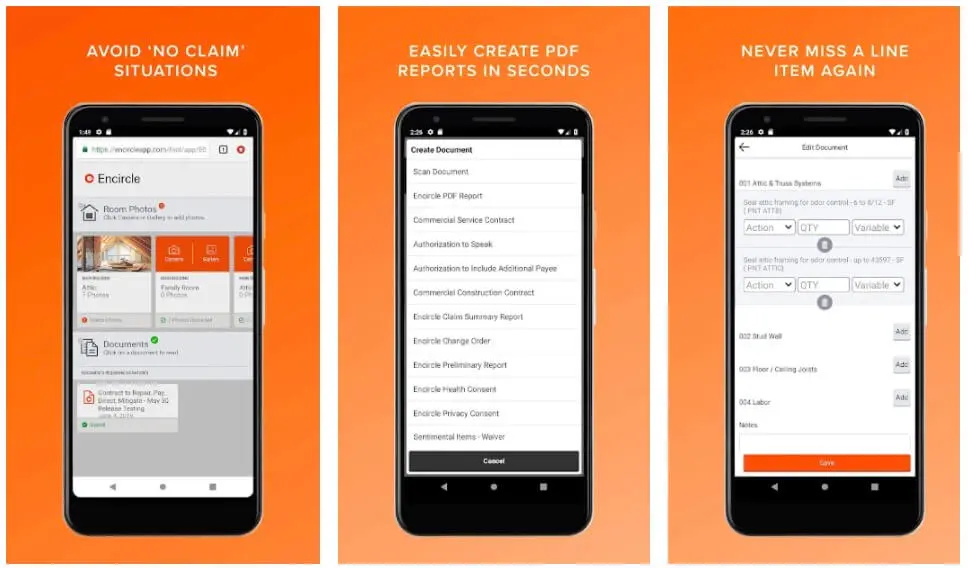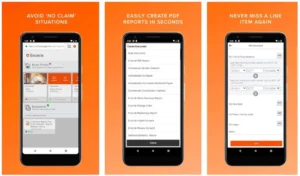 Encircle is a top-rated, useful app to simplify a range of tasks. Not only does it serve as a home inventory app, it also works well as a field documentation tool and insurance productivity app. Whether you're creating a home inventory or mitigating a loss then Encircle has you covered. Also check Apps Like Brigit
Use this free inventory app to accurately input a wide variety of stuff in your home. You can easily add photos or video of the item and make sure it is securely kept in this app. Add notes or details about the stuff if necessary.
What's more, this cool app lets you conduct on-site and virtual inspections to streamline you job. Once downloaded on your Android or iOS, it saves time as well as money by eliminating multiple visits. It also supports quick and easy sharing with your client or housemate.
Having problem with internet connection? Encircle allows you to keep up with the work thanks to offline mode. Get this app and select if you are a homeowner, insurance professional, or contractor and make the most out of it.
5. Itemtopia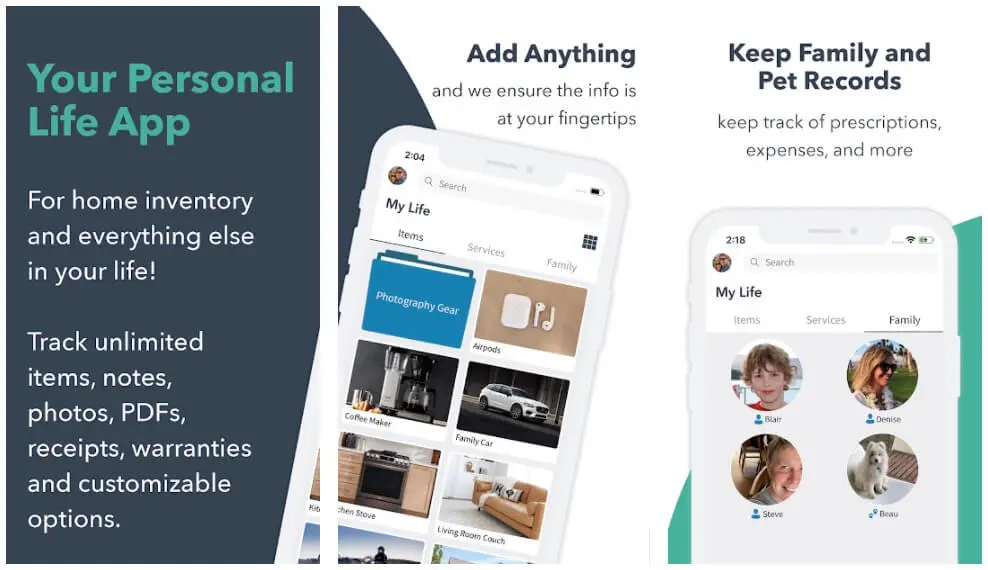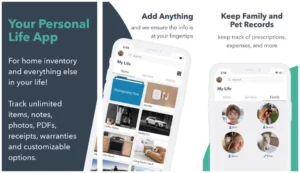 Itemtopia is one of popular home inventory apps that has been featured in more than 80 countries. With the support of multiple language interface, it helps streamline your tasks of creating home inventory from your smartphone.
Using this app you can organize info about items, home, services, and even pets. All your information is stored on the cloud, allowing easy access from multiple devices. You can also create a family account to share with your housemates.
In addition to organizing function, this app has the ability to track receipt, generate reports that summarize your total assets, and even alert vehicle recalls. Not to mention it supports tagging for tax deductible.
What's great about Itemtopia is that it's ad-free. You can enjoy tracking stuff without interruption. Free backup is also available, making it possible to recover your data in case your phone is lost or damaged.
6. Stock and Inventory Simple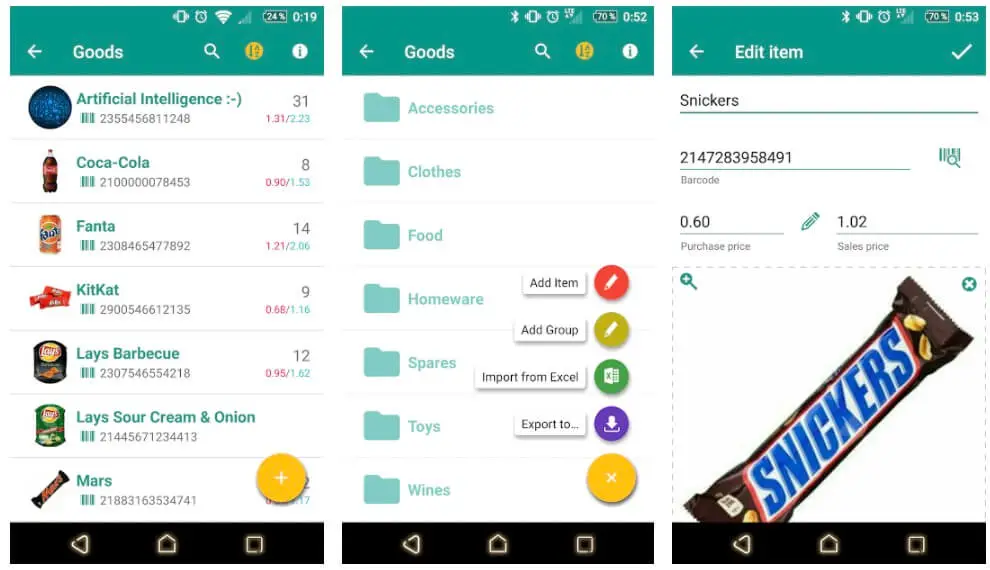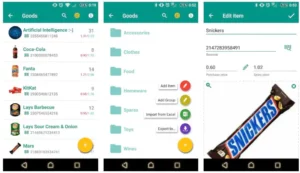 Designed for Android, this application keeps track of your stuff and promises better inventory management. It can be used either in a warehouse, big companies, or at home that needs a better solution for inventory tracker or stock management.
Stock and Inventory Simple has loads of features that support easy data input, either from Excel or manually. You can take photos and add pictures to visualize listed items. Plus, it supports folders to group your products based on their categories.
What's more to find in this app? There's a barcode scanner that ensures efficient work, either using a scanner unit or smartphone camera. It also has a tracker to track a variety of elements, including suppliers, customers, and multiple stores.
Whatever you have in your home, input the item to Stock and Inventory Simple for easier tracking. In order to keep your data safe, use Google Drive to back up.
7. StuffKeeper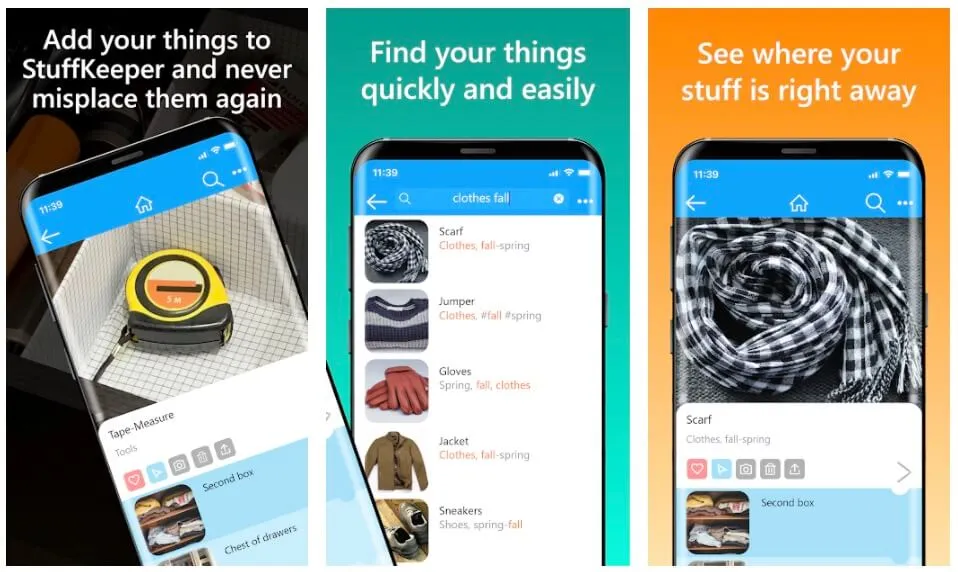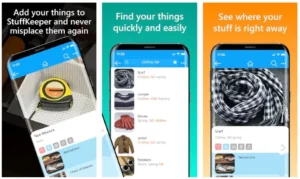 One of the best advantages of creating home inventory is promoting easier storing and finding. StuffKeeper comes in handy to help you achieve this goal at any time. Whether you want to find seasonal clothes, household items, or even spare parts, it tells you where the stuff is.
This best home inventory app can serve as your virtual organizer with which you can add things and forget it. Whenever you need to find specific items, simply run this app and find it quickly.
Not only does it help you store and find stuff, you can also figure out your belongings. While some people waste money on buying items they already have, StuffKeeper works effectively to save your money.
Additionally, this top-rated inventory app supports quick and easy synchronization between devices. You can also back up data and information on Google Drive for some peace of mind.
8. Under My Roof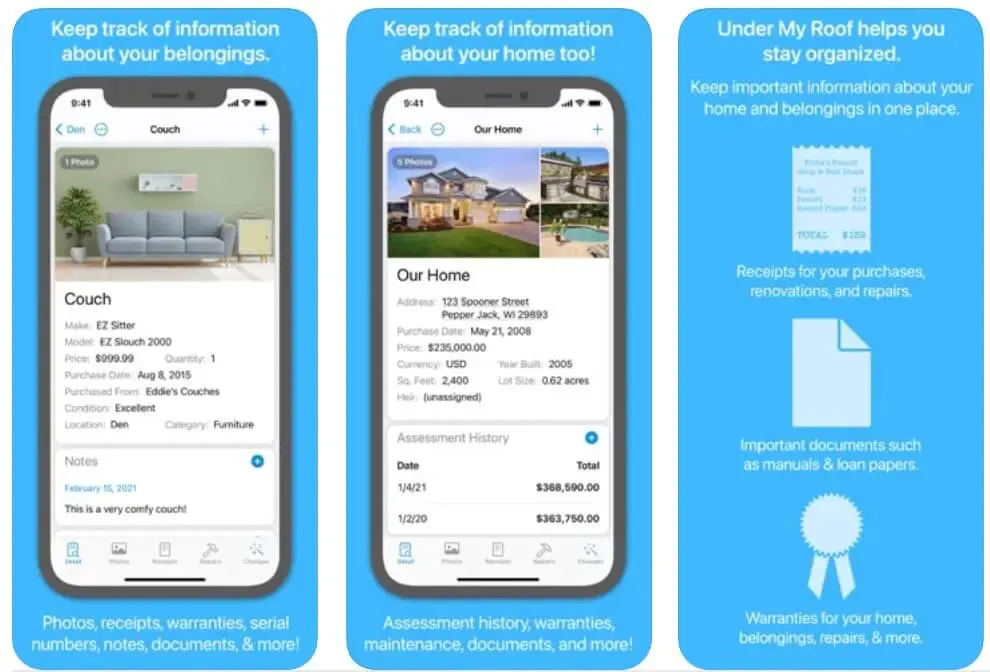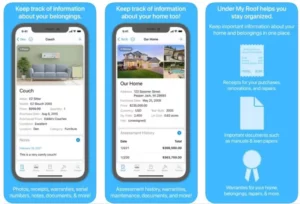 Under My Roof is a versatile home manager app developed by Binary Formations. Designed for iPhone, iPad, and Mac, it keeps track of information about your stuff. Add items, take photos, and input important details such as receipts, warranties, and even serial numbers.
This inventory app makes your belongings organized. If you always spend time looking for stuff across drawers or boxes then Under My Roof is made just for you. Using this app you can locate items quickly and easily. Whether you live in a studio apartment or large house, organized stuff is only a tap away.
There are tons of features included in this app, from organizing your belongings to tracking property insurance and claim. Plus, it is equipped with disposed items tracker that enables you to track items you donate, recycle, or sell.
Just as with most home inventory apps, it supports data synchronization and protection. Your data is held in your device and your personal iCloud. Optional password protection is available ensure your data privacy and security.
9. Nest Egg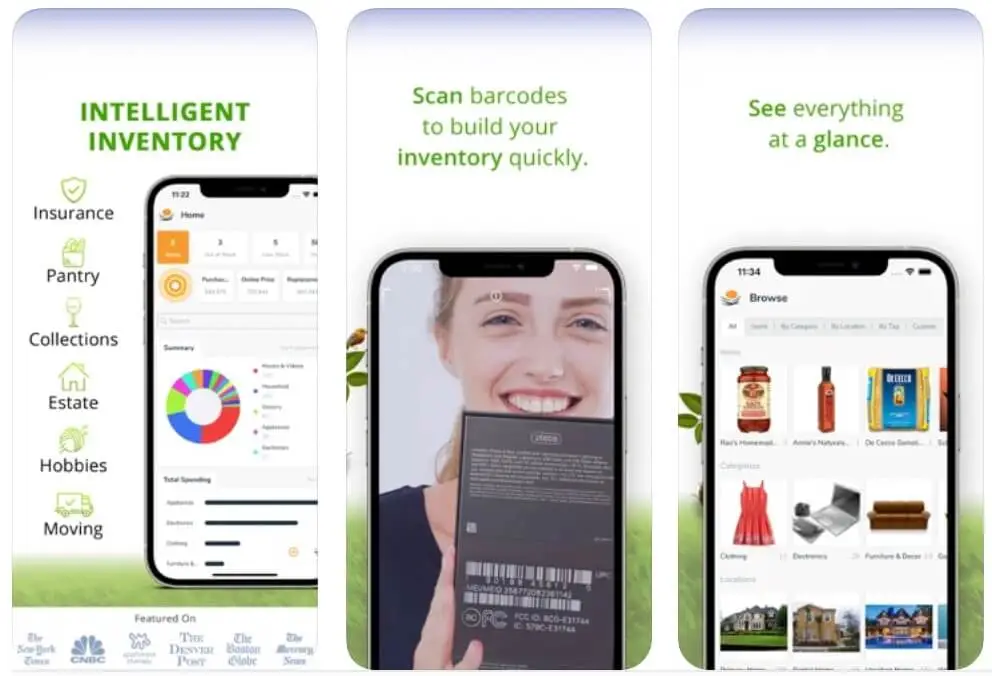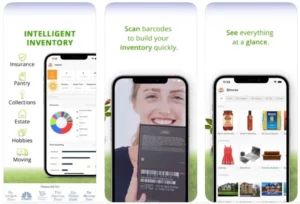 Are you looking for a smart inventory solution? Try Nest Egg and see how it upgrades your inventory experience. This app is meticulously designed to help you create inventory in a quick and fun way. Whether you want to organize electronic devices, books, or appliances, Nest Egg has you covered.
This intelligent app has the ability to recognize millions of items automatically, which is quite effective to save your time. It is also simple and easy to use so you can ditch user's instructions. Featuring multiple language interfaces, not surprisingly it is featured in many countries.
Nest Egg helps not only track your home inventory but also manage file for insurance. It also works well for food inventory and pantry management. Or if you plan to move, you can take benefits of possession tracking feature.
10. MyStuff2 Pro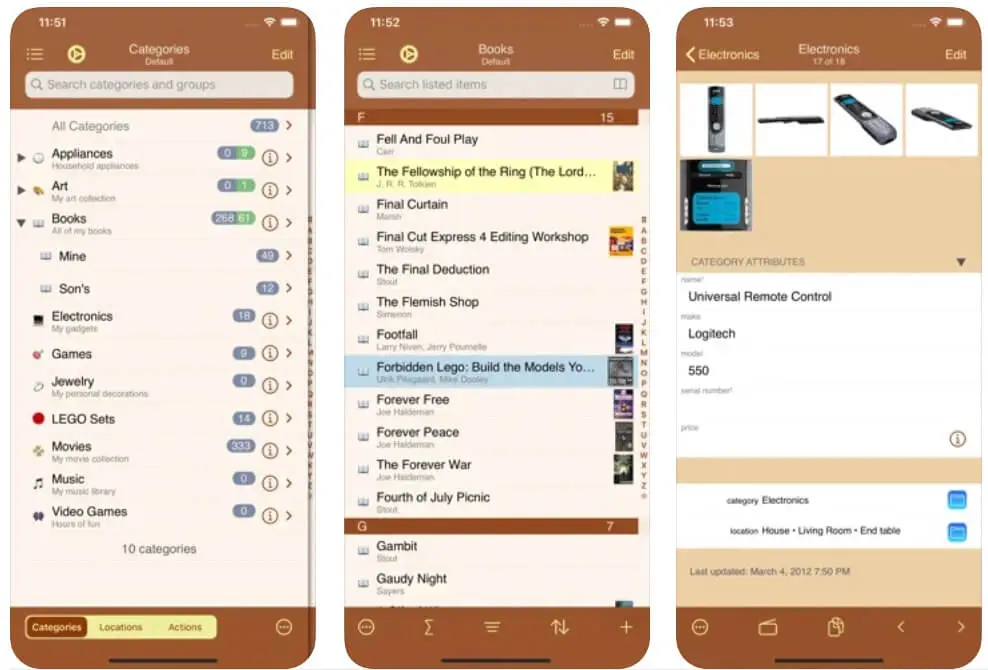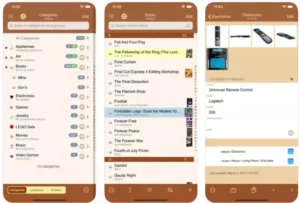 Next on the list, there is MyStuff2 Pro, a home inventory and database app to organize your stuff. It works well to organize a large selection of items ranging from books, electronics, appliances, office supplies, and movies. Even you can count on this tool for organizing your wine.
Do you keep buying stuff you already have? Then MyStuff2 Pro is just for you. Only with few simple taps, you can keep track of where your items or what you need. It also features an easy data entry with barcode scanning for a faster inventory. Also check Clubhouse Alternatives 
For your ultimate convenience, MyStuff2 Pro is equipped with a number of features like automatic synchronization between devices, import and export data, and easy print using AirPrint. It also supports backup and restore for safe data keeping.
11. Home Contents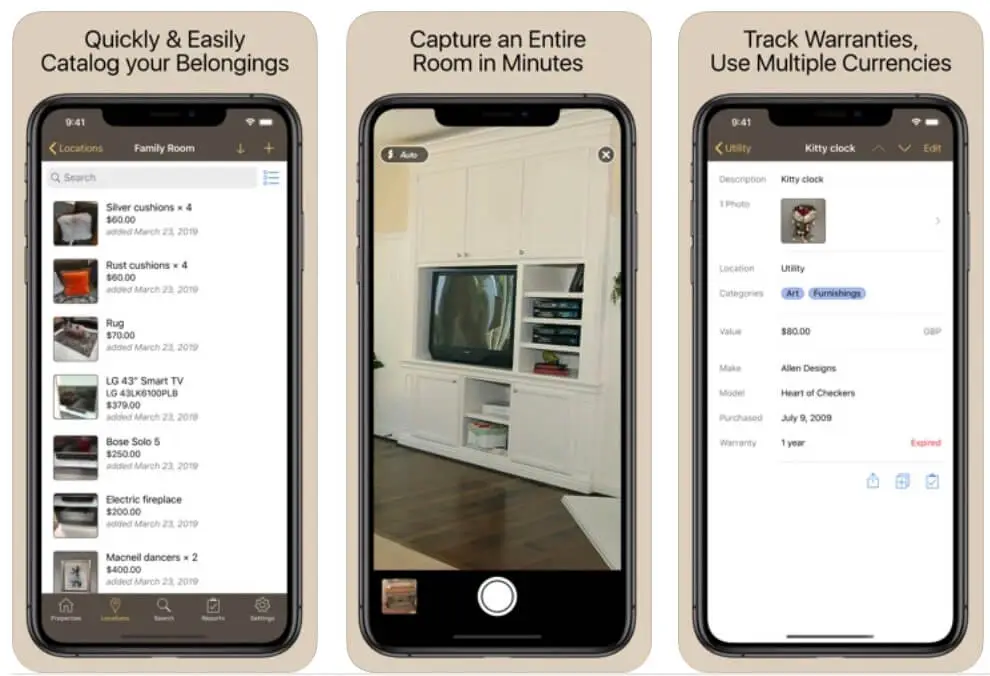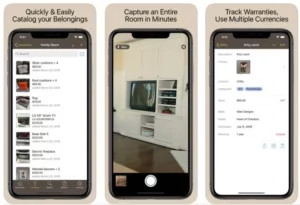 Home Contents is another free, easy-to-use home inventory application designed for your iPhone and iPad. Whether you are preparing for disaster or home insurance, it comes in handy to estimate and keep track of your belongings in an accurate way.
The free version supports up to 25 different items and 1 property. If you wish to enlist more items, you will want to upgrade to get an in-app purchase to break the limit.
There are so multiple things you can do with Home Contents. For inventory purpose, you can capture your stuff and add detail information such as date of purchase and receipt. You can also add locations and custom categories for easier tracking.
Just in case you want to create professional-looking reports, it has the ability to generate PDF reports sorted by category, price, location, and more. Backup and restore is also supported.
The best home inventory apps must include a complete set of features to keep track of your stuff. Now that you know inventory management apps available on the market, it should be easier to find the best tool of your version.