In this article, you can learn how to build a remote office for small teams to effectively support document flow, task management, and communication with ONLYOFFICE solutions at no cost.
A better alternative for your documents
We are long used to Google Docs and MS Office or Office Online, however, concerns over functionality, privacy, and compatibility may make you start looking for a viable alternative.
ONLYOFFICE Docs is a collaborative online office that is fully compatible with MS Office (OOXML) files and supports all popular formats including ODF, PDF, e-books and templates, etc.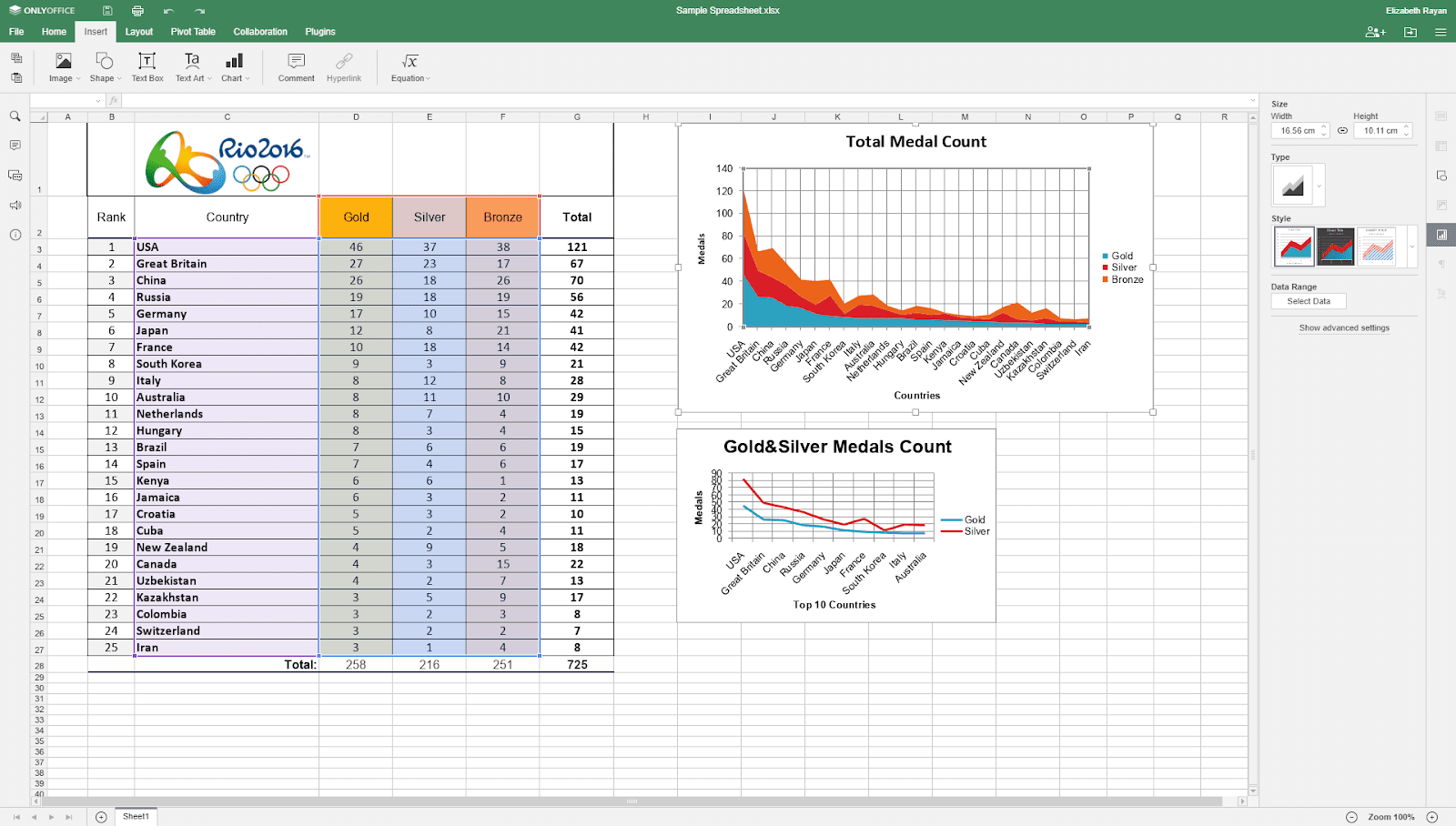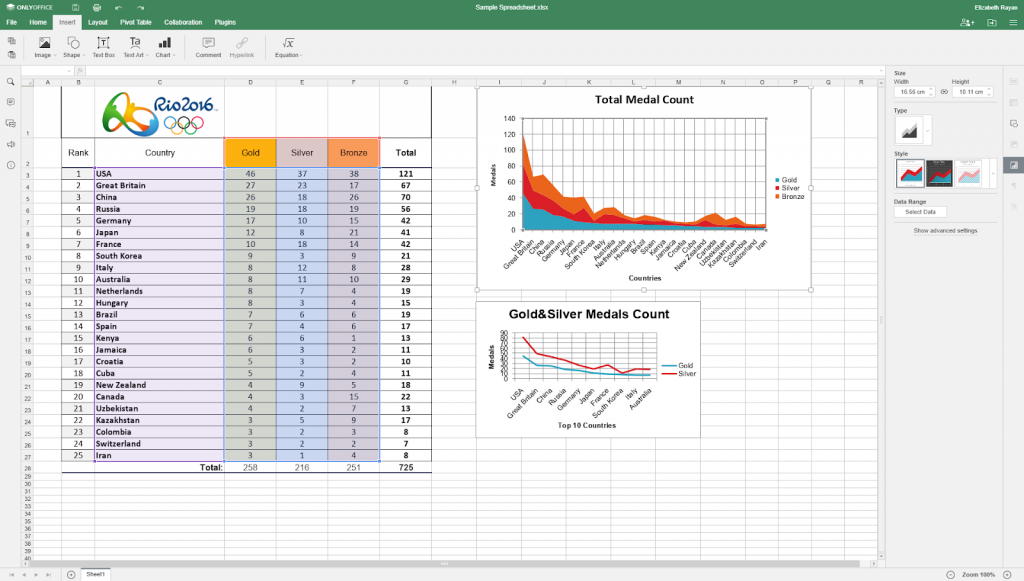 The editing and formatting features required in your daily work with documents are at hand: from working with complex objects to academic formatting, and even third-party extensions to bring in bibliography and publishing services, translation, thesaurus, and more. Its online functionality goes toe to toe with the desktop version, offering the same extended set of tools.
Effortless collaboration 
Besides supporting and correctly processing the same document, spreadsheet, and presentation elements you have to work with, you can enjoy true collaborative freedom. You can pick Fast mode to show your changes immediately to others, or Strict mode that locks your active paragraph from interruptions by other users. Other available features include comments with mentions, reviewing, version history, and document comparison.
Collaborative contents stay when you share documents externally or simply send them over mail: comments and Track Changes marks are universally supported.
Advanced set of sharing permissions enable better security: commenting only, reviewing, filling forms in documents, and custom spreadsheet filtering.
ONLYOFFICE Docs is more than equally collaborative and highly compatible office, it is also open-source and can be hosted on-premises if you want to make sure how your data works and want to take care of it yourself.
Your remote productivity hub
Office collaboration is not limited to documents. It's a good thing to have a shared space to keep and manage files, distribute and control team roles and tasks, organize communication with clients, and plan your work — which every member of your team can access wherever they are. You can in fact have such space for absolutely free.
ONLYOFFICE Docs works in a bundle with other office applications in ONLYOFFICE Workspace. It provides your own user management system and a sharing environment to keep and collaborate on your files. The productivity platform also includes project and task management functionality, CRM, own mail aggregator, calendars, and an intranet — to exchange blog posts, chat online, and discuss.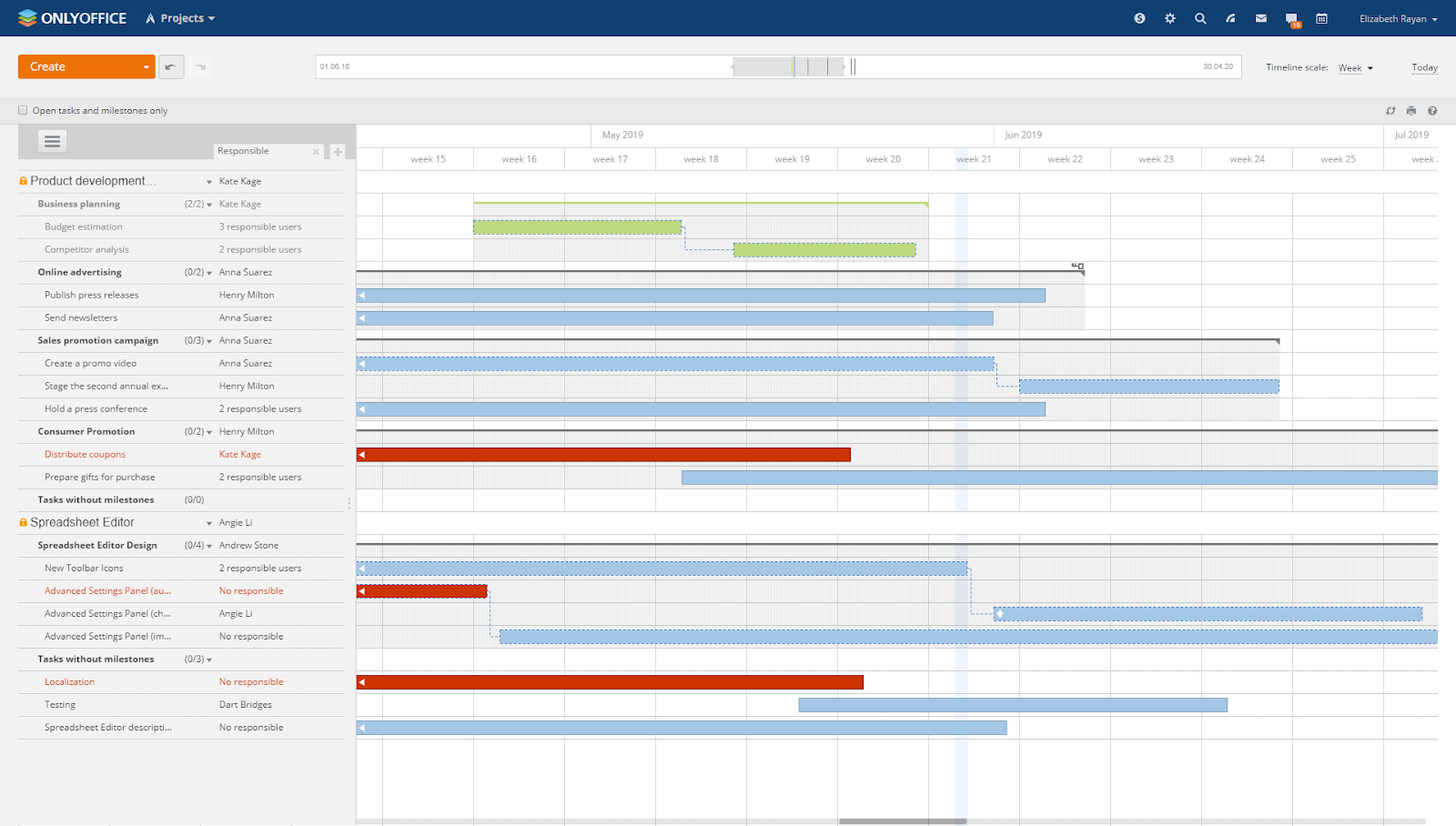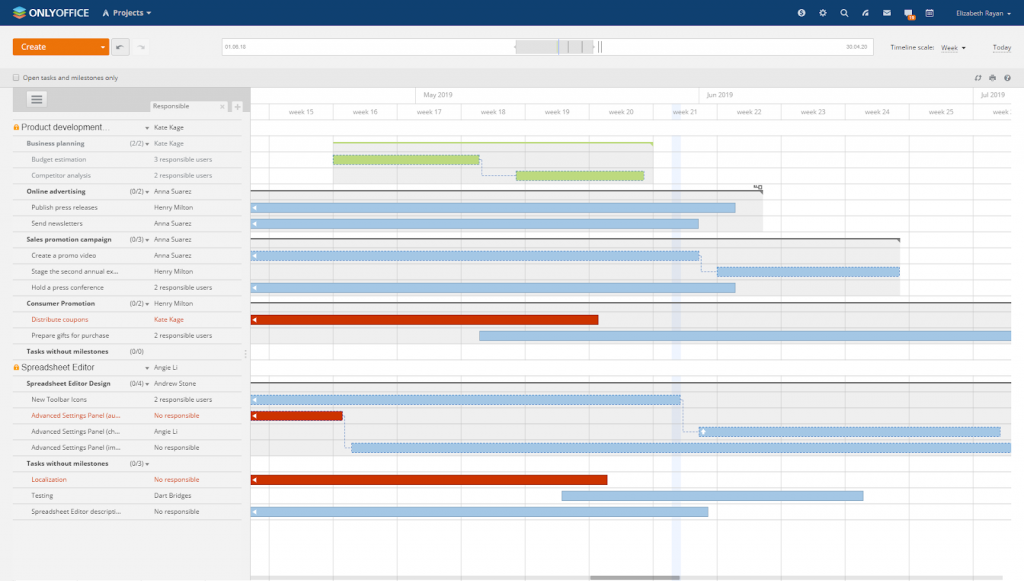 ONLYOFFICE Workspace is free to use in the cloud for teams of up to 5 users, completely cutting your software costs on online collaboration and team productivity.
Staying connected form desktop and mobile
With all kinds of personal devices your team members use, they can reach the online office using mobile and desktop applications.
ONLYOFFICE Desktop Editors let you work both offline and in the cloud, with the ability to manage files and collaborate on them using the same functionality, but with local settings and fonts. The app works with other clouds too, which is useful if you happen to be a user of sharing services like Nextlcoud, ownCloud, or Seafile.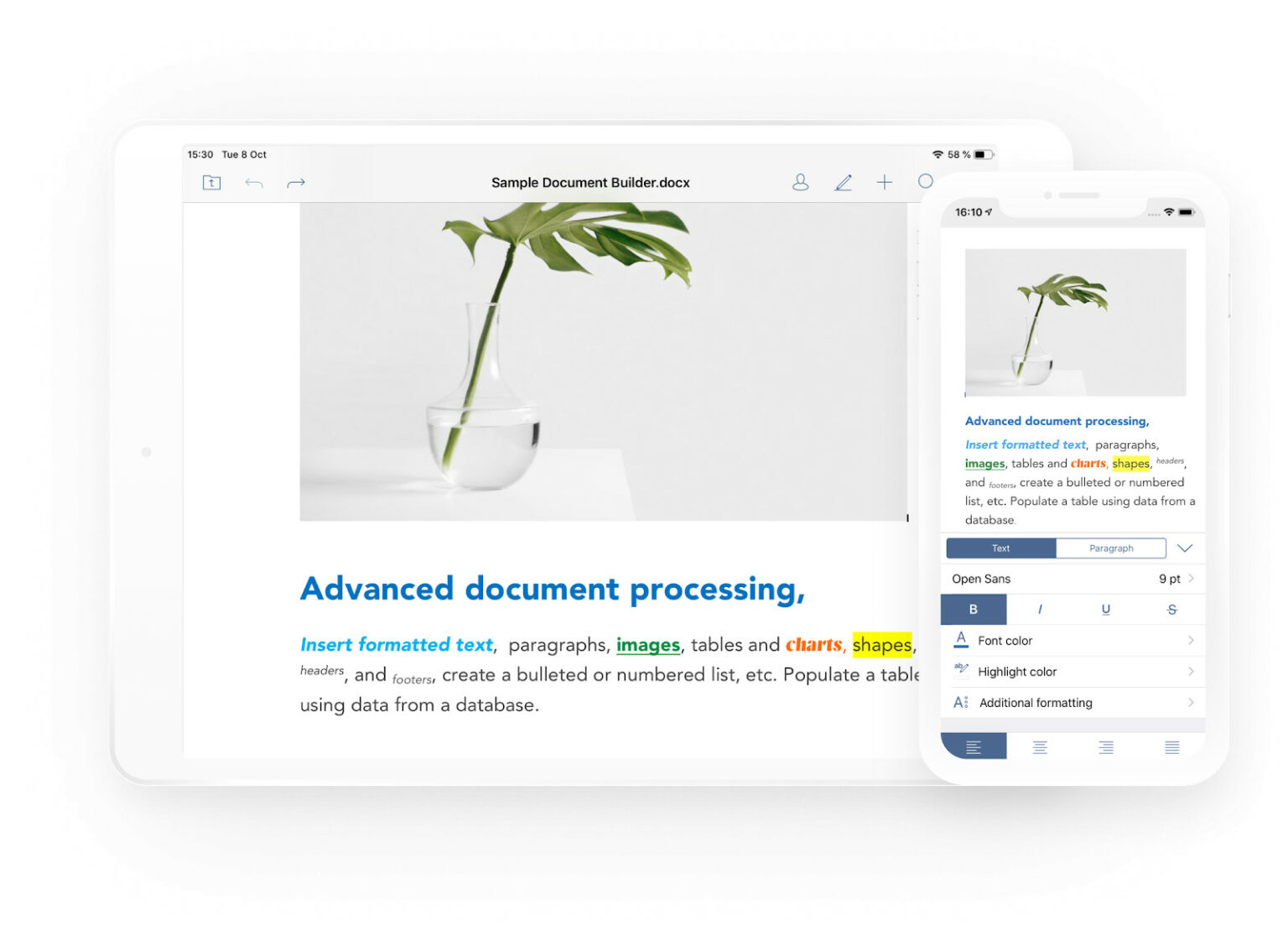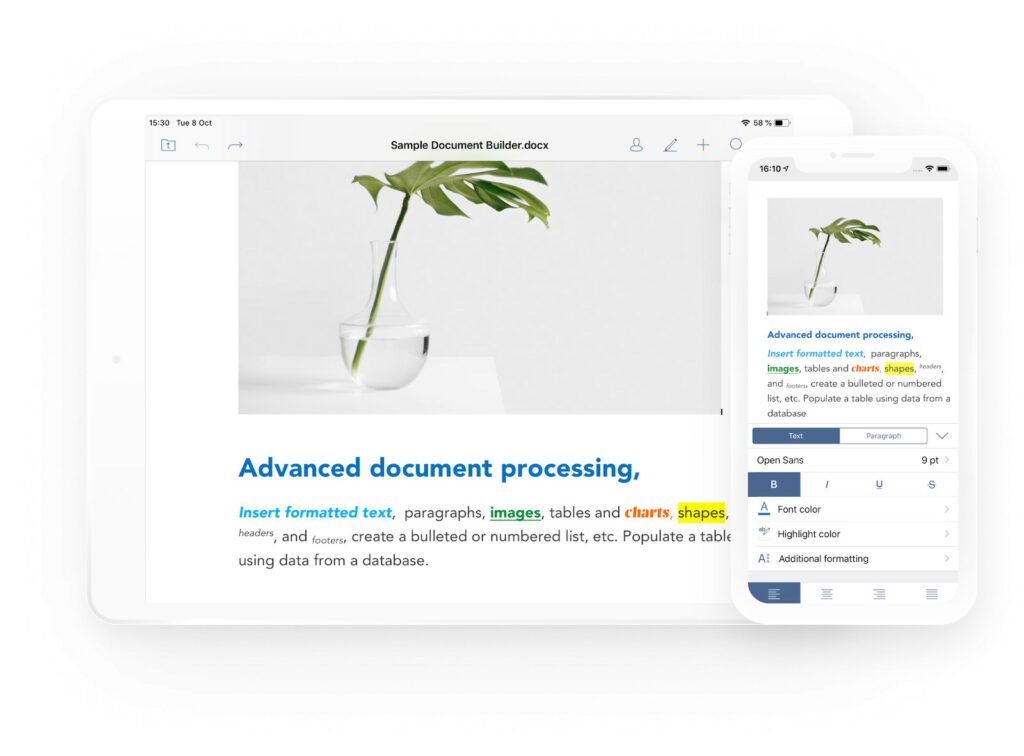 Same works for mobile — ONLYOFFICE apps for iOS and Android allow working on device and in the cloud, and even connecting other clouds via WebDAV to edit documents there. For example, you can  access your iCloud from your iPhone app to directly create and edit the files.
If your business is growing
ONLYOFFICE Workspace is not only for startups. If you have a growing team and require extending the number of users, disk space, and have more advanced features to sustain your remote office, ONLYOFFICE Workspace offers solutions for business to use in the cloud or install on your private infrastructure.
Here, you get to fully customize your office with branding and domain customization, and perform more scrutiny in security: introduce Single SignOn via service of your choice, make use of automatic backup and restoring, synchronise your LDAP server, and audit your office usage.
Ultimately, ONLYOFFICE business solutions allow scaling your system to fit thousands of users and comply with most complex security demands, starting from $4 per user/year.