We all know that cloud storage has been around for a long time and already has a large user base because it not only allows users to save files in cloud; but also provides the opportunity to access these files anytime and anywhere. However, one of the biggest disadvantages of cloud service is that almost all cloud providers provide limited free storage space only.
No matter whether you are using Google Drive, Dropbox, MEGA, OneDrive or any other cloud storage services, the problem of limited storage space is real. In this situation, many users have to delete some files in order to free up space in the cloud account and upload files manually again to these clouds. When the cloud accounts are filled again, it will continue to repeat this deletion operation. To be honest, this process is particularly cumbersome and takes a lot of time to complete. In addition, in order to store more files in the cloud, more and more users have even created multiple cloud storage accounts to store different files. Therefore, users need to remember multiple accounts to access the required files.
How to Transfer Files from One Cloud to Another without Downloading and Uploading?
In fact, to solve this problem, the simplest and convenient way is to migrate data, documents, projects, pictures, etc. from one cloud to another cloud. The common way we copy files from one cloud to another is "Download" and "Upload". If you want to know how to transfer files from one cloud to another in an efficient and safe way, then MultCloud will be your best choice because it not only provides a function that can easily manage multiple cloud accounts in one place; but also directly transfer between cloud accounts. For these users who want to enjoy a simpler, faster and more secure cloud file transfer way, MultCloud can be said to be a perfect solution.
Why MultCloud is Your Choice?
 Manage Multiple Clouds in One Platform
MultCloud, as a free online cloud storage manager, it's effective to manage multiple accounts together. With it, it's possible that you can access files stored in different clouds without switching accounts because it has integrated more than 30 clouds we usually use. 
Offline Transfer and Sync
Unlike some other software, the computer cannot be turned off at will when the task starts. However, you don't need to worry about it because MultCloud supports transfer or sync files across clouds offline. That is to say, you can close the page or even shut down your PC because MultCloud can process the task in the background.
When selecting MultCloud to manage cloud accounts and transfer files between clouds, you don't need to worry about data security because MultCloud won't save your files on its servers. It's just like a transfer channel and all files are saved on your own clouds. Besides, it uses 256-bit AES Encryption for SSL in data transfer, which can effectively protect your data from being tampered.
How to Transfer Files between Clouds with MultCloud? 
As a free web-based program, it's very easy to use. Follow the steps below and you will learn how to use it. Here take migrating personal Google Drive to G Suite as an example.
Step 1. Create one MultCloud account and log in MultCloud.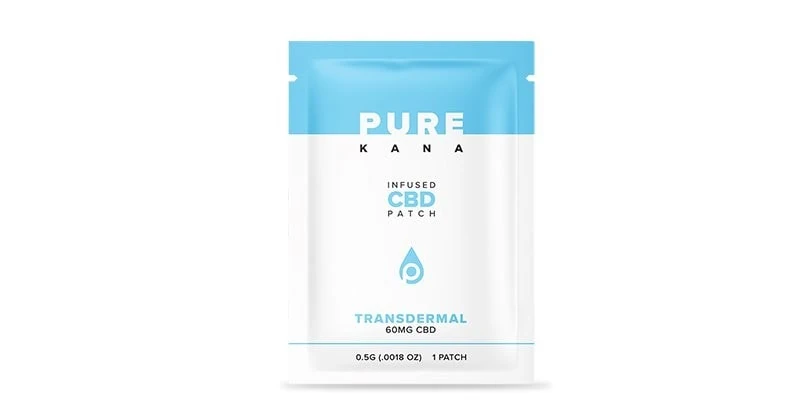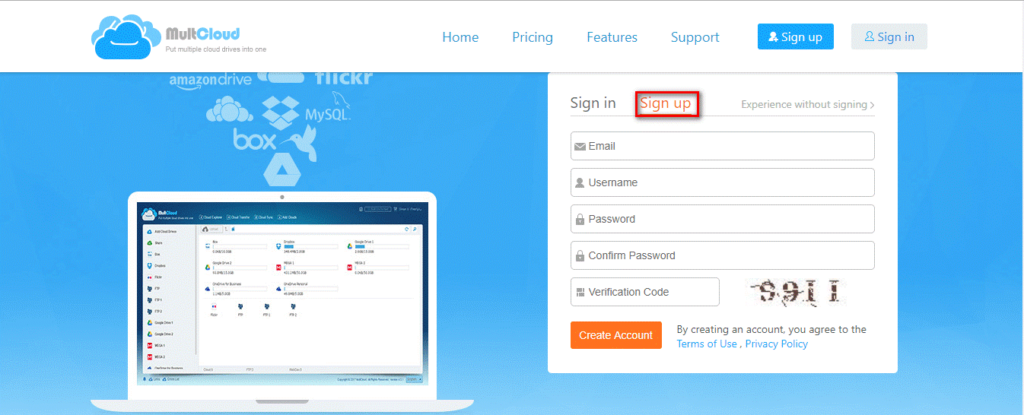 Step 2. Add Google Drive and G Suite to MultCloud.
Click on "Add Clouds", select Google Drive below to add, click on "Next" button and follow the instruction to complete adding cloud process.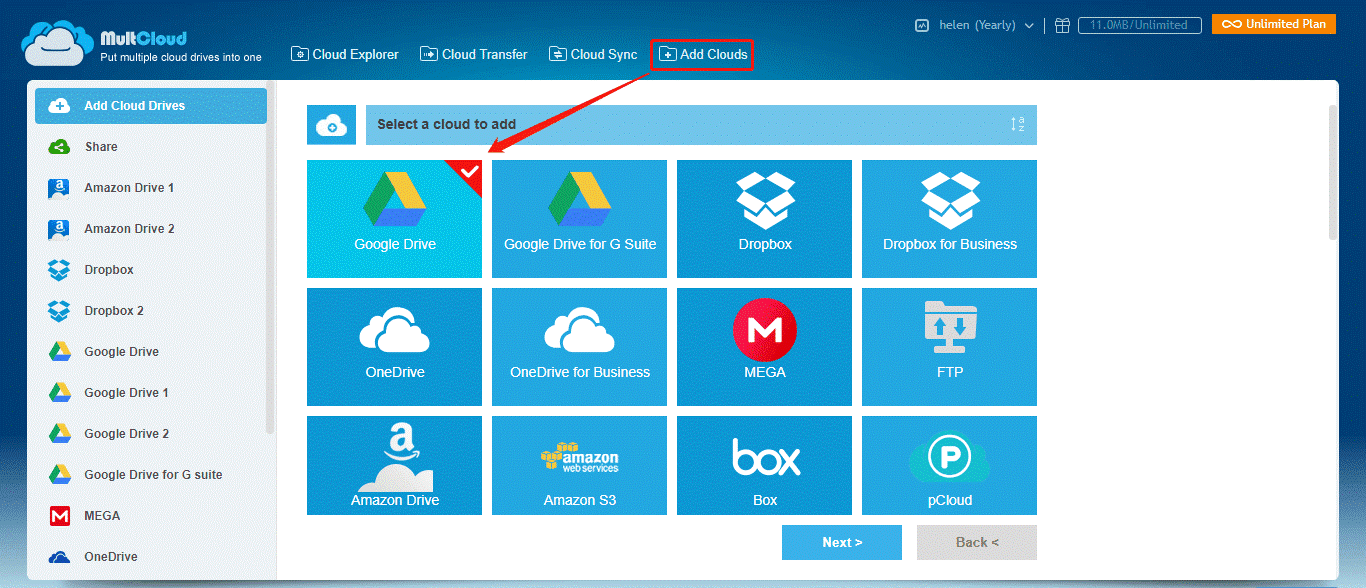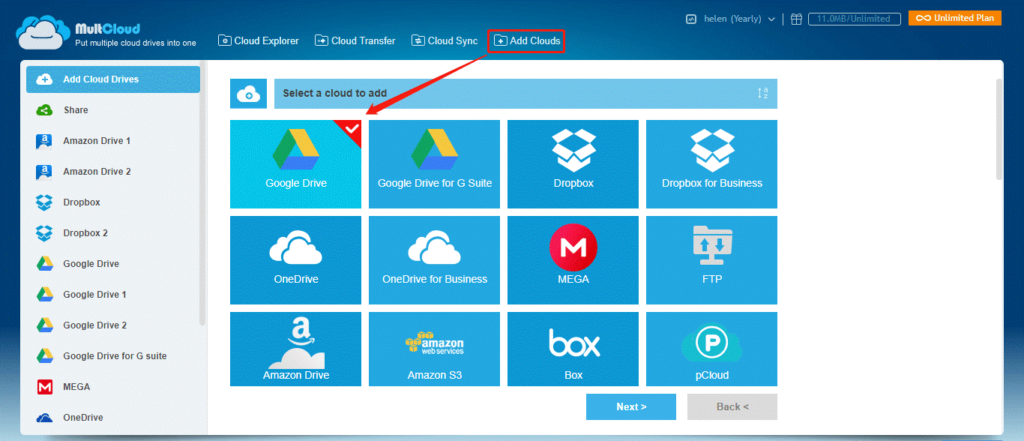 When adding G Suite to MultCloud, there are a few points that need special attention:
Before adding G Suite, it's necessary to log in your account through G Suite official website first.
Before adding G Suite, it's necessary to install Cloud Transfer—MultCloud first through G Suite Marketplace.
It's necessary to install it through Domain Install. If you select Individual Install, you are unable to add G Suite to MultCloud.
Step 3. Transfer Google Drive to G Suite with "Cloud Transfer"
Click on "Cloud Transfer", select Google Drive as the source, select directory under G Suite as the destination, click on "Transfer Now" and the transfer process will start immediately.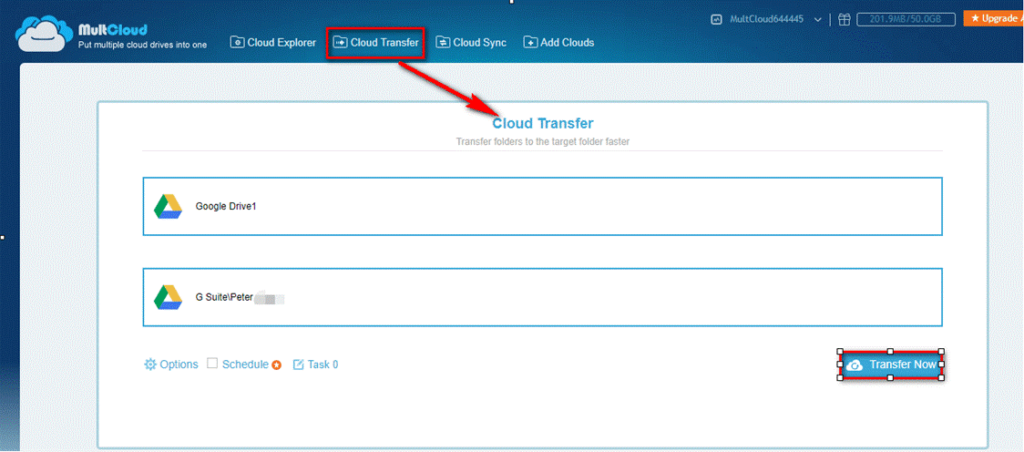 Summary
All in all, MultCloud is definitely the best choice to manage multiple clouds and transfer files across clouds. Even though it does not have any desktop app or mobile app, it's still the best helper for cloud transfer.