Well, you need not have to learn programming or coding to turn your ideas into reality. With the help of Bubble, you can now design, create, and host impactful web applications.
Bubble is a powerful visual programming framework for people who lack technical knowledge. It's a proper web development platform that allows people to create and design web applications.
What Bubble refers to?
Bubble is a visual-programming software that enables you to develop mobile and web applications. You don't have to know HTML and CSS programming to create applications when using this software. The software allows its users to build and customize applications through a secure interface utilizing the drag and drop options.
It makes the coding languages obsolete and allows you to develop innovative applications in the easiest way possible. The platform has workflow-based programming languages that allow users to define what is going to happen next. You can follow the step-by-step guide to understand how the process works. The platform also allows users to incorporate logics for making the workflows function under the right conditions.
You can also modify and alter the components of the look based on the location of the user. Bubble tends to integrate smoothly with other services that include a REST API like SQL, Payment applications, analytics, and many more.
Benefits of using Bubble
Creating an application using Bubble is the easiest. This user-friendly software is designed for them who don't have prior experience and expertise to create web and mobile apps. Here are certain benefits of utilizing Bubble:
Drag and Drop Option
The platform offers a drag and drop option that makes it simpler for you to add elements to your page easily. You can easily add photos, forms, maps, etc. quite easily into the platform. The builder also allows users to create their interfaces and come up with innovative and unique apps.
Level up an app's visibility
Launching the app and releasing it into the market using Bubble is quite simple and straightforward. All you need to do is just one click, and your app is published. Most of the app has a backend job and are created by integrating services done through APIs. Bubble also hosts apps behind the curtains and helps you eliminate the time-consuming tasks.
Scalability
It also helps you in regular scaling and maintaining the apps. The application lets the users scrutinize the changes made on the private version securely before they are deployed to the users. Once implemented, you can click once on the right button and secure your app privately.
Bubble takes care of the backend jobs
Bubble is a platform that controls the lower-level activities, allowing users to focus on functionality, design, and development of the app. The platform gives enough time and space to the users to focus on such things and come up with an innovative app that can be fruitful to them. In the end, you end up developing a highly-responsive application that looks excellent on mobile phones and tablets.
Changing the fonts and colors at any given time
The software adjusts the colors, font sizes, font types, and the visibility of all the elements by analyzing the front-end jobs of the apps. Bubble also delivers data actions based on the real-time analysis of the data. This helps the users to focus more on the innovative creation of the app as they don't have to refresh the pages manually every time they access it. Moreover, Bubble delivers updates instantly!
Features of Bubble
Bubble lets you create interactive and multi-user applications that can be installed on desktop and mobile platforms easily. It includes the required tools that you need to develop a website or an app like Facebook, Instagram, etc. Here are some of the best features of the platform that you must know:
No-Code App and Web Development:
As the platform allows you to develop the app without having proper coding and programming knowledge, here's something more that you can do in this platform:
Customizing the experiences of the users:
Creating logic and determining the next steps as the users are navigating through the application is swiftly done on this platform. You can build chats, feeds, and other interactive options within the platform.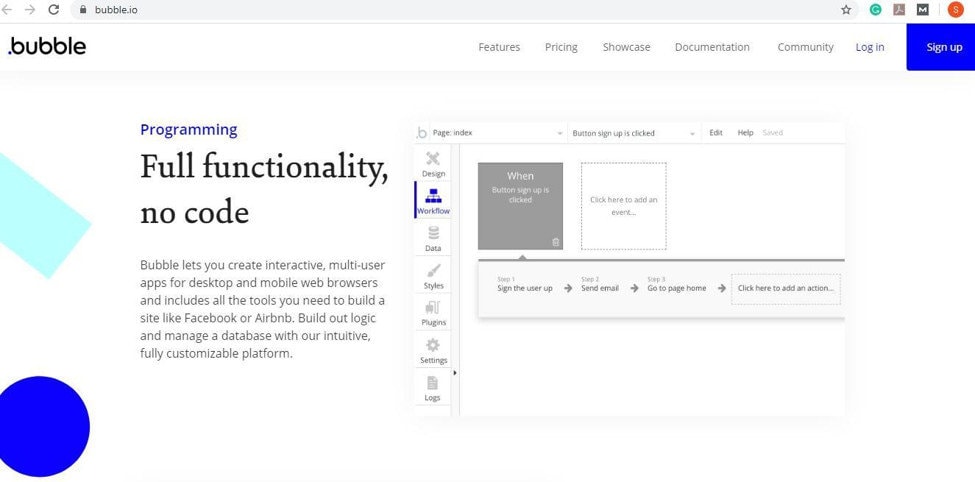 Managing data:
Designing, searching, and exporting structures of data on the platform is quite straightforward. You can also control the accounts of the users. The platforms offer scalability, data security, and many more services. You can easily set up accounts and enable the registration process with secured passwords.
Extensible:
The software offers fully extended versions of services that include JavaScript plugins, no-code API connectors, and many more solutions. You may even create your own plugin if you need to.
Scalable Infrastructure
If you are using this platform to create an app, you need not have to worry about server maintenance and other operation. Bubble controls and handles deployment services and hosting services for all the developers. There are no boundaries and limits set on users, traffic, and data storage.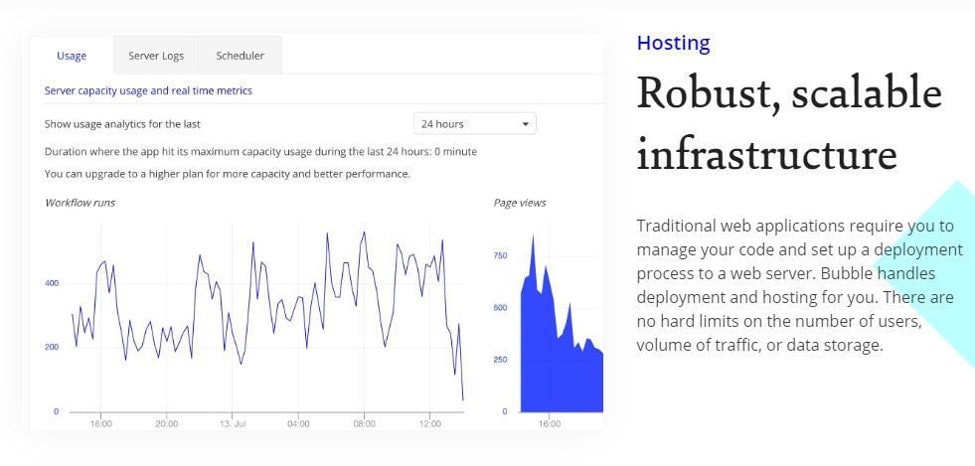 You can allocate as many server resources as you want to grow your business and increase the visibility of the app. Without changing any coding structure technically, this platform offers you the best scalability. Also, you can test your app safely on the private version and introduce them to the users by clicking just once on the publish button.
The platform also offers privacy and protection to the users for free. It provides automatic SSL certificates to the users and also ensures they use the multi-factor authentication protocol.
Design
When it comes to design, the platforms offer mobile-friendly layouts and robust content that you can use it to create an innovative mobile or web application. You can enjoy the drag and drop feature to build pixel-perfect and compelling designs. You can also insert images, videos, maps, and many more elements in your app or website without knowing HTML and CSS.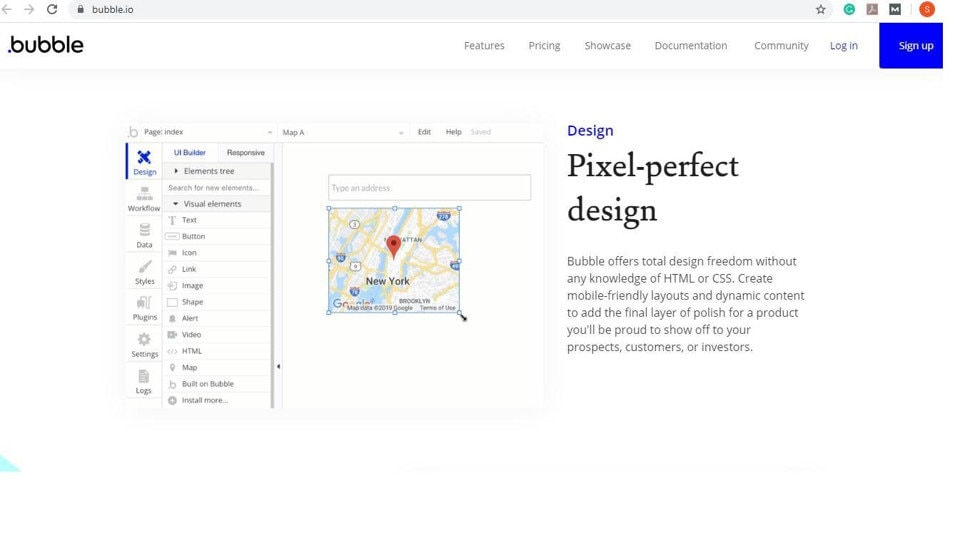 When you are creating an app, you also get access to robust content, plug-ins, and many more services. You can change the style and size of the fonts, colors, and increase the visibility on your webpage by assessing the information.
Moreover, you can enjoy the internationalization feature. If you are targeting any specific location across the world to launch your app or website, you can easily translate the text of your app into that specific local language using this feature. It can even convert the currency and the formats without increasing your workload.
Expansion and Engagement
Developing an attractive customer base by implementing features such as email, SEO, and many more also becomes easier for you. You can measure and keep track of the behavioral pattern of your consumers to make effective decisions when you are using this platform.
You can track the performance of your app by referring to the dashboards and the analytics data. Accordingly, you can decide to enhance or improvise your customer management services. The platform offers scalable and secured payment models to the developers.
It has integrated itself with Braintree, Stripe, etc. to support complicated payment models that include subscriptions, third-party transactions, and many more.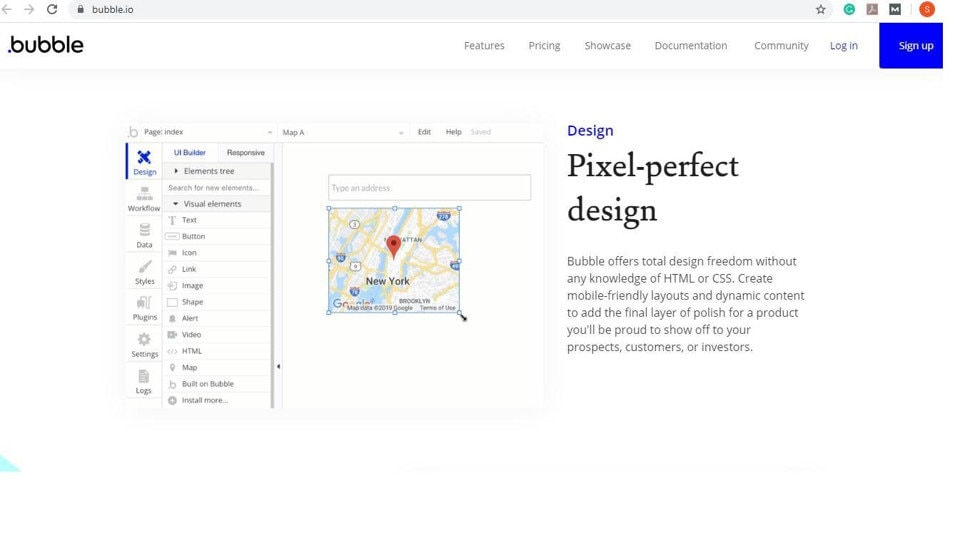 Sharing Workload
The best feature of the platform is the fact that you can work individually or with a team. You can collaborate with up to 40 people to develop an app, customize it, and launch it in the market. You can also track the changes made by the collaborators. Further, you can provide them with the right feedback by highlighting what needs to be changed or modified. You can also password-protect the application and share it with relative members as you wish.
Pricing
The pricing factor depends on various aspects. If you want to use the platform as a hobby to develop apps or for personal use only, then it's free for all the individuals. Although there are a few limitations to the free ones; however, you can manage to create an innovative app using the features and services it offers.
If you want to host a fully functional web app, then you will have to upgrade your app into the premium ones. All the premium plans include features like email support, real-time data analytics, white labeling, and many more.
If you want to enjoy a vital server capacity, branding and SEO, password-protection, real-time analytics, file storage of 10GB, and email-support, you can select the personal plan that costs about $25 to $29 per month.
If you want to upgrade from personal to professional, then you will have to pay $115 to $129 per month. The professional version offers a server capacity of three units, running scheduled workflows daily, two multiple device versions, data backup and restore for about 30 days. It also provides file storage of 20GB and email-support too. Similarly, as you wish to upgrade your app to production, then you will have to pay about $475 to $529 per month. Read Bubble pricing here.
Conclusion
Bubble is one of the best visual programming frameworks that are available in the market for all individuals and companies. As mentioned, they don't have to have expertise in coding and programming. They can use this platform to create and customize the app as they want. Moreover, this software also makes it easier for you to develop, design, and customize the workflows perfectly. Also, you can handle the databases visually when using this platform.