Review of Trustpilot
You've probably heard of the consumer review website Trustpilot. After all, it's one of the top 1% most-visited websites across the entire internet. But does it work?
There are two vantage points from which to look at Trustpilot:
As a consumer writing Trustpilot reviews about companies
As an organization trying to get more traffic and interaction with customers
But are the ratings and reviews on Trustpilot from real customers, and is Trustpilot, in general, a legitimate company? We looked into the origins and the current state of Trustpilot, along with how to use it to check out a company before you buy.
Of course, it's possible for malicious parties to post fake Trustpilot reviews, so you'll also learn a few tips to spot any (although according to our research, the vast majority of reviews are legitimate).
Jump straight to a section of this review:
Description of Trustpilot
How Businesses Use Trustpilot
Is Trustpilot Trustworthy?
How to Use Trustpilot As a Consumer
What Does a Fake Review Look Like?
Trustpilot: Conclusion and Verdict
Description of Trustpilot
When you're about to pay for a product or service from an unfamiliar organization, you may want to read customers' opinions of it first. But where can you find reliable reviews? Is it worth your time to read Trustpilot reviews?
Let's back up. Trustpilot is an organization that hosts a website where customers can give star ratings to companies and write reviews about them. It's an open platform, which means customers can write a review and see it published instantly without censorship. You can think of it as an alternative to Yelp or the Better Business Bureau.
The founder of Trustpilot created it in 2007 to help customers express complaints or write recommendations about companies. He also wanted to give organizations a better way to interact with reviews—and to accomplish both goals while maintaining transparency and trustworthiness.
On Trustpilot, consumers from many countries can check out companies they have questions about, reading reviews and seeing their average ratings. Users can also write reviews if they sign up for a free account and certify that they are writing about their own genuine experience.
How Businesses Use Trustpilot
When customers start to write Trustpilot reviews of a business, a profile page for that business is created automatically. The organization can then claim that profile page and use it to respond to reviews.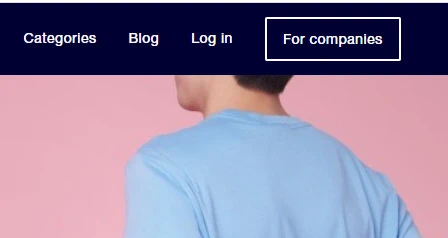 It is free to write reviews and respond to reviews on Trustpilot. But the company also offers features that organizations can pay for. If you own or represent a business, you can find the "For companies" link in the top-right corner of Trustpilot.com. Click on it to navigate to a page featuring organization-focused resources.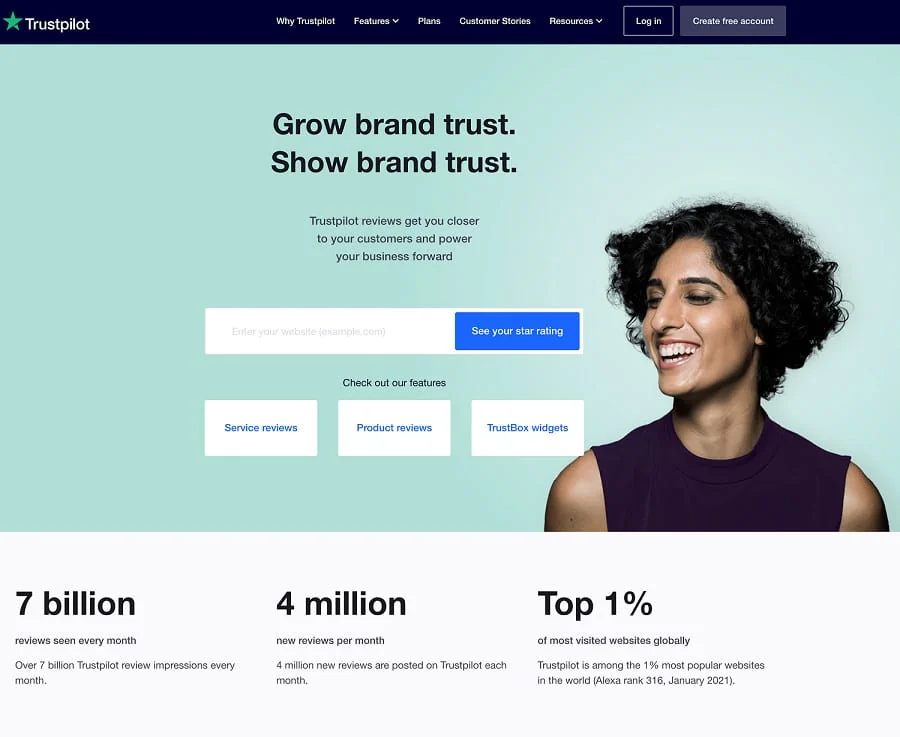 From the company section, you can type your business name into the search bar to find your profile page. You can also sign up for a free account by clicking on the "Create free account" link in the top-right corner. This will allow you to:
Claim your profile page (very important for showing that you're active on Trustpilot).
Invite customers to write reviews of your organization.
Reply to current reviews.
Share your reviews on your social networks.
Cast a wider online content net by gathering reviews about your organization.
Remember, it's absolutely free to write back to customers and show them that you care. This is significant, since prospects can visit your profile page and see how often you respond to negative reviews—which tells them whether they'll be ignored or helped if they have a problem.
But what do you get if you pay $199 per month (at the time of this writing)? Paid features for businesses include:
An upgraded profile page with no advertisements on it.
The ability to send more invitations—through automated emails and other methods—to customers asking them to write Trustpilot reviews.
Interaction with a customer success team.
Ways to improve Google Seller ratings.
Marketing materials.
You can also request a custom package with certain additional features and options for larger enterprise customers.
Is Trustpilot Trustworthy?
From our experience, we're left with no doubt that Trustpilot is a legitimate company. Many major companies have interacted with millions of customers on Trustpilot for about 14 years. It is a genuine review website where customers can be heard by consumers and organizations.
More than 480,000 businesses have been reviewed in 110,000,000+ reviews. And consumers keep adding new reviews—4 million every month. Plus, the search engine giant Google has chosen Trustpilot as a Google Review Partner. Google Seller Ratings are affected by Trustpilot reviews.
Trustpilot's own mission and practices are very trustworthy. They run an open platform, meaning that anyone can post a review that will be displayed instantly. At the same time, businesses and other customers can flag reviews to be examined if they go against guidelines. Plus, each organization's good and bad past behavior is displayed on their profile page.
Finally, you can look up Trustpilot on the Better Business Bureau. When we checked, Trustpilot had 76 reviews on BBB, with a rating of 3.5 out of 5. The BBB itself gave them an A+ rating. Trustpilot also has closed more than 50 complaints on the BBB site, showing they are responsive to their own customers.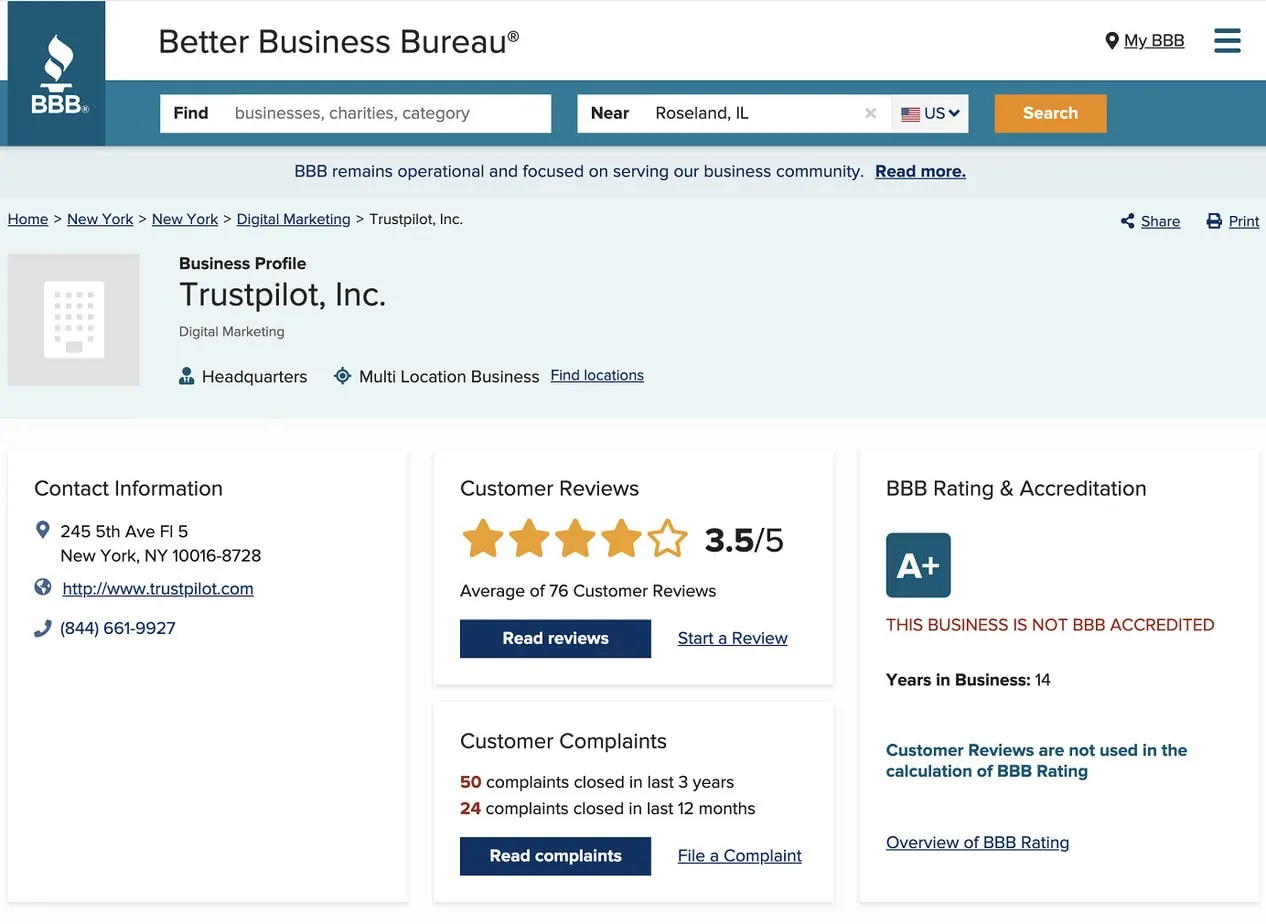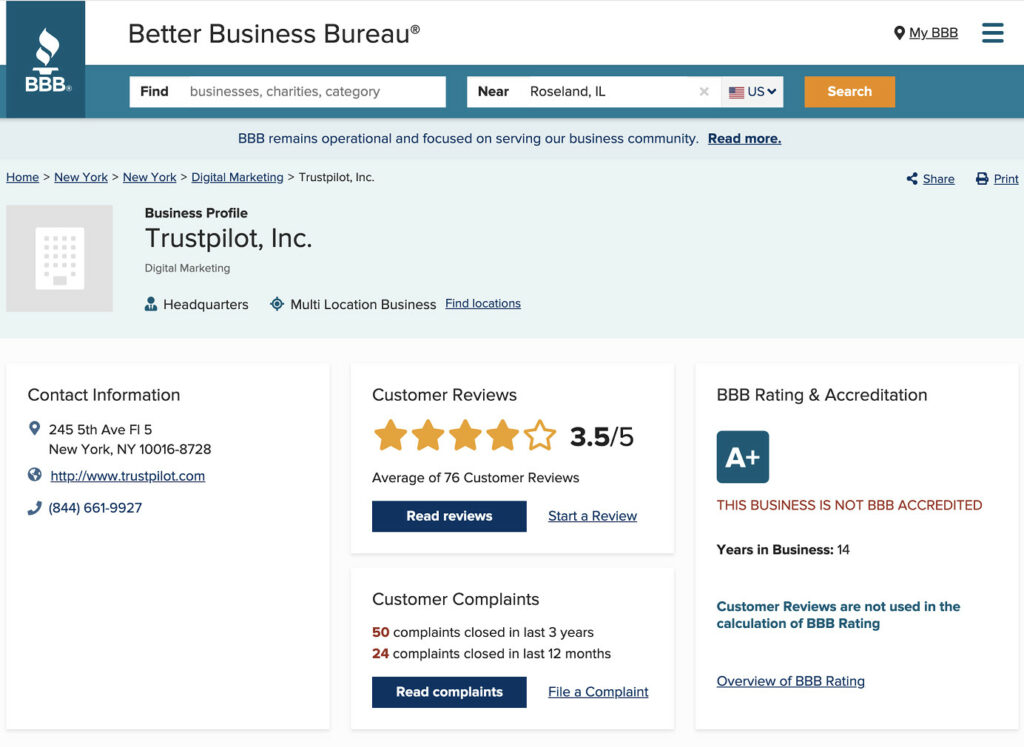 How to Use Trustpilot As a Consumer
Another way to understand the reliability of Trustpilot is to use it as a resource. Below is a quick process for using Trustpilot reviews and other Trustpilot features to decide if a company is trustworthy, which can save you time and money on a purchase decision.
You can visit Trustpilot.com to find a company you want to know more about or to search in a category, such as "Pet Food." For example, you could check out the company LegalShield by typing their name into the search bar at the top of the home page. In January 2021, this is what we saw: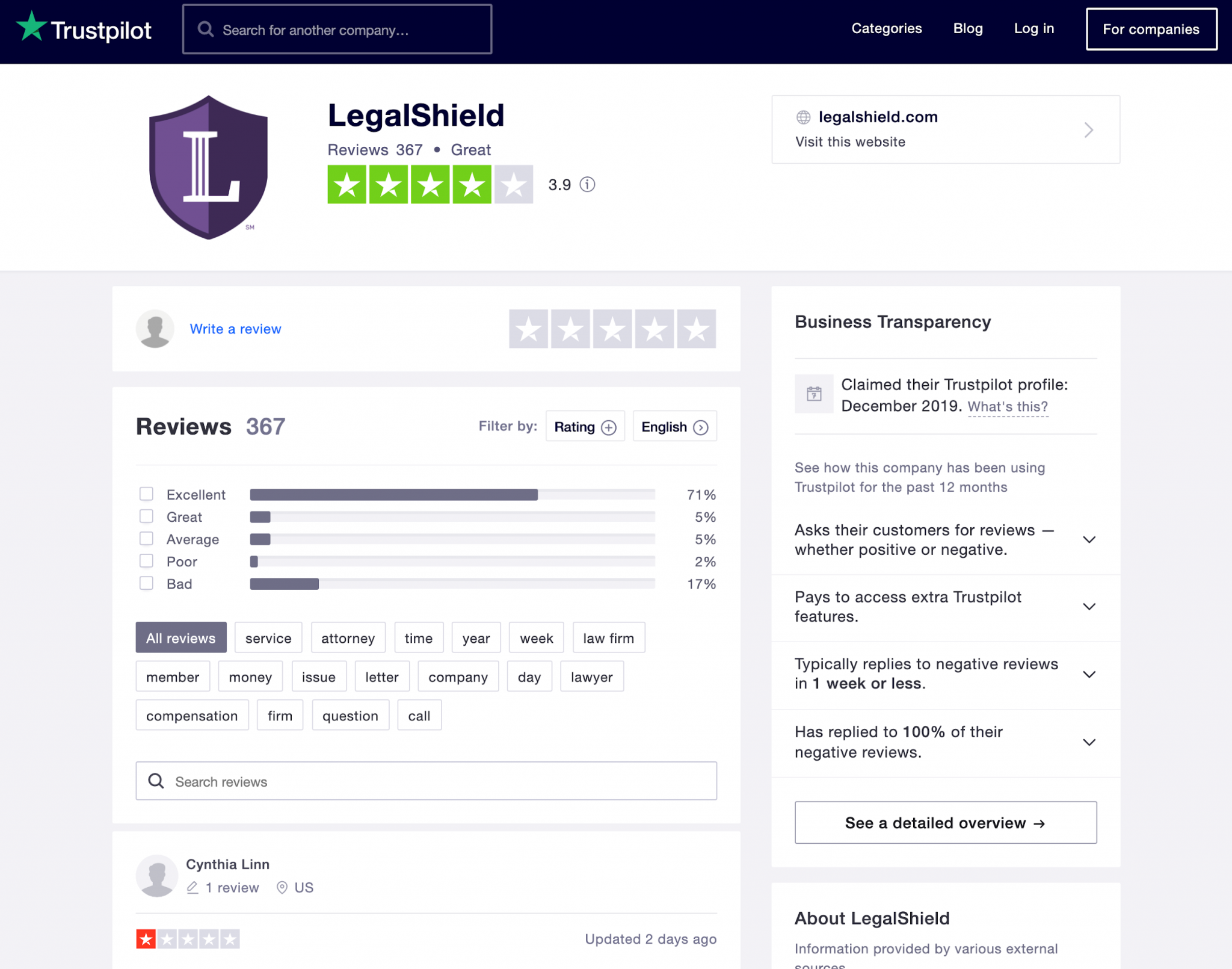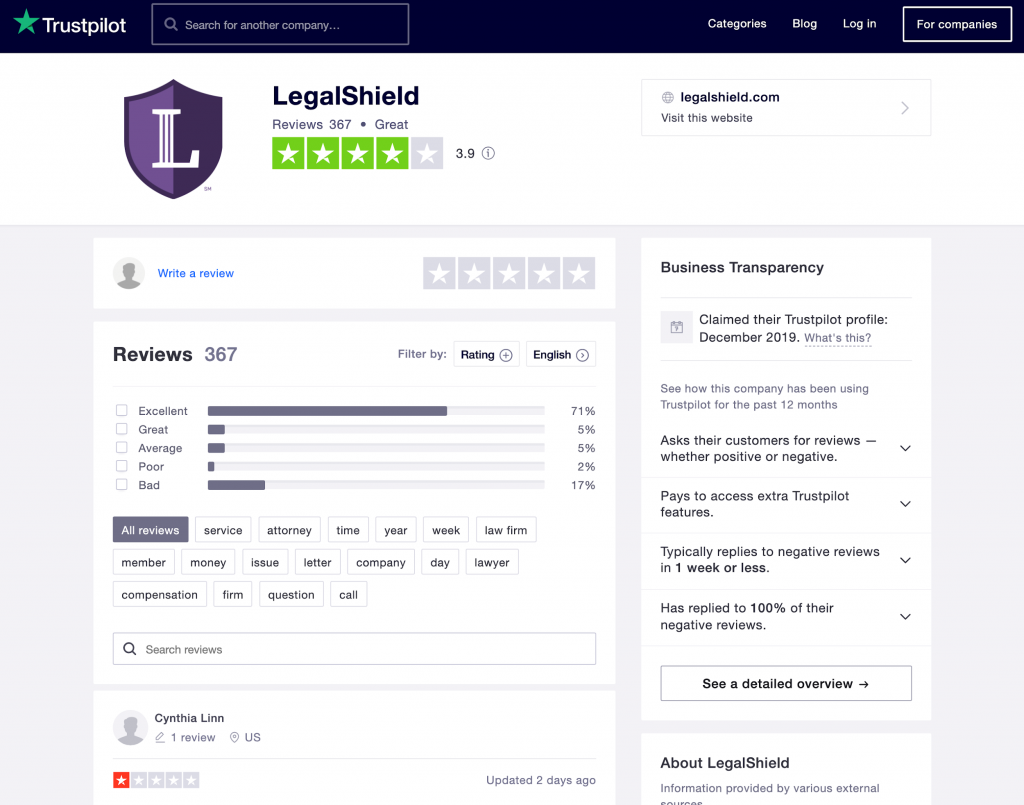 In this image, the company had received 367 reviews and had an average rating of "Great," or 3.9 out of 5 stars.
Writing Your Own Review
Below the header, there is a blue link where you can write your own review and give a star rating to this company. You can pick the number of stars you want to give, and you'll be taken to a form where you can write a review.
You can explain the experience that you had and give your review a unique title. Then, check the box that confirms that this reflects your own experience. Finally, you can create your account through either your Facebook or Google login information.
Diving Into Other Information
To continue, below the "Write a review" link, you can see the percentage represented by each type of review. In this case, 71% of all their reviews have received 5 stars. You can even click on the button to the left of "Excellent" to read those reviews.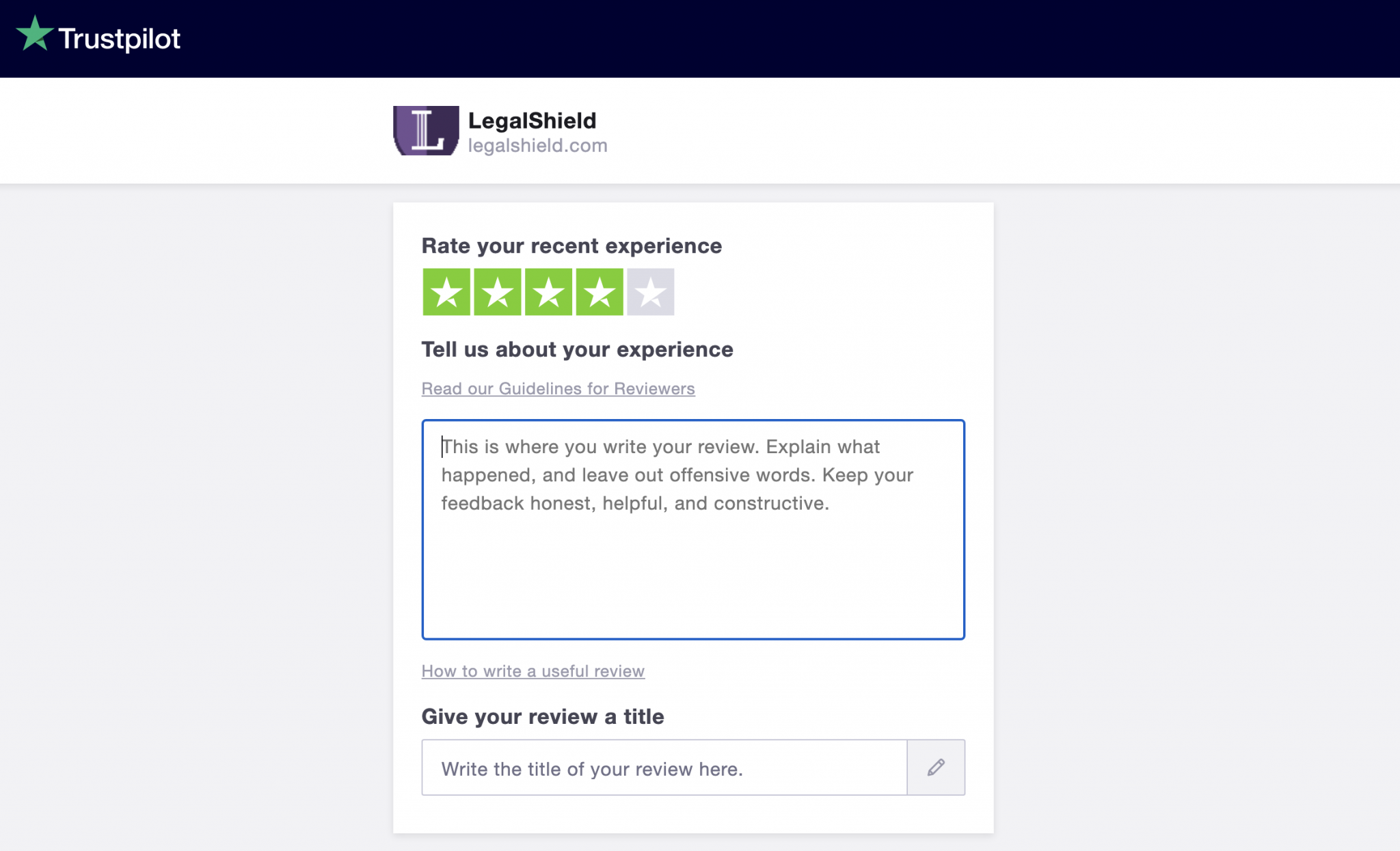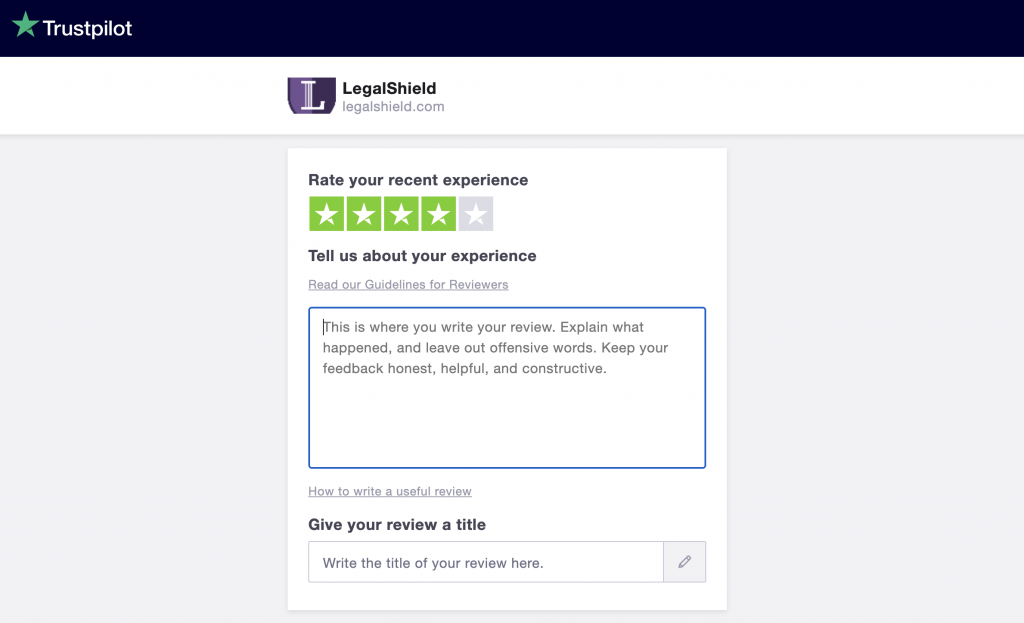 Below that, we saw a mix of all reviews in publication order, with the most recent at the top. According to Trustpilot's policies, their automated website simply publishes reviews as they are submitted, without censoring them.
As you scroll down, you'll usually see a mix of positive and negative reviews. You'll also see any replies that the company has written to reviewers. Rarely, you might see that a review was removed because it broke a Trustpilot guideline (for example, the reviewer could have deleted their review, or their review alerted Trustpilot's fraud detection software).
Next, look at the right-hand column, in the Business Transparency section.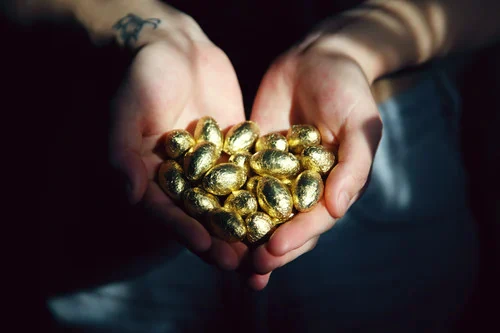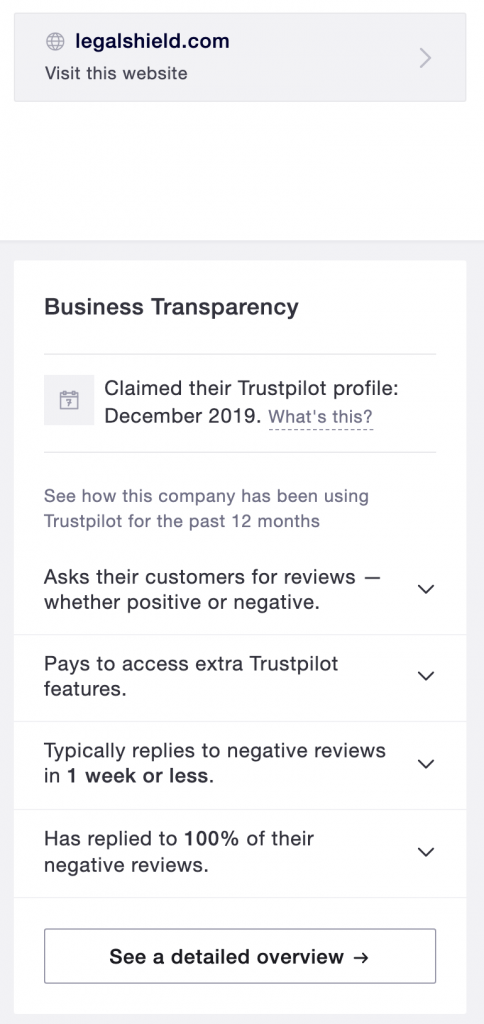 It records that this company "Claimed their Trustpilot profile." A team member at LegalShield decided to connect to the profile page that was automatically created when customers started reviewing them on Trustpilot. They did this in December 2019.
If a company hasn't claimed their profile, this wouldn't automatically mean they're untrustworthy. They might simply choose to engage with their customers on a different website. There are many places they can engage, although these sites might not be as frequently visited as Trustpilot.
You can also see that this company "Pays to access extra Trustpilot features." If a company does not pay, there simply will be no message there.
The last item on the list is crucial: "Has replied to 100% of their negative reviews." This shows that when customers have complained about LegalShield, the company has responded every time. That's an excellent record—and it also shows the importance this business places on Trustpilot reviews.
Next, you can click on "See a detailed overview" at the bottom of the Business Transparency column to visit a comprehensive page about the organization.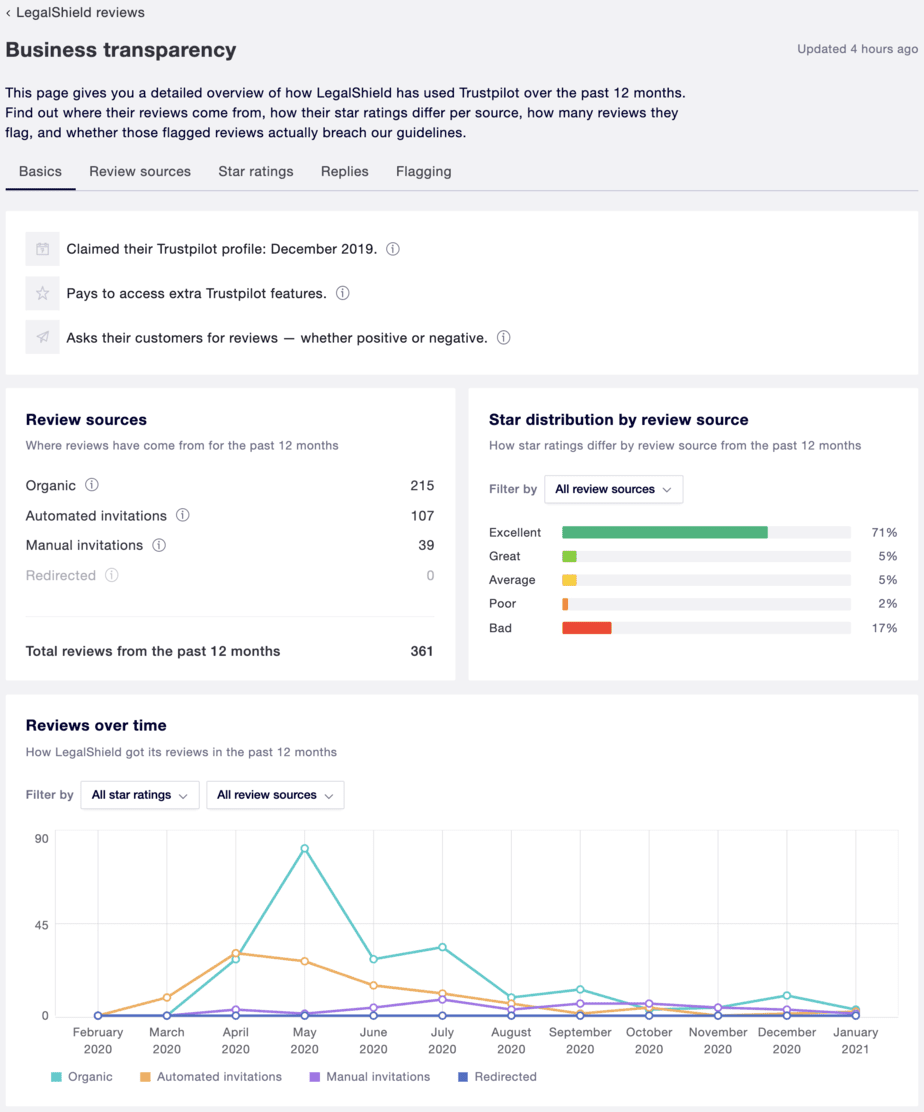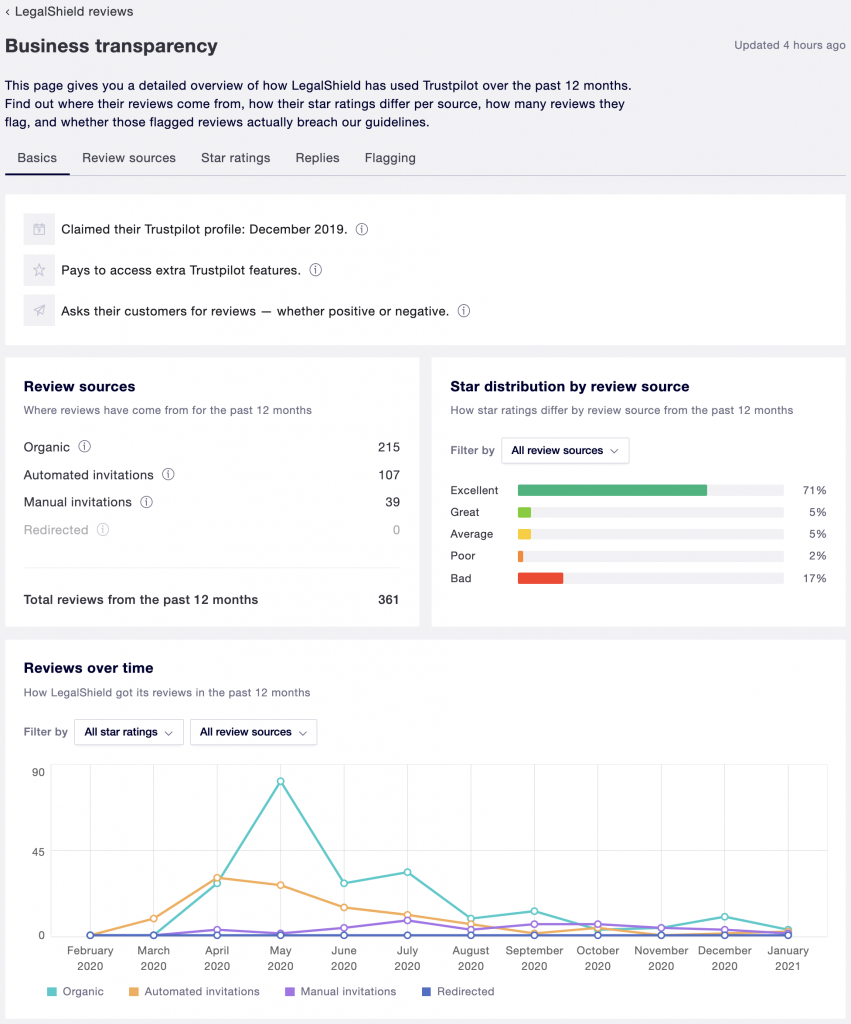 This page gives far more details about LegalShield's activities on Trustpilot during the last year. It also tells us:
The sources of their Trustpilot reviews
How positive or negative their reviews are when coming from each source
Whether the company has flagged any reviews
Whether the company flagged reviews for good reasons or invalid reasons
This is all very valuable, because it indicates whether the company is engaging in trustworthy and respectful behavior on Trustpilot.
In this case, what do we see? Well, the vast majority (215) of LegalShield's reviews came from the organic source; in other words, LegalShield didn't invite the customers to leave reviews.
Next, 107 reviewers were invited automatically at some point during their time as customers.
Finally, 39 reviewers were manually invited to write a review by someone at LegalShield sending a link to them.
Here's another great source of data: Scroll down to the graph called "New reviews by star rating." If we change the filter to "Automated invitations," we see that the company received many Excellent and Great ratings from customers who received automated invitations.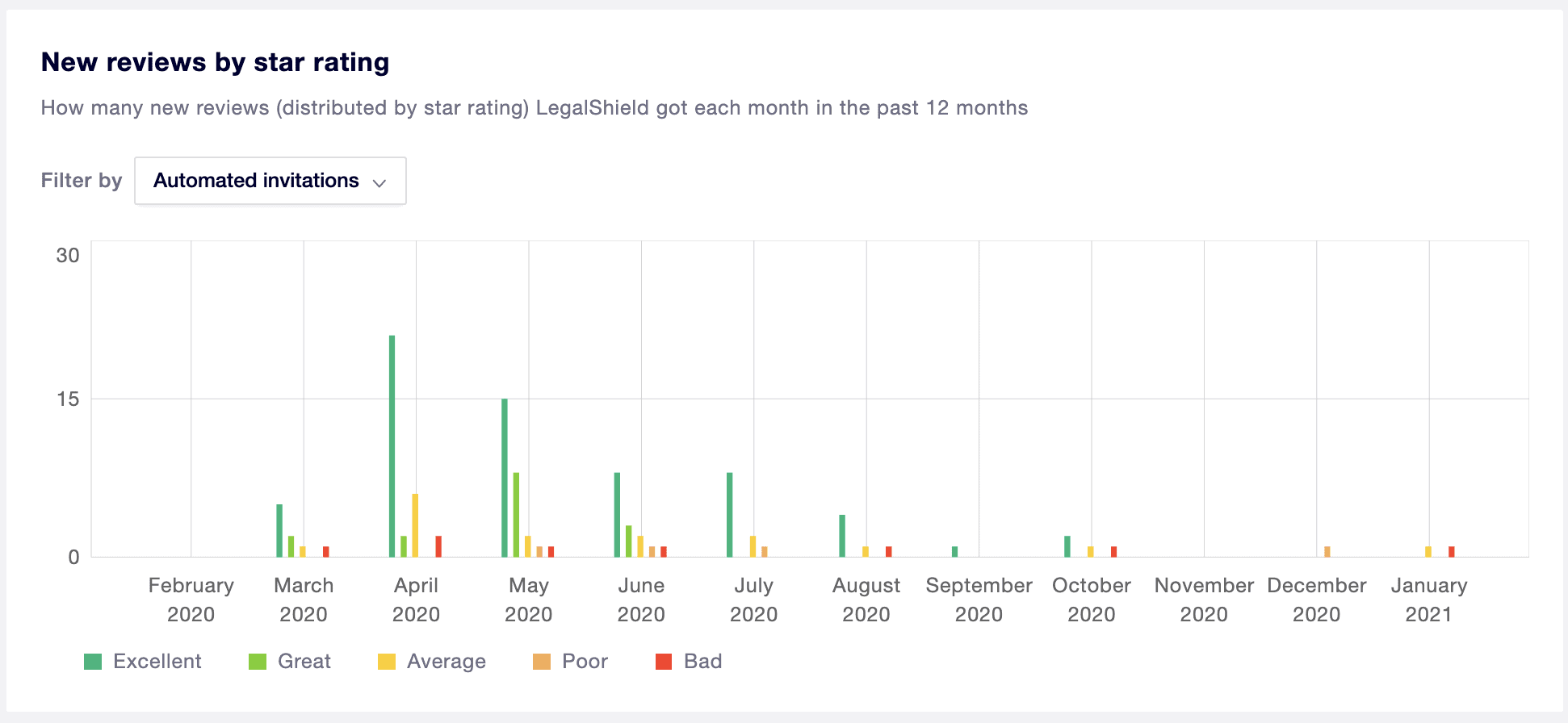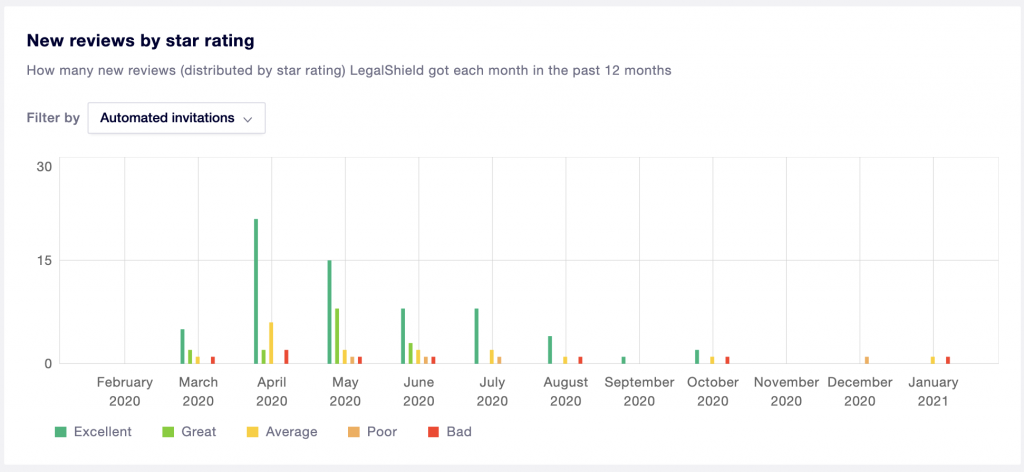 If we filter instead by "Organic," we find many Excellent reviews in early and mid-2020 but some Bad reviews in late 2020.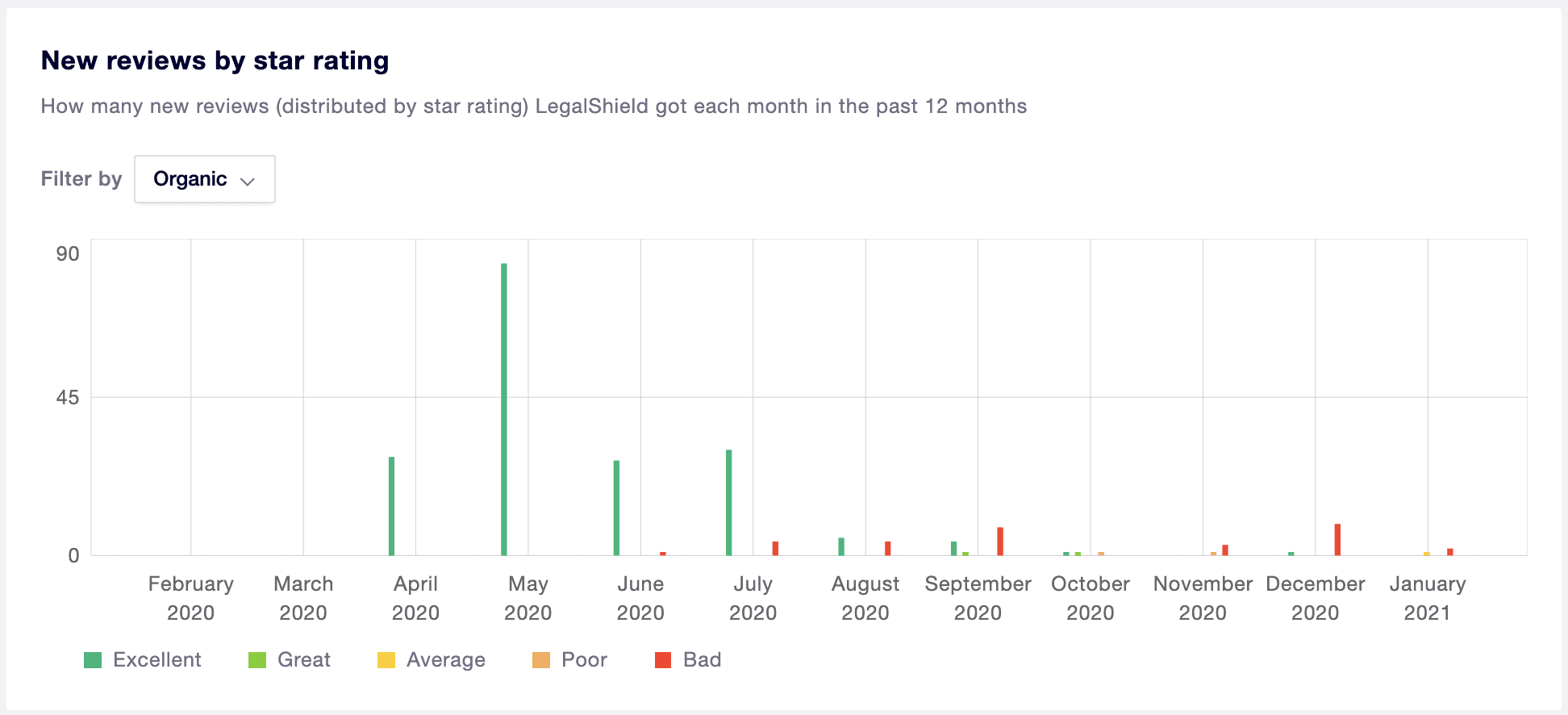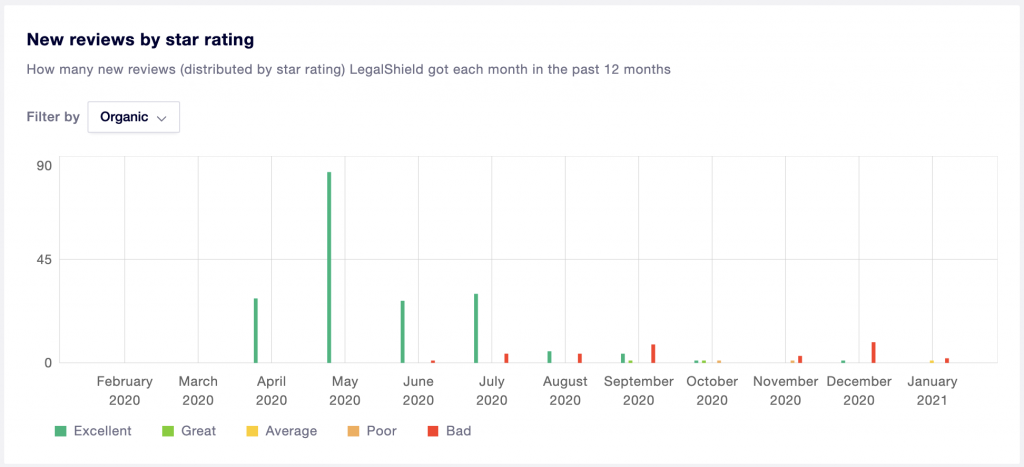 Finally, if we filter by "Manual invitations," we see several Bad ratings pop up throughout the year.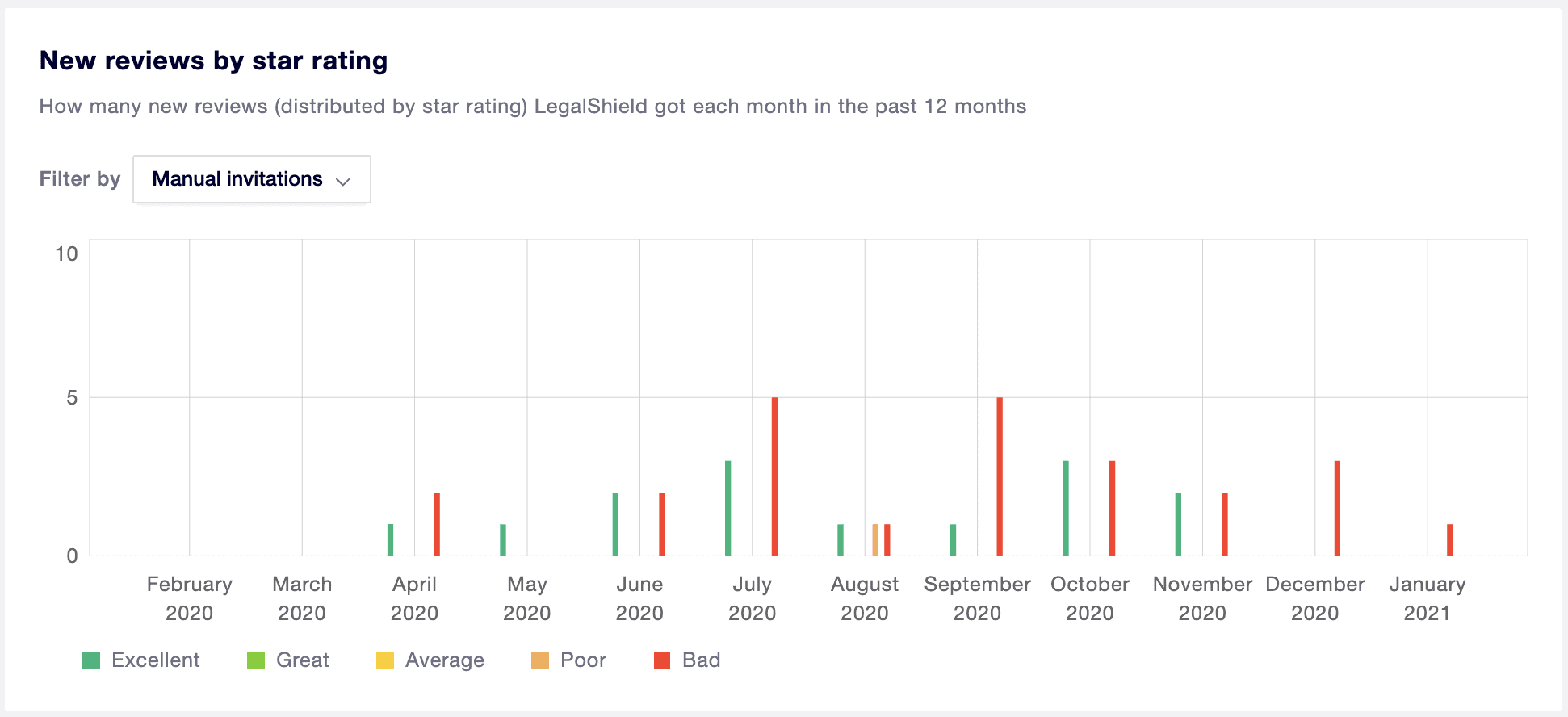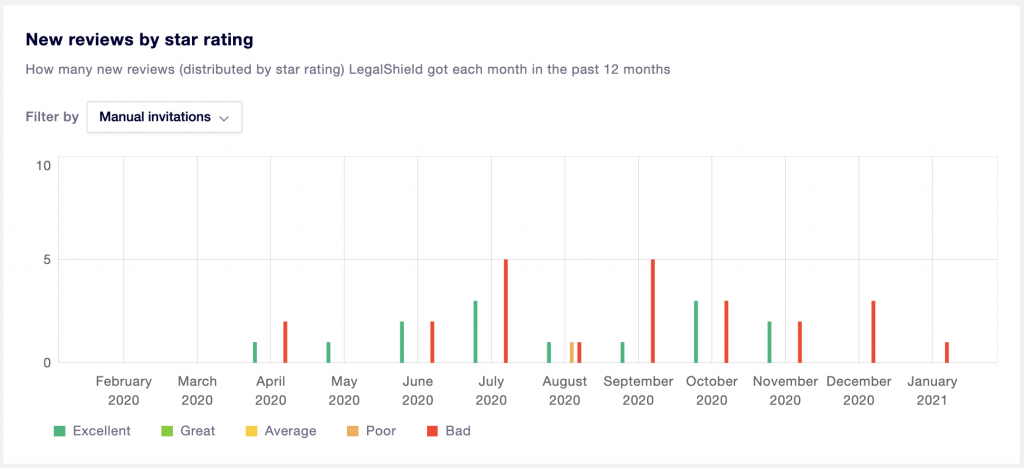 This tells us that LegalShield invited customers to submit Trustpilot reviews regardless of whether that customer might write a positive or negative one. That makes LegalShield seem more trustworthy.
Below that, we see a section called, "Reviews flagged by LegalShield."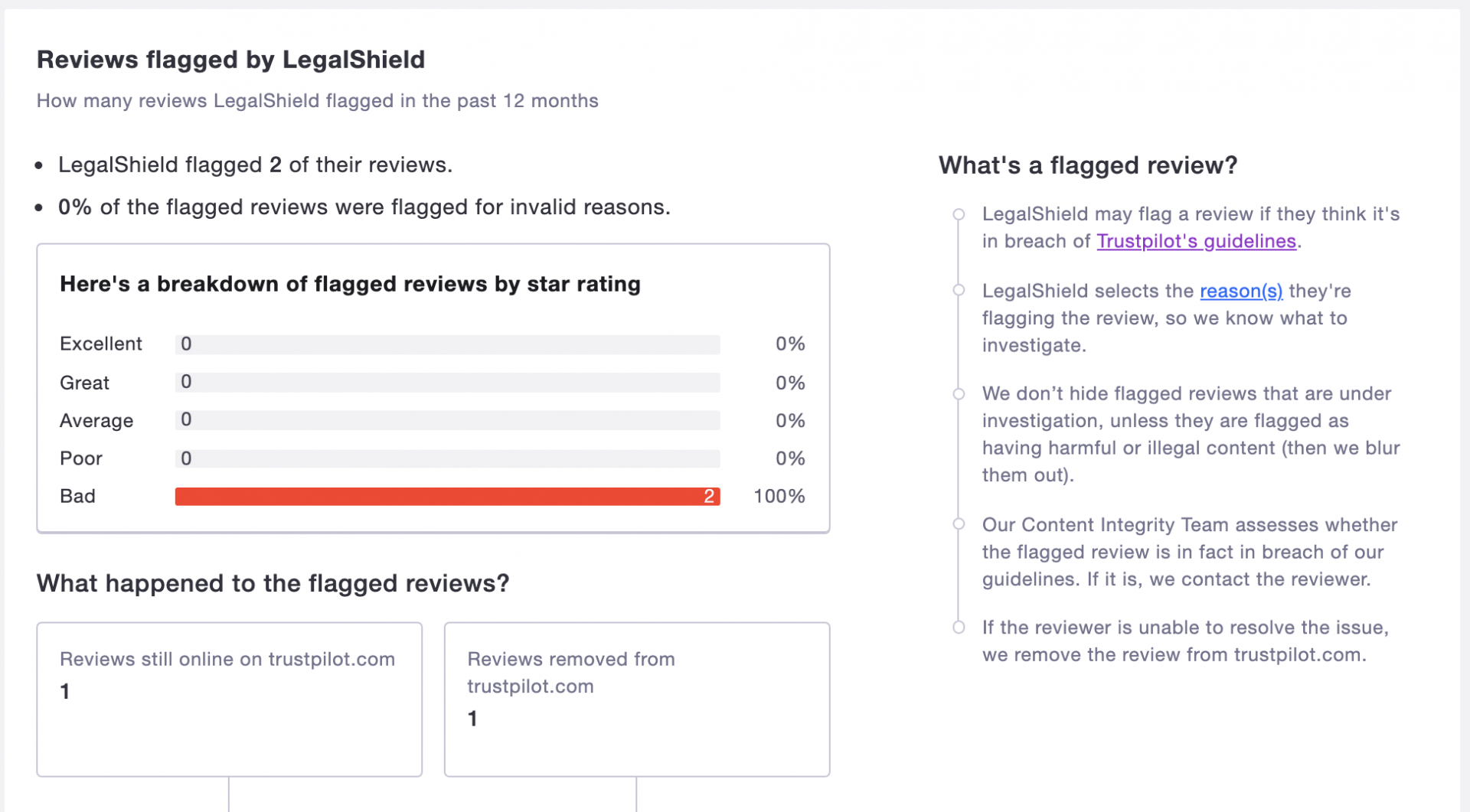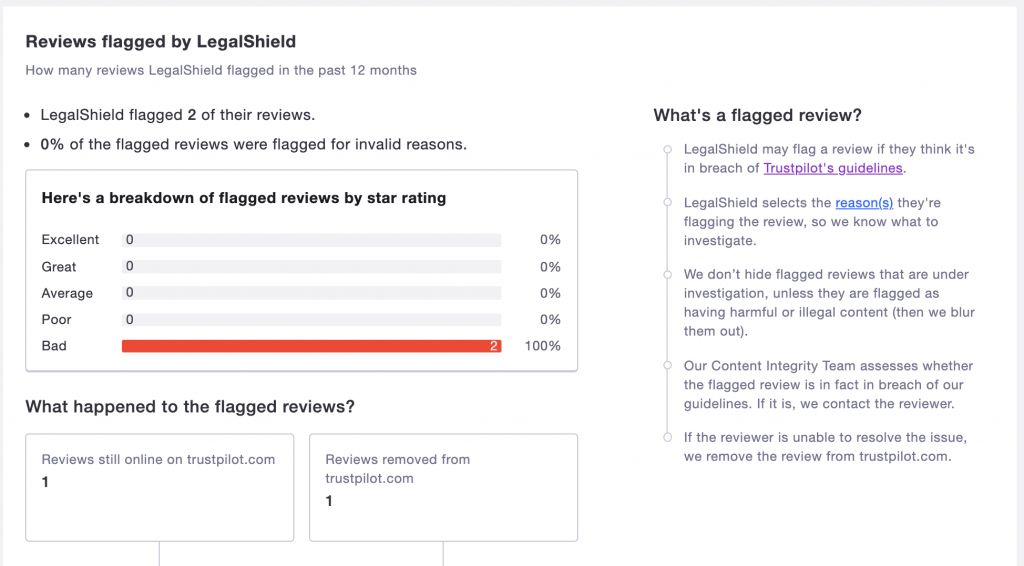 Flagging is the process of pointing out that a review might violate Trustpilot guidelines. LegalShield flagged two Bad reviews, but "0% of the flagged reviews were flagged for invalid reasons," showing that the company uses the flagging process correctly.
Reflection on This Analysis
To sum up, LegalShield quickly interacts with customers through Trustpilot. They are consistent at answering customer complaints. They have also paid Trustpilot to use some of their more powerful features. Overall, this company has far more positive ratings than negative, and they are responsive to customers. They would probably treat us well if we became customers.
From this analysis, we see that Trustpilot's features are very useful. Besides reading reviews about a company, you can see their past behavior in the Business Transparency section, including how they interact with customers, if they fairly or unfairly flag reviews, and if they ask for Trustpilot reviews only from excited customers.
We've concluded from all this that Trustpilot's dedication to transparency is genuine.
What Does a Fake Review Look Like?
Trustpilot explains the methods they use for preventing and removing fake reviews: They employ more than 50 people who protect the platform from fake reviews. They also have fraud detection robots. Plus, 2,500+ reviews per month are flagged by community members.
However, some organizations still occasionally post fake reviews in order to try to make themselves look better. This is a common problem for many companies that host reviews; for example, it's estimated that 61% of electronics reviews on Amazon are fake.
You can try spotting fake reviews yourself using these three methods:
Look for major grammatical and linguistic mistakes. This can be a clue that a cheap contract worker from another country—or a computer program—wrote the review.
Click on the name of the reviewer, and look at other reviews he or she has posted. Does the pattern look like the behavior of a typical consumer or someone who is paid to review a certain type of product or a company many times?
See if many reviews were written for the same company in a very short amount of time. The group will often be very negative or very positive, which may mean they were paid for.
Note that very large companies—Walmart, for example—will often have many negative reviews on Trustpilot, even though they are legitimate, established companies. Take that into account when looking up big organizations on Trustpilot. Reviews are often more balanced and informative for purely online businesses.
Finally, the average company has a mixture of positive and negative reviews on Trustpilot. No business perfectly satisfies every customer. So, you should be a little suspicious of a company that only has Excellent ratings on every review. Having at least some Bad reviews can actually be a sign of authenticity.
Trustpilot: Conclusion and Verdict
We've concluded that Trustpilot is a valuable resource. Many companies and consumers have used it for about 14 years. You can find real reviews from real customers on it and write reviews yourself. The ratings and reviews on Trustpilot can save you time and money by guiding you to better purchase decisions.
Trustpilot has also been validated by major organizations like Google and the Better Business Bureau. It's genuine. In fact, businesses are well-served if they claim their Trustpilot profiles and start to reply to customers, helping them with their issues.
Finally, Trustpilot's own practices and commitments are trustworthy. They are focused on making the world of online reviews a better place. They aim to let every consumer share their experiences. You can participate by writing your own Trustpilot reviews. You might truly help someone like you to make a beneficial choice.