Website builders are essential for small digital businesses that cannot foot up the cost of hiring a website expert to design a sophisticated site. After you've settled on the type of digital marketing to involve in, you'll need a portfolio website to sell you to potential clients. With such, you should choose your brand name and get an artistic write up that makes your clients feel the need for your services. If you need a website, 8b is the best free website builder to start up.
8b Website Builder
It is a free website builder that allows you to create a mobile-optimized and Google-friendly site online in a couple of minutes. With this kind of website builder, you needn't be a pro in web development as it involves no coding and other complex website development processes. Sounds great? Well, all you need is a mobile phone or a tablet if you don't own a laptop, and you are good to go. More interestingly, you can create your website from wherever you are as long as your browser is functional and you have a reliable internet connection. Ready to get started? Well, let me explain how to go about it.
Creating A Portfolio Website
Having a killer website portfolio is critical for unlocking the digital marketing success. Now, how do you create your portfolio stress-free? Here is how to do it in three steps:
Step 1: Choose a portfolio theme
Many beginners are overwhelmed when it comes to choosing a topic for their portfolios from the thousands of paid and free options at their disposal.  And you may not be an exception. With that said, you should be careful when choosing your portfolio theme. Now, how do you ensure you have the best portfolio theme for your site? Below are some of the tricks.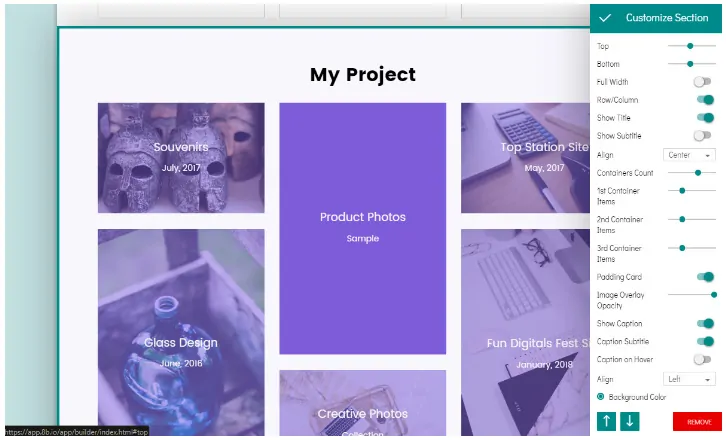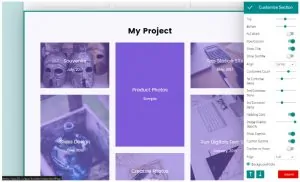 Dwell on simplicity. Despite having many website themes with numerous customization options, you should choose a theme that builds on your goal. Having that in mind, you should also make your site look good but with no compromise to simplicity and usability of your website. Since the primary purpose of the site is to provide information to clients while achieving your goals, having overly complicated themes' presentation style is a big NO!
Choose themes that have readable writing fonts.
Do make a list of features that you want early enough to avoid the problems of rush-hour.
Always choose an attractive color. That is, not too bright or too dull, but it should also have a great visual appeal to keep your readers put.
From the numerous themes that 8b Website Builder offers, you can choose the one that would help you achieve your dream and start creating your website. When you select your theme list by clicking on "Select here" option, you should give a name to your future work and click or tap on "Create site."
Step 2: Design the content
When creating your portfolio website content, you should be very careful about what you want your clients to read. Ready to go? Consider the following hacks;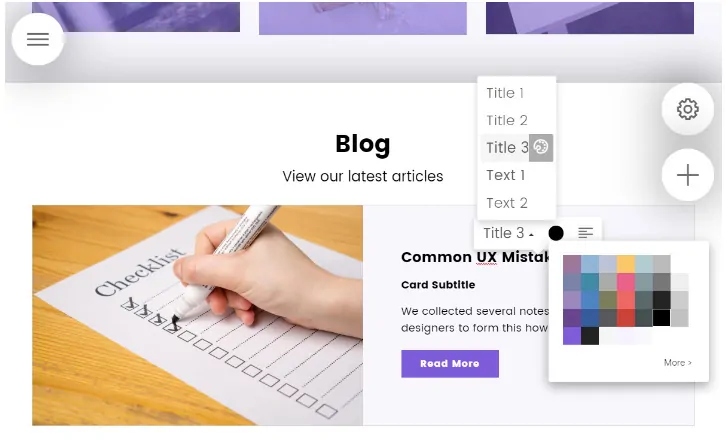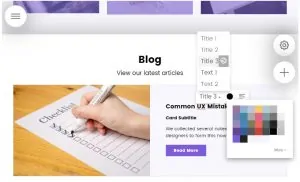 You should set a good time and go through what you think will be relevant and useful for your site's visitors. Thus, strive to major on your most substantial pieces and avoid writing everything.
Showcase your unique features and quality of work that makes you outstanding
Always give a variety of skills that will add value to a third party's business. That is the concrete reasons why you should work together. Also, you should decide on the number of pieces to include.
Stay updated with the current technological advancements.
Organize your pieces systematically to reflect your capabilities.
Ensure the cohesiveness of your content and image. Also, you can add other valuable pieces that are inherent to your personality and competency.
Edit your website in 8b by clicking on "Customize Section." You'll find the already done site and your work would remain to add content, make a few changes, and get everything ready for publishing. With that done, your portfolio is ready for publishing.
Step 3: Publish your portfolio website
When all the work is done, you need to publish your site. Fortunately, 8b makes this work more effortless than ever before. First, you may consider other free versions of 8b website and own domain that could aid you in improving the work of your site.  You can achieve that by clicking on the "Settings" menu and changing customizations to your way including editing the actual domain name. When through, you'll be done with your Portfolio website.
Advantages of Using 8b Website Builder
8B offers numerous beautiful templates for every case
The flexible settings of the web builder are quite straight forward, thus friendly to every user.
It offers simple steps that do not require complex skills to follow to publish a website.
8b offers free website builder versions with the incredible feature that you can hardly find elsewhere.
Conclusion
8b website builder is an incredible free website builder that offers a real solution to everyone who would like to have a responsive website in just a few clicks. With this kind of website builder, you needn't worry about having much knowledge in web design as all will go smooth. Try it today and save your time and effort.