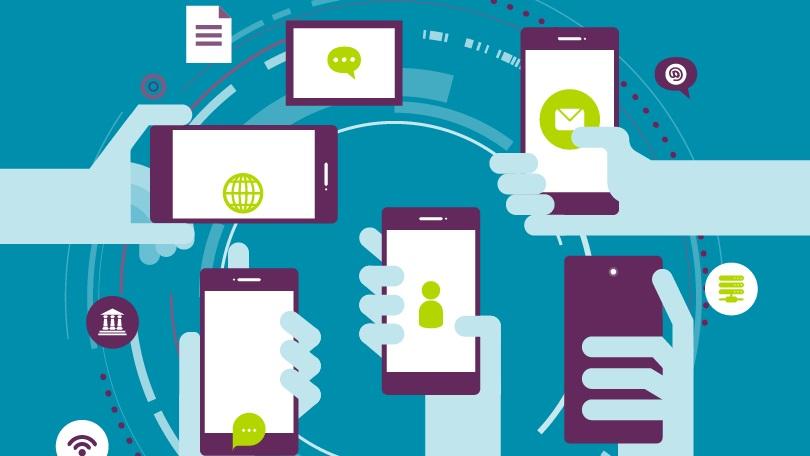 With the advent of next-generation mobile technology, the companies have witnessed a major shift around the globe. In the last few years, the usage of mobile devices in companies has reduced the overall limitations of time and space in business activities. As a result, the number of companies investing in mobility has increased in order to help promote growth, productivity, coherence, and overall customer satisfaction. 
Enterprise mobility is becoming the epitome of technological progress of organizations. This sector is estimated to increase by about 511 billion USD by 2022 due to lateral shifting in this direction as 71% of the existing enterprises are preferring mobility already. This emerging trend also includes the use of the employees' personal devices at work. As this trend continues to evolve, employees can use their own personal devices at work, such as smartphones, tablets, and laptops. In addition, enterprise mobility helps make the employees perform better as well as streamline the company's processes.  
Challenges in Enterprise Mobility
No matter how many innovative and value-added opportunities enterprise mobility presents, but it also carries a number of intrinsic challenges that companies may face: 
Mobile Security
Mobile devices are prone to security threats and this may facilitate attackers to access data of employees' own devices. That means the attackers can also leak sensitive data and passwords leading to a huge loss of the organization.  
Real-time Data Access
An employee needs to have real-time access to the company's data in order to be well-informed and make quicker decisions. But it's challenging to provide real-time access, as it may put the company's data at risk. For this, the mobile devices must be equipped with a secure file sharing option with complete control of the IT department. 
Regular Upgrade
The adoption of enterprise mobility in an organization needs timely upgrades of mobile technologies according to the market trends. This can be only handled by checking the smallest details of the malfunctions and using appropriate tools to troubleshoot the issues on a regular basis.  
User Experience
The user experience in mobile technology plays a vital role in generating ROI for a business. For that, you need to optimize all the mobile systems within an organization to enhance productivity and efficiency. 
Enterprise Mobility Management: The Solution
To overcome the numerous challenges, the enterprise mobility solution is designed as a set of services and technologies to secure intellectual property and sensitive data of the organization on employees' mobile devices. 
Employees prefer using their mobile devices to access the company's data while moving. When they are on a business tour, they want to gain access to a presentation on the cloud on whatever device they carry. This ability to access data while traveling can add to the efficiency of a specific employee if companies optimize device management and security processes.  
Why are Companies Embracing the Use of
EMM
Various companies are now using enterprise mobility management tools and services to enable their employees to perform their best while being on mobile. Also, enterprise mobility management increases a secure mobility mindset among users in an organization. Read on to know more about why companies are choosing enterprise mobility management:  

Mobile Apps and Data Management



Using a solid EMM tool, companies can better manage devices and third-party apps used by the employees. EMM can make way for customized apps for the employees to download in order to access company data securely. It also enables companies to create an organization-specific app store that contains all the apps necessary for the workplace. 
Security Policies Restrictions



For employees' seamless working experience, companies can ignore a security policy and download third-party applications that aren't completely evaluated. EMM prevents employees from system hacking while providing a smooth experience of app download and usage. 
An EMM helps organizations respond to the incidents of lost or stolen mobile devices or data leak to a competitor by any employee. This system enables significant implementation of a mobile security policy to reduce the risk of employees' inadequacy for the security plan 
Enhanced Productivity

The facility of working remotely saves the time of the employees when they are unable to reach the workplace due to any reason. An EMM adds to the working flexibility of the employees, so they are able to give their best time to work no matter where they are. 



With BYOD, an organization can move their data on the cloud to save on IT infrastructure costs. With EMM, companies can effectively manage mobile devices and access data using centralized controls. It also reduces the security concerns related to mobile device usage in the workplace.  
Conclusion 
As the adoption of enterprise mobility management by organizations continues to evolve, its value-addition to the organization is considerable. By providing end-to-end solutions to the organizations, EMM is working as a catalyst to address the critical challenges facing enterprise mobility.