Crawling is an essential aspect of site ranking, so issues with sitemap.xml will reduce the platform's traffic. To detect and tackle those issues before they become serious problems, use a purpose-specific sitemap checker, like the one offered by Netpeak Software. For those website owners who are not familiar with this handy SEO tool, we've prepared an overview of its key features and usage specifics.
Key Features of a High-grade XML Sitemap Checker


Let's take Netpeak Spider as an example. This software is highly praised by site owners worldwide because of its smooth operation, friendly interface, and ease of use. Furthermore, this sitemap validator can detect more than 30 sitemap issues.
Detecting All URLs
Sometimes, a site won't instantly remove a disabled page or the one that was deleted via the admin panel. Using the function of detecting URLs, you can discover all those pages. Also, this feature may help you detect poorly made sitemap.xml files and indexing issues. Having more pages in the XML sitemap than in the SE index is the most clear indicator of those troubles.
Checking Sitemap.XML Attributes
Here are some of the data Netpeak Spider will collect for you:
URL of all pages;
dates of the most recent file changes;
page updating frequency.
Also, this SEO toll will help you to determine the priority of a certain web page compared to other pages.
Comprehensive Sitemap Trouble Reports
The checker by Netpeak Software shows all the found XML-sitemap issues in a separate tab. All the information on the discovered problems is presented in a specific form recognized by the most popular search engines, including Google and Bing.
Sitemap Index Scan
Sitemap index files can list up to 50,000 sitemaps. The Sitemap Mode of the Netpeak Spider tool allows you to determine all the pages included in your sitemap index. The feature is especially relevant for large websites like online marketplaces.
How to Choose a High-Quality Sitemap Validator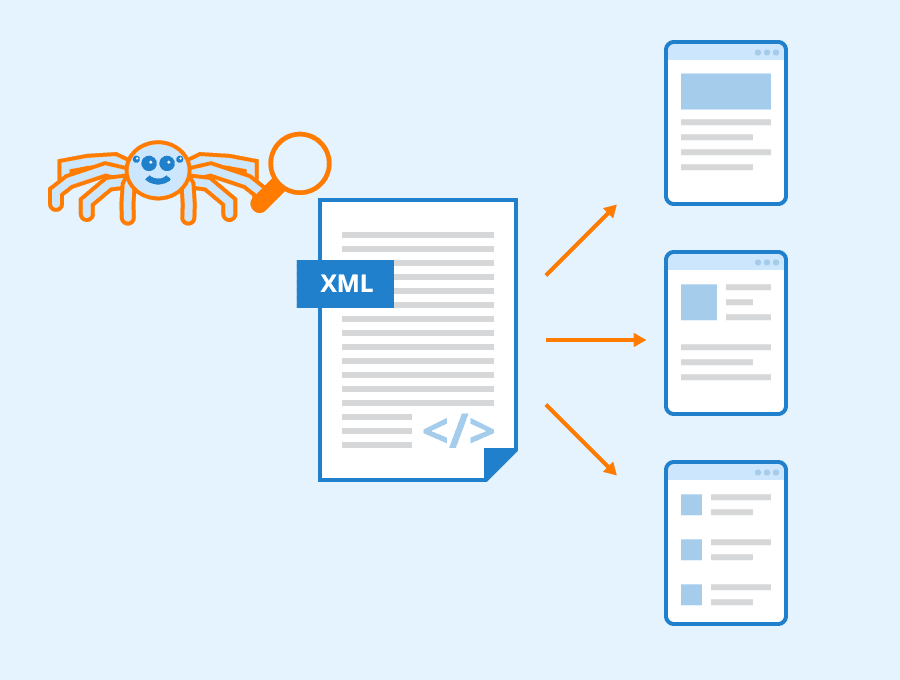 You can start by checking out the clients of a chosen application vendor. If there are several well-known brand names there, it is a good indicator of the software's efficiency and reliability. For instance, Netpeak Spider is trusted by these popular companies:
OLX – one of the largest marketplaces worldwide;
Shopify – a comprehensive e-commerce platform that enables you to launch, grow, and manage an online company;
Reuters – a huge news agency presented in nearly 200 locations all over the world.
Famous brands always carefully check their partners before starting to work with them. So, they don't cooperate with firms that deliver poor-quality services.
Study the Service Agreement
Reputable vendors like Netpeak Software will never ask their clients to sign an unclear or unfair user agreement. Before you commit to any contract, study it thoroughly for any of the following:
Equivocal statements. Anything that can be interpreted against the client's interests will be interpreted in that way at some point.
Fine lettering. Shady vendors often print the most disadvantageous cooperation terms in the smallest font.
Privacy violating conditions. All vendors must act according to the law and hand over the data on a request from government agencies. However, sharing your personal info with unauthorized third parties is a severe violation.
Honest agreements have to contain clear force majeure procedures. After all, XML sitemap validators are digital products that can be out of service for some time due to unforeseen circumstances.
Look for Client Reviews
There are many online portals specializing in collecting users' feedback. Some shady vendors pay professional writers to comment positively on their services, along with posting negative reviews about their competitors. Thus, if you see too many perfect or sharply negative reviews on a particular product, it's best to look for another site with client feedback.
Bottom Line
Using an XML sitemap checker is critical if you want your website to rank high in SERP. One should choose validators from reliable vendors like Netpeak Software. That's because shady developers often deliver poor-quality applications, provide faulty client support, and charge way too much for their services.
On the other hand, trustworthy vendors deliver smoothly operating apps at a fair price with several subscription plans.