In my line of work, dealing with large files is a given. As a media expert, I constantly have to create, edit, and transfer files intended for production and marketing. Before the COVID-19 crisis, it was easy to get a hard drive, transfer files to it, and have it delivered to my client for review or to a collaborator for additional editing. I read of online cloud storage services that supported the transfer of large files via the internet, but I was reluctant to use them. The prices were ridiculously high, and the data limits were low. Some of them even required monthly subscriptions for one-time file uploads. So I continued with the seemingly easier method of using hard drives.
However, following the Coronavirus crisis, I had to start working remotely. This meant that I was now unable to easily meet with clients or collaborators. Getting a delivery service to help me in delivering hard drives was another hurdle. Therefore, I started researching to see if I could find a dependable service that would give me limitless transfer capabilities at an affordable price. I needed to find it fast. This was because I was working on a huge project with a new client. I had been trying to land this contract for so long that when it finally came, I wasn't going to let it slip through my fingers because of the pandemic.
The project required that I send regular updates to my client on how the job was going. This meant sending huge amounts of data daily to both my collaborators and client. I desperately needed to find a file-transfer service that could offer the following.
What I Was Looking For in a File-Transfer Service:
High upload and download speeds.
No upload or download limits.
Simultaneous upload and download capabilities on both ends to save time for everyone. I needed something that would allow my client to start downloading the file I was sending while I was still uploading it.
No monthly subscription fees. I wanted to make a one-time payment depending on the size of the file that I wanted to upload.
Resumption of interrupted transfers. I didn't want a situation where my upload would be 95% complete and then fail to continue because of bad internet service or a power outage. Imagine having to spend time and money uploading a 500GB file, only for your battery to run out and everything to get canceled at 95% completion.
Security and encryption. It's easy for hackers to intercept files while they're in transit and steal your data. Since I work with sensitive and private files, I needed a service that understood this and offered reliable data encryption. It is worth mentioning that I do not know how to code. I needed a cloud storage service that would automatically handle the encryption for me.
No need for file compression. It is no news that compressing files reduces their quality. I needed an app that would handle uploads at high speeds without compressing or altering file quality.
As you can see, I knew what I wanted. However, I was worried that I might not find a service that would offer all that at an affordable price.
I Found an Amazing Solution!
After lots of research, I finally came upon a tool that had all I was looking for. It sounded too good to be true. Therefore, I decided to give it a try. I went to the FileWhopper website and read up more on the product by going to the About us section of the site and FAQ section as well. I was getting more convinced as the seconds went by. I was ready to use this amazing tool, but I needed to understand how it works and how to use it.
I used the slide feature on the welcome page to check the price quote for a one-time transfer of 100 GB. I was amazed at what I saw. It was only $13.99. Amazing, I know! I even discovered that I could upload a file or folder of any size. I clicked on the Choose folder option because I wanted to send the folder containing the projects I had already done that day for my client.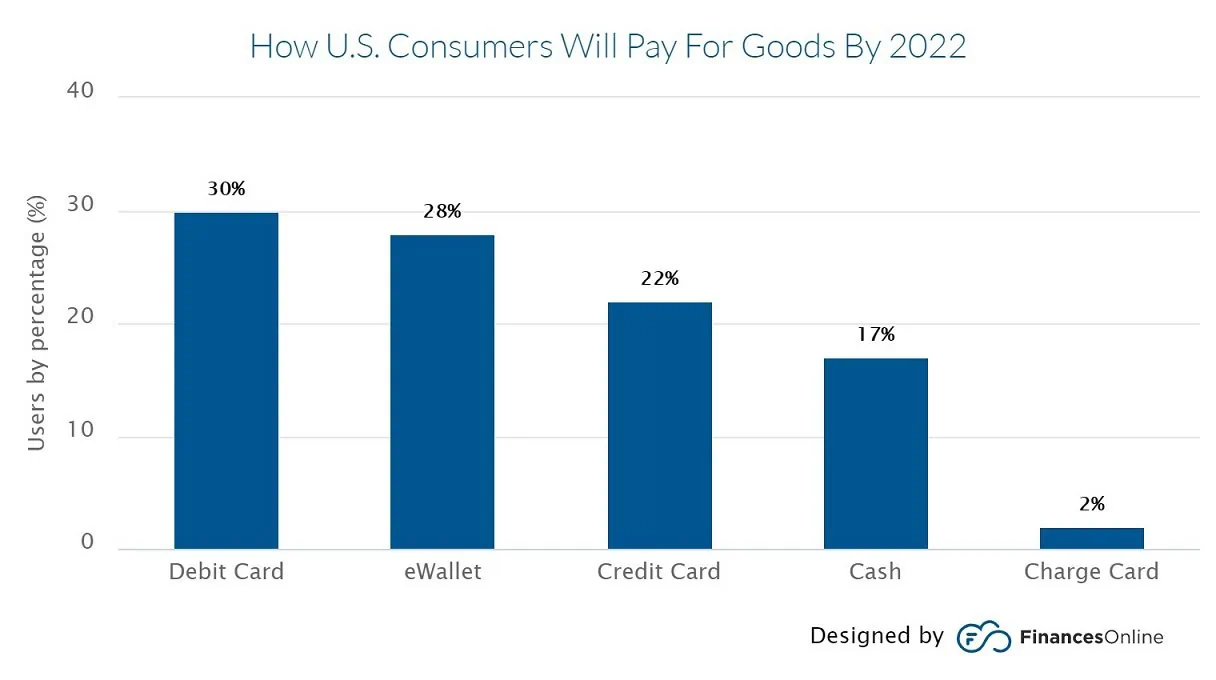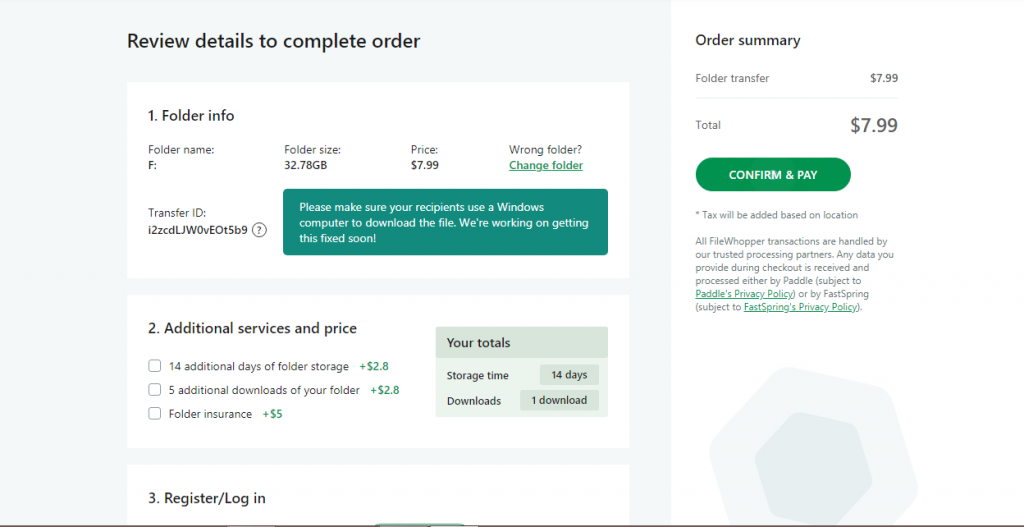 The next page showed me the size of my folder and payment options. By the way, if you are a first-time user, your first transfer of up to 5GB is free! I clicked on CONFIRM & PAY, and I was redirected to make a payment.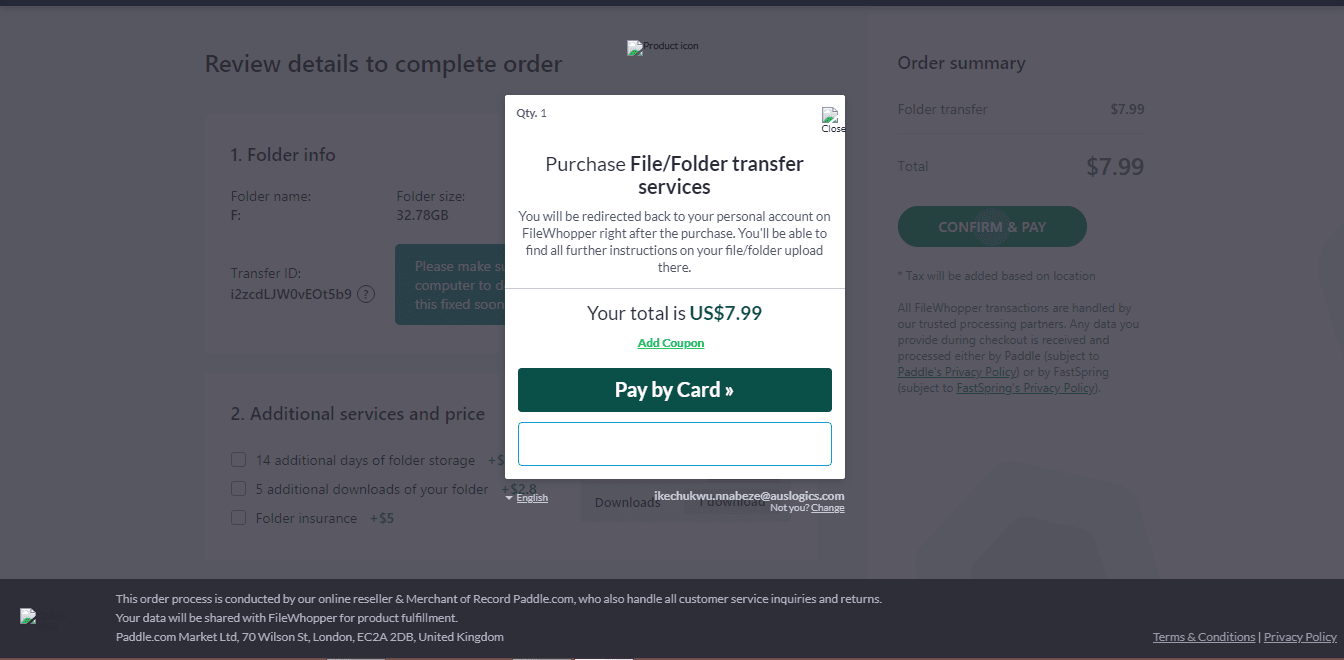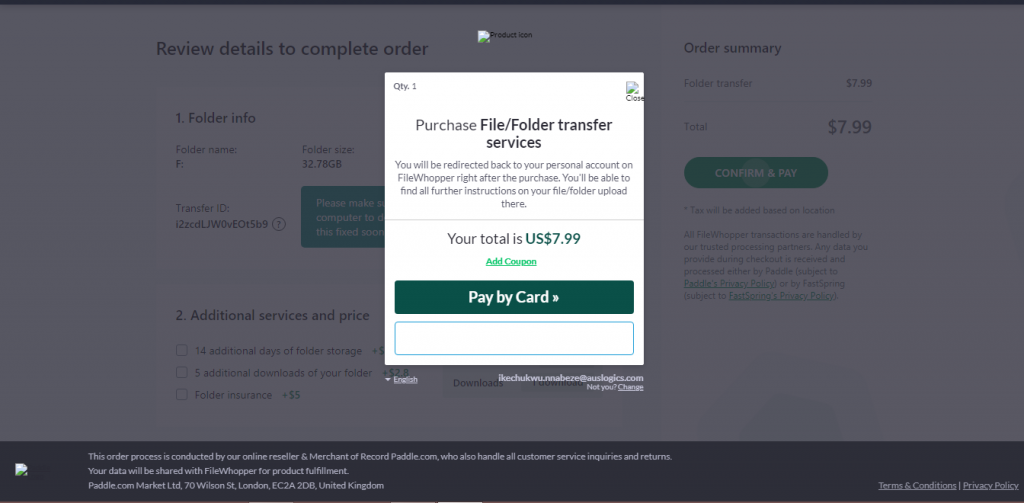 At this point, I was smiling to myself. The website took me to a new page to initiate the file transfer.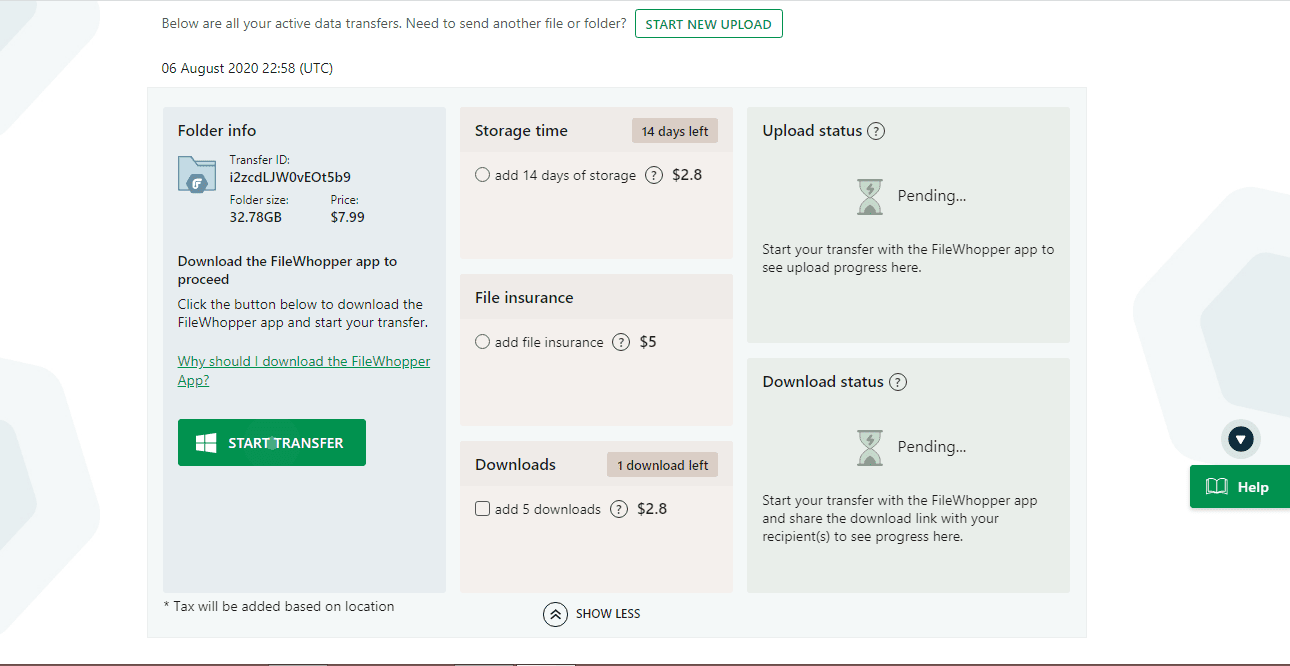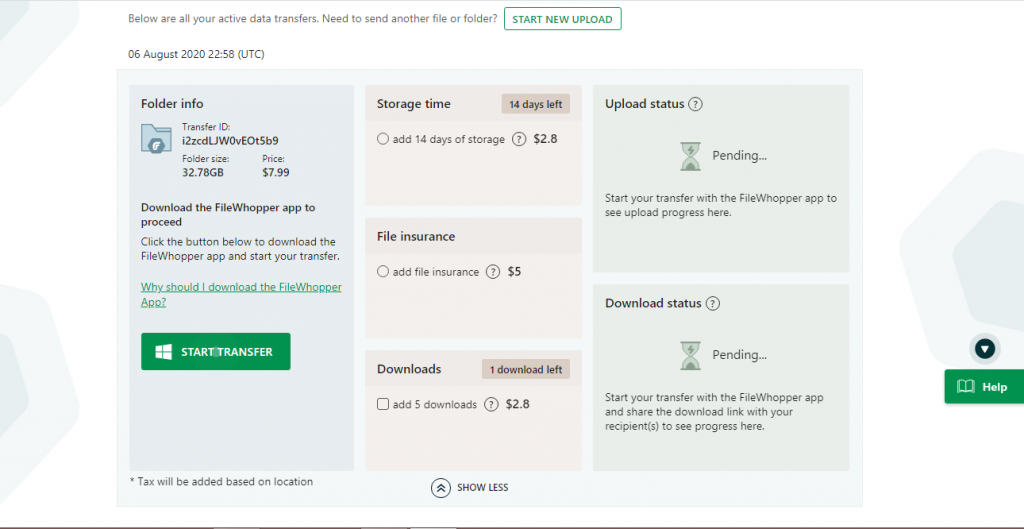 I clicked on START TRANSFER, and an installation file was downloaded on my PC. I was worried about the size of the application. I didn't want another application taking up my memory. However, as it turned out, the application was taking little-to-no storage space. It was a lightweight application that deleted itself once my file upload was complete. It was only there to ensure that my file transfer was encrypted and successful.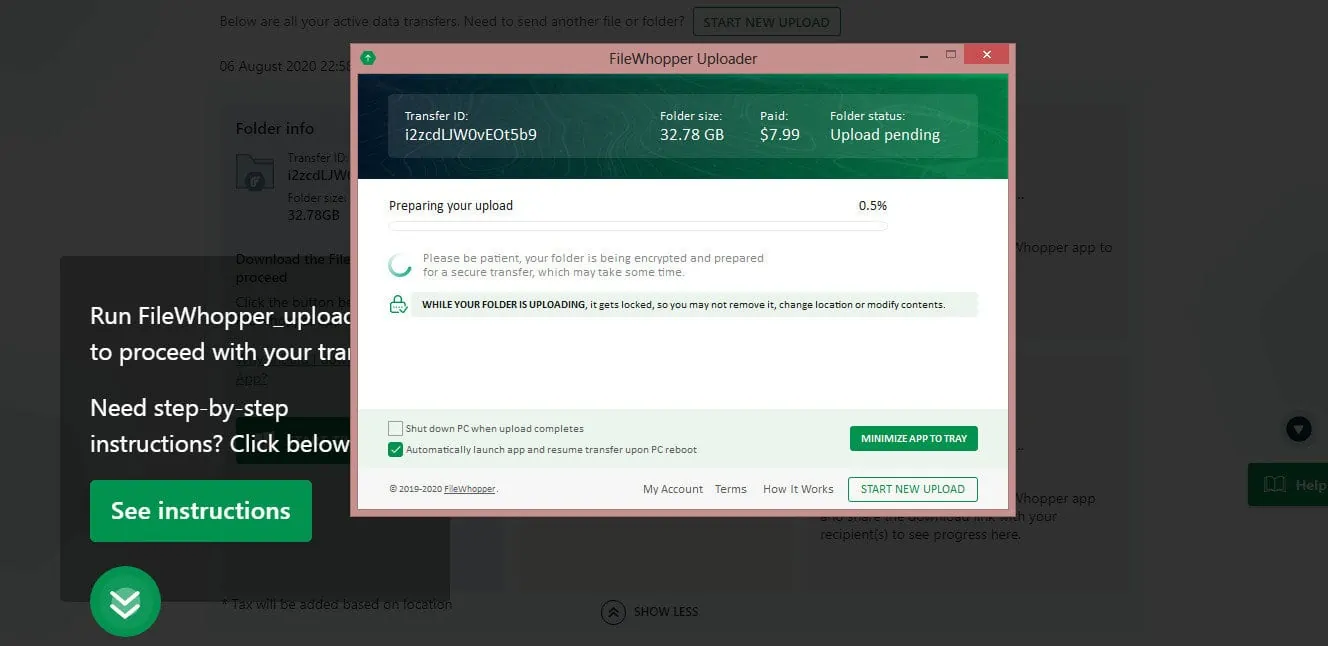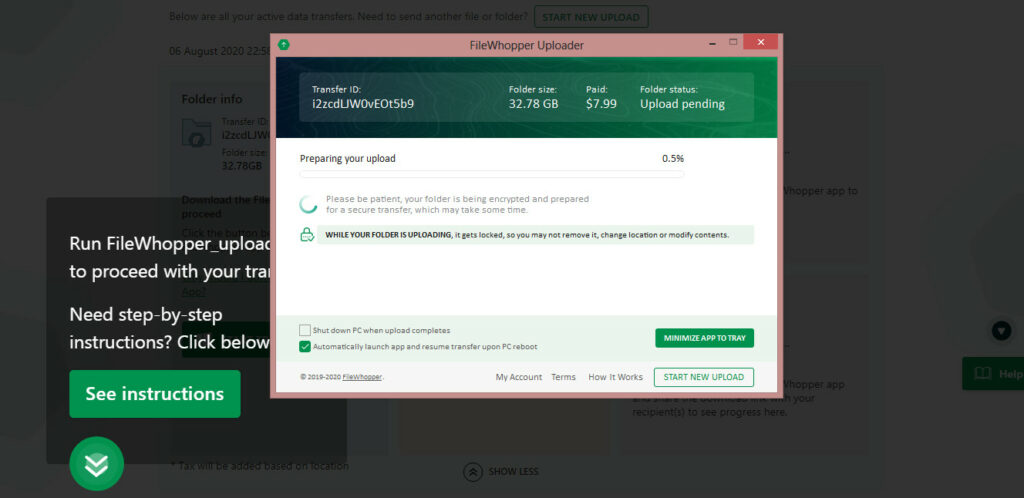 As I was uploading the folder, my Wi-Fi went off. Therefore, I had to shut down and restart my computer. To my surprise, the transfer automatically resumed from where it stopped without any data loss. I knew right away that I had made the right choice.
The tool encrypted the folder and gave me a download link, which I sent to my client. He was able to begin downloading the folder on his end even while the folder was still uploading on my end. He didn't even have to wait around for the upload to be done. It was time-saving. In a matter of minutes, the upload was complete. I didn't have to sit around all day worried about when my client would receive the folder.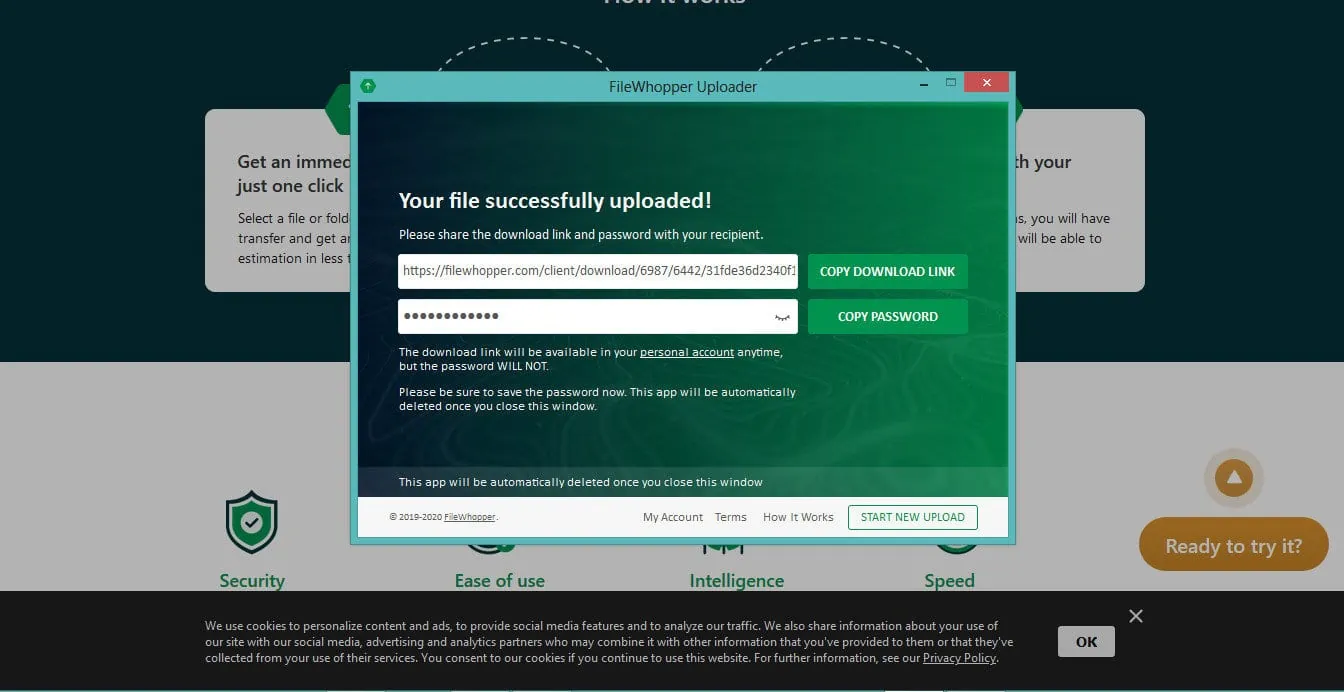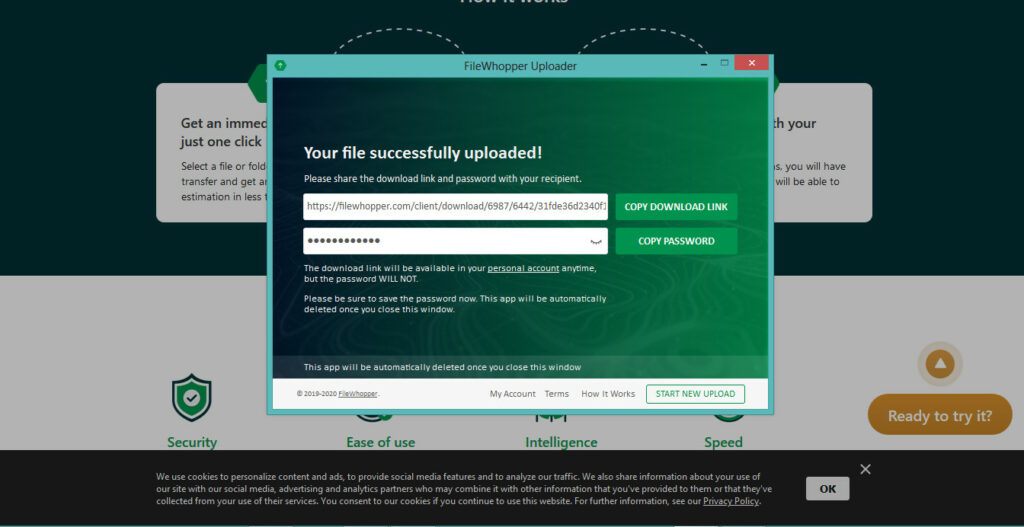 Conclusion
I have to admit, the tool gave me so much more than I imagined possible. The advantages of FileWhopper I benefited from were as follows:
The transfer was encrypted and protected with a password.
The transfer speed was just mind-blowing. With a slower service, I would have possibly canceled the transfer out of frustration. No one wants to make use of an app that can make him/her wait for ages to transfer an urgent folder to a client. I would have lost this amazing project if I hadn't come across FileWhopper.
My client started to download the project folder while I was still uploading it.
I didn't have to worry about the installation of apps or storage space. The lightweight app automatically uninstalled itself as soon as the file transfer was complete.
The transfer resumed automatically from where it stopped without data loss.
In addition to all these benefits, I didn't have to purchase a subscription, and I was given a quote upfront, so I knew what I was going for.
The downside to the tool, however, is that you cannot make changes to the file or folder you're transferring once the upload starts. If you want to continue working on the data you are uploading, you should make copies and work with those copies while the upload is in progress.
Overall, FileWhopper is an amazing piece of software, and I'm really glad I came across it. If you work with large files, then you should give this tool a try. It does everything it says!