In 2019 it's very easy almost everything with the help of the internet you can attract many customers for your organization in a short time duration, but you need to stay updated with different types of marketing strategies. One of such strategy is to get excellent influencers you will eventually get a great deal of loyal customers. Thus you will get the upper hand with respect to your immediate competitor. To get such long term benefit first you need to learn how to message influencers.
Easy Way to Message Influencers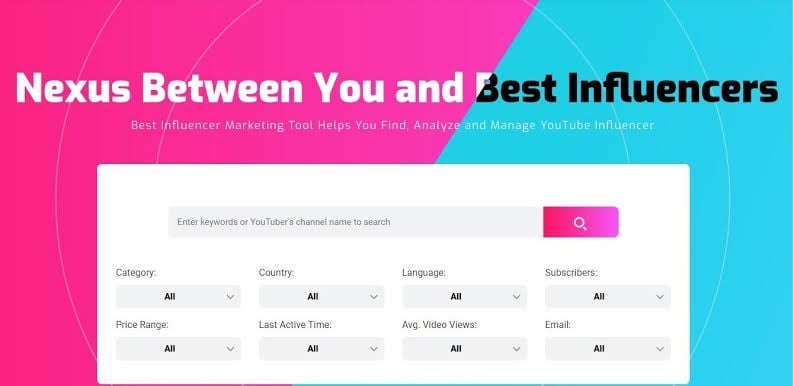 InflueNex is one of the best online sites, which will help you to get access to influences in an easy manner. This online website helps you to search prospective YouTube influencers as per the products and services which you are trying to offer to your customers. It offers you to search about an influencer by applying different types of filters on the search result. Furthermore, you will get access to wide range of influencer base to choose from. One of the best features of this software is that its user interactive UX and UI which help you to use it effectively.
Key features of InflueNex:
 With the help of InflueNex you will get accurate search, thus you do not have to spend much time in search for the right influencer.
InflueNex also provide you free of cost analytical tool, thus it will give you an idea whether you should approach an influencer or not.
The software also provides you different types of email templates which provide aid in collaborating with your influencer.
Here you can even bookmark your influencer which you can approach in future, thus you do not have to search them the next time.
Through InflueNex you can even provide group message to all of your influencers, this method will prevent you from writing similar mails again.
How to Write a Good Collaboration Email?
 It is very essential for you to learn how to message influencers in an effective manner so that they will start to collaborate with you. Through the help of InflueNex you can write engaging collaboration emails as you get access to wide range of compelling templates. Furthermore, you will also be able to learn about various tricks which will make your email look more professional. Most of the influencers want to work with professional individuals and InflueNex will help you to achieve that target with great ease.
How to use InflueNex to find influencers and send email to them:
Step 1: Log into the website
In the initial stage you are required to log into the website of InflueNex which is SSL secured trough any platform.
Step 2: Create an account:
In this step you have to create personal account on InflueNex which will provide you an access to detail info of influencers.
Step 3: Search for an influencer:
This is the step where you have to search an influencer as per your choice. You will get access to number of followers which they have, subscriptions, views etc.
Step 4: Write an email and send it:
In the last step you just have to write a collaboration email to your influencer. You will get help of several effective templates so there is nothing to worry about.
This is the short overview of the influencer hopefully its helpful for everyone.