Struggling to get ROI from your marketing initiatives? Take a look at what Justuno has in-store for you! With amazing tools powered by artificial intelligence that analyze around a billion data points every second, it is easier and faster than ever to break down who visits your website, what actions they take, and to deliver targeted messaging that converts more clicks into actual customers.
Stay tuned for why you should give Justuno a try and watch your brand reach new heights every day!
Advanced Insights
In today's world, the number of devices and intermediaries used by consumers is high and it's difficult to gather accurate insights on website activity when these numbers grow daily. Not to mention, ensuring that each of these consumers gets a personalized experience that inspires them to convert.
Justuno understands that these insights play a huge role in the expansion of your business, and delivers advanced messaging by analyzing visitors' behavior and tracking other consumer patterns. Your website traffic can be divided into different audience segments to more efficiently target visitors with the right experience.
Features of Justuno
Justuno provides you with countless features that can help you make your onsite marketing more powerful.
Create
Mobile-Specific Promotions: Get ahead in the game by creating mobile-first promotions and leverage unobtrusive messaging to drive conversions and harness the power of today's mobile generation. Justuno follows mobile SEO best practices to ensure your ranking doesn't suffer.
Geo-Targeting: Deliver unified geo-targeted messages across marketing channels. Capitalize on local marketing to create local experiences and cultivate loyalty. Geo-targeting has amazing benefits that can enhance the experience of any visitor on your website.
E-Commerce Integrations: In a single click, Justuno can integrate with any of the top e-commerce platforms. Justuno is useful before, during, and after your business grows to the next level, making it easier for your website to drive more profits from your current promotional activities.
Design Canvas: Create unique and attractive promotions with Justuno's built-in design studio that makes your brand stand out from others. This studio comes with intuitive features and has everything you need to make your website more visible, all without advanced coding or design knowledge.
Optimize
Analytics: There is an increased emphasis on analytics and data in marketing but this can be challenging with the lack of complete data and quality metrics. Justuno's dashboard is a comprehensive collection of performance metrics all of which are easy to pull actionable insights from.
A/B Testing: A/B testing to determine the most effective variation helps when looking to optimize your website. Finding what resonates best with your target audience can be difficult but not with Justuno. Create and run as many A/B tests as you like, in order to find the right combination of onsite marketing that works for you.
Convert
Omni-Channel Messaging: Whether you use Facebook Messenger, SMS updates, pop-ups, push notifications, or all of the above; Justuno helps deliver targeted messages easily and consistently with a unified brand voice. This unity ensures a one-to-one experience for every visitor on your site that's designed to convert.
Audience Segmentation: AI-powered features allow for intelligent audience segmentation, dividing your visitors into segments to deliver personally relevant messaging that boosts sales.
Advanced Behavioural Targeting: Justuno makes it easy to reach your audience with laser-focused Deliver every personalized message at the right time and manner through insights from behavioral patterns. Justuno delivers the right message, to the right consumer, at the right time.
Artificial intelligence
This feature allows you to identify and track your visitors' behavior through Justuno's advanced AI features. Overall buying patterns and the behavior of your audience is taken into consideration beyond the scope of your website for a more holistic approach to consumer behavior. This helps deliver recommendations to customers that they actually want. Contextual targeting is truly a next-level feature that will allow you to greatly scale upselling and cross-selling campaigns, delivering relevant recommendations every time based on behavioral triggers. Learn more about Commerce AI below
Products of Justuno
A. Commerce AI
Product Recommendation Engine
By combining your website's inventory with customer behavior along with billions of other data points, Commerce AI creates intelligent product recommendations designed to boost AOV. This is especially powerful for website's with an abundance of SKU's to manage to help visitors navigate products.
Complete Marketer Control
Usually, to level up your website features, you need to hire professionals that have in-depth knowledge about website development and optimization. But, what if we tell you that you can now easily control anything and everything on your website, from special promotions, to reading insights, and filtering recommendations–all by yourself? Yes, you read it right. Once integrated, Justuno allows those without extensive coding and design background to create impactful promotions on the fly.
Algorithms
Commerce AI allows you to build your promotions around five base algorithms such as "most popular" or "recently viewed". Using different strategic approaches, each of these algorithms increases average order value and conversion rates.
Filters
Filters are based on product attributes and set parameters of how the recommendations appear and what all they include. They help to narrow down your recommendations and prioritize items that you're trying to push, while excluding those you don't want shown. These help to make your recommendations more relevant and targeted for maximum efficiency.
Filters include:
Date Added
Brand
Product Name
Stock Level
Discounts
And more!
 Innovative Experiences
You aren't limited, and can leverage these AI customizable recommendations in a variety of formats, including a pop-up, in page design, side fly out, banner, and more. Encourage your buyers through their shopping process by engaging them at critical touch-points.
Learn more about how Bryan Anthonys leveraged Commerce AI for in-cart cross-sells for a last second AOV boost.
B. Promotion Examples
Through targeted lead captures and website messaging, create a personalized buying experience across various sessions and devices. Boost your sales by connecting with your visitors one-on-one through these promotions:
Countdown Timers
Many times visitors view your products for a long time, postponing the final conversion. To combat this, use countdown timers that instill a sense of urgency and FOMO to turn window shoppers to visitors.
Exit Offer
Customers tend to add products to cart, then abandon it or save it for later. Stop this from happening and encourage same session conversions by triggering promotions when exit behavior is detected.
Age Verification Gates
For sites with age-restricted material use age gates and verification pop-ups to restrict access to traffic that is legally allowed. Ensure your site is compliant with regulations and customize their appearance to match your brand!
Banners
Banners are a great tool for reaching out to customers with offers or information that are applicable to all, like free shipping or holiday deadlines. Poor marketing leads to visitors getting annoyed, but with Justuno, simple banners show customers info that's helpful and they actually want.
GDPR & Cookie Consent
While most people ignore the cookie consent notification that first appears on the opening of literally any website, it is one of the most common and efficient ways to ensure compliance with GDPR and other privacy laws. Justuno makes it simple to customize these messages, keeping your website compliant and on brand. Combine these messages with geo-targeting to show only to visitors as required by law.
Push Notifications
Push notifications are a powerful way to reach visitors while they're off your website and drive traffic back. Incentivize opt-ins from your visitors to allow push notifications with special offers, time-sensitive information or sales, or even back in stock notifications. With push notifications, you can reach your audience whenever via off-site announcements designed to augment the customer experience.
Pop-Ups
While these can be a bit aggressive if used improperly, Justuno's pop-ups can enrich your brand experience, offer suggestions, display navigation shortcuts, and more by communicating directly through your website.
Facebook Messenger
Justuno can encourage opt-ins for messaging via Facebook Messenger. Keep your customers engaged with a variety of chat-bot flows from welcome visitor, FAQs, order questions, and more! Messenger is a powerful channel that helps marketers connect with shoppers beyond the email inbox.
B. Gamification & Spin-to-Wins
We've all come across games and offers while online shopping. These are eye-catching promotions that hold the attention of shoppers and creates an engaging experience. These typically have high opt-ins rates and can be formatted a variety of ways like wheels, slot machines, and more.
C. SMS Marketing
SMS, has the power to connect your brand with a lot of customers and is a quickly growing channel. SMS opt-ins are a powerful way to ensure personalized and convenient marketing for consumers. This is also a great format for targeting a large, segmented audience with personalized offers, plus a high open rate to boot!
Professional Services and Justuno Plus
Justuno offers tiered plans from full-service to strategic consulting and self-service. Justuno Plus and Professional Services offer innovative targeting strategies, experienced insights, and expert design skills for your business meaning less effort required from your staff. Justuno's team is built of highly trained professionals who are veterans of the e-commerce and CRO industry. They know exactly what it takes to maximize your sales, customer traffic, and conversion rate. If you're looking for more than just a software solution, Justuno partners with several top digital agencies for expanded services.
Just in case you are lacking content or aren't sure where to start, Justuno has a large library of pre-built promotions to use immediately or tweak to match your website. If you're looking for more custom solutions, their team can collaborate with you for professional design and dev work on a project-basis. Want to use your own design team and just have some support? That works too, their team can collaborate with yours for the best possible results.
Clients who choose Professional Services or Plus have access to a dedicated account manager and access to the development team to solve any custom integrations faster and without any additional fees.
As a part of the standard onboarding process of Professional Services, your account manager will create custom integrations and set up the first three foundation promotions for you in order to get up and running.
As for Justuno Plus, it's similar to Professional Services but only provides the strategic consulting side, with your team doing most of the work.
Plans and pricing of Justuno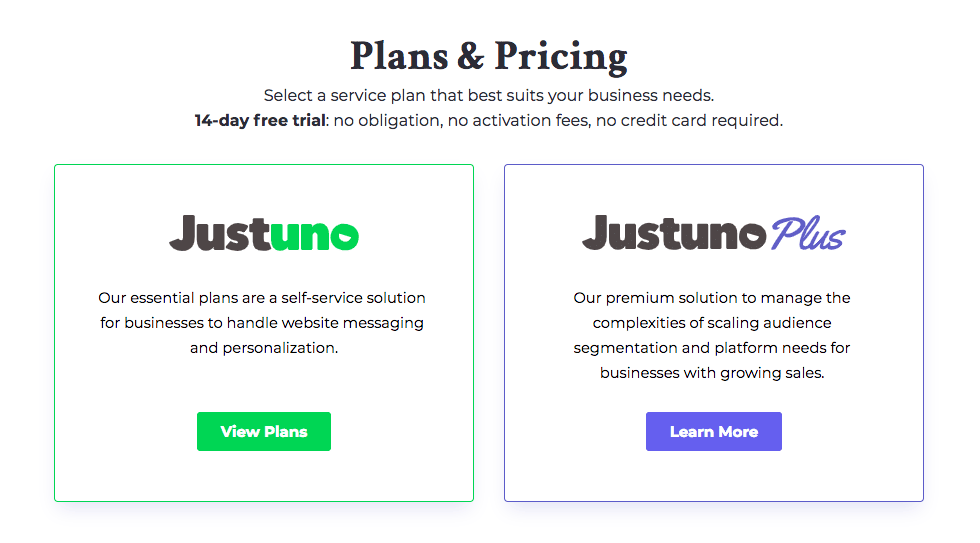 Their three main plans can be explored in more detail below. Each has the option for monthly or yearly payments and if you want to test it out first, Justuno has a 14-day free trial with no obligation, fees, or credit card required.
Wrapping Up
With easy-to-use templates, an excellent artificial intelligence framework for behavioral targeting, and more, Justuno ensures that you'll get the best possible results out of your marketing campaigns, both on and offsite.
Justuno can help you to boost the rate of repeat customers, improve customer acquisition, increase earnings, and uncover new segments for targeting. Get started optimizing your website experience now for maximum online success!
Subscribe to Justuno now and help your business reach new heights!