The world has changed and so has the fax. If you are a fax lover and want to stay updated with all the fax news and updates, follow us as we take you through a helpful fax guide.
To some people, fax seems quite outdated in these modern times. As fax has its origins from more than two decades ago, it is sometimes mistaken as an old way of communication. But as things have drastically changed in the past few years, technologists have also given fax a boost. The method of faxing has advanced and now it is not at all difficult to fax documents as it was in the past years.
It was quite a bit hard to send and receive documents via fax in the old times. The main hurdle in easy faxing was the big fax machine that was a necessity at that time. These bulky fax machines not only gathered a lot of space but also consumed quite a lot of time. Then there were other necessities like toner, ink and paper as well.
But now, things have got a lot easier with services like CocoFax that allow you to send and receive fax from email through the internet. Down below, we have explained everything about this amazing faxing service so continue reading till the end and find out amazing new faxing features.
Is Email Faxing Even Possible?
This question must have popped up in your mind because fax is usually done through big and bulky fax machines. Fax and email are two different platforms. Faxing is done through telephone lines that support analog signals while email works through the internet which uses digital signals. So naturally, these two cannot work together as no email platform supports faxing.
At this point, online fax services come into view as nothing is impossible in this world. These fax services allow fax lovers to fax their documents through the use of the internet. Such services can also allow you to send and receive faxes via email as well by acting as an intermediate service.
You can send your document through email faxing as the online fax service will convert your email into a fax-compatible format. While receiving faxes, the opposite will be done, the incoming fax will be converted into an email compatible format by the faxing service.
CocoFax – Your Go-To Fax Service
While there are a number of online fax services available on the internet, it is necessary to pick the best one to have the best experience. And not all fax services out there can be trusted for use because not everything on the internet can be trusted. Hence, to make it easier for you, we have the best and most suitable fax service for you – CocoFax.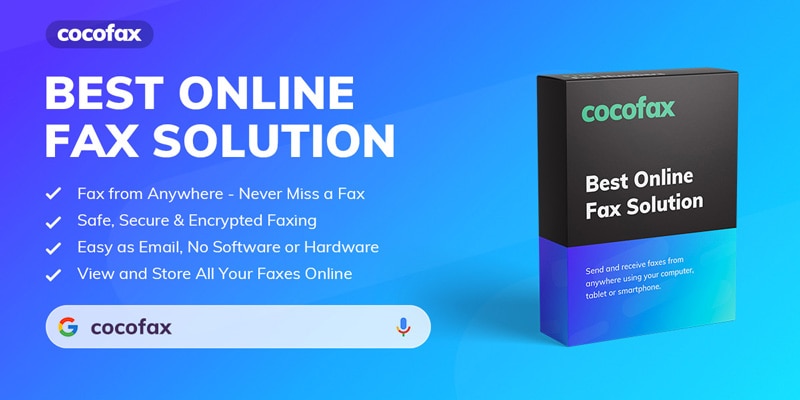 CocoFax is the world's number one solution for online faxing. It has some of the best faxing features that a fax lover would want in a fax service. Other than amazing features, CocoFax provides great ease and convenience so that you can send and receive your faxes easily without wasting any time on big and bulky fax machines.
Being the top online fax service, CocoFax is used all over the world by millions of people in more than 190 countries of the world. It has one of the biggest client bases. Above all, CocoFax has also been featured in numerous media giants like Forbes, CNET, TechTimes, TechRadar and The New York Times, to mention just a few.
What Makes CocoFax The Best?
Easy and Convenient Faxing
CocoFax is not difficult to get to. With CocoFax, you can helpfully send faxes from your current email ID. You can sign into your inbox like you ordinarily do begin with the faxing promptly from that point.
Other than faxing from your email, CocoFax likewise has a free control board that you can get to on the web. The help likewise accompanies modules that empower GSuite and MS Office faxing. You can fax from any spot and whenever.
CocoFax is easy on your wallet
For the most part, faxing is costly. You need to purchase a fax machine, set it up, and keep it provided with toner, paper, and other odds and ends. Organizations burn through a great many dollars every year on their arrangements.
With an email fax, you wind up saving a lot of cash. You need not bother with a fax machine or telephone line any longer. You pay a sensible charge for each fax you convey every month.
Innumerable Amazing Highlights
As an online fax administration, CocoFax can offer numerous benefits that conventional fax machines cannot. You can get to CocoFax whenever, 24×7, and there is definitely no vacation.
The help accompanies outstanding highlights like fax reports, fax filing, uphold for various email addresses, encryption, a cell phone application, and day in and day out client assistance.
Safe and Secure Faxing
Sending a fax from email through CocoFax is totally protected. Each fax that gets conveyed is encoded. That implies just you and the fax machine on the opposite end can peruse the faxes.
How to Fax through Email
Step 1: The first step is to always sign-up. While using an online fax service, you need to register first. For signing up with CocoFax, you can easily register for free by clicking on the 30-day free trial option available on the main CocoFax page. Provide the valid email address that you want to use for sending and receiving faxes.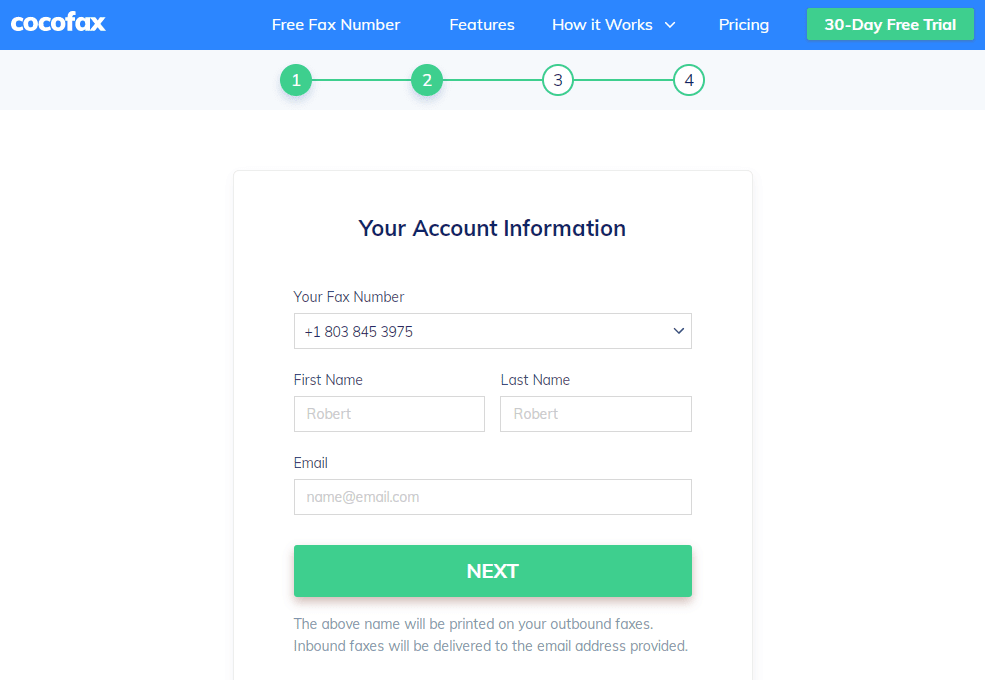 Step 2: Once you have signed up and provided your email id, you can now continue with faxing. Open your email either through the Gmail app or the web browser and create a new mail by clicking on the New Mail button.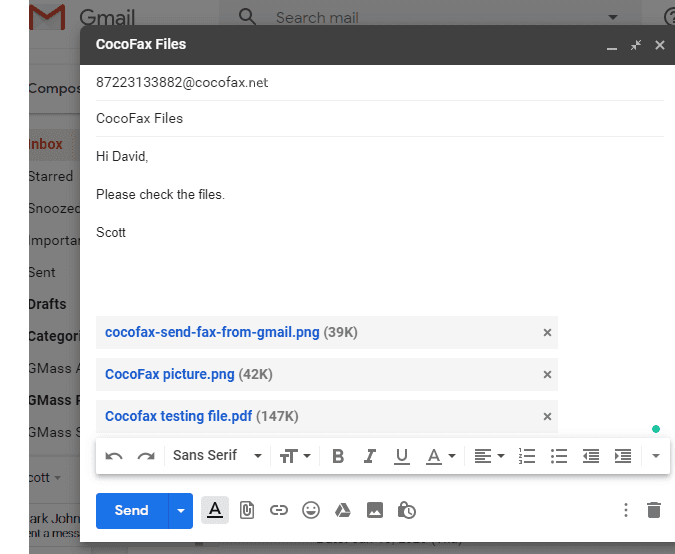 In the composing window, provide the necessary fields. The 'To' field will contain the fax address instead of the email address of the recipient. The 'Subject' field will have the text written on the top of the fax document.
The 'Email Body' will be home to the first page of the fax document. Attach your fax document through the paper clip icon. Once you are done with all the fields, recheck your work once or twice and press the send button.
CocoFax will convert your email into a fax compatible format and then send it over.
Conclusion
So now you know, CocoFax is the ultimate best option if you are looking for reliable online fax service. Start using it right away and have a wonderful faxing experience.