After decades of use, email remains the most consistent form of business communication. It's estimated that in just two years' time, nearly 4.5 billion people will be using email (that's more than half the world's population!). And according to recent studies, more than half of all email users admit to checking their email more than once per day. Every day, nearly 300 billion emails are sent around the world. That's nearly 40 emails per day for every single human being on the planet.
Although it's been around for more than 50 years, email had a somewhat slow start before exploding in usage starting in the 1990's. Famously, the United States President Bill Clinton sent his first email to astronaut John Glenn as he orbited Earth in 1998. It's now become quite bizarre to think of living in a world without this basic form of communication, but it was only twenty years ago when the majority of business professionals began adopting the practice of using email day to day.
Today, our inboxes are full of emails and an important thing to keep in mind when sending email or newsletter is to think about networking email subject lines as it is more and more difficult to convince people to open them.
The coronavirus crisis has only strengthened the power and permanence of ecommerce in the modern age, and with it the power of email communication. With all of the pandemic's harsh wake-up calls, one that has not escaped the attention of many email marketers is the absolutely essential nature of the communication pathways between business and customer. That's why it's key that you have the correct and current email for your intended recipient. This global situation is simply reinforcing the fact that online is the new standard and that digital communication has won out over paper. 
But despite email's massive importance in today's world, many marketers still don't fully understand some of the specific aspects of email marketing that, if done incorrectly, could hurt their business down the road. One example of something that's not always well understood: email list validation. It's the process of making sure the emails you have are actually legitimate addresses. Email verification solutions can recognize accurate email address and domain structure, and some products can check a mailbox against an internet service provider to see if it exists. Users should be able to download the results of the email verification process and receive the most up-to-date and clean email list.
According to one popular estimate, nearly 90% of collected emails used for marketing purposes are inaccurate in one way or another. And inaccurate email addresses can cause big problems for your email marketing. At best, you're sending to people who don't want to hear from you. At worst, email service providers will punish your negligent behavior, and your deliverability rates will suffer. To avoid such a case, it is recommended to use email deliverability testing tools.
Experts also generally recommend taking a careful look at your mailing list from time to time to make sure it's in good shape. Doing so can keep your deliverability rates healthy and keep you off of email blacklists.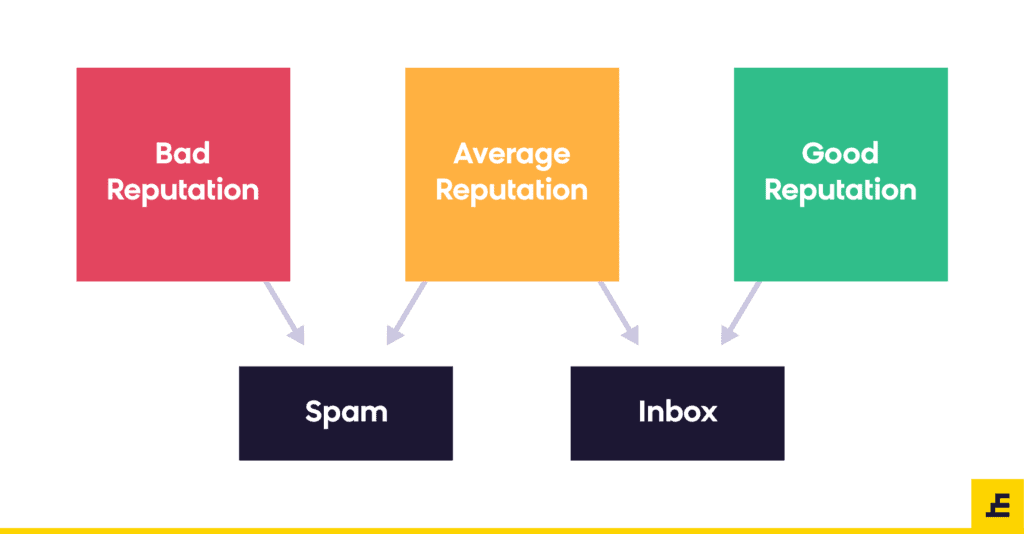 Real Time or Bulk List?
Generally speaking, there are two ways to manage email list validation: bulk validation and real time validation.
Bulk email validation, like the name suggests, looks at your email list as a whole. It checks all the addresses on your list and makes sure that all the accounts exist and are active. Many email service providers will offer bulk list validation as a service, saving you from having to do the work manually. Typically this type of email validation is used for already-in-use lists to keep them appropriately up to date, and should be done with some level of regularity. Email addresses can change and fall out of use, so regular list validation is critical for maintaining the health of your list.
Real-time validation, on the other hand, checks users email addresses just as they're entering them (e.g. on a form on your website). You've probably encountered this before: you make a typo in your email address and you get a text box warning you your email is invalid. That's real-time validation. Using real-time validation can protect your list at the source, by stopping bad addresses from ever entering your list. It's an ounce of prevention that's worth a pound of cure. But remember, people don't always keep the same address forever. That's why it's good to use both real-time and bulk validation as a two-pronged approach to keep your list nice and clean.
What's The Worst That Could Happen?
If you don't keep your email list maintained and without faulty addresses, you run the risk of being blacklisted by an internet service provider. They're known to set various traps meant to catch those with bad sending habits, and if your list is in bad shape you're a prime target. You could face a blocking of your ability to send emails for anywhere from a few days to a much longer period of time. This is a devastating consequence of not being fully aware of the importance of email validation and not trying to avoid common email marketing mistakes. There's no need to fall into such a trap when there's simple ways to avoid them.
If you're not already validating your email list, now is a great time to start. Find a technology partner that can help you out and start working on maintaining a health email list. The rewards of doing so are worth it.
Author's BIO:
Candace joined the Exponea team in April 2020 as their Head of Marketing, US. She has been a marketer for a decade for brands including MillerCoors, Jersey Mikes, AvidXchange, and now Exponea.  When she's not running campaigns, you can find her sipping exceptional coffee, reading Sci-Fi books, and working on home renovation projects.
Author's LinkedIn – https://www.linkedin.com/in/candacegregg/
The author's photo is also attached.