Amazon is a vast and dynamic marketplace. This means that trying to discover the top selling items on Amazon can be daunting but also achievable. Most e-commerce and marketing experts recommend thorough research, which is checking the best-selling items on amazon itself. IO Scout keyword scout tool https://ioscout.io/keyword-scout gives you access to what Amazon users are searching for and will help you to research keywords that convert. Become a rockstar Amazon seller with IO Scout.
Unlike other online selling platforms, Amazon possesses a great awareness of how dynamic e-commerce is. Therefore, it provides sellers a fantastic resource – a list of best-selling products on Amazon, which is updated hourly.
Below are the top selling categories and items on Amazon.
Toys & Games
Multi-Purpose Inflatable Pool Float
Outdoor Kiddie Pool for Babies & Toddlers
330 Rapid-Fill Crazy Color Water Balloons
The toys & games category is a best seller on Amazon with top-selling potential. This is because kids are among the top consumers around. When choosing products to sell in this category, it is vital to monitor the current market trends as this is a highly dynamic category.
Electronics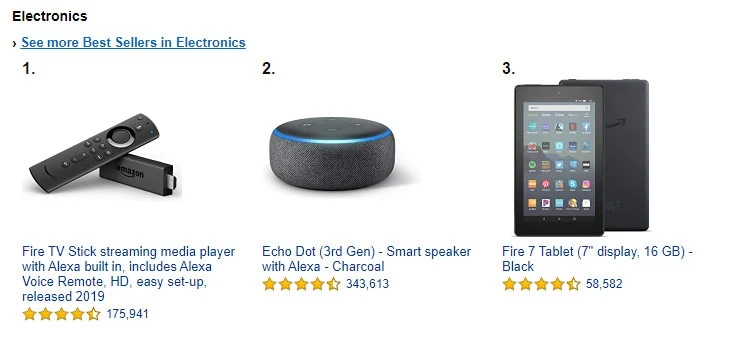 Alexa TV Remote
Alexa Echo Dot Smart Speaker
Fire 7 Tablet
This is a category well dominated by Amazon's products. Gadgets are generally hot, particularly today, where people are continuously seeking to get the latest tech. This category is highly volatile, and best-selling products in this category depends on trends.
From Alexa to Apple watch, there are a lot of gadgets being processed. However, recent trends have shown that the most bought items on Amazon in this category are products that use some form of artificial technology such as Alexa or products with technology that enhances human activity e.g., an Apple smartwatch.
Camera & Photo
Wyze Cam Pan Wi-Fi Indoor Smart Home Camera
Wansview Wireless Security Camera
Carson MicroBrite Pocket Microscope
This category features a wide range of products – disposable camera, home cameras, miniature microscopes, selfie rings, etc. Worthy of mention in this category is the Fujifilm INSTAX, which has been among the top selling items on Amazon. Use IO Scout https://ioscout.io/trends-and-history to analyze product history and trends in this top selling category, because the selfie culture has become rampant among the younger generation. Fujifilm is famous because of its instant and selfie abilities.
Books
'White Fragility: Why It's So Hard for White People to Talk About Racism'
'How to Be an Antiracist'
'The Ballad of Songbirds and Snakes (A Hunger Games Novel)'
This is one of the categories with high top selling potentials. Amazon itself started its e-commerce journey selling books. Selling a book on Amazon doesn't have the same procedure as selling conventional gadgets, but it has the ability to generate a huge ROI. You can sell new books, used books (provided they passes Amazon approval rating), and even publish your book using Amazon Kindle. There are plenty of opportunities waiting to be tapped in this category.
Video Games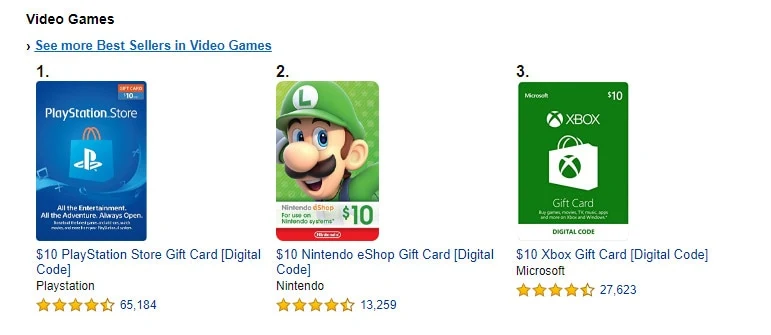 $10 Playstation Store Gift Card
$10 Nintendo eShop Gift Card
$10 Xbox Gift Card
Over two-thirds of the items within this category are gift cards and not specific games. We can notice that social trends, just like in most of the categories above, are impacting the best-selling items on Amazon. Personalization and customization are very trendy in the commerce world. For example, when getting a gift for a teenager, you don't want to influence which game he or she likes but rather afford them the freedom to decide. Products that provide this level of fluidity are experiencing an upsurge in popularity.
Clothing, Shoes & Jewelry
Activewear Lounge Shorts
Warner's Women's Hipster Panties
Mission Cooling Neck Gaiter
Clothing, Shoes, & Jewelry is among the niches, where there are numerous possibilities for smart entrepreneurs. However, be warned, though, as this niche is relatively crowded. This is because it is quite easier to make a shirt than designing a unique idea for developing a new product.
If you are selling in this niche, you will need to be smart when creating new designs. Focus on building something eye-catching and attractive that differs from other products on the marketplace.
Conclusion
Now you are aware of the top selling items on Amazon. Always remember that the best-selling products on Amazon are dynamic and constantly in flux. Ensure you factor it in when looking for things to sell in your ecommerce business as there are many profitable items to tap from.