With social media and messengers making their way in the digital marketing, many believe email is losing ground when it comes to customer communication.
So instead of having a long introduction, let's take a look at findings by DMA Marketer email tracker conducted in January 2019. Based on it,
email is reported as the key channel by 91% of marketers (social media – by 83%);
59% of consumers prefer email for communication over other marketing channels;
primary objectives of emails are sales (62%), engagement (50%), brand awareness (47%) and building loyalty (45%).
60% of B2C companies use email for customer engagement;
56% of B2B companies use email to build brand awareness;
an email would prompt 27% of consumers to visit the company's website; 12% – to visit the physical store; 9% – to check the brand on social media, 5% – to make a call;
21 to 24 emails are sent on average each week to contacts on the company's mailing lists, including bulk campaigns.
In terms of the result, the majority of marketers believe the email performance metrics have improved over the last 12 months:
76% of marketers report an increase in email open rates;
75% report an increase in click-throughs;
67% report an increase in delivery rates;
51% report an increase in ROI;
41% report a decrease in opt-out rates;
55% report a decrease in spam complaints.
As for future predictions, 33% of marketers expect to spend over 21% of the overall marketing budget to email in the next 12 months.
Doesn't look like email is leaning back, does it? It has been a powerful marketing tool for many years and remains so by far. The reasons for such productivity are numerous, and below we'll look at the 5 main ones to understand why email is still effective in 2020.
Top 5 Advantages of Email Marketing
1. Email marketing is easy and relatively simple to get started with.
This is especially important for small businesses and startups with a limited budget. Even without developers and marketers in the team, you'll be able to send basic mass emails on your own.
Most professional email service providers offer free ready-made templates, meaning you don't have to be an HTML guru to get started. Editing in a drag-and-drop builder with an intuitive interface is also simple and doesn't require design knowledge. All you have to do is to choose the template and fill it with your own text and images; all the technical work has already been cared of. Later, once you've mastered initial steps, you'll be able to customize your campaigns and level up the design.
Definitely, you'll have to learn to segment your contact base and build workflows, but the process isn't complicated and requires no special training or classes but just your time and commitment.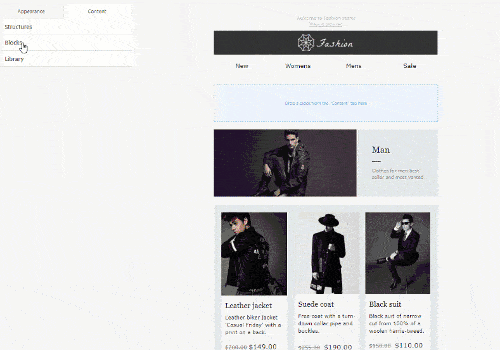 2. Email marketing is targeted.
While using the email channel, you can be sure you send offers to the right people (provided you have grown the contact list based on your own instead of buying one). Your campaigns are read not just by any random people (like on social media or via ads) but by the target audience who have opted to hear from you.
This allows to save money on potentially useless campaigns and increase your response rate. And apart from the direct profit (purchases), a high open and click rate indirectly contributes to your sender reputation and eventual website SEO ranking. The bigger and longer interaction with your website, the higher you'll be ranked.
3. Email marketing is customizable.
Every aspect of the email strategy, from contact base segmentation to template design, can be tailored to your particular goals. You build segments and create workflows based on your audience type and behavior.
You can customize templates with corporate elements (color, font, logo, icons) to raise brand recognition, and easily incorporate emails in the multichannel strategy. Emails are comparatively easily adjusted to new approaches, meaning you can make the necessary changes and corrections anytime.
4. Email marketing can be automated.
An automated workflow can simplify your marketing routine and help avoid manual management. Basically, a workflow is a series of messages set in a particular order and triggered by customer's actions – subscription, registration, purchase, etc. You can include in it various types of messages (email, web push notifications, SMS, mobile push, etc.), choose conditions (open/not open) and set up timers (time gap between sending).
The main benefit of such automation is that you don't need to compose an email or create a workflow for each contact. Yes, you may update the content within a template or make some changes in time delays, but the main processes are run automatically.
5. Email marketing is measurable.
Campaign reports are a gold mine of useful metrics you can (and should) analyze to determine the effectiveness of particular email campaigns and the overall strategy. For example, a sudden rise in opens (compared to the previous results) may signal about a successful subject line; increase in clicks – about interesting content, useful offers or an effective CTA; growth of bounces – about problems with deliverability.
All metrics are typically provided in percentages and various graphs and charts that makes it easy to scan and perceive the information.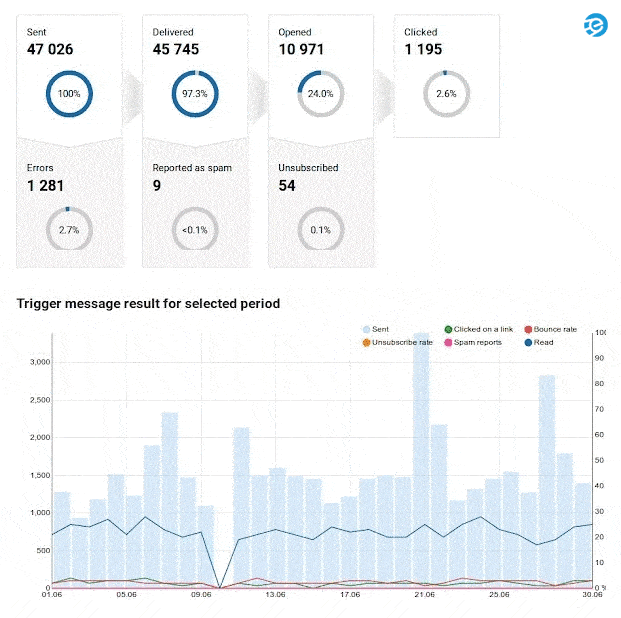 Unlike other channels, email marketing allows to A/B test different elements – subject line, CTA, color palette, etc. – with the subsequent results. That's a perfect tool to find what solutions work for you as there's no single recipe that suits all businesses.
To sum up, email is far from falling into oblivion: marketers still opt for it as for the main communication channel, and customers prefer it for interaction with the brand over other channels. Such features as automation, adaptiveness and customization make emails a good option for any kind of business: multinational brands can automate the whole process for thousands of contacts, and small companies can take full advantage of content personalization.
Author's Bio:
Iuliia Nesterenko is a contributing writer at eSputnik. Her focus is on exploring current digital marketing trends and describing new strategies for email marketers.