Are you a fan of science fiction? Well, the future may not be that far away. Artificial intelligence has come a long way in the last decade. Now we can see using the "smart" suffix on top of everything. But how can truly technology help us to enhance the safety of our house? Today, we will look at smart locks and how they can be used to improve our life. Let's jump right in!
What is a Smart Lock?
We have all been left amazed by "Back to the Future." Remember when Marty Mcfly goes to see his house in the future. That would be a smart home to dream about! As in the movie, the smart door locks require no keys to enter and can be integrated into the IoT system controlling the house. Together with many other installments, they are compatible with Google Home or Amazon Echo. In this way, people can manage their home just by using their voice. Too good to be true? Well, it doesn't end here.
Smart locks can also be connected to other smart devices such as your mobile phone. Through your smartphone, the owner can have remote control over his front door. WiFi or Bluetooth locks can use the technology to communicate and receive input from your phone app.
Are Smart locks really "Smart"?
No More Keys
Forgetting or losing your house keys can really ruin your day! In the first case, you will have to hope that someone is in the house or has a copy. On the other hand, if you are alone, you would need to call a professional to pry open the door. You will then undergo a lot of trouble; change a new lock requires money and time. After that, you need to make copies and give them to your family members.
Smart locks eliminate the problem and simplify the process. You will no longer need to search for your keys in your purse or backpack for hours. As well, you will not need to struggle to open the front door.
What do we mean by that? Just set up a password or even cooler, unlock it automatically with your smartphone. With smart door locks, you can finally say good-bye to keys!
Keep your Home Secure
To be fair, smart locks are not for everybody. Traditional hardware locks are charming and look steady. However, smart locks are not to be trifled with in this particular field. With built-in protections such as emergency battery nodes, decoy codes for keypads, and PIN requirements, it is possible to upgrade your door responsibly.
As we mentioned before, having no keys eliminate the risk of thieves lifting them from you. Besides, you have other interesting features available. Do you hear this sound? It is the sound of the smart lock alarm system. Yes! Among the different features of smart locks, there is also an alarm. You will be notified on your mobile if something happens to the lock. In addition, your all neighbors will hear that too, and there are just two options for the burglar, either run or face justice. Ultimately, you and your family can rest assured in a safer environment.
Let your Friends in and Thieves out
If you're often on vacation or someone who has friends and family popping in often, a smart lock can make everyone's life easier. No need to share spare keys anymore. You can also go one step further by monitoring and record all the activity happening at the front door. Not even a fly will go by without you noticing. You are the master, and everyone should follow your bidding. You can let specific users enter only on the set time (e.g. Tuesday from 2 p.m. and 4 p.m).
Make a Stylish First Impression
A door lock doesn't need to be bulky to work. Each one of us wants to look good in front of our friends (at least we do). Make a great impression with some futuristic design for your smart lock. Your acquaintance will remain speechless when they see you opening the door just by approaching it. When they ask you for the trick, the answer is: "Smart lock, my friend!"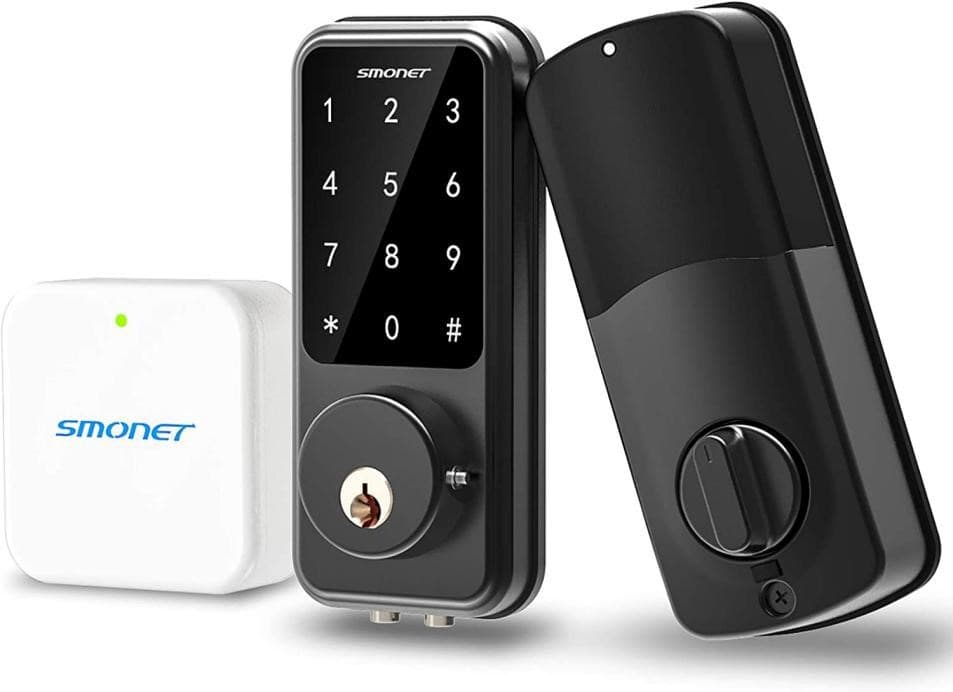 Where To Start?
Among the factors to consider when purchasing a smart lock, an important concern is the compatibility with the door. To bring some light to your strenuous research! Online we have found out about many options in this regard. Famous for their simplicity of installation, Smonet smart locks can be your home security best solution.
Hopefully, this article helped you clear out some points about smart locks. Check out our guides and browse online for home security options!