Hiking and trekking have always been exciting activities, and people love to go to serene places. For instance, the Grand Canyon is a must-visit place. Other such attractive sites include destinations like Jasper National Park, Glacier National Park, Yosemite, and so on.
However, it's quite common to get lost in the area and you cannot contact others due to lacking cell service. A new device called GoFindMe is designed to help you out of such a situation.
Use GPS Tracker for Outdoor Safety
In search of peace, we sometimes forget to take precautions in terms of getting misplaced in an unknown place. It has become easy for travelers to be safe at all times, and be under the radar of their group and friends. There are many attractive places that you can visit, and having a tracking device will ease things. There have been numerous cases of missing people during hiking. The government has also shown a need for using different tracking devices that will keep you and your loved ones safe.
How Does GoFindME Works?
You can connect GoFindMe device to the mobile phone via Bluetooth connection. Then you can send text messages or GPS coordinates on the mobile even when there is no cell service or Wi-Fi. It is resistant to splashes (rain), dust, snow and bumps, so you can carry it with you to any adventure.
It is recharged by USB port. It comes with maps as standard without extra cost.  Undoubtedly, this gadget is a fantastic way to be safe in remote sites, to always know our situation and to be able to communicate. The point to pioint communication range can be expected to 5 miles. In addition,  its strength grows if the number of users grows.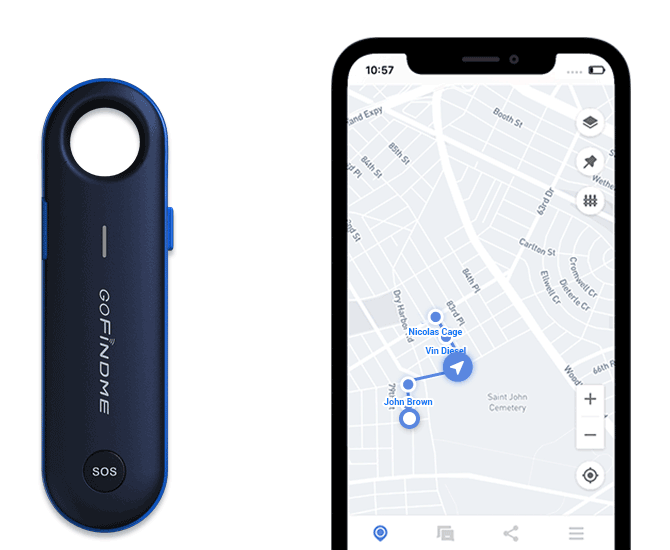 Why Should You Choose GoFindMe
Furthermore, the best part of this device is that it supports up to 32 members who can connect during the journey. Even if your groups are separated, and you are roaming in different directions, this device will be helpful. The network coverage in your cell phone in such places is never available. But with the benefits of the invention, you and your group mates can stay connected; send voice messages and chats. You can share your live location while traveling, hiking, or trekking. All you need to do is, press the SOS button, and activate your tracking device. Hang it conveniently on your backpack, jacket, or anywhere you wish to hang it. The device will keep you entertained and connected at the same time. To make beautiful travel memories, it's always important to take care of safety. If you are safe, you will have the best experience in life.
Another feature of the tracking device is its battery backup. Charging is also not an issue when you have the best tool with you. Charge it once, and it will work for 72 hours. It has all the facilities like it is dustproof, waterproof, and can survive under any weather condition. According to a recent survey, the missing cases in Mt. Everest have declined with the use of the tracking devices.
In such a dangerous, it becomes easy to track people during any mishappening. Get ready to have an enjoyable experience by ensuring you reach your destination safely. Besides, you can also use it as a car GPS tracker for short-range tracking. While heading back home, your safety will encourage your people to join you the next time.
Conclusion
Moving ahead, if you are planning for a family trip to a place where you will come across harsh conditions, you need to have this device. Send your kids freely to the nearby areas, and keep track of their activities. You can continuously be in touch with them. Let you and your kids explore the world with a whole new sight. Such a useful device will save you time and keep your kids safe. Also, the most attractive features have been added, such as setting the safe mode. This mode will notify you as soon as your member crosses the line. It's necessary to have private moments with your partner so let your kids roam around while you spend some happy moments together. Use the most attractive features to enjoy the trip without any fear.