What is it?
HanBook- Best Dictionary, Super course, all-inclusive tool to learn Chinese. The newly launched Paid HanCourse Premium, tailor-made for non-native Mandarin Chinese learners, offers an innovative but systematic method for Chinese learning. Download HanBook, and start to enjoy a more effective learning way.
Who is the developer
HanBook is the core product of HanLanguage LTD, founded in Dec 2020 and invested by ZhenFund, focusing on effective Chinese learning for international learners. Adhering to the concept of "Keep close to customers. Keep pace with pioneers.", HanLanguage first launched its dictionary app in 2021, which had quickly been one of the world's best Chinese learning dictionaries, and then launched its AI-based Interactive Course in 2022, which attracted more than 1 million registered users worldwide to learn its creative lessons.
What we have
1. Course-Han Course Premium
Our software is very friendly for beginners and has AI based interactive courses. After 72 situational and immersive Chinese lessons, you will make continuous progress with our software teachers. Even the subtitles on videos can be tapped and translated if you want a single word's detailed definition. If you want to test this progress, we have more than 2000 exercises and tests.
I think you must hope that you can not only understand Chinese, but also speak fluent Chinese! Come and use HanBook to improve Pinyin pronunciation! Here are 75 practical videos explaining Chinese pronunciation skills in depth to help you easily achieve standard Chinese pronunciation.
In order to make the expression more accurate and authentic, you can try our material oral practice. More than 1000 selected learning albums, including daily words and expressions, can let you learn more and better. This is a good assistant if you are preparing for the exam or studying for a long time.
2. Dictionary-Dictionary Plus
No matter you are a beginner or a high-level Chinese lover could use HanBook Dictionary Plus learn Chinese from amateur to professional, because we've set up five ways to look up voice,, handwriting, photography, Pinyin and radicals, and you can translate selected words in the picture after using OCR support, which is clear and neat when using in a street view environment.
It offers an online dictionary, featuring over 600,000 entries, 700,000 meanings, and 340,000 example sentences, 20000 idioms, including 2,000+ most searched words and meanings. Usage of Special Chinese Words,include separable words, Correlative words and Reduplication words and unlimited times to Search queries, various search methods supported.
As a member, you will:
Full access to all Advanced usage of Chinese words and expressions。
Full access to all Wordbooks。
Full access to Daily Practice, Quiz and Games。
Millions of Entries and powerful search supported。
Basic Learning Videos as the guidance; Professional and scientific AI assessment for Pinyin and handwriting。
Recently, we add review function for AI courses, including review on key vocabulary, expressions and language points and optimize pronunciation assessment, quizzes of wordbooks and other optimization on user experience.
HanBook Auto-Renewable Subscription Terms:(Price in U.S. Dollars)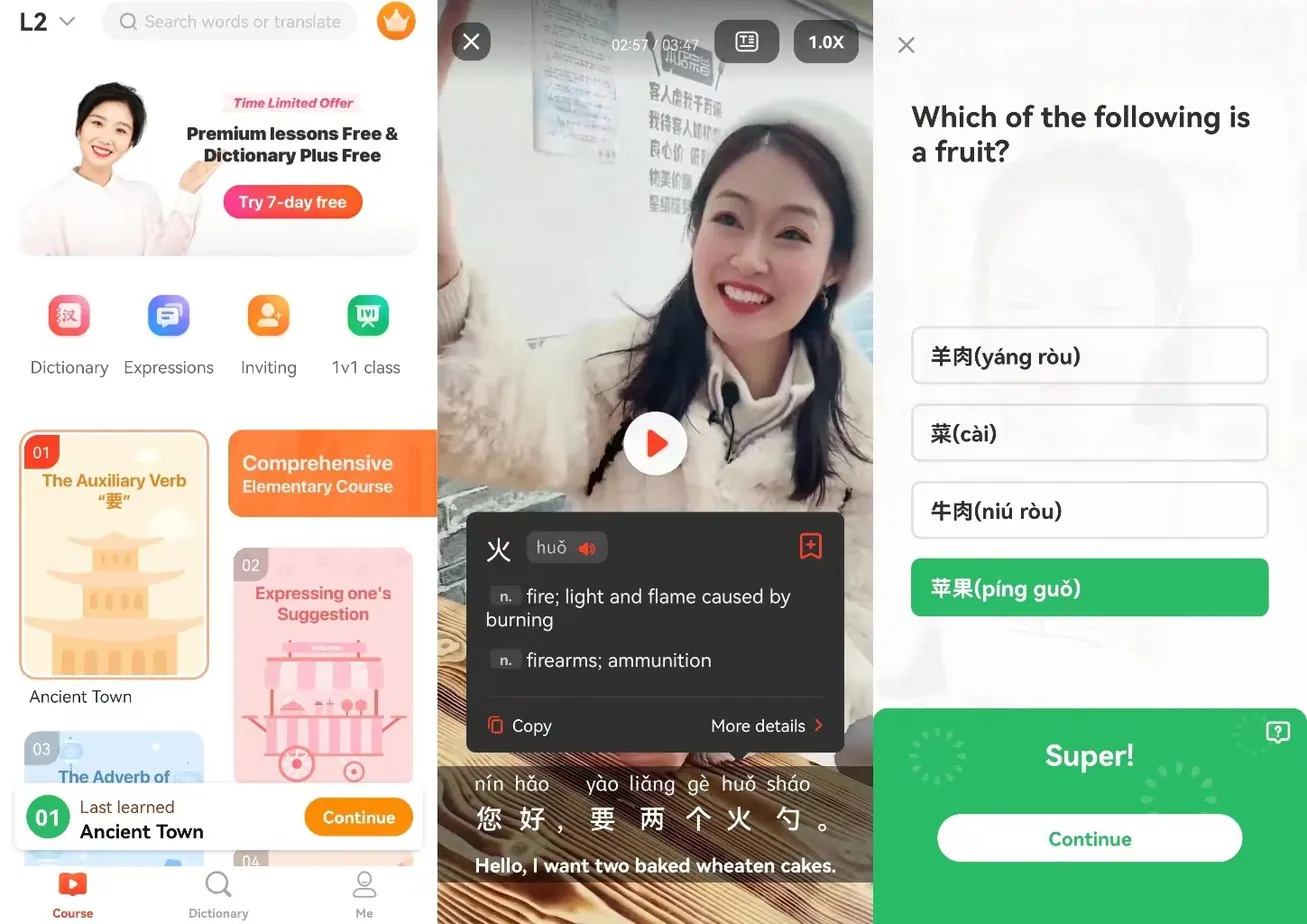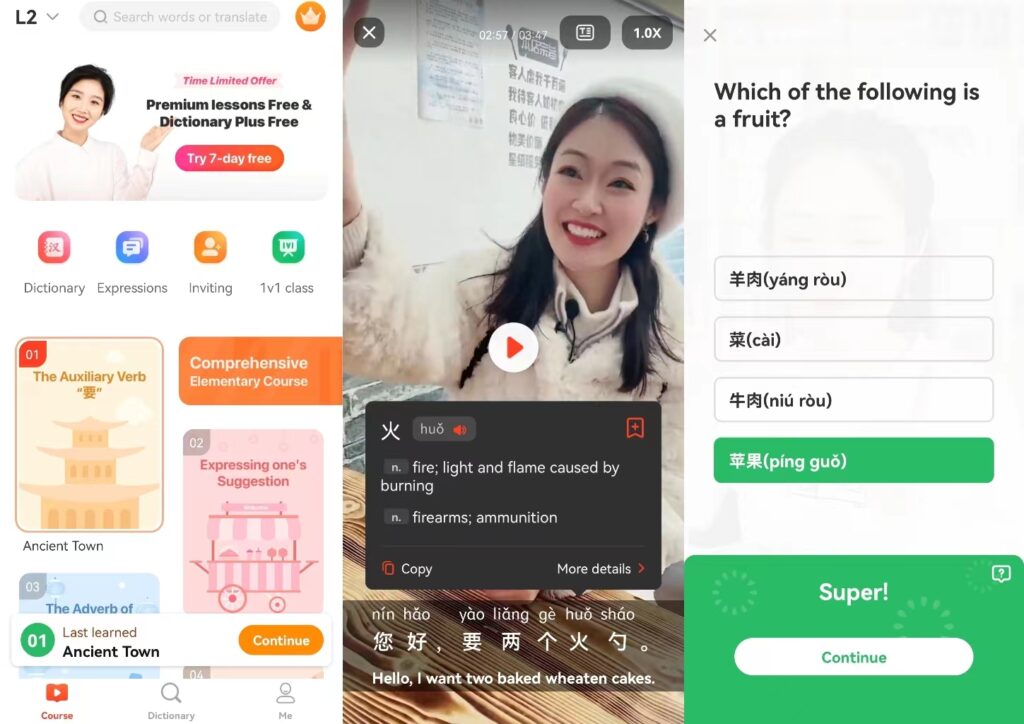 | | | | |
| --- | --- | --- | --- |
| | Monthly | Quarterly | Yearly |
| Han Course Premium | 15.49 | 29.99 | 89.99 |
| Dictionary Plus | 3.99 | 6.99 | 19.99 |
Payment: After the user confirms the purchase and pays, it will be credited to the iTunes account
Automatic renewal:The Apple iTunes account will be deducted within 24 hours before the expiration date. After the deduction is successful, the subscription cycle will be extended by one subscription cycle.
Subscription cancellation and turn-off the service:You can go to "Settings" on your iPhone -> enter "iTunes Store and App Store" -> click "Apple ID", select "View Apple ID", enter the "Account Settings" page, click "Subscription" to manage automatic subscriptions If the service needs to be cancelled, it can be closed 24 hours before the end of each billing cycle, and no further deduction will be made within 24 hours before the expiration.
Services
1) Subscription and Auto renewal terms and service:https://h5.hanbook.com/subscription-terms.html
2) User Agreement: https://h5.hanbook.com/agreement.html
3) Privacy Policy: https://h5.hanbook.com/privacypolicy.html
With HanBook and the HanCourse premium, one can improve the Chinese listening, speaking, reading, and writing skills in an all-round way. It meets all your Chinese searching and learning needs. Any feedback or problem encountered, contact us via: support@hanlanguage.com
You might want to ask:
The trial and subscription services are the same, but the trial has a time limit.
Register now and enter the invitation code "Kongzi" to get full function permission for 1 month for free. Any question please email me at ivy@hanlanguage.com.
Website Address
https://play.google.com/store/apps/details?id=com.hanlanguage.hanbook
Course video: https://www.youtube.com/watch?v=XBI0ZhiXm_c
Dictionary video:https://www.youtube.com/watch?v=sgCG-8LIsEw