As a fantasy MMOPRG, Black Desert Mobile is perfectly popular with players from over 150 countries around the world after it launched globally. With high-quality graphics, fast-paced action and elaborate customization, Black Desert Mobile takes players to experience a thrilling adventure and uncover the hidden secrets of the Ancients and Black Spirit. So wonderful is Black Desert Mobile!
While this game is released for both Android and iOS, you can still play Black Desert Mobile on PC with an Android emulator. Android emulator is an incredible engine to play Black Desert Mobile on your Windows, which helps you play most Android games and apps in a smooth easy way on your larger screen. Moreover, playing Black Desert Mobile with an Android emulator will give you a new gaming experience that you can't obtain from your mobile devices.
How to Play Black Desert Mobile on Windows PC
Step 1: Download an Android Emulator
If you want to play Black Desert Mobile on PC with keyboard and mouse, you should first download an Android emulator for your computer. LDPlayer is recommended as a free Android emulator for PC to play mobile games on Windows. Also, LDPlayer is the best Android emulator for playing Black Desert Mobile on PC because the
Step 2: Install Black Desert Mobile on LDPlayer
You can head to the search bar on the home screen of LDPlayer and search for Black Desert Mobile. After that, you can click "Install" to download Black Desert Mobile from Google Play, or you can choose "local Install" provided by LDPlayer which will get you faster download without logging in your Google account. Once the installation completes, you can run Black Desert Mobile on LDPlayer.
Step 3: Configure Game Settings to Get Started
You can launch Black Desert Mobile with LDPlayer on your computer when all the installation steps finish. But before that, you can adjust the best settings for Black Desert Mobile to get the ultra performance and graphics.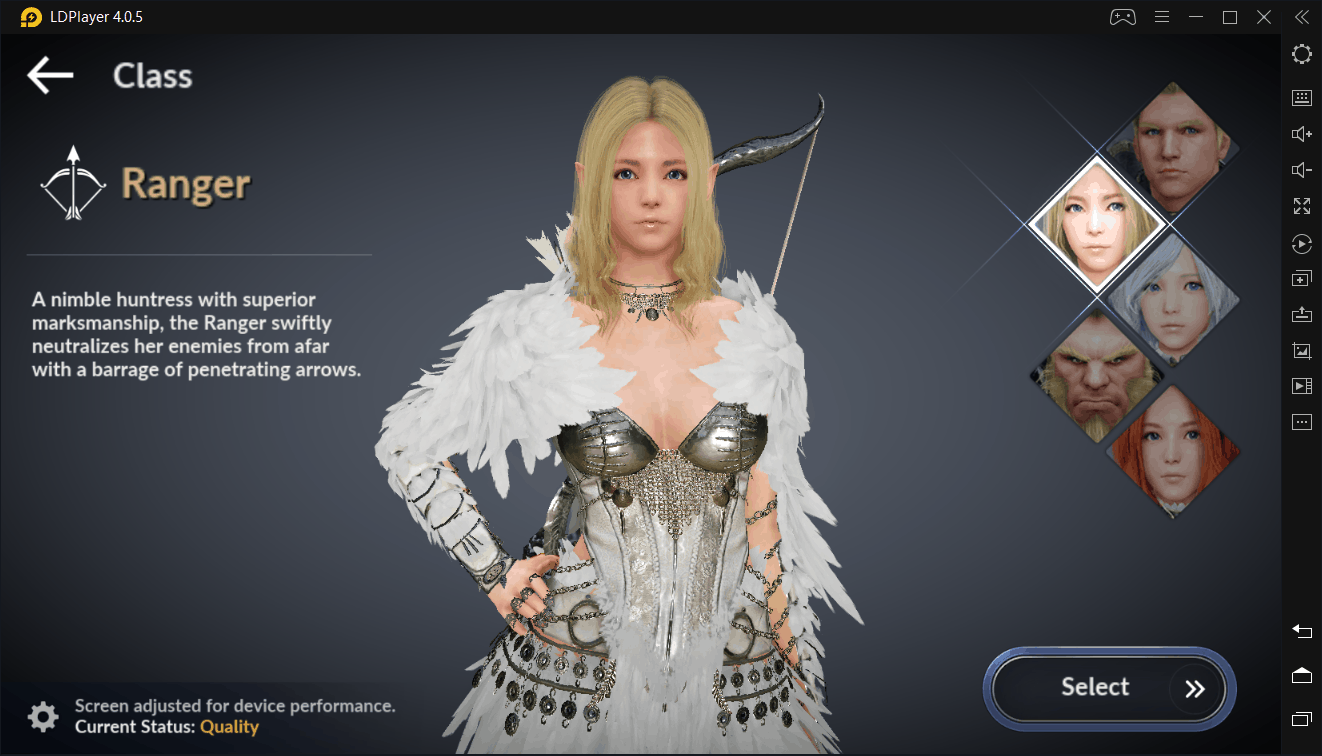 What is LDPlayer Android Emulator
LDPlayer is a free Android emulator for PC, which allows you to download, install or even uninstall Android games and apps on your computer freely. Based on Android 5.0 and 7.0, LDPlayer provides higher compatibility in running high demanded mobile games, such as PUBG MOBILE, Clash of Clans, Free Fire, etc. Additionally, LDPlayer offers many extra features like Multi-Instance and Keyboard Mapping, to take your gaming experience to high level.
Recommended Configuration for Graphics Settings
In Black Desert Mobile, you are able to choose the highest settings for better graphics quality on the upper right of home screen, including unlocking maximum frame rate, choosing high texture, and adjusting the resolution and effects to the highest level. That's to say, you can configure Black Desert Mobile to the optimal mode so that you can obtain superior visual experience.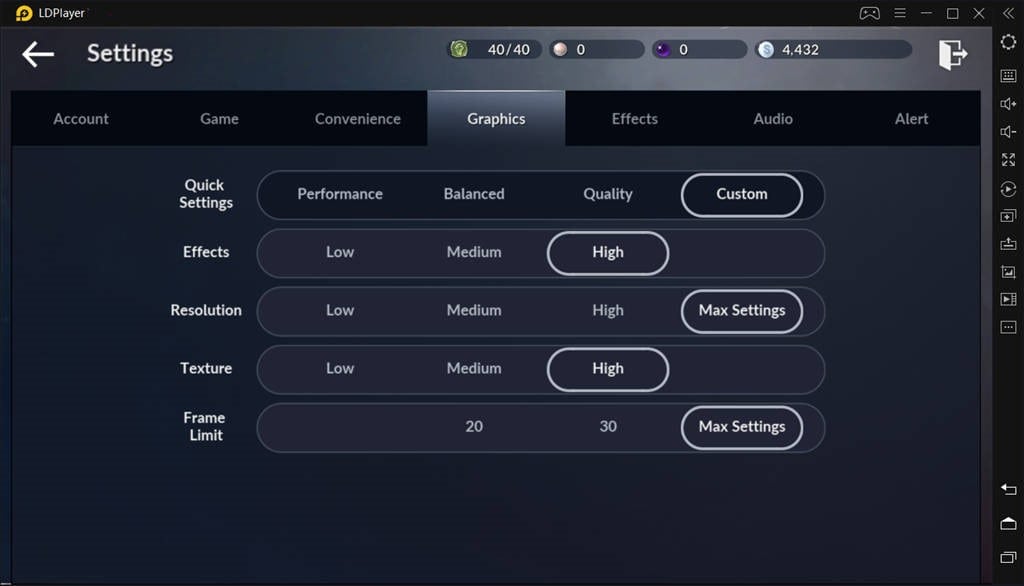 Why Use LDPlayer for Black Desert Mobile on PC
Better Graphics with Bigger Screen
As we mentioned above, you can adjust the settings to the best level for great visuals on Black Desert Mobile. Also, LDPlayer is capable of improving the graphics effect on your gameplay. With your bigger screen, you can enjoy the beautiful scenes and ultra graphics that you mobile devices can't provide.
Play with Keyboard and Mouse
In Black Desert Mobile, the combat will be more complex as you level up, leading to more and more battles where you will deal with a number of mobs at the same time. Thus, keyboard and mouse become the strongest tools to play Black Desert Mobile on PC. It's great that LDPlayer provides powerful keyboard mapping feature so that you can set preferred shortcuts to control your gameplay using keyboard and mouse.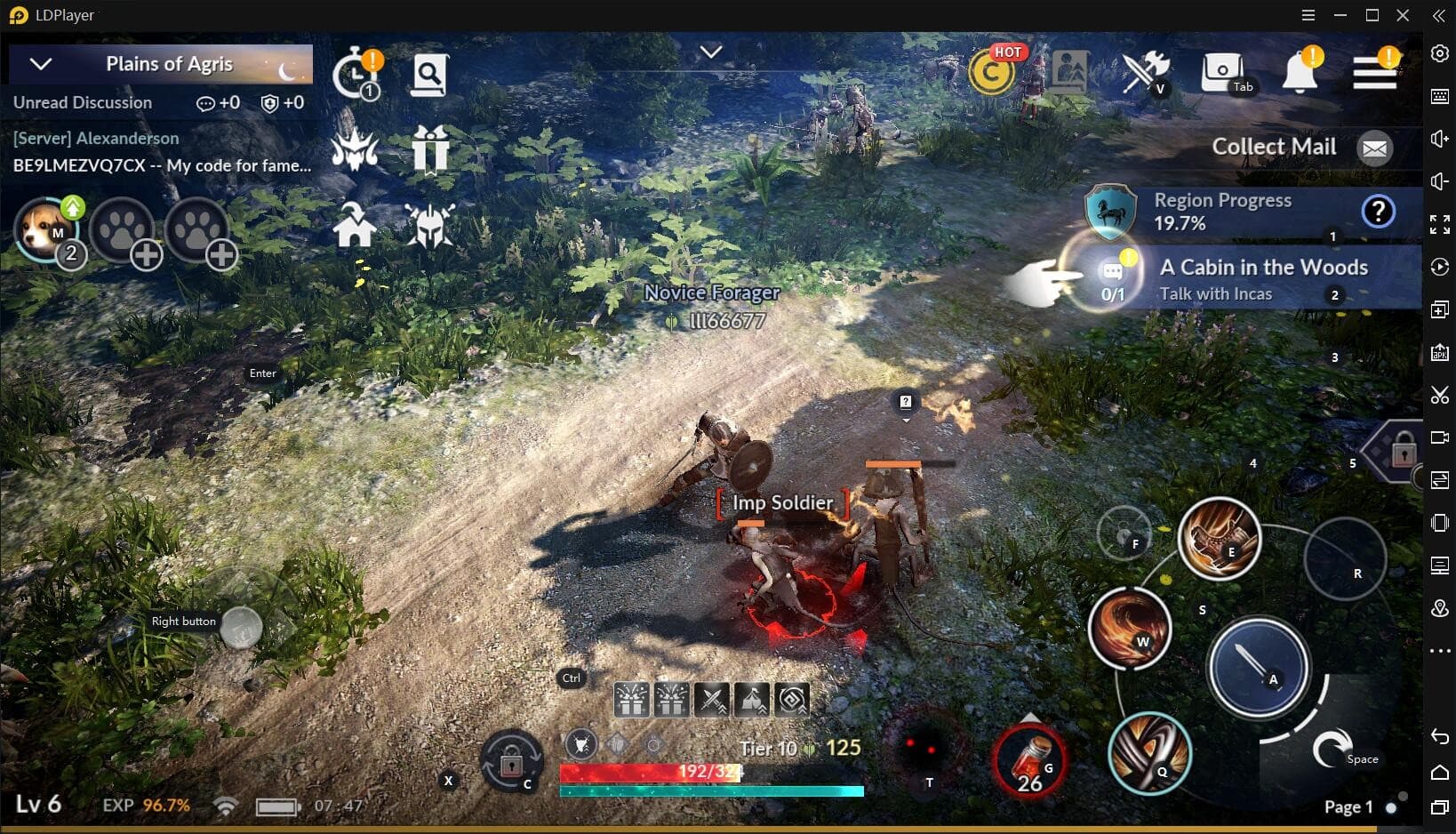 Conclusion
LDPlayer is the best Android emulator for Black Desert Mobile that enables you to configure for the games to obtain outstanding graphic quality. Moreover, powerful features, like keyboard mapping, video recorder, screenshot, multi-player, allows you to enjoy the best Android environment and gaming experience when it comes to playing Black Desert Mobile on PC.