Getting complete control of your iPhone location is possible even without jailbreaking it.
You can simply fake the location details on your device, which tells the various installed apps on the phone that you are somewhere else when in reality, you're not!
So, how to fake your location on iPhone without anyone knowing?
Follow this post for complete solutions! We'll explore the reasons for faking online whereabouts and the issues associated with such type of activity.
Let's begin!
Why Would You Want to Spoof Your iPhone's Current Location?
Nowadays, pretty much every app requires you to let it access your location settings to function properly. It is not necessarily great, as several types of geo-restriction are set in motion as soon as those apps determine where you are located!
Here are some reasons why you would want to or should fake location on your iPhone:
Play AR-Based Games
Games like Pokemon Go take your GPS into consideration to unlock new features and rewards. However, most of its events and activities are abundant in regions where the game is vastly played, such as North America.
So, if you are located in a different part of the world, then you won't be able to participate in area-based events or catch unique Pokemon that are only available someplace else.
However, if you fake your location using some reliable means, you can teleport your profile to those regions and play the game freely without getting caught or banned.
Bypass Geo-restriction to Access Streaming Content
Imagine living in, for example, the United Kingdom and opening your streaming profile on Netflix, Disney+, Hulu, etc., one day to watch your favorite TV show or movie. However, your plans would quickly be dashed upon discovering that the particular show or film is only available in another region.
Still, if you fake your location to that country or continent where your show is available, you can quickly start streaming it.
Similarly, if some popular website or any online content is geo-restricted in your area, faking the location will allow direct access without anyone noticing!
Shop Online
Platforms such as Amazon are unavailable in some parts of the world. However, it doesn't mean that you can't show up there and take advantage of amazing discounts on your favorite items, especially during events like Black Friday.
Simply spoof your location to the country where Amazon offers amazing deals, and dive into your shopping spree!
Privacy
If you're concerned about your online privacy and the possibility of someone accessing your location-based data without permission, it's time to consider faking your iPhone's location.
So, now you know why it is sometimes necessary to spoof your location, it is time to explore reliable ways to perform such an activity.
Continue reading this post!
MockGo: The Ultimate Tool for Faking iPhone Location
Try Foneazy MockGo iOS location changer to effortlessly fake your iPhone's location!
Without the need for jailbreak, you can launch this program, set your new location, and play games like Pokemon Go or Pikmin Bloom in a new place.
Similarly, by spoofing your whereabouts on the iPhone, you can bypass geo-restrictions to watch your favorite content on all popular streaming services.
Here are some key features offered by Foneazy MockGo:
Change iPhone GPS to any place in just one click
Simulate your GPS movement at the walking speed and path of your choice
Simulate auto movement via joystick
Change location on numerous devices at the same time
Suitable with all the popular LBS games and app
MockGo is compatible with Windows 7/8/10/11 and macOS X 10.12 or later. In addition, it is compatible with the latest iPhone 14 and iOS 16.
Follow the steps below to learn how to change your iPhone's location with this software:
Step 1: Run MockGo
After downloading the software, launch it on your computer.
At the same time, connect the iPhone via a USB(whose location you want to change).
Next, on the Home Screen, click Start!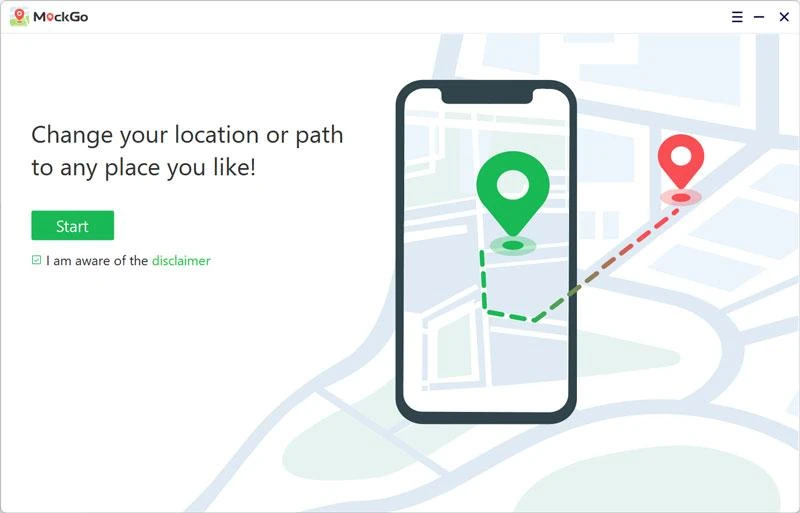 Step 2:  Choose  a New Location
Now, click on the Teleport icon from the map. Head over to the search bar to enter where you want to jump. Click GO to access the new location!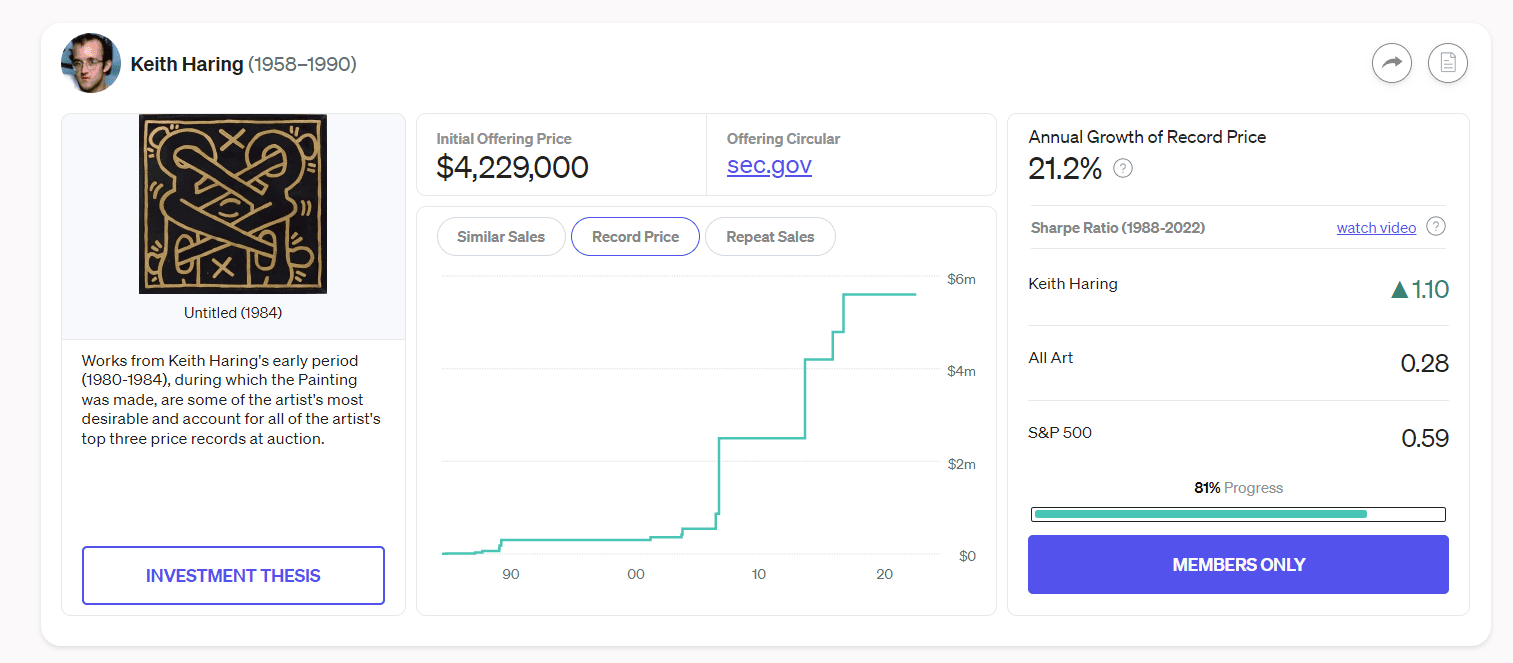 Step 3: Teleport to the New Location
At last, click Move Here and your device's location will be changed instantly.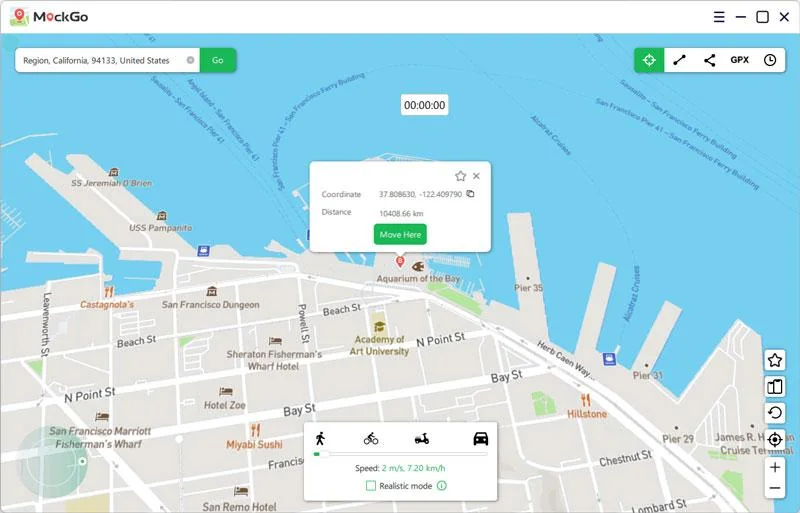 You can enable the one-stop or the multi-stop mode to simulate a GPS movement between two or multiple pre-determined locations at a speed of your choosing. Besides, you can select how many times the simulation should be done(quite convenient).
The one-stop helps you walk from one point to another along real route at custom speed. The multi-stop mode lets you choose several stops on the route. In addition, you can insert specific GPX files related to games like Pokemon Go to play it without walking.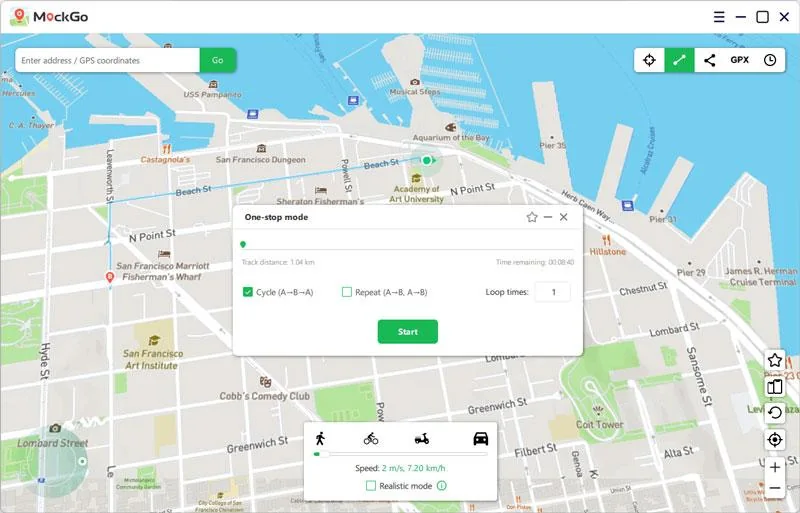 Altering Your GPS Location by Jailbreaking Your iPhone
Jailbreaking the iPhone will alter its fundamental settings, enabling you to download any app to fake your location online.
You can use Cydia's akLocationX or the LocationHandle app to spoof the iPhone location.
However, this method only works for devices running on iOS 12 or below. Using any newer version may prevent you from jailbreaking the device or spoofing the location. Also, remember you will be operating the iPhone with reduced security.
So, tread lightly!
Change Location via the Hardware Solution
Third-party hardware are accessible nowadays, enabling you to change the iPhone's location without spoofing software or jailbreaking the device.
Currently, the GFaker company offers such services through external GPS devices such as GFaker Pro and GFaker Phantom with the help of Apple-approved chipsets.
Here is how these devices works:
Connect the GFaker hardware to the iPhone.
Launch the dedicated app.
Change your location on the app, and now you can play Pokemon Go or unlock streaming content easily.
The GFaker Pro is available for $329 and compatible with iOS 9 till iOS 12. Whereas, GFaker Phantom works on the latest iOS versions(iOS 9 to iOS 16) and can be purchased also at the same price.
Problems Associated with GPS Spoofing
Spoofing your iPhone's location may open the door to unlocking Pokemon Go features or accessing restricted content on streaming sites. However, not everything is sunshine and rainbows!
If you change your iPhone location recklessly, your account may initially be soft-banned and, in some cases, permanently barred. Similarly, it is crucial to use reliable spoofing software. If you happen to change your location using an unreliable app, your data might be at risk.
Also, faking the location may affect the services of your basic apps, like the Weather, local cab (Uber), food delivery apps, etc.
Bottom Line
Faking the iPhone in a controlled manner is an effective way to bypass geo-restrictions and access content without any issues.
With tools like Foneazy MockGo, you can easily learn how to fake iPhone locations without acquiring technical skills.
So, what are you waiting for? Have some fun!