One of the biggest aspects of owning any electronics is taking care of the maintenance and wear and tear with continuous use. Any iPhone user can tell you that even with this magnificent piece of engineering, there are some problems that come attached to the brand name like the famous iPhone black screen, iPhone DFU mode, and of course the loss in the IOS system recovery.
Fortunately, with the glitches that come in the technology, there are always ways, whether the DIY or the concerned companies or individuals, to provide you respite from these problems. So, let us explore in this article how dr.fone software solutions can help you with the basic iPhone black screen and DFU mode problems. Even the problems apart from these such as the IOS system recovery problems, logging on start, or simply the white apple logo blink can be dealt with the very same system. 
Black screen problems
If you are a new user of Apple products, or whether, or whether you have been a loyal customer of the company, one of the first and most common problems with the iPhone is the black screen. An iPhone black screen can be caused by hardware or software malfunctioning or malware. Once the malfunction happens, it stops your device from functioning properly by a hang in the functioning and sudden blacking out of the device even though your phone is working. 
However, the iPhone Black Screen is something that can be solved!
Before you think that it is time to rush your cell off to the service care again, take a second to figure out the problem yourself. To make sure that you do not harm your device while making that assessment, here is the chronological sequence of steps you can take to check and resolve your black screen issue. 
Distinguish the problem between a hardware and software issue. 
Before you go on and sigh helplessly at the umpteenth time your screen goes blank, the first step towards solving the problem is the diagnosis. It is important to know why exactly the screen keep on turning black. 
If you think that your trip to your bathroom with your phone could have lead to a soaking incident, it could mean that your iPhone black screen problem is due to a hardware malfunctioning. 
But if you are a careful user, keeping your phone away from all the trouble zones, the black screen can be due to the bad software update which is not fitting well with your phone. 
But these two are not the only reasons for a blackout of the screen. Other reasons include a bad firmware, corrupt update, or a low scape on your device. For all of this, you can simply reset your phone. All of the problems apart from the Software lacks and hardware faults can be fixed by a simple rest. 
How to solve hardware issues?
The only way to solve the hardware issue that is too severe is to take them to the service center. But simple faults to the hardware like slight damping can be solved with a simple drying out with rice. 
How to solve software problems?
Once you have identified that your software is causing your iPhone black screen which is not clearing out even after resetting, there are ways that you can make sure that you never have to witness the blacking of your screen again. 
There are two ways to clear out software malfunctioning. 
What is dr.fone repair system
Before we go on to explain how to deal with black screen problem in iOS devices, let us explore what the solution is. The simple yet elegant answer to all the worries of your iPhone, iPad or even Mac systems, the dr.fone system repair helps you with the following things.
Recovering deleted data

Transfer of WhatsApp chat from iOS to android

Unlocking of iPhone Apple ID and locked screen

Transfer of data between your phone and computer

Repairing the iOS and Android systems and fixing errors

Migration of data from one phone to another

Backing up of phone data

Permanent removal of data from your phone

In simple words, the Dr.fone is a one-stop solution for all the repair, recover and reiteration of devices.  
Use dr.fone-ios repair software
Though there are many people that argue for other ways to repair the software lack, this repair software is considered to be the best option as it provides the surety to keep your data intact. 
A secure and reliable friend, the Dr. Fone ios system repair software can work to solve all kinds of issues for both desktop and mobile devices. And what is the best part? It is an easy way to protect with a simple way of working. 
Here are the easy to follow instructions,
 Install the application on your Windows or Mac. Click the launch option once the installation is complete. Click on the "System Repair" when you need to repair black screen issue on the iphone.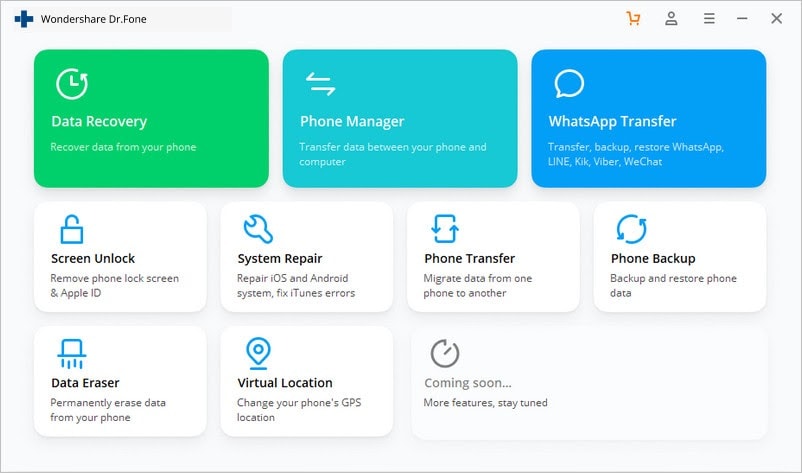 Once that is done connect your device via USB cable, It will automatically connect your device with dr.fone, After it's connected click on the

"Standard Mode"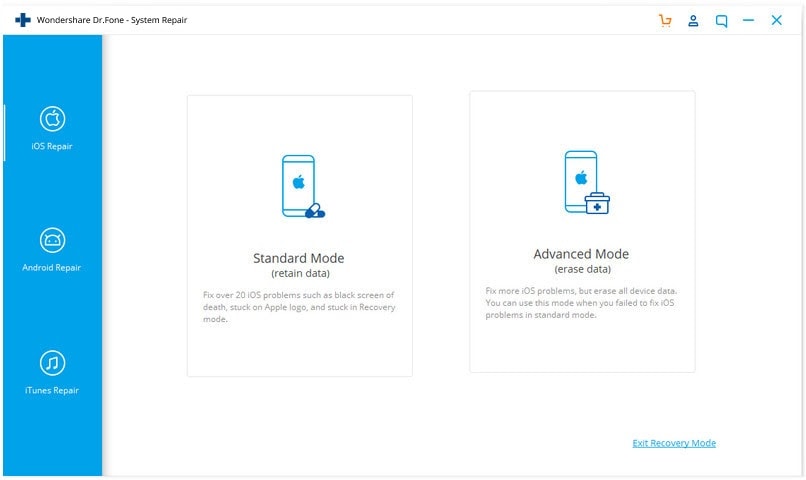 Once the software starts a simple on-screen instruction would be prompted. But If your phone is  connected but not detected with dr fone, then here you have to put your iOS device in DFU mode.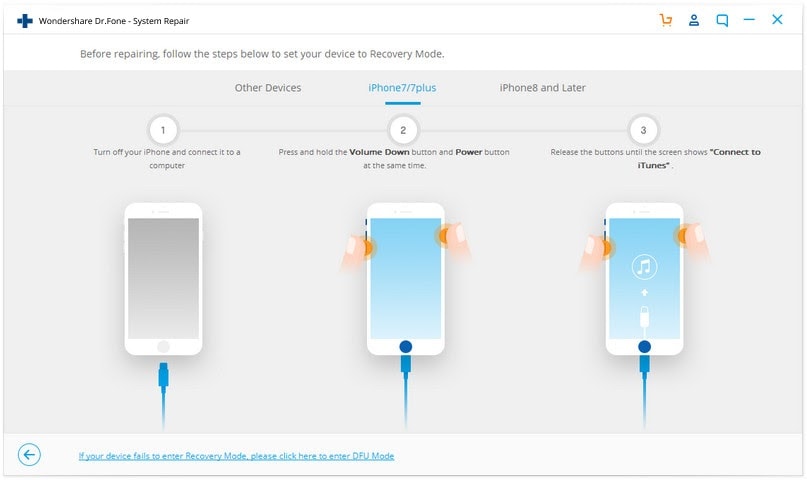 After this Provide basic information about your phone

Device Model

and

System Version

in the required fields and click the

"Start"

option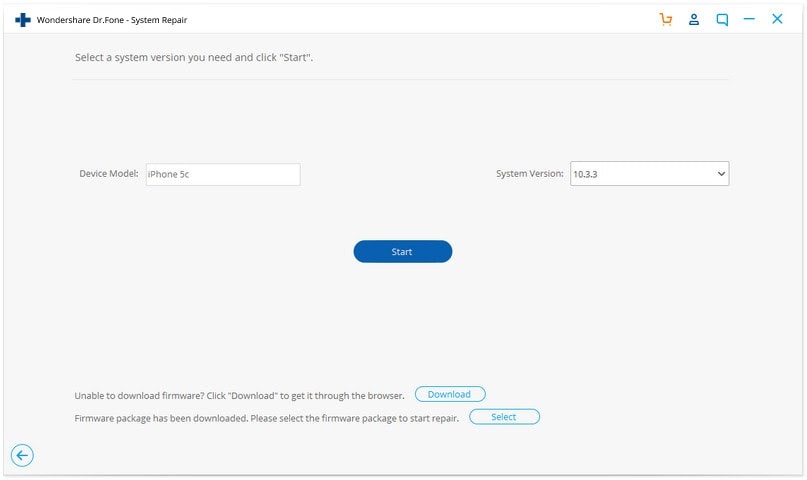 Once the software is downloaded your device will have to restart and will be updated along with  that and fix the problem automatically. (This can prove to be a lengthy step and can end up taking a few minutes to a few hours. It is extremely quintessential that your device is connected throughout the process to eliminate any lacks.)
After the fixing is done and the phone is done restarting, put the normal mode on after the update is complete.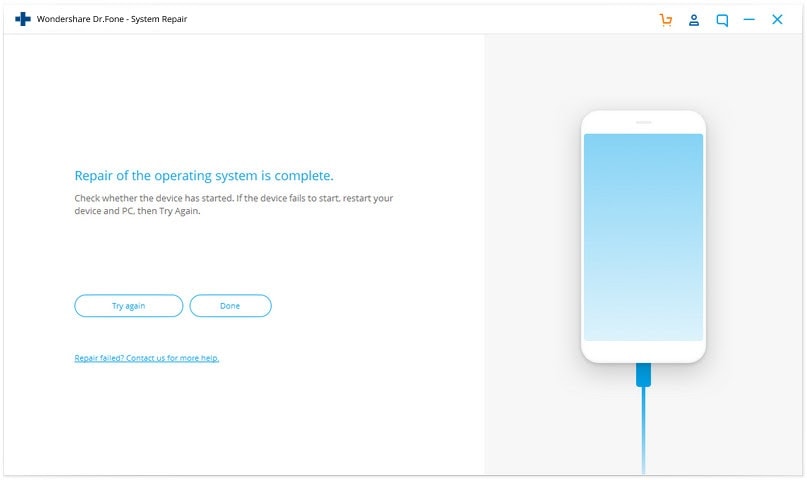 Your device is now problem-free and the iPhone black screen is now a thing of the past. 
iPhone DFU mode problems
For our readers who don't currently own an Apple product, it is important to explain what the DFU mode means. The Device Firmware Update or simply the DFU is a more advanced and technical recovery state where the iPhone needs to be put due to the following reasons. 
Internal data corruption

A downgrade of the iOS version to a one less advanced

Device stuck while updating 

Jailbreaking into the device
However one of the major drawbacks of the DFU mode is the loss of data and information from the phone. The DFU mode basically returns your phone to the factory settings and thus is often not liked by the users. 
Are you facing the problem as well? Well, don't worry for we have just the solution for you!
Want to protect your data from loss? Put your iPhone in the DFU mode using dr.fone repair software. 
An easy and simple solution, let us take you to step by step on how to do this. 
To enter DFU mode with iTunes
One of the best-considered methods to put your in the DFU mode while using your iTunes to backup your data straight to the device. Simply backing up your data before you put your phone in the DFU mode will avert data loss. 
How to do it?
Well, it is a simple method to make sure that your best selfies or favorite playlists don't have to suffer, let us explain how to enter the DFU mode with iTunes. 
Run your iTunes while having connected your device to a cable. Post this press both your power and home buttons at one time for about 10 seconds. Post this let go of the power button while still pressing the home button for another 10 seconds. 
The iTunes will send you a notification of successfully backing up the data at which point you can simply let go. Post this procedure you can put your phone in DFU mode. 
2. How to exit the DFU mode?
One of the biggest problems with the iPhone devices is getting stuck in the DFU mode. This is a nightmare for one of two reasons, loss of all your information and the loss of time and resources to get your phone started again. 
If you are an owner of a business online, it's a big problem when you do not have access to your social media account from gadgets or you have bought iOS Installs from marketplace or different other site, of course, you don't want to deal with iPhone black screen, iPhone DFU mode, and of course the loss in the IOS system recovery.
However, there is a way to restore information and your phone function if that happens. If the DFU mode is activated and is stuck, simply press the power button and home button together for 10 seconds and then let go. This should help in regaining control over your device
Though the above technique can prove helpful, it is not a complete solution to the problem. A much better solution is to opt for the dr.fone-Repair software. 
This is a way simpler solution to enter or exit the mode or fix other problems like the iOS system recovery problems due to being stuck in the DFU mode. A cleaner, easier, less strenuous, and simply very reliable technique, this software will take care of everything from your data to your updates. 
One of the best parts of the dr.fone-Repair software is the ease with which you can use it. Follow the steps below to make sure you never lose another piece of information ever again. 
Connect your computer to your iPhone via a cable that your phone can recognize

Launch the dr.fone repair software, clicking on the prompt of 'repair' and 'start'.

Your iOS device will be detected automatically along with the latest firmware 

Select the download options

Post this the repair starts and completes in a couple of seconds. 

Just detach the cable and restart your phone. 
A simple solution of all your iOS related problems, the dr.fone repair software will make sure that your iPhone runs without any hitch.