In a world where everyone is hooked to their phones, you never know who is texting who. These texts may be via direct messaging or messaging over a specific platform. As an individual keeps their phones with them at all times, you won't figure out who they're talking to.
The online world can often be cruel at times, you never know who is a victim of cyberbullying. A parent may be worried about their child regarding this but may never be able to find out. As if a parent were to confront a child, it would only lead the child to lie and become more distant.
A similar case arises when a person is unable to detect who their spouse is speaking with so fondly. Now, it does raise suspicion, but on asking the answer received is always 'no one'. There are certain apps in the market which grants people full access to a target device.
While many of these apps are scams there are a few which work. To guide you on how you can read texts of a device without any installation, I have written this article. I shall be using the  world-renowned Spyic app in order to show you how to hack into someone's phone.
So let's check out how to read text messages without installing software on Spyic.
Spyic the Best Hacking App
Spyic is known for its cutting edge technology, which gives it an upper hand in comparison to other spy apps. It has a user-base consisting of millions of loyal users from all around the globe. This hacking spy app is available for both Android and iOS.
It has received compliments from esteemed outlets like CNET, Toms Guide, and Mac World. The app is literally untraceable, as it is 2MB in size and takes only about 5 minutes to be installed completely. It consumes minimal battery while syncing with the device.
You can use this app  to get proper access to the target device's gallery, social media apps, call logs, and emails. It even lets you access the target device's messages. Whether it is direct messaging or online chat, you will be able to monitor it all.
The best part with this app is that you don't need to root or jailbreak the target device. Even in the case that you want to monitor the target device's social apps like Whatsapp & FB. With a small size, fast download, no need to root or jailbreak, it's the best spy app available.
To top it all off, Spyic on being successfully installed will involuntarily delete its app icon from the device. This makes Spyic completely untraceable. If you wish to delete the app, just go to the dashboard and click on delete from the target device.
Now, let us check out the steps if you want to access someone's text messages.
Sign-up on Spyic, using your email address and create a password.
Choose between Android and iOS. This will depend on what platform the target device works on.
Make the payment and proceed further.
You will then receive a confirmation email from Spyic regarding your purchase.
The email will contain a download link, payment details, and installation guidelines.
For an iOS device, all you have to do is go to Spyic's site and log in. Then you will have to enter the iCloud credentials of the target device.
Wait for Spyic to sync with the target device.
Once synced go to Spyic's dashboard, from there you can monitor the target device. You can then easily access and read the target's text messages.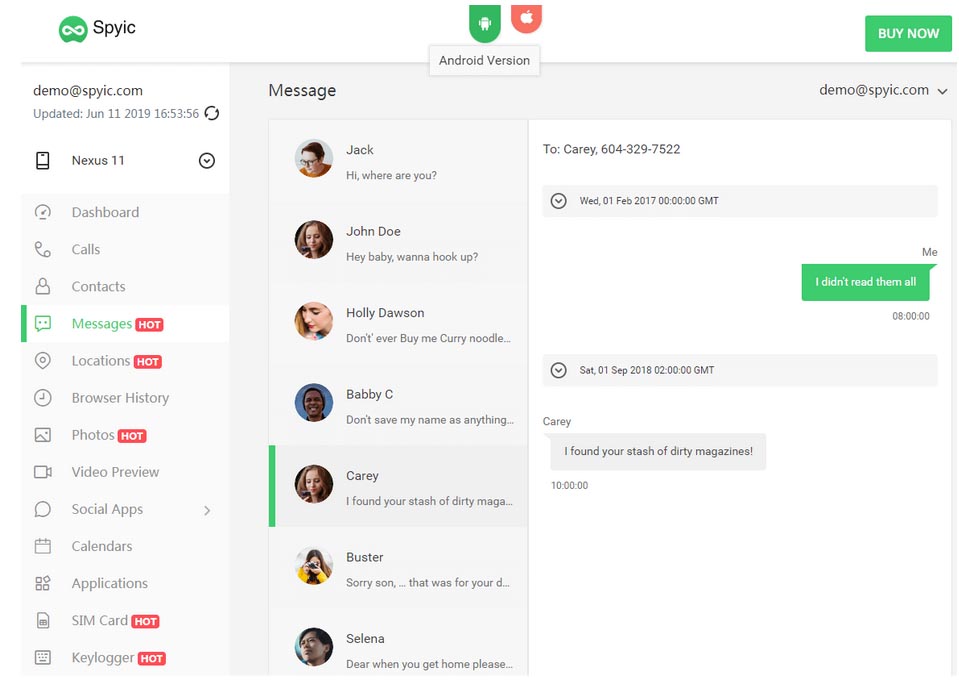 That was the no-installation method, which is only available for iOS. For an Android platform, you will have to install the hacking app. Follow the steps down below.
Follow the above steps up till step 4.
Use the download link provided in the email to manually download Spyic on your target's device.
Login to your account.
Wait for the target device to sync with Spyic, then just go to the dashboard.
You will find that the dashboard is now fully-operative.
You can use the dashboard to monitor the target device's direct messages and social media messages.
Isn't all of this just easy! What are you waiting for? Go get Spyic!