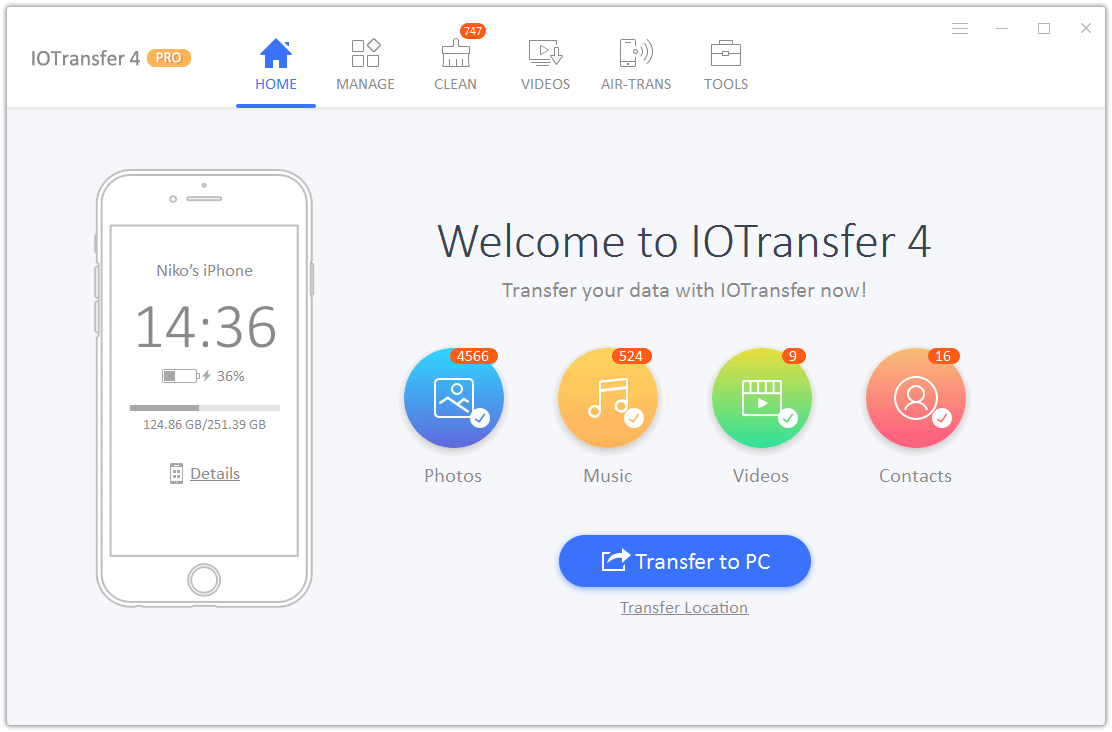 IOTransfer 4 a piece of software for Windows that fulfills all the needs regarding the transfer and management of files via iPhone. IOTransfer 4 represents a real iPhone Manager, equipped with an intuitive interface that is easy to use even for less expert users in the field of software, capable of understanding online video downloaders, clear iPhone system storage, transforming your device into an iPhone Transfer software.
Very often, in fact, the one and only use of iTunes is not sufficient and completely transparent in the management and transfer of files and for this reason the iPhone Transfer software is instead ideal in order to be able to perform all the desired operations. Through this new article we will deal with everything you need to know about the use of IOTransfer 4.
Easy File Transfer
IOTransfer 4, the iOS software par excellence in the management and transfer of files: guide to its correct use.
In order to be able to interact in a practical and fast way with your iPhone, it will be necessary to have the IOTransfer 4 software, transferring and managing your files also via a computer equipped with a Windows operating system.
IOTransfer 4 consists of a software that can make your iPhone a real Manager for managing everything related to your files, compatible with all the latest Windows operating systems, up to the latest version of Windows 10.
The size of the software is also extremely light, less than 32MB, while for installation on the computer all the drivers related to your iPhone must also be downloaded. Once the installation is complete, you can access the connection of the iDevice with the chosen terminal, starting to use IOTransfer 4.
The software is compatible to transfer photos, videos, messages, becoming a real online video downloader, clear iPhone system storage and a fully automatic iPhone Manager.
iPhone Cleaner
IOTransfer 4 will allow, through the "Management" item, to choose the option to be used, moving the files with a simple click from your iPhone device, in addition to the possibility of also proceeding with deleting the files in order to free up additional memory. The software is compatible with all iPhone, iPod and iPad devices, connectable to Mac and computer.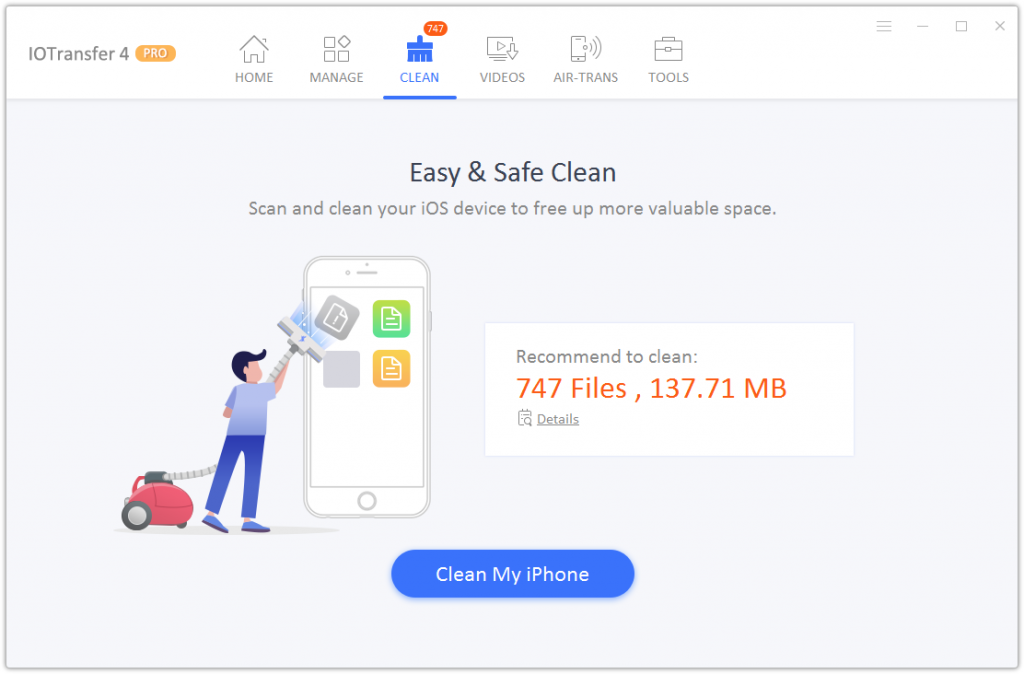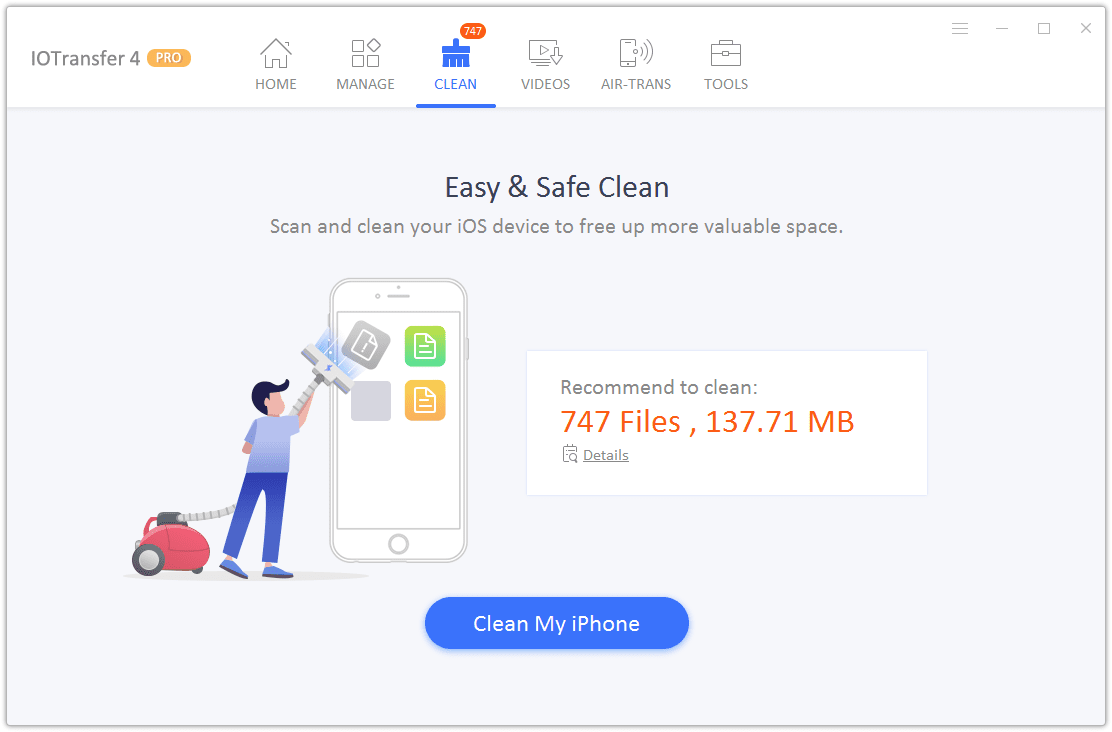 Video Downloader
Through IOTransfer 4 you can also perform a scan of all the files present on the iPhone, deciding which to transfer, delete, etc., also usable as an online video downloader and converter. You can download videos from YouTube, Facebook and Instagram and other social networks and online platforms to any format.
Useful Utilities
Under TOOLS section, there are 4 interesting and useful tools, which are Instagram Downloader, GIF Maker, iCloud Photo Manager, and similar Photo Cleaner. As you take photos and save photos from internet, you probably have duplicated photos on your iPhone. This Similar Photo Cleaner is very handy.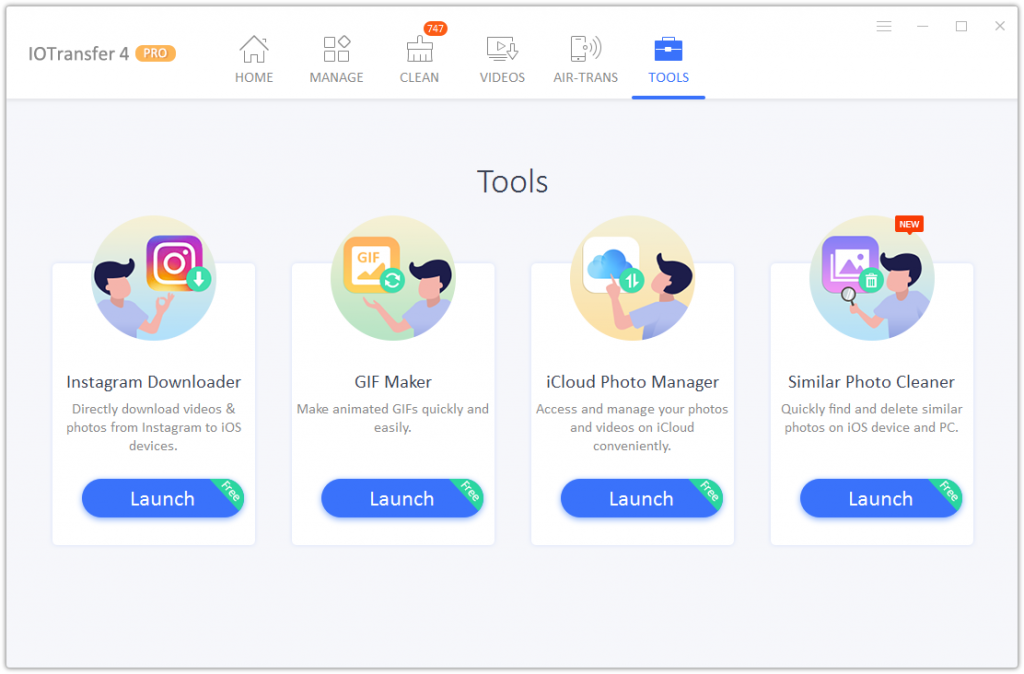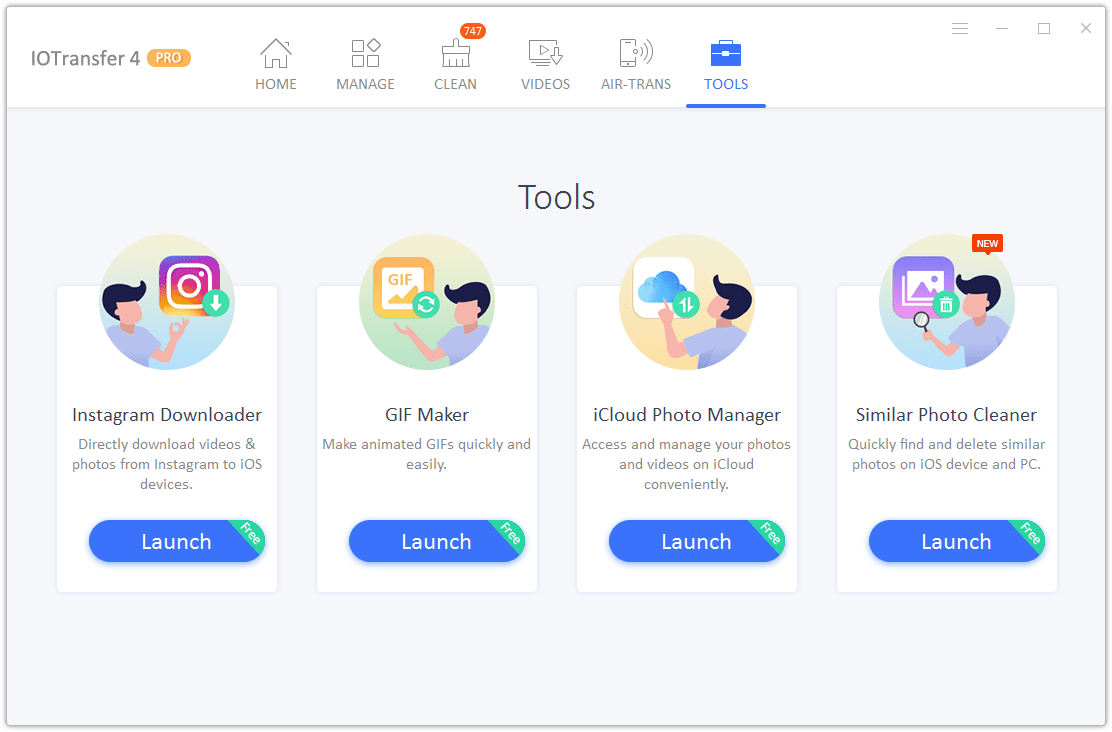 Transfer Files Wirelessly
If you happen to lose your USB cable, This Air-Trans function of IOTransfer 4 allows you to transfer files from your iPhone or iPad to PC without a USB cable, and vice versa. You just need to connect both devices (your iPhone and PC) to the same internet network to use this feature.