Proxy-seller.com is a service for selling proxies for the purposes of SEO promotion, promotion of profiles in social networks, anonymous surfing, games and other needs. Here you can order private Mobile 4G, IPv4 and IPv6 proxies from different countries of the world: USA, EU countries, Asia, North America and others. Why is the service good and how to place an order here? We will take a look in today's review.
Key customer benefits
High speed proxy connection: up to 100 gigabytes per second;
300 different subnets, 150 networks to choose a proxy from;
24/7 technical support for clients, comprehensive assistance in setting up a proxy;
the ability to replace proxies in case of problems or return money within 24 hours after purchase;
work with any programs or sites: with ScrapingBox, social networks, YouTube, Google and Yahoo, Amazon, eBay, most of online games, bookmakers, etc;
the possibility of renting for such period: 7 days, 14, a month, etc;
decent discounts and regular promotions for customers;
suitability for different categories of users: webmasters, affiliates, players, people who need to bypass restrictions, etc;
the ability to replace proxies once a month for regular customers upon request;
profitable affiliate program: 30% from the first purchase of the referred client and 10% from the subsequent ones.
In reviews on the network, Trustpilot for example, Proxy-seller.com clients talked about the stability and good quality of the proxy. However, there were also cases when accounts with a proxy were banned. In these cases, technical support helps: employees promptly change defective proxies.
How to get started with Proxy-Seller.com
To register, enter the website and then click on the "Login" icon on the top right and then click on "Quick registration". Here you need to specify a valid e-mail, enter the password and login-name, and then click "Registration".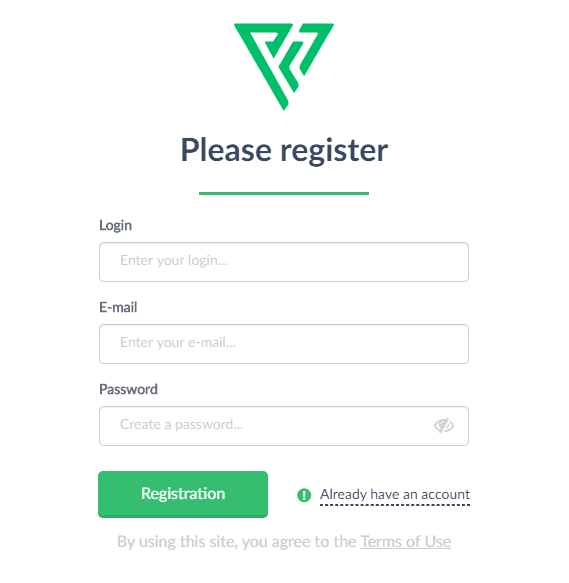 In your Proxy-Seller account, select which addresses you need. Here you can set values ​​for GEO or purpose of use. For example, let's choose a proxy for Instagram. On the next page, you can change the geolocation, currency for payment, select the proxy purchase period (1, 2 weeks or a month), the number. Click "Buy".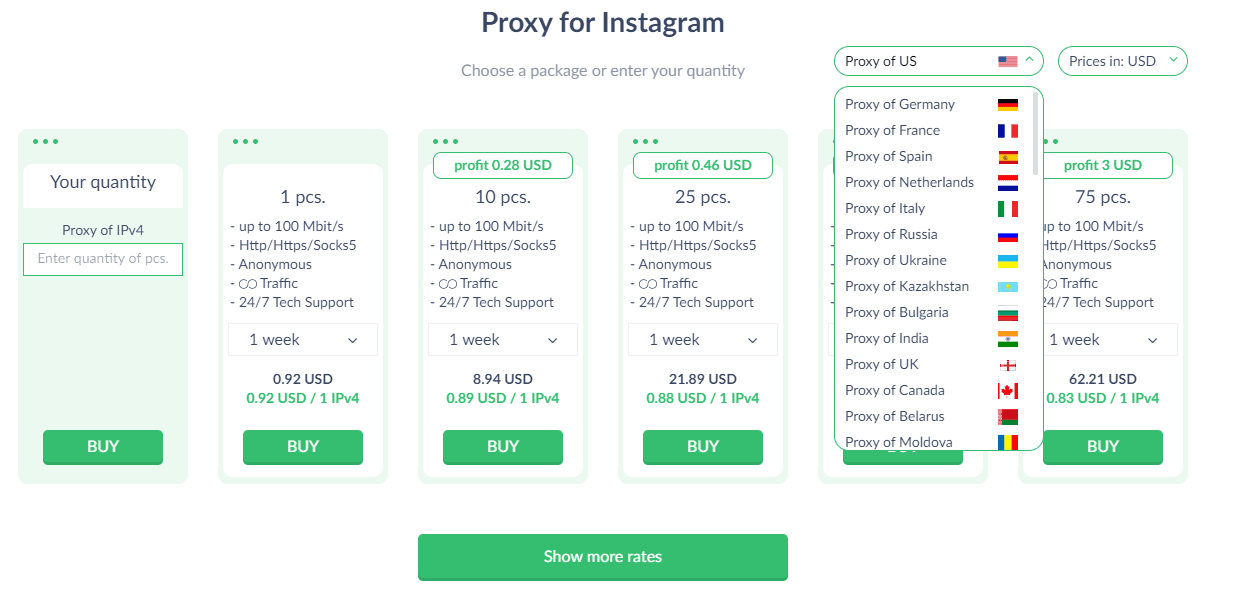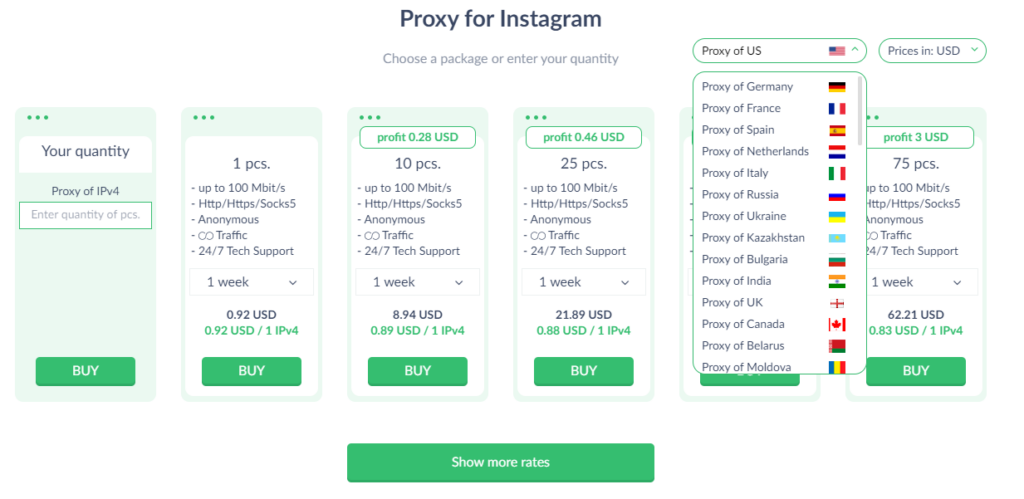 In the order form, specify the required fields. In addition to the geolocation and purpose of the proxy, you need to specify how you will authenticate the proxy – by login and password or by the main IP. Enter your e-mail.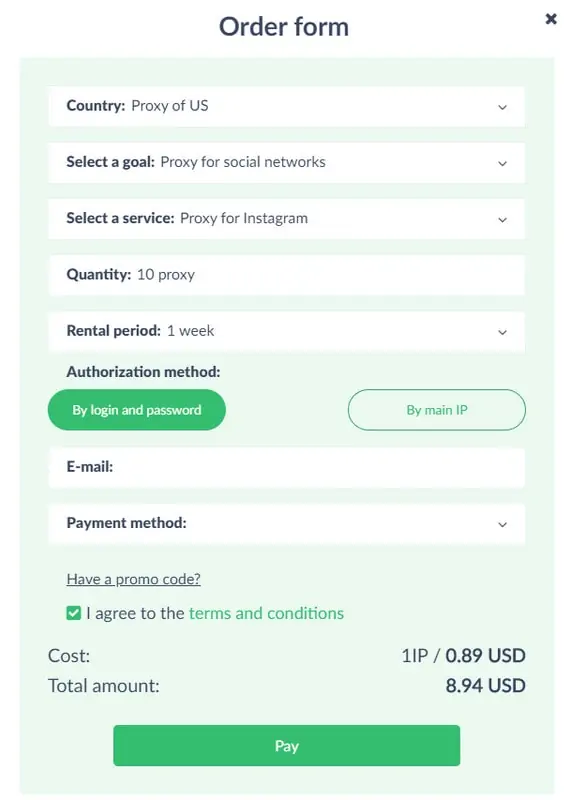 Next, you need to choose how you will pay for the rented proxies. Available methods:
Visa/MasterCard;
Bitcoin;
Ripple;
Etherium;
Litecoin;
Dash;
Dogecoin;
Tether;
USDTTRC;
BNB;
AdvCash;
Alfamart;
Doku;
Dana;
LinkAja;
OVO;
Webmoney BTC or USD;
PerfectMoney USD.
Agree to the terms of the Proxy-Seller and enter the promo code, if you have one. Click "Pay". The payment procedure will be different for each method. Just follow the steps and when the payment is complete you will receive your proxies. As a rule, clients get access to them within half an hour. If you have to wait longer – knock on technical support. They will help you.
Mobile 4G proxies
Proxy-Seller.com offers mobile proxy packages with unlimited traffic, but they say 140Gb per month – in case of decreasing the connection speed, which is unique our days. Every mobile proxy is a real-time device that filters your connection. Also, this proxies are private, or simply saying individual, so the only one user has access to it. Proxy-Seller owns thousands of proxies in countries such as US, UK, France, Italy, Ukraine, Russia. The minimal period of use is 7 days and the price starts from $12 per proxy. The discount for the longer period of use is already can be seen on the website.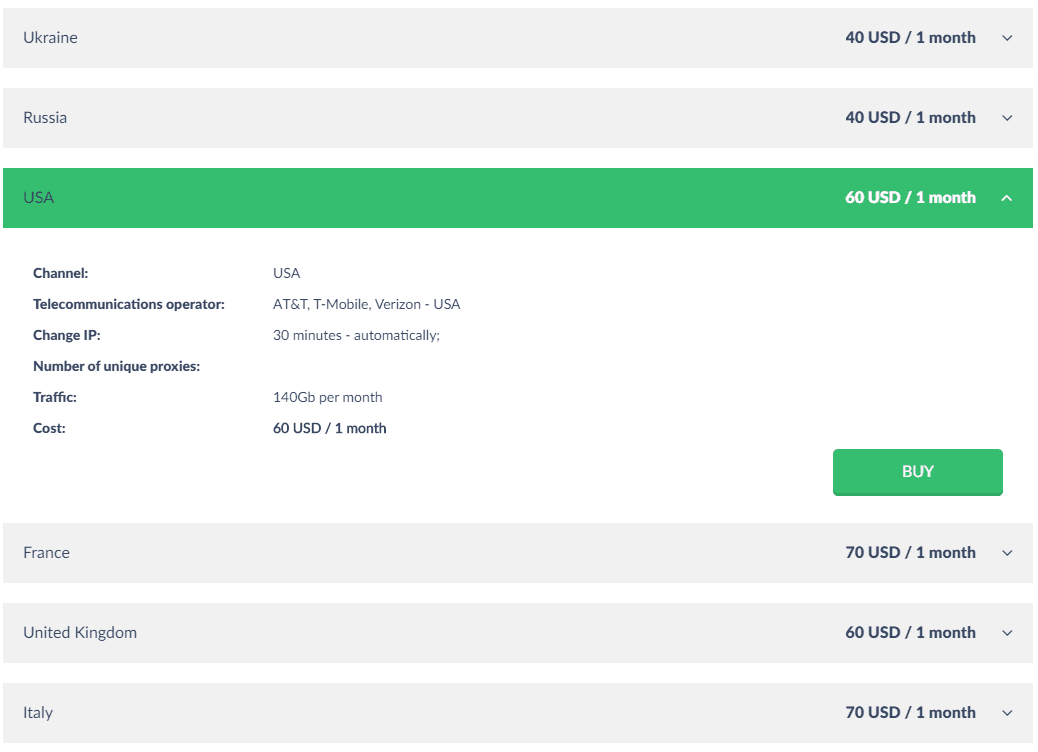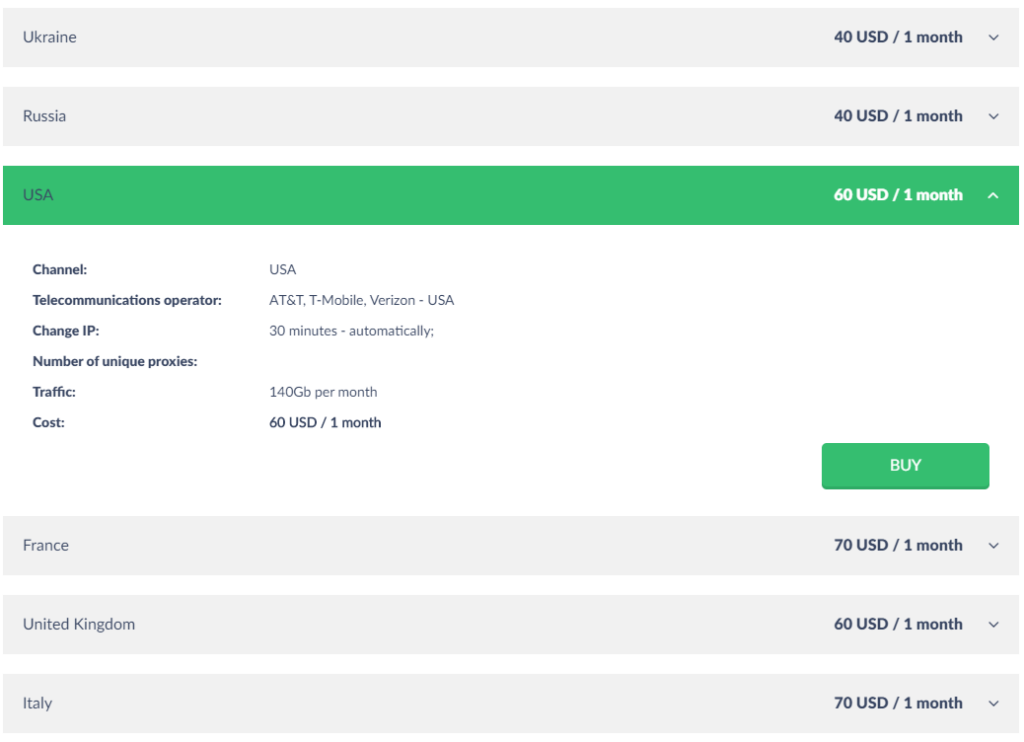 There are many carriers are available to choose a proxy from, such as AT&T, T-Mobile, Verizon, Orange, Tim, etc.
IP rotation is occurs automatically every 5 minutes, except US proxies – 30 minutes, or you can request a specific rotation time via 24/7 online-chat (usually 10 minutes if you need to). There is a possibility to choose a certain state, city or town.
The order form is quite same that we have seen already with IPv4 & IPv6 proxies, but you should enter your purpose, Instagram for example.
When it comes to reality these proxies have around 20mb/s connection speed with the main 100mb/s connection.
These proxies are superior type for arbitrage, affiliate marketing, SEO purposes, sneaker bots, because the account can not be banned by the reason of a proxy, as the resource administrator can only see the mobile connection + your proxy IP rotates, so it is not static and there is no chance to get banned by using this.
Proxy-seller – overview
In your personal account there is a section "Control Panel" where you can see how to configure proxies for different devices, software, social networks in the Proxy-Seller blog.
Consider the conditions under which proxies are issued. You cannot use them for spam, brute-force, phishing, distribution and viewing of porn, registration of accounts in payment systems, for online banking, downloading torrent files and other actions that violate the law.