"Forgot the passcode on my iPhone. Is there any way I can unlock iPhone passcode?"-Anonymous User
It's quite reasonable to forget a very simple, even a four-digit or six-digit number because of our frenetic lifestyle and workload. But what if the six-digit number is your iPhone's, iPad's password or even the Apple ID password. How would you remember that password or unlock iPhone?
If you do not have any clue, you might be in the right place. Often we forget very small numbers or information due to lack of concentration and other reasons and this is quite obvious. Therefore, UkeySoft has designed and developed a smart and easy solution for those users who often forget their password.
Using UkeySoft Unlocker, you can actually bypass the iPhone passcode easily and without any technical expertise.
Bonus: if you want a higher success rate of unlocking, then your best bet is to use StarzSoft KeyPass, it covers all the functions of UkeySoft Unlocker and even performs better! 
UkeySoft Unocker Key Features:
Unlock a broken screen iPhone even if you do not have any internet on your device.
Unlock iPhone/iPad/iPod screen lock password
Unlock a disable/ locked iPhone without passcode
Unlock devices without losing any valuable data of it.
Unlock the Apple ID when you forget the password completely without even using the email or other services.
Erase screen passcode, pattern, Touch ID, Face ID.
Unlock your iPhone at home, no tech knowledge required, simple & quickly.
Compatible with the latest iPhone 11, iPhone XS. iOS 13 supported
Why Should We Use Ukeysoft:
UkeySoft Unlocker is a powerful iPhone/iPad/iPod unlock tool and Apple ID unlock tool. Using this useful iPhone unlocking tool to unlock iPhone without passcode, anyone could remove screen password from iPhone, iPad or iPod touch without the help of iTunes.
Interestingly, you can even unlock your Apple devices even on a phone with unresponsive, broken or directly from the logo screen. Because this application doesn't use the phone's interface or screen to unlock, this application could be a lifesaver, even if your phone's touch device or camera got damaged.
Because, without these hardware, one cannot use the fingerprint or facial ID feature of the device to unlock. That is why this product of UkeySoft could be handy to have on your desktop or laptop even if your phone doesn't have any issue.
Furthermore, this software is completely safe, and it doesn't destroy any of your device's data while removing the security.
Installation & Registration:
The UkeySoft is possibly one of the easiest to install and use software available in the market to remove iPhone/iPad lock screen or to unlock the iPhone without any password.
With some straight and easy steps, you could actually install this software. Here we have provided those steps
Downloading and Installation:
Step 1:  Type www.ukeysoft.com/unlocker/ in your browser.
Step 2:  From there, click on the Download option to get the installation file.
Step 3:  Now drag the UkeySoft icon to the Applications to finish the installation.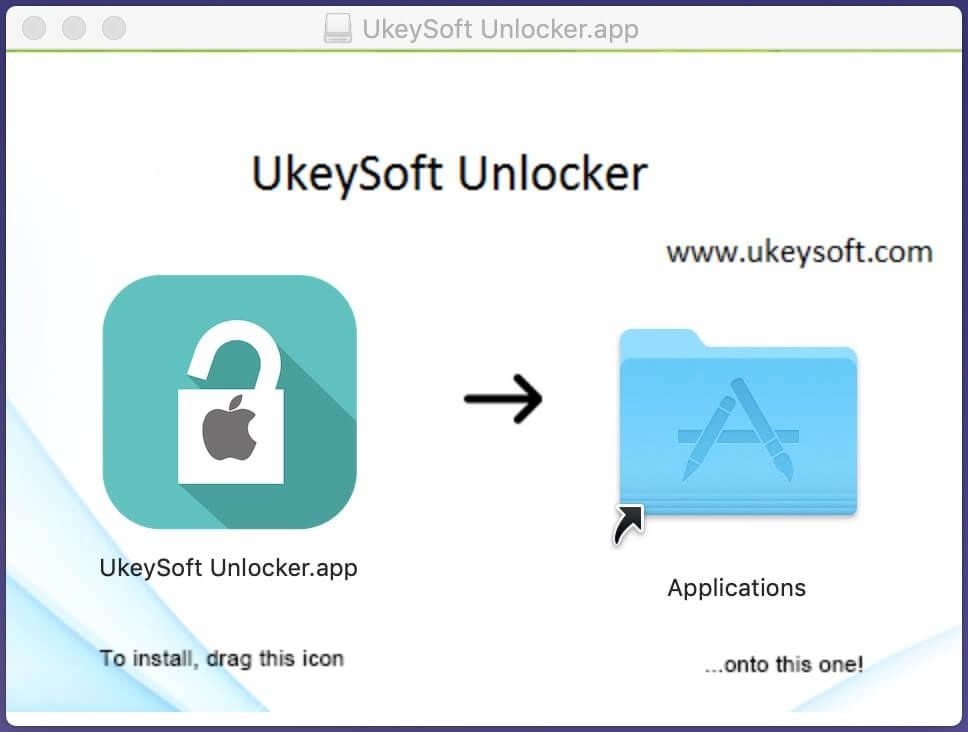 Step 4: Therefore, the UkeySoft application icon will appear on the Mac screen.
Registration Process:
Step 5:  After clicking on the icon, you will get to see a prompt on your screen. Here you need to register the product to unlock all the features.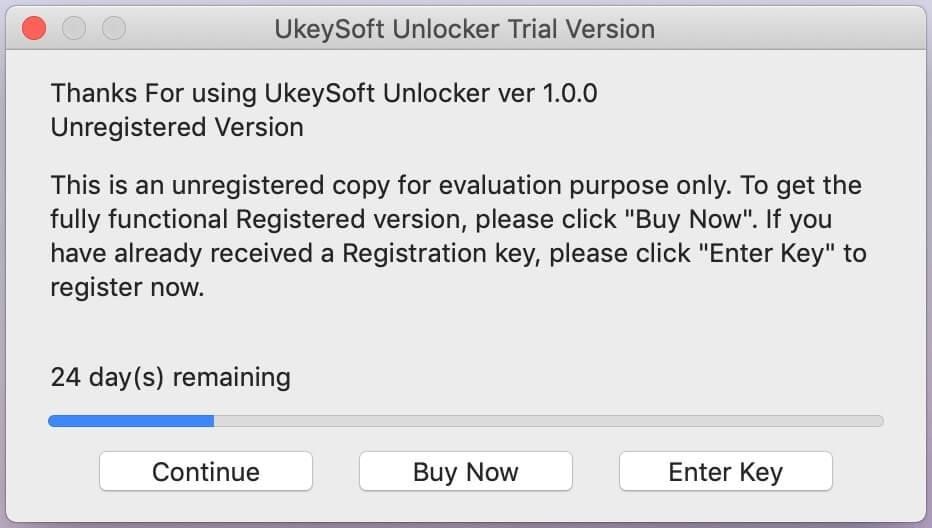 Step 6:  If you do not have any registration, then click on 'Buy Now' to purchase a new registration. Once you buy, check your email to get the registration key and then apply that key to register successfully.
Once you follow all the steps mentioned above or instructions, you will be able to open up the application interface, and from there you can remove the iPhone screen password without any issue.
How To Unlock iPhone Screen Password With Ukeysoft:
After a successful installation of the application on Mac now, we have follow some more easy steps to unlock the iPhone, iPad or even the Apple ID.
Step 1: First, you have to click on the application icon of UkeySoft on your Mac desktop screen to launch the application interface.
Step 2: There, you will be able to see a bifurcated box to choose. In the first box, you will have 'Unlock Apple ID' and on the other 'Unlock Screen Password'. Click on the 'Unlock Screen Password' option to unlock your device.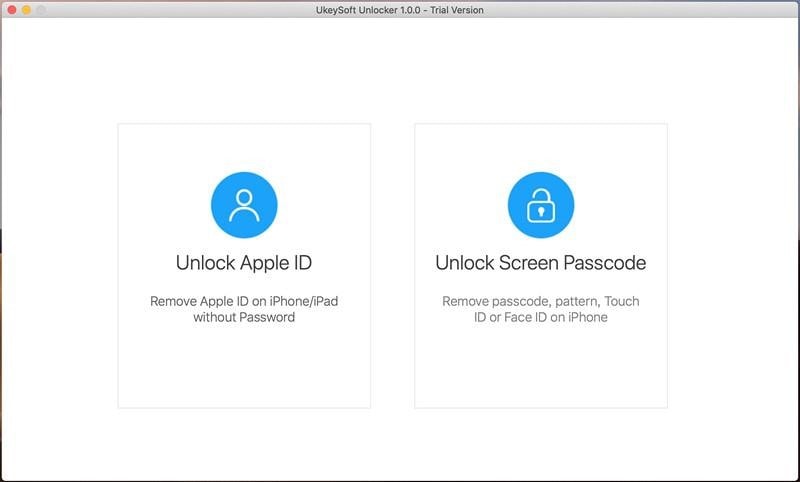 Step 3: Now connect the iPhone with the USB cable provided by the manufacturer.
Step 4: Now, a different screen will appear, and from here, you have to click the next option only.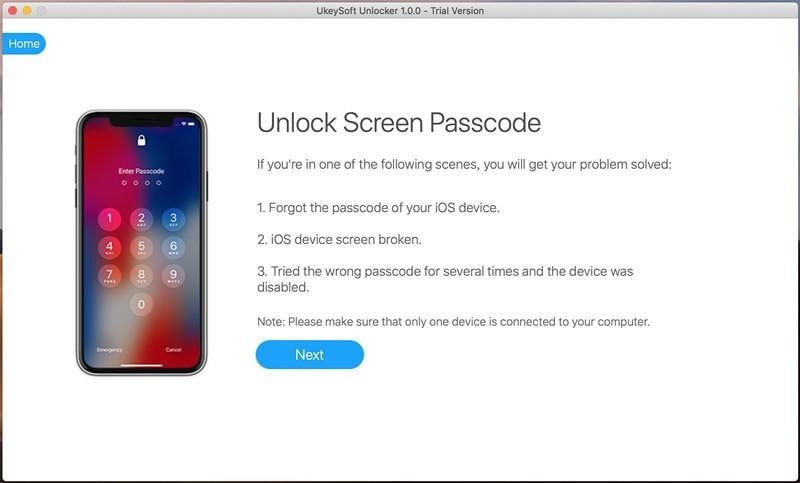 Step 5: If the iPhone cannot be recognized by the application with this process, then perhaps you have to follow a different process to connect your phone with the Mac. You will need to set the phone into recovery mode first.
Step 6: Now choose the interface or device here among the options provided like iPhone 7, iPhone 8 and other devices.
Step 7: Then connect your iOS device with your Mac or PC using the USB cable provided by the company.
Step 8: Press and release the volume up button once and following that press and release the volume down button.
Step 9: Now press and hold the power button on your phone as long as you do not see the recovery mode screen.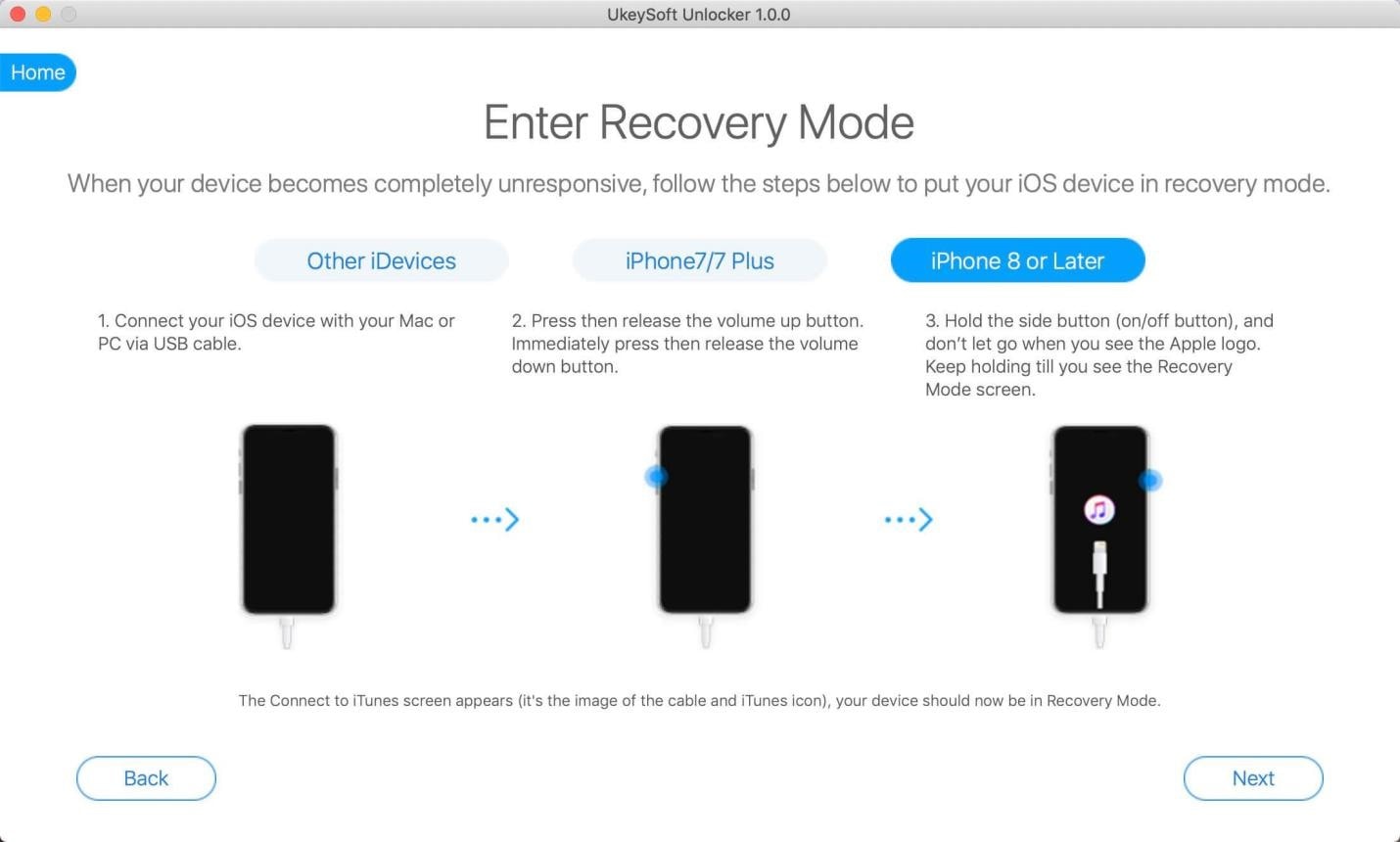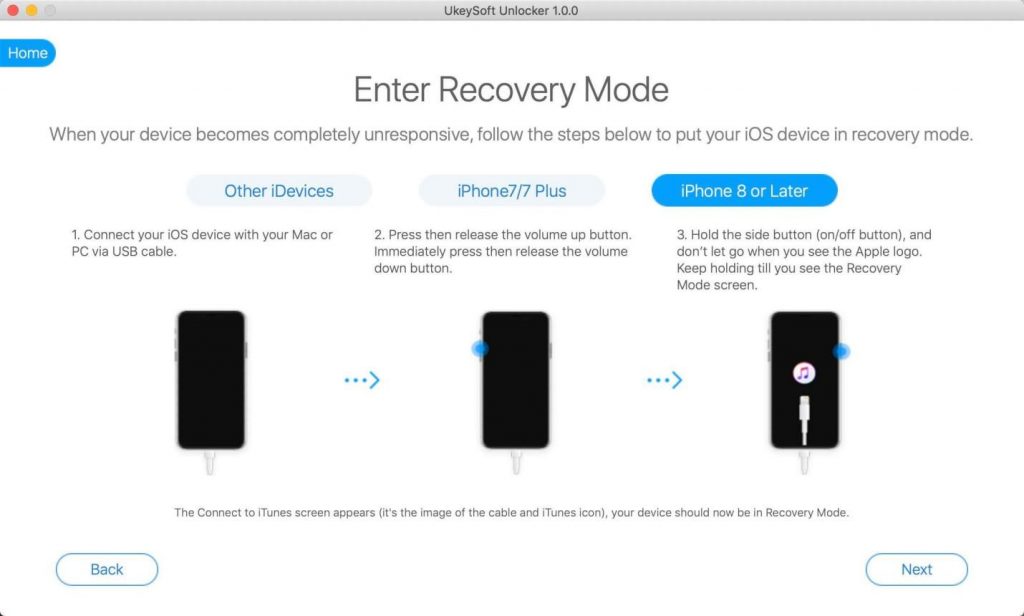 Step 10: From here, you have to download the most appropriate Firmware Package to complete the further process.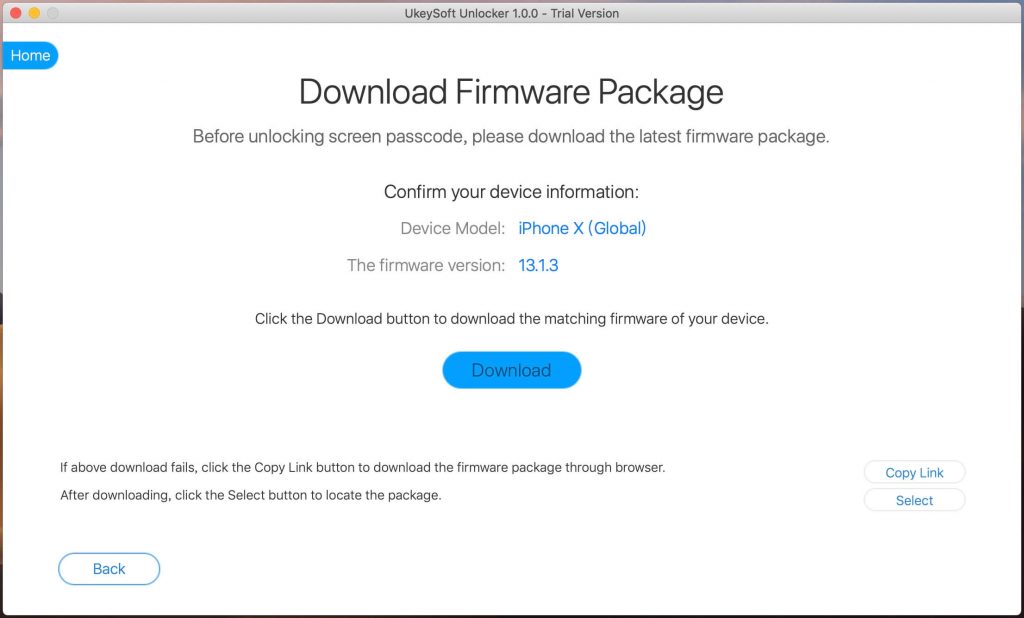 The interface will download the Firmware automatically, and after downloading the firmware package completed, it will show you the message on the screen. Now click on "Start" button and go to next step.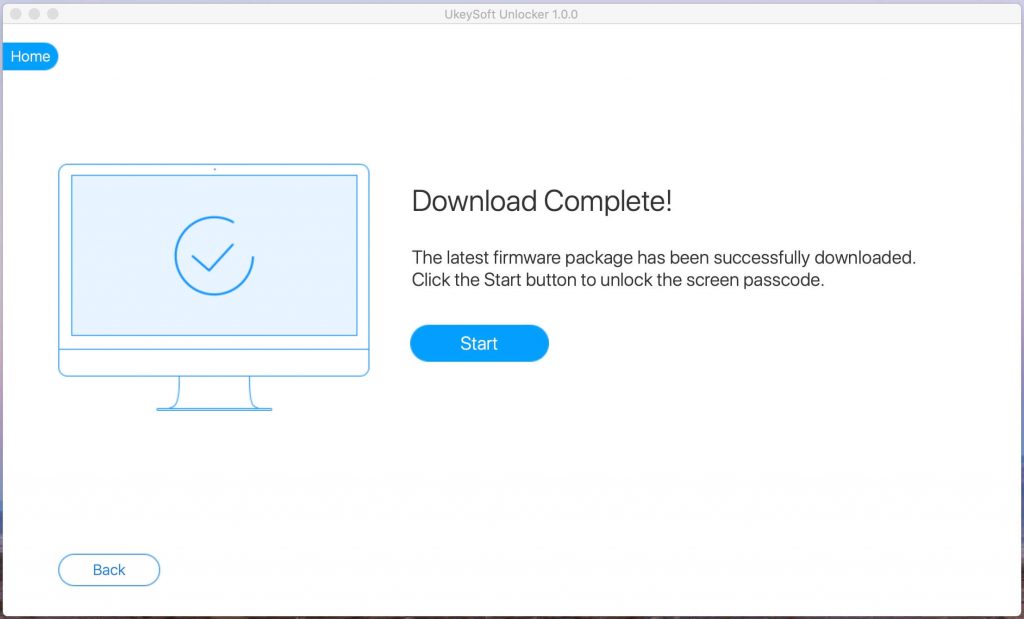 Step 11: Therefore, the interface of the application will show a customary warning message, but do now overlook all the warnings.  Now preen on 'Start Unlock' option and wait for some while.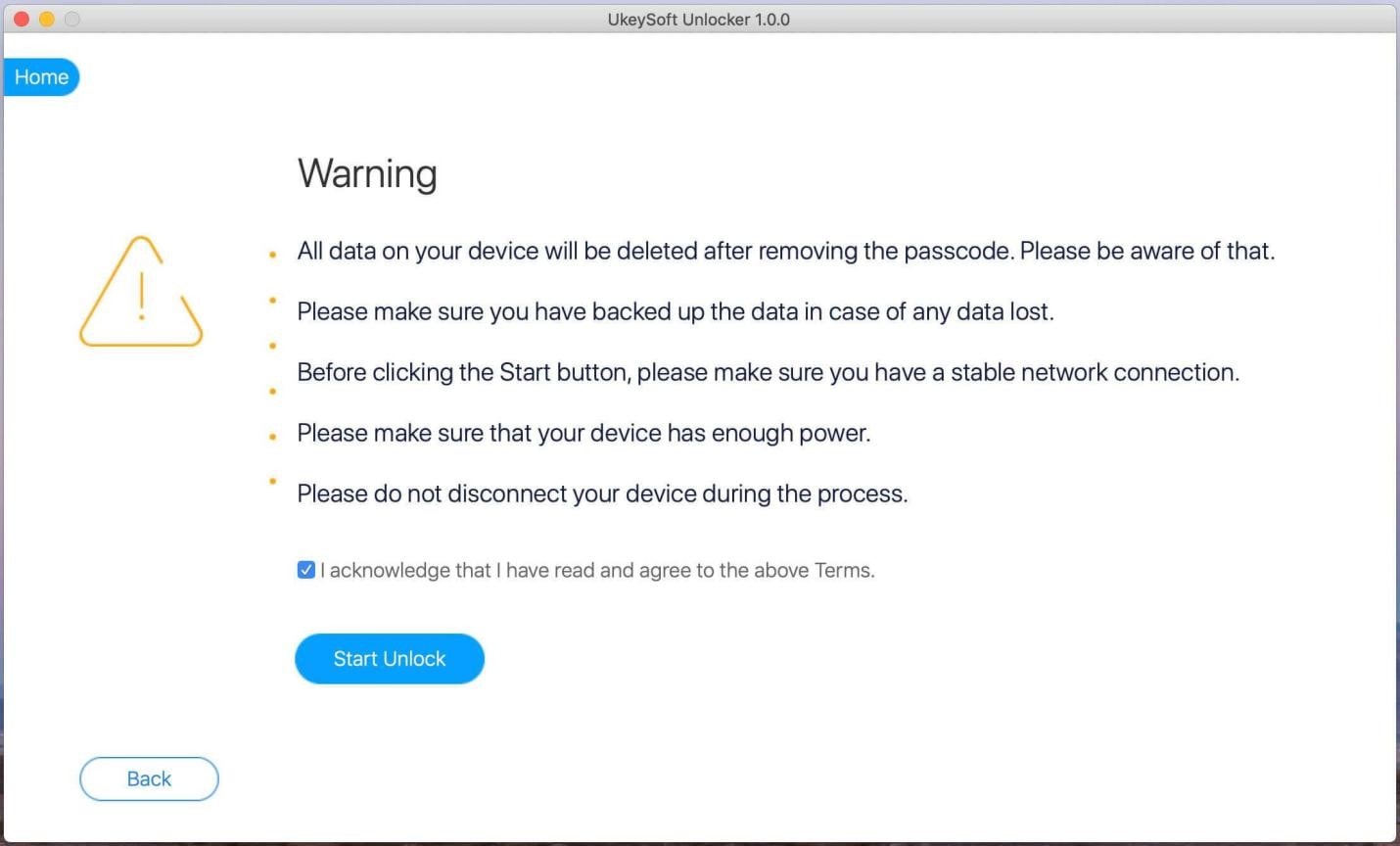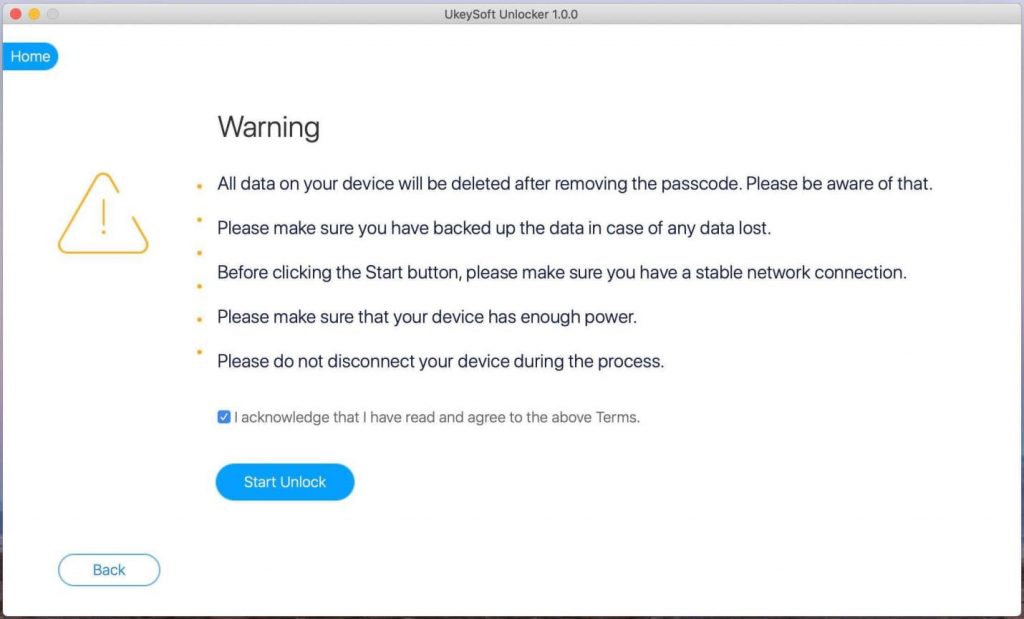 Step 12: UkeySoft Unlocker start removing iPhone screen passcode, please keep connecting your iPhone device with the computer during unlocking process.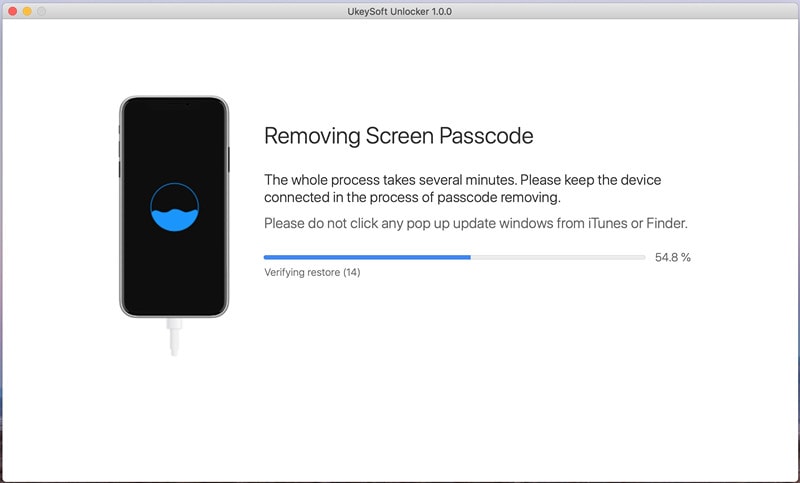 Step 13:  Your iPhone passcode will be removed in 5 minutes, the iPhone device will restart, now you can setup your iPhone and access it without passcode.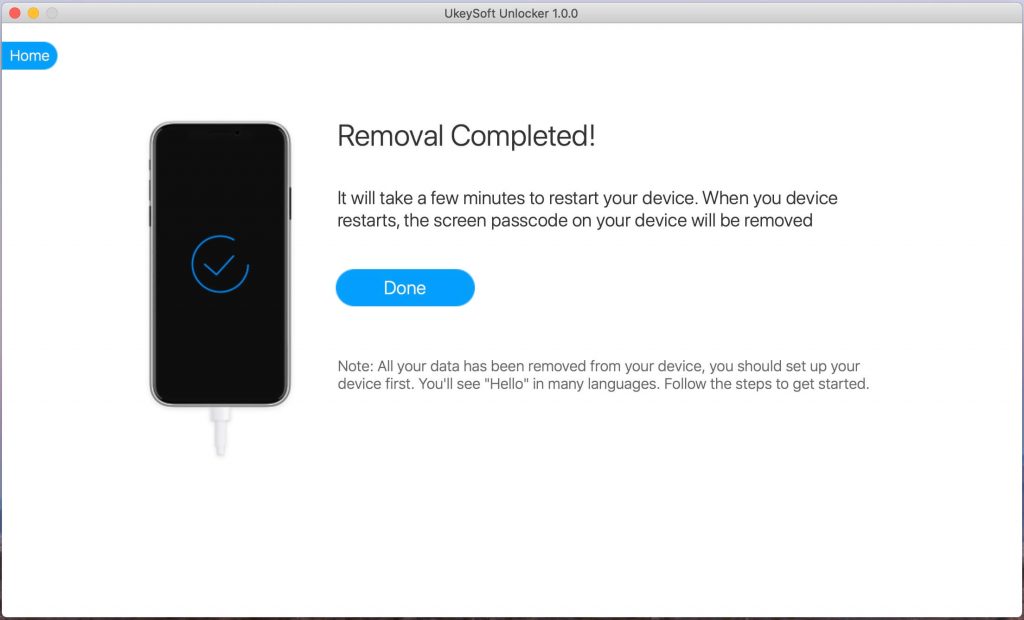 After some time, you will get your device open. Just keep in mind, you should take a backup of all the data on your device when you unlock it using recovery mode because this mode could remove all the data of your phone.
The UkeySoft Unlocker application can only perform while your phone has the 'Find my iPhone' option turned off. So, it is better to disable the option while you have the password with you.
Furthermore, you also can use this application to unlock the Apple ID if your phone is running on iOS 11.4 or later version of iOS. Here we also have provided those steps which could help you to unlock your Apple ID within a while.
How To Unlock Apple ID With Ukeysoft: 
Step 1: Launch the UkeySoft Unlocker from the Mac desktop same as before.
Step 2: From here, choose the 'Unlock Apple ID' option from here.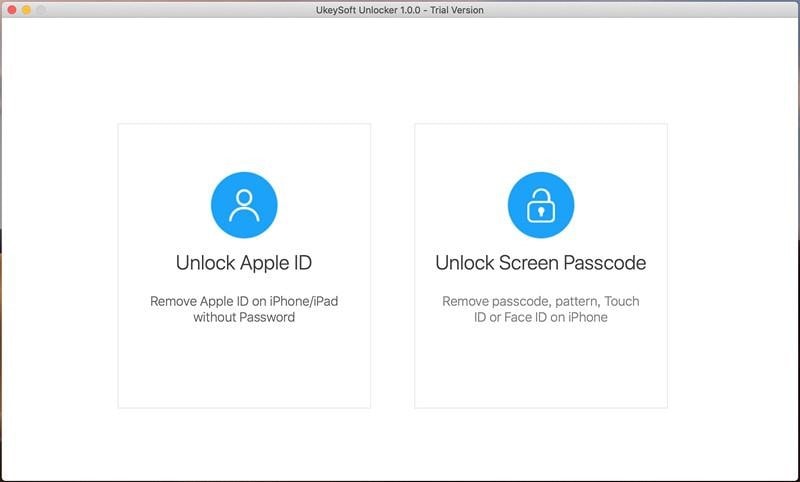 Step 3: Now, from the phone interface, you have to choose the option called Trust to accept the connection. If your iPhone or iPod or iPad is running on the iOS 11.4 version or higher, then you need to turn off that option called 'Find My iPhone' to perform any action from UkeySoft.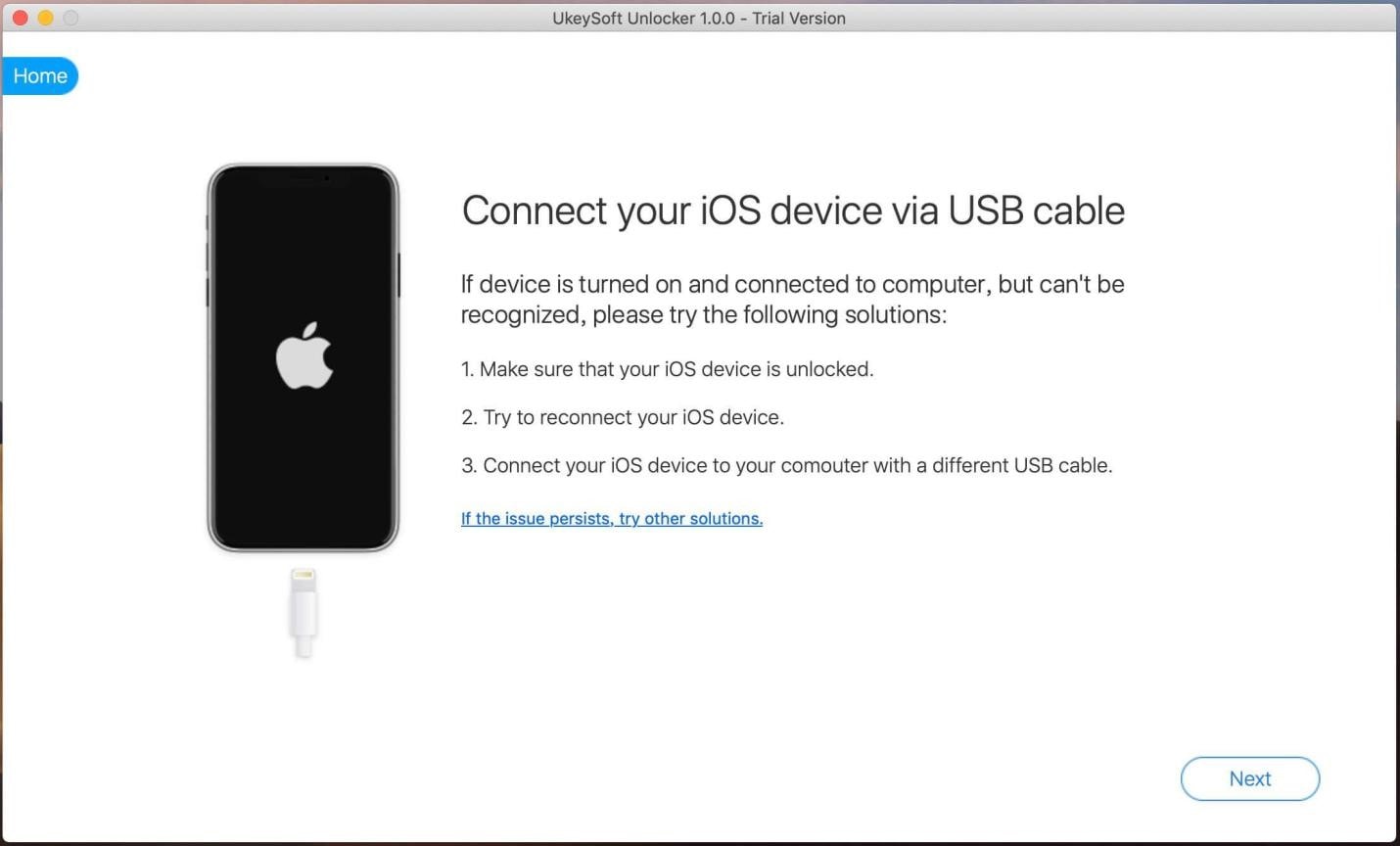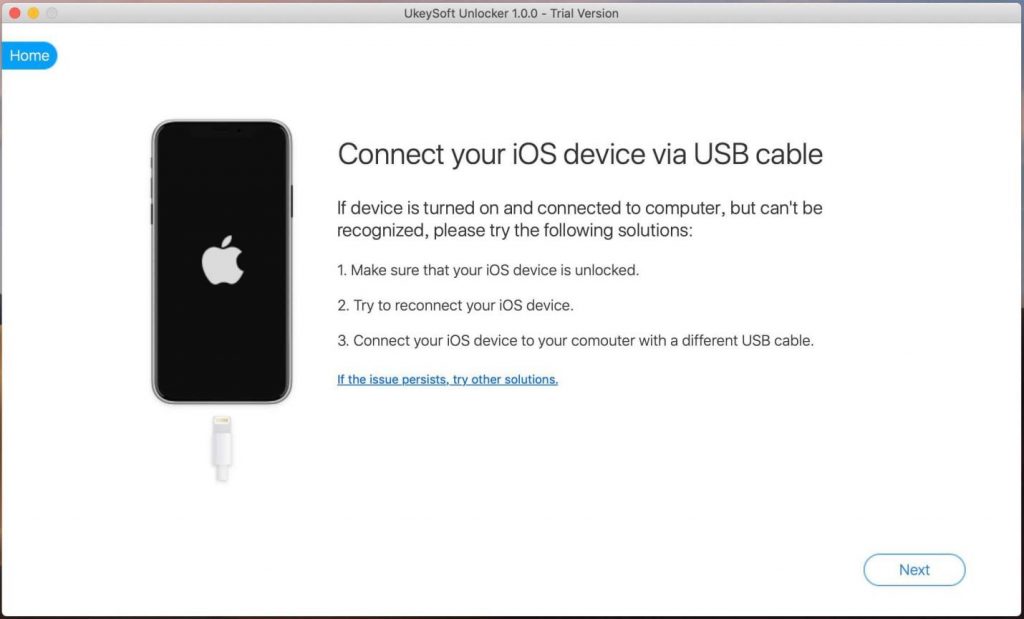 Step 4: After establishing a successful connection to the interface will show you some messages and a Next option. To proceed further, you have to press the Next button.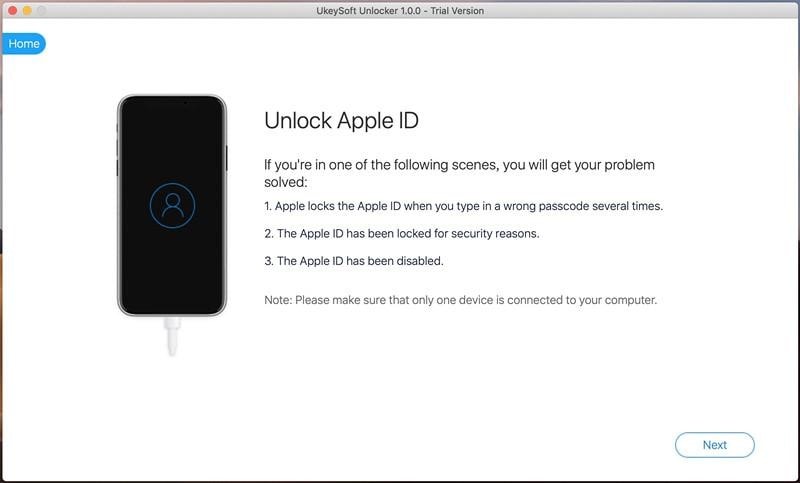 Step 5: Now, Apple will fetch your device information and show you the model number here. From here, you will have to confirm the model number and click on the Start option.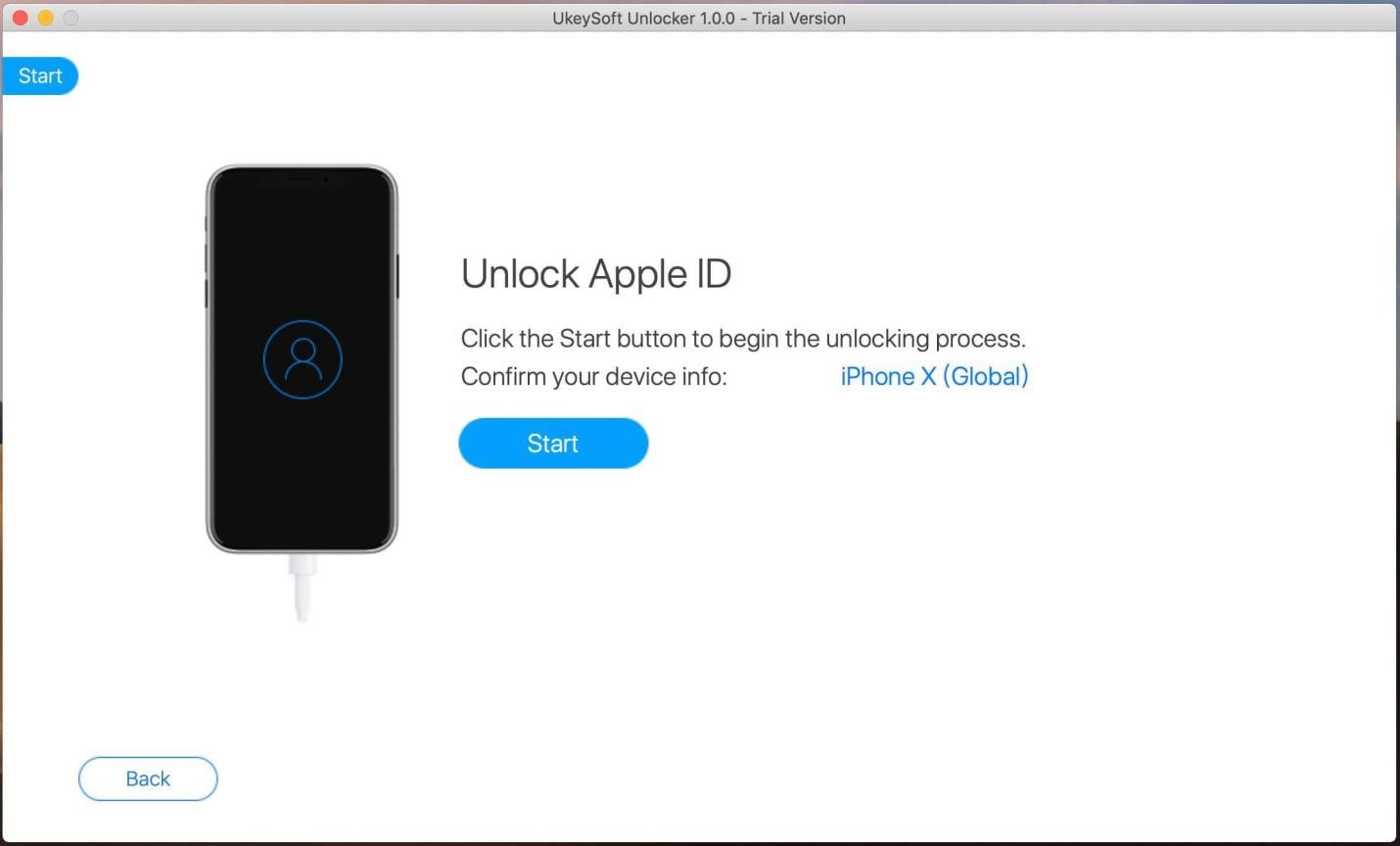 Step 6: Now you have to wait for some time, and after a while, it will show you 'Successfully Removed the Apple ID' and now press on the Done option.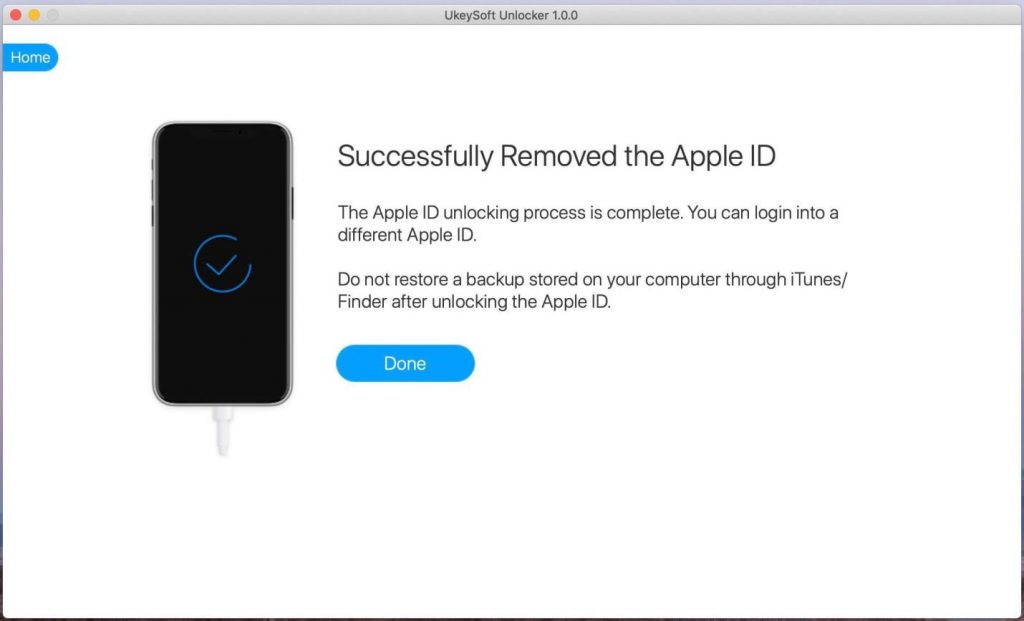 Detail guide: How to unlock iPhone passcode or Apple ID
More Information on UkeySoft:
There are plenty other applications available in the market to remove Apple ID from iPhone/iPad/iPod touch without a password, but this product of UkeySoft is one of the most user-friendly and easy to use software available in the market.
UkeySoft has a long list of products in this security segment, and thus, it has already a good reputation among the users. In their official site, UkeySoft has provided all the further and needful information regarding this software.
Even on their official website, you will also get all the processes to disable 'Find My iPhone' option. But you have to keep in mind, that once you disable the 'Find My iPhone' option from your phone someone else all can perform an unlocking operation using this application.
Conclusion:
In the present world, there are plenty of chances to lose your valuable data. Thus, we need to prepare our self with the help of modern technology to prevent any significant loss.
Passwords are nowadays one of the most widely used and crucial data. But, often when we forget that pivotal data due to any reason, we suffer huge loss. But now, we have software like UkeySoft Unlock to prevent any major loss due to password complexity hazard. And we must take the advantage of solutions like this.