SEO is a search engine optimisation. It is a process of getting traffic to your website through organic ways. In other words, you can say that it is a technique that bridges the gap between you and your user. When a user inserts a keyword in the search bar, a few results show on the page based on the ranks given by Google crawlers. This rank is what your SEO techniques decide.
If you want to streak ahead, you need to make sure that your SEO strategies are as effective as possible. Producing original content, building relevant backlinks, optimising content across social media and much more are the part of SEO strategy. It is not necessary that you will use all aspects, but whatever you use, make sure that it is producing the maximum output.
There are various paid SEO strategies you can use to quickly boost your website, but Google gives priority to those websites that utilise organic methods. Further, organic ways will give you benefits in the long run.
Work on content
Remember that content attracts users. If your content provides information and a solution to users' problems, they will keep visiting your website. Google decides the rank for a website based on the value of the content you provide to your user. Of course, off-page SEO is crucial, but on-page SEO sometimes outweighs the benefits of the former.
If the length of your content does go beyond 500 words, you are pushing your business on the verge of collapse. Long form content does not just aim at pleasing Google, but it must be worth reading.
For instance, if you want to write a blog on 'How to avoid falling into a debt trap,' your focus should aim at telling them something new that your competitors do not tell such as 'Review your lifestyle'.
Increase the weightage of research
Add value to your content by adding data, infographics, graphs, and pie charts. It will help users comprehend the content without being bored.
Publishing original content is necessary, but updating the old content is equally important. Content becomes less fresh with time, and Google considers a freshness factor.
For instance, if you created a blog on 'How to manage finances during unemployment' in 2017 and it has some facts about the unemployed, you will need to put the latest data.
Focus on "People also ask"
You must know the problems of users if you want to give solutions. Online research can help you know what people want to know. For instance, if the query you type in the search bar is "How to avoid falling into debt", you will find results like this: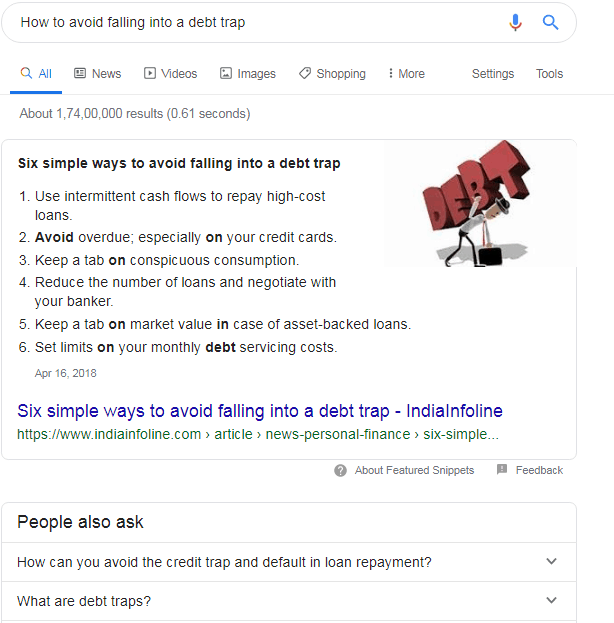 You will find numerous questions suggested by Google that people want to know. A smart SEO technique suggests using keywords or questions displayed under the category – "People also ask"
More and more people will land to your website, and the rank will go up.
Off-page SEO
It tells Google the value of your website. Off-page SEO strategy aims at acquiring relevant backlinks. As long as you have a pool of links pointing to your pages, search engines will find it appreciative and boost the rank of your site. As the name suggests, these activities are performed outside your website.
For instance, writing a guest blog or article submission is an off-page SEO technique. It includes both link building and social media marketing.
It is a process of acquiring links from other websites to your websites. When the user of the third-party website navigates from one link to another, they will likely land to your website. It will improve your traffic, and your website will rank on top results.
Social media marketing will help you improve your brand image. More and more people will get to know about you. Try to share infographics, videos and a brief content with the URL of your website.
On-page SEO
In addition to content, you need to work on various other factors such as title, description, keyword integration and user-friendly URLs.
Make sure that you use target keywords.
Avoid keyword stuffing in your web content, blogs etc.
Description can increase the click rate, so do not consider it just as a formality.
Keep URLs short, easy to read and try to integrate primary keyword in it so that the reader knows what the page is about.
Internal linking can play a big role to improve the ranking of your website.
Consider other factors
Make your website engaging. It should be quick to respond.
Videos can help you send the right message to a large number of audience.
Consider user experience and amend your website accordingly.
Medium and long tail keywords can help you boost the rank quickly.
Content should be readable and high-end.
 The final word
These affordable SEO strategies may take a long time to appear on top results of search engines, but they can benefit you in the long run. Focus on content, link building, social media presence, user experience, and keyword optimisation.
Author's bio: Hi, I am John. I work as a financial advisor at Big Loan Lender. I am a professional blogger. I have written so many blogs so far in order to enhance the knowledge of readers.