BLUETTI Spring Sale 2023 is in full swing from March 12th to March 29th, and it's the perfect opportunity to take advantage of amazing discounts on portable solar generators.
Camping in the spring is a beloved tradition for many outdoor enthusiasts. After a long and cold winter, the warm weather and longer days provide the perfect opportunity to get outside and enjoy nature. The spring season also brings with it an abundance of colorful flowers and budding trees, creating a beautiful backdrop for any camping adventure.
Whether you prefer a cozy cabin or a tent under the stars, there are countless camping options available in the spring. Many campsites offer amenities such as hiking trails, fishing ponds, and even outdoor cooking facilities. This is a great time to explore new places, reconnect with old friends or family, and make memories that will last a lifetime.
But to fully enjoy your spring camping trip, it's essential to have the right gear and equipment. This is where the BLUETTI Spring Sale 2023 comes in. With their unbeatable discounts on portable solar generators and panels, you can ensure that you have reliable and eco-friendly power sources for all your camping needs.
Advanced Portable Power – EB70
EB70 Starts at £649 (Was £799, Save £150)
EB70+PV200 Starts at £1,118 (Was £1,338, Save £220)
The EB70 is a portable powerhouse that's ideal for camping, overlanding, traveling, and other outdoor adventures. It boasts an impressive 800W continuous output and 1400W surge, with a larger capacity of 716Wh. With its versatile DC or AC outputs, it can power up to 12 devices simultaneously. A single charge can run a 75W TV and a 90W mini fridge for over 8 or 6.8 hours. Even if it runs out of power, fast solar and in-car charging can quickly replenish it, ensuring plenty of power on the go.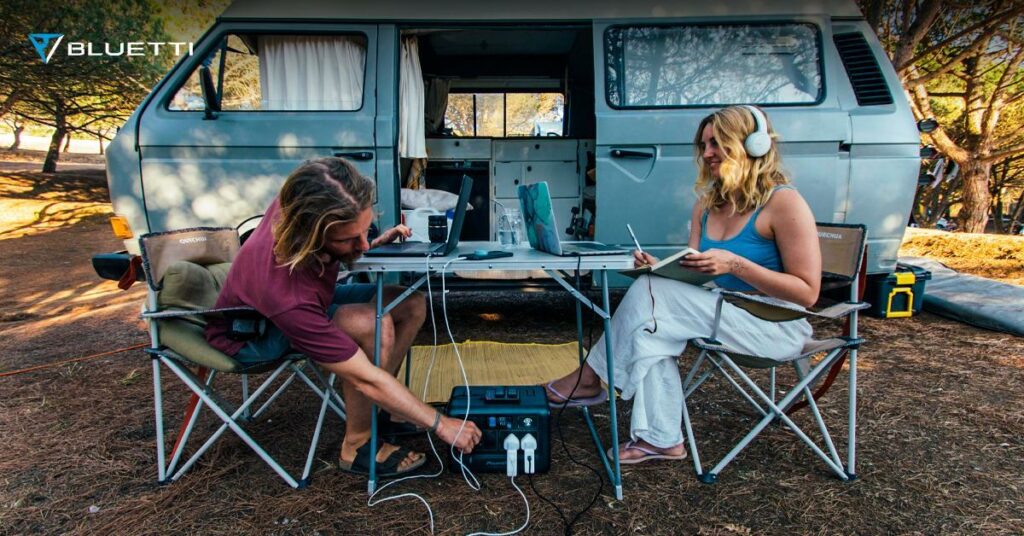 Starter Portable Power – EB3A
EB3A Starts at £269 (Was £369, Save £110)
EB3A+PV68 Starts at £428 (Was £548, Save £130)
The compact and portable BLUETTI EB3A weighs about 10lbs, making it perfect for outdoor camping and short trips. It's rated for up to 600W and a 1200W surge wattage, enough to power multiple devices like laptops, phones, mini-fridges, cameras, and slow-cookers. Its LiFePO4 (LFP) battery stores 268W, delivering 2500 cycles before reaching 80% capacity. With the EB3A in hand, outdoor enthusiasts won't have to search for power outlets in the backcountry. It can power a 10W light for 22 hours, a 60W car fridge for 4 hours, and an 80W TV for 3 hours straight. On a full charge, it will power a 60Wh laptop for 4 hours. When connected to solar panels for max 200W charging, the EB3A allows for longer outdoor stays. The BLUETTI App also allows for real-time monitoring and control from anywhere for ongoing management.
Top-pick All-in-one Power – AC200P
AC200P Starts at £1,599 (Was £1,799, Save £200)
AC200P+B230 Starts at £2,898 (Was £3,398, Save £500)
The AC200P is packed with a 2000W inverter and a 2000Wh LiFePO4 battery, making it compact and portable for outdoor activities and emergency backup. Its capacity can also be extended to 4048Wh and 5072Wh respectively when connected to the B230 or B300. It boasts 17 versatile outlets to ensure that any device can be charged in time.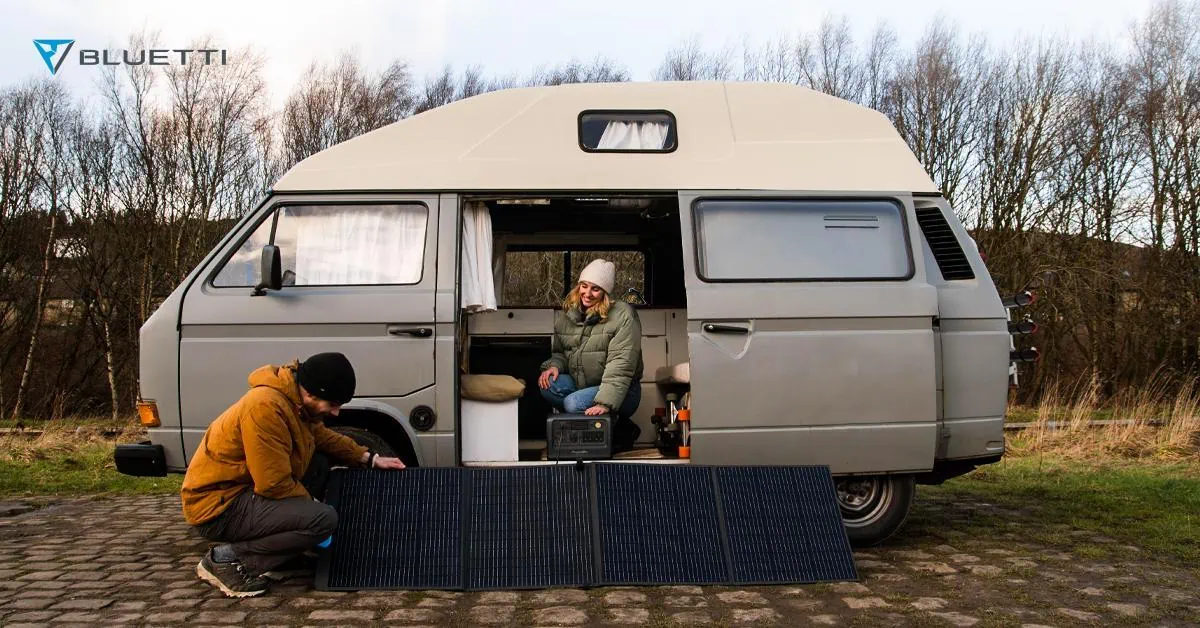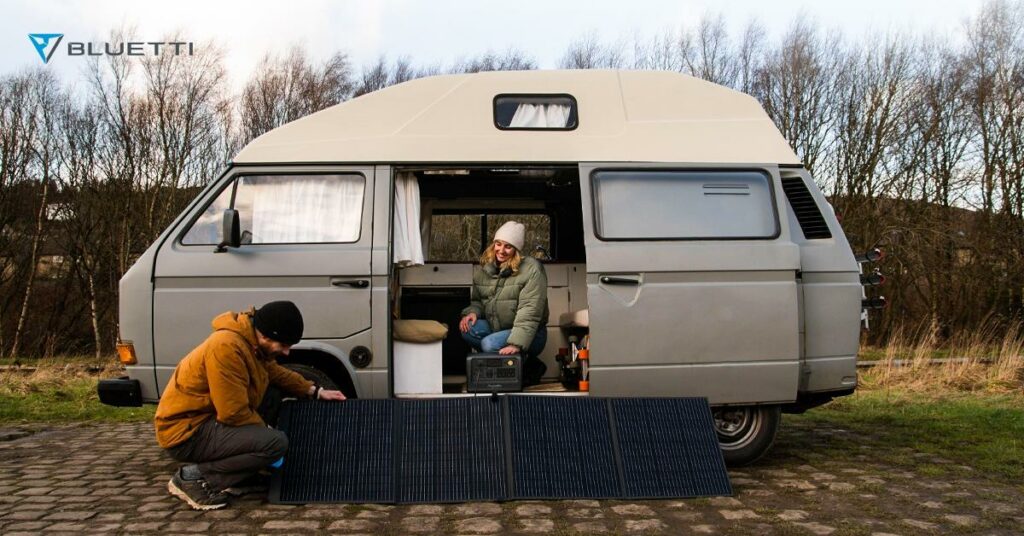 Solar Panels – PV120, PV200, PV350, PV420
PV120 Starts at £299 (Was £349, Save £50)
PV200 Starts at £469 (Was £539, Save £70)
PV350 Starts at £849 (Was £949, Save £100)
PV420 Starts at £899 (Was £1,049, Save £150)
BLUETTI panels use monocrystalline cells with up to 23.4% efficiency. Covered with ETFE material and equipped with an IP65 junction box, they are designed to withstand scratches and splashes. Their fold-and-go design also makes them easy to store and transport. The PV350 and PV420 are the latest innovations that can produce 350W and 420W power, respectively, from sunlight, significantly speeding up charging. Solar panels are a must-have for nature lovers, providing endless clean energy for use whenever needed.
About BLUETTI
BLUETTI has over 10 years of industry experience and is committed to a sustainable future through green energy storage solutions for both indoor and outdoor use, delivering an exceptional eco-friendly experience for everyone and the world. BLUETTI is present in 70+ countries and trusted by millions of customers worldwide. For more information, please visit BLUETTI online at https://bluettipower.co.uk/.