Major changes in customer taste, preferences, purchasing power, and motivations happen all the time, but the change is slow and happens over years. This time, however, change was immediate and drastic – its impact felt in every industry, including eCommerce. Similar changes will continue to keep the market volatile and uncertain and it will be up to eCommerce businesses to predict, understand and prepare for the changes ahead of time. Failing to do so may result in lost opportunities and an uphill battle against competition.
In other words, the eCommerce industry is in the middle of a paradigm shift and we want to answer two important questions: how is the industry being transformed and what can be done by eCommerce businesses.
Understanding the New Customer
The customer is the most important element of any business and understanding the customer is even more critical for success for eCommerce businesses due to the fierce competition. So let's start by understanding how the customer is changing – what their new motivations, expectations, and priorities are.
A report reveals that due to the global health crisis, consumers now feel more vulnerable and less secure. This is going to have a direct impact on their shopping habits. Purchasing power will decrease slightly and health and safety will play a bigger role in shopping. As a result, businesses need to provide a safer shopping experience (fewer human interactions, for instance) and also invest in their digital communications and online payments (cashless) systems.
Another long-term shift is in customer expectations. Consumers are used to immediate gratifications thanks to smartphones, social media, and modern logistics of one-day deliveries. For businesses, this is an opportunity to gain a competitive edge by providing faster, almost immediate service. Inability to meet these expectations exposes you to the risk of losing customers as 45% of consumers may change brands if they do not feel heard quickly or often enough.
Consumers are the most important component of eCommerce but there are other components as well, which brings us to the question: how is the rest of the eCommerce industry changing?
How is eCommerce Being Transformed in 2021?
Visibility is critical in this industry and eCommerce businesses are already making changes to their business model to cater to changing demands and expectations. One of the most basic changes in the industry is that the number of customers is increasing. Online sales are on the rise not just because of people shopping more but also because of more people are shopping. This isn't expected growth either but rather explosive growth as a result of the global lockdowns in 2020. The number of online shoppers is expected to reach over 2.1 billion by the end of 2021.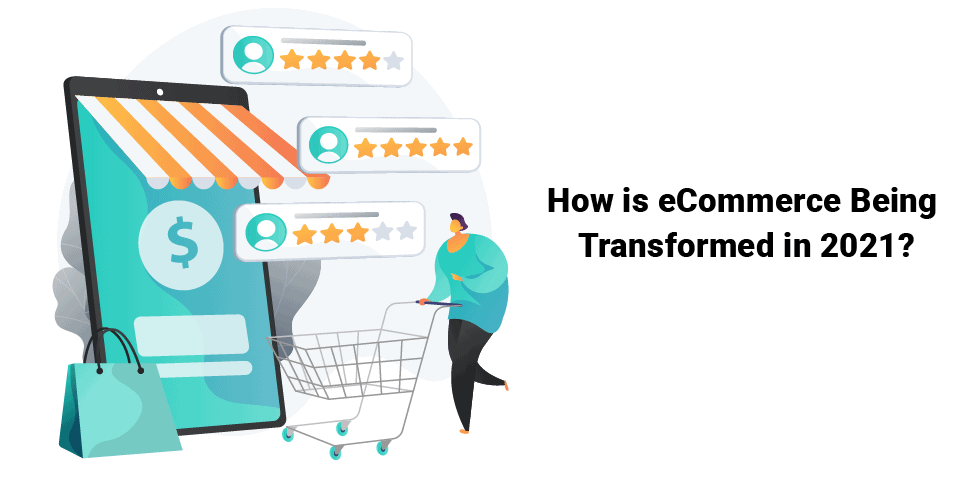 In essence, businesses must efficiently scale their operations to find the balance between serving people (with potentially lower purchasing power) and keeping the bottom line in the green.
Another major transformation is the rise of personalization and two-way, immediate communication. In fact, according to a recent study by KPMG, personalization is the "strongest pillar in driving Customer Loyalty" and we predict that it's going to be one of the biggest trends of this decade. Product differentiation is very difficult in today's eCommerce landscape and better customer experience is one of the last few avenues that businesses can still compete on.
So taking into consideration everything we've discussed so far, the key takeaway is that eCommerce businesses need to scale up to serve more customers, although the average cart value might decrease (profits still increase due to the greater number of consumers). The only exception here is the luxury goods market and a few other thriving industries such as online entertainment. Every other business needs to focus on reducing their costs and serving their customers more efficiently.
At the same time, it's also important to differentiate their product and invest in personalization. It just so happens that all of these goals can be achieved by focusing on one business opportunity – conversational AI.
The Overlooked Solution: Conversational AI
We've learned that eCommerce businesses have three different goals, all driven by changing market conditions. However, instead of trying to tackle them one by one, businesses can solve all of them with one solution – and it's a fairly underestimated solution as well which means there is also an opportunity to capitalize on the early-mover advantage.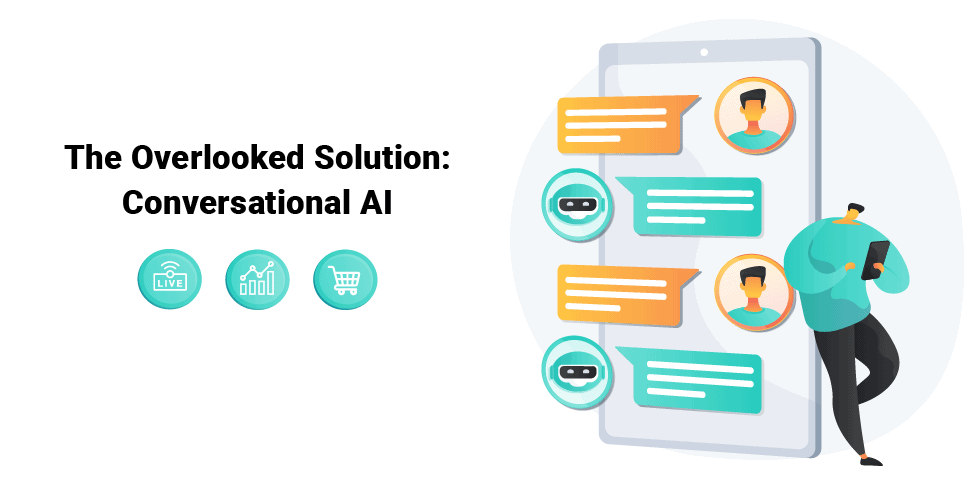 The solution is a relatively new technology known as conversational AI. It's an extension of artificial intelligence for businesses but focused on automating customer service while still keeping the natural feel of their human counterpart. Conversational AI is in itself a culmination of various technologies including natural language processing (NLP), machine learning, and process automation. The most common implementation of conversational AI has been in AI chatbots that answer customer queries immediately.
That said, more creative implementations of conversational AI can be seen internally in the form of AI personal assistants as well as externally in the form of shopping assistants bots that recommend products based on individual tastes and preferences and customer loyalty bots that open up two-way communication for business messaging, taking customer feedback, and automating CRM. Conversational AI is also part of Google's business messaging agenda as part of their Google RCS platform that aims to bring AI chatbots to every smartphone in the world.
Speaking of business messaging, conversational AI is arguably the most efficient way of offering personalization at scale. Due to the inherent AI capabilities of conversational AI, chatbots can process large CRM datasets and maintain an active line of communication with the consumer autonomously. They can recommend products, send reminders, and notify about relevant offers – all in a personalized manner but at no additional cost to the business.
But perhaps the most attractive benefit of Conversational AI for eCommerce businesses is their utility as sales tools. Traditional business messaging is a one-way street where the consumers can't talk back but chatbots create a two-way communication channel that allows users to take immediate action. For instance, if you share a message about an ongoing sale through a chatbot on Facebook Messenger, WhatsApp, SMS (Google RCS), etc, then the consumer has the option to immediately act on that impetus – by creating a Point of Sale (PoS) on the same chat window.
Customer loyalty bots, RCS bots, shopping assistants, and everything else in between is a potential sales channel and thousands of businesses are leveraging using them to eliminate forced human interactions, reduce depending on CRM staff, and to provide instant gratification to customers. To put this adoption into perspective, conversational AI is expected to be responsible for $112 billion in retail sales by 2023.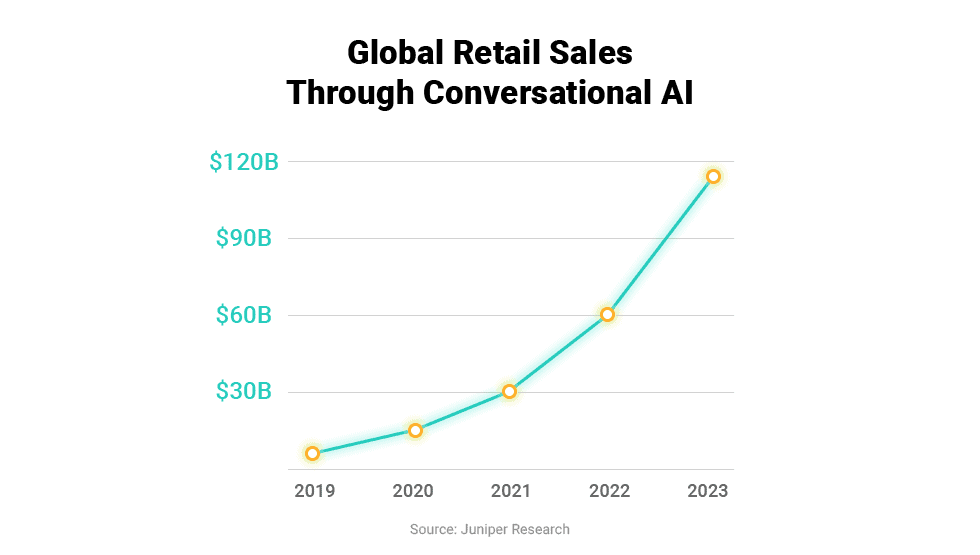 Conclusion
To wrap up, we're in the middle of a major paradigm shift that is a driving force behind changing business models and new trends. Quite a few of these trends, however, are deeply interconnected and can be tackled all at once. And many companies are already doing this with conversational AI. Conversational AI enables eCommerce businesses to personalize the online shopping experience, open up a two-way communication channel with consumers, and creates Points of Sale (PoS) that are more aligned to current customer preferences and expectations. At the same time, conversational tech reduces human capital requirements and dependence on a 24/7 staff. You can learn more about Conversational AI by clicking here.
Author BIO
Dmitry Gritsenko is the CEO of the Master of Code Global. He offers expert content on the biggest AI trends of 2021. And his company partners with the world's leading brands to design and develop AI conversational experiences across mobile, web, and AI-powered chatbots. You can tweet Dmitry @dimasmoc or connect with him on Linkedin.