Does quarantine have you swapping out your jet-setting vacays and overseas getaways for humble staycations and in-state road trips? If you're turning to your trusty four-wheeler for your next big adventure, be sure to include these four essentials on your packing list, or you might just find yourself wishing for the next stay-at-home order.
Essential #1: A Reliable Navigation System
Yes, your smartphone has built-in GPS apps that you probably rely on regularly to get around town. But the further off the grid you get, the more you'll be wishing for a steadfast navigation system for your car that can give you real-time traffic updates, safety warnings, and even notify you of nearby can't-miss attractions.
Affordable Alternative: Offline maps for your smartphone are great low-cost alternatives to an in-car GPS. Once you find the city or area you're looking for, you can download the map while connected to Wi-Fi, then use it offline all day long. Either way, you can save your valuable data for your jealousy-inducing Instagram posts.
Essential #2: A Balanced Wardrobe
Whether you're headed for the beach, the mountains, the big city, or the wilderness, every road trip calls for a few key clothing items. These are:
Comfy clothes – Hoodies, t-shirts, slip-on shoes, sports bras or bralettes for the ladies, and cozy sweatpants for everyone. Automotive travel is not a fashion show. Aim for comfort over everything else.
Athletic wear – Even if you're not planning on doing a ton of strenuous activity, you'll still want to be prepared with a few options you can break a sweat in, especially comfortable footwear. Well-made running shoes for women may not be the cutest look for every day fashion or a night on the town, but they'll save your life on a long hike or scenic walk (both figuratively and, possibly, literally).
Weather-specific outfits – Always research the weather before packing, even if you think you know what it'll be like. Nothing puts a damper on an overcast beach trip like packing nothing but shorts and tank tops—at least with a sweater, you can make sandcastles without shivering.
Essential #3: Group and Solo Entertainment
What does every road trip, no matter the length, location, or demographic, have in common?
A stellar playlist.
Whether you use Spotify, Apple Music, or any number of music streaming alternatives, the perfect playlist for your road trip crew is only a few clicks away.
However, as fun as it is to sing along to your favorite songs with your buddies, you should still pack some personal items that allow for alone time, too. Pack books, movies, games, or whatever else will sustain your attention for hours on end. If you're prone to motion sickness, consider downloading some podcasts or audiobooks instead.
Affordable alternative: If you don't have the latest personal gaming console, like the Nintendo Switch or PlayStation Portable, download some free games for your smartphone to keep yourself entertained for hours. No matter what your buddies say, you can never go wrong with a little Toy Blast or Candy Crush.
Essential #4: Chargers, Cables, Consoles (Oh My!)
Just because you're hitting the open road doesn't mean you want to be permanently disconnected from the rest of the world. The desire to unplug doesn't have to be literal.
Your cellphone is often playing double, triple, and even quadruple duty when you travel by car. From taking photos to playing music to looking up your next rest stop, you need full access, even on those long stretches of open highway.
That's why you can never forget to bring these must-have gadgets:
A car charger – A charger for your car is simple, but important. Don't rely on making it through the day with the full charge you got overnight or assume you'll be able to plug in while waiting for lunch at the roadside diner. If you're traveling with a group (and aren't looking for a constant fight), get one with multiple USB ports and cables long enough to reach the back seat.
A dashboard mount – If you are going to use your smartphone as a GPS, put it somewhere you can actually see it. When you're on an unfamiliar road with low visibility and questionable weather conditions, you'll be thankful you don't have to keep looking down at your phone on your lap or trying (unsuccessfully) to prop it up against the gearshift.
A two-for-one AUX and charging dongle – Unless you have Bluetooth speakers in your car (or still use CDs), you'll need an AUX cord to play your music. But for newer iPhones sans-headphone jack, you'll want a double-duty adapter that allows you to charge up and throw down all at once, so you never have to compromise.

Beyond these essentials, there are tons of available gadgets for your car that will make road trip life that much better.
Hit The Open Road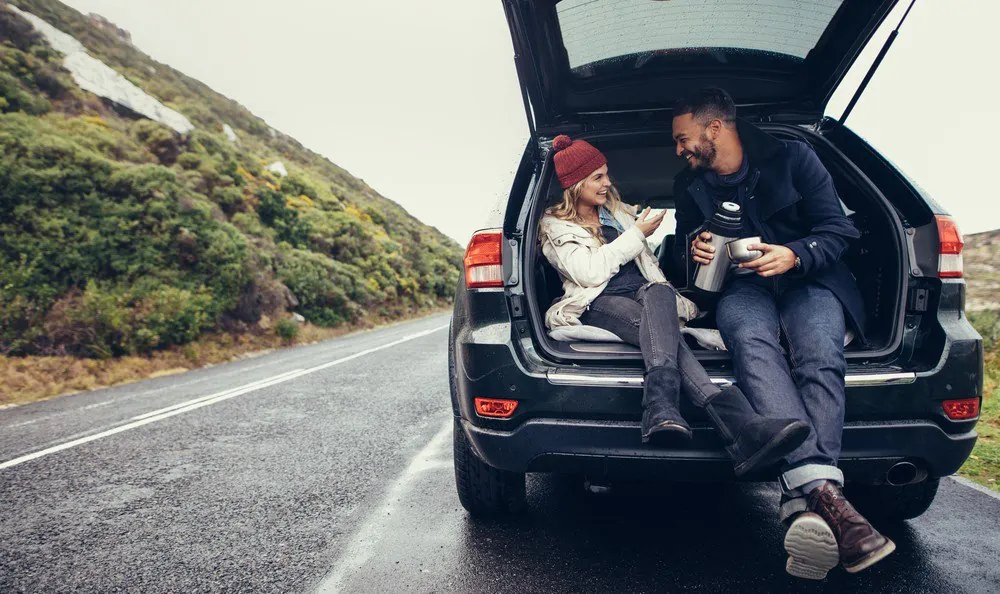 With a well-stocked trunk and the right road snacks, anything is possible. Make the best of your car travel by being present, positive, and most importantly, prepared.