"Good marketing makes the company look smart. Great marketing makes the customer feel smart." — Joe Chernov
It is an undeniable fact that achieving desirable business growth is not a piece of cake.
The ever-increasing competition, introduction of me-too products and replicas, and changing consumers' tastes have made it impossible for businesses to stay ahead of the curve without effective marketing strategies.
Yes, you heard it right. The right marketing tactics help reach your end business goals because it allows you to engage your customers, and build lasting relationships with them.
However, the marketing world is dynamic, and its trends and tactics keep evolving over time to suit the needs of your audience. Not sure which marketing tricks can help you grow your business drastically? Here's what you need to know:
#1 Leverage Social Media
According to Digital Information World, The average daily time spent on social media is 142 minutes a day. With billions of people using social media every day, integrating it into the overall marketing plan has become a fundamental part of a business's success.
Another study by LinkedIn revealed that 81 percent of all small and medium businesses use some kind of social media platform. This is because social media platforms, including Twitter, Facebook, Instagram and, Snapchat, allow you to engage your target audience and find out what they are saying about your products and services.
However, due to social media updates and feature additions, leveraging social media effectively for improved brand awareness can be a tricky feat. But don't you worry, we've curated a few simple social media marketing tips that can help you reach new markets and drive sales.
A study conducted by Scoop It shows that 80 percent of B2B content marketing assets are gated. Consequently, sharing gated content, like whitepapers and eBooks on social media, will help attract quality leads, and build valuable relationships with them over time.
Outgrow indicated that social media contests have a 34 percent conversion rate, which is higher than other content types. So if you're looking to increase your audience engagement, you should run a social media content right away.
Last but not least, add social share buttons on your website for allowing your customers to share your website content on their Facebook, Twitter, WhatsApp, or other platforms. For example, many businesses belonging to different industry verticals, such as healthcare, place social share buttons on the top left of their websites for their customers' convenience.
#2 Unleash the Power of Good Content
According to a study by Content Marketing Institute, 58 percent of marketers of the world spent more money on the creation of content in the year 2018.
Another research by the State of Inbound report stated that content creation is a top priority for 53 percent of marketers. These numbers prove that content is still king. This is because great content is a valuable asset for your business, which lets you establish credible relationships with your audience.
Regardless of the numerous benefits that content offers, companies still find it challenging to implement an effective content marketing strategy. Research from Zazzle Media shows some of the biggest content marketing challenges that a company has faced.

Looking to overcome the challenges mentioned above? Here are a few tricks that can help your content marketing efforts:
Understand your audience's journey and provide content accordingly.
Ensure that your website and social media content is relevant and up-to-date.
For brand consistency, make sure your brand voice remains consistent across all marketing channels.
Experiment with different types of content, such as webinars, infographics, and customer testimonial videos.
Let data and analytics guide your content marketing plan.
#3 Integrate the Right Set of Visuals
The right set of visuals can grab your audience's attention and help convincingly deliver your message. Besides this, visuals, including images, videos, and gifs, allow you to tell your story effectively, hence establishing a powerful brand identity and image.
This is the reason why a survey conducted by Typeform discovered that around 51 to 80 percent of businesses would rely on visuals as part of their marketing strategy in 2020 and 2021.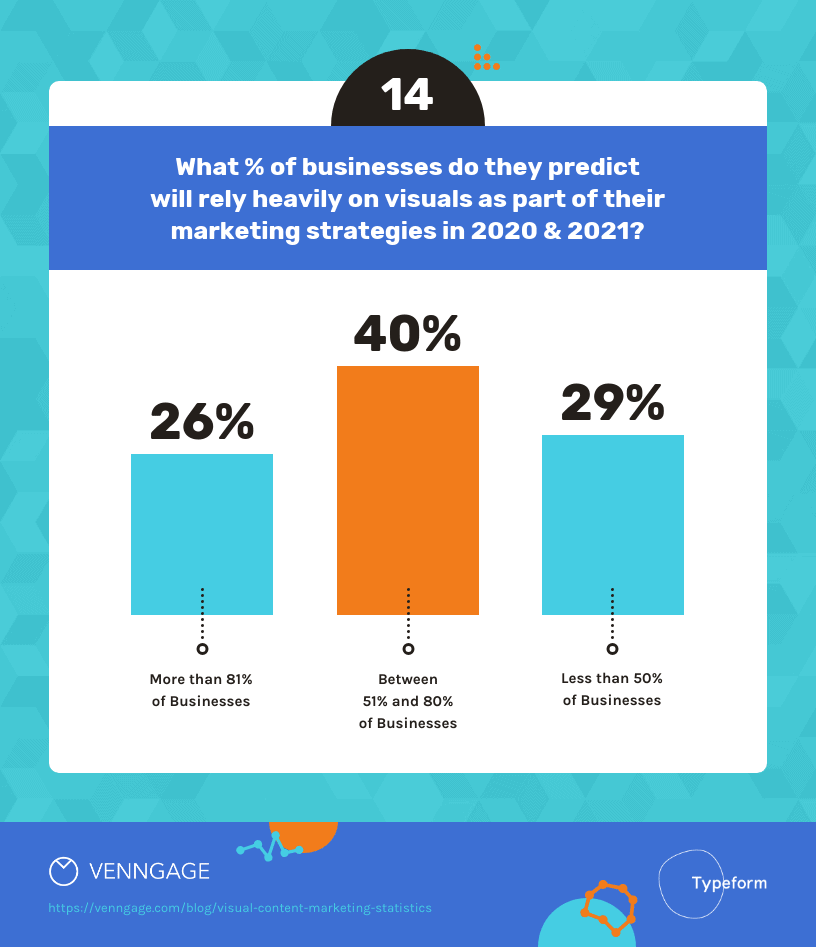 Not sure how to go about it? Here are a few tactics that might help you excel in your visual marketing campaign:
Use the correct dimensions.
Leverage multiple visual formats, including videos and gifs.
Use colors that go with your brand image.
As they say, practice makes perfect, so the key is to experiment and find out what works for your business.
#4 Focus on SEO
The growing popularity of digital marketing has proved that SEO (Search Engine Optimization) is an evergreen marketing technique. SEO helps stand out from competitors. For example, if multiple websites are offering the same products, how will you make your potential clients visit your website first? The answer is simply SEO.
A search engine optimized website increases the chances of making your audience land on your website first, thus knowing your product offerings before any other substitute. And this is the reason why SEO is one of the top digital marketing trends that you should look out for in 2020.
Now that you know that SEO is an indispensable part of your digital marketing strategy let's dive into some of the amazing yet simple SEO tips that can help you stay ahead of the curve.
Use keywords in the right place, and let them appear naturally in your content.
Add titles and subtitles in your content for increased readability, better user experience, and subsequently higher SEO rankings.
Try to rank for featured snippets for higher click-through rate, and web traffic.
Add relevant outbound and internal links for increased relevancy.
Work on your website load time for reduced bounce rates.
#5 Humanize Your Brand Voice
Forbes found out that 42 percent of people distrust a brand just because they consider them to be part of the establishment. This means to stay on top of your audience's mind, it is essential to make your company relatable to your clients. It is no secret that they will fail to understand your brand's message if they are unable to connect with you.
Therefore, you need to establish a brand image by staying true to your brand self and establishing relationships via social media. For example, leather skin shop posted this image on their Facebook page recently for paying tribute to front-line workers during the COVID pandemic. This represents a positive image of the brand in front of their social media followers.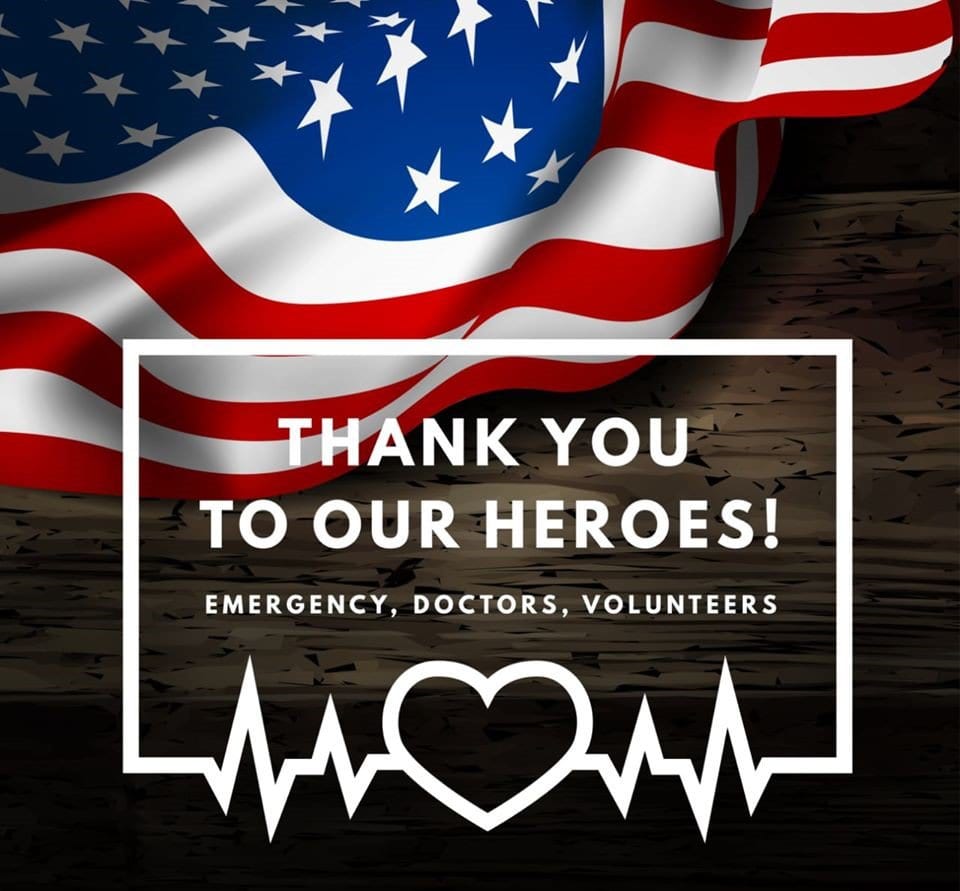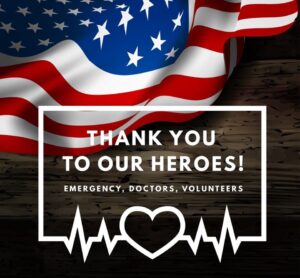 #6 Establish Connections through Emails
According to a study by the Radicati Group, more than 34 percent of people us emails worldwide, that's about 2.5 billion people.
Similarly, research by HubSpot reveals that email automation campaigns are among the top three tactics used by email marketers to improve performance.
Thus, even with the availability of modern communication channels, email marketing still remains one of the most effective yet simple ways of reaching out to the target audience.  This is because it allows your business to reach a large number of consumers at one time.
Other than this, personalized emails are a perfect way to build lasting relationships with prospects and customers. However, it is essential to note that there is no guesswork with emails. To find out whether your email marketing campaigns are working or not, you should use any email marketing software that lets you track who opened the emails, which links were clicked, and how many people unsubscribed.
Final Thoughts
All said and done, it is essential to note that growing a business is not easy and requires a lot of patience and hard work. So, if you're looking to achieve significant business growth, try out the strategies mentioned above and figure out what works best for your audience that you're trying to reach out to.