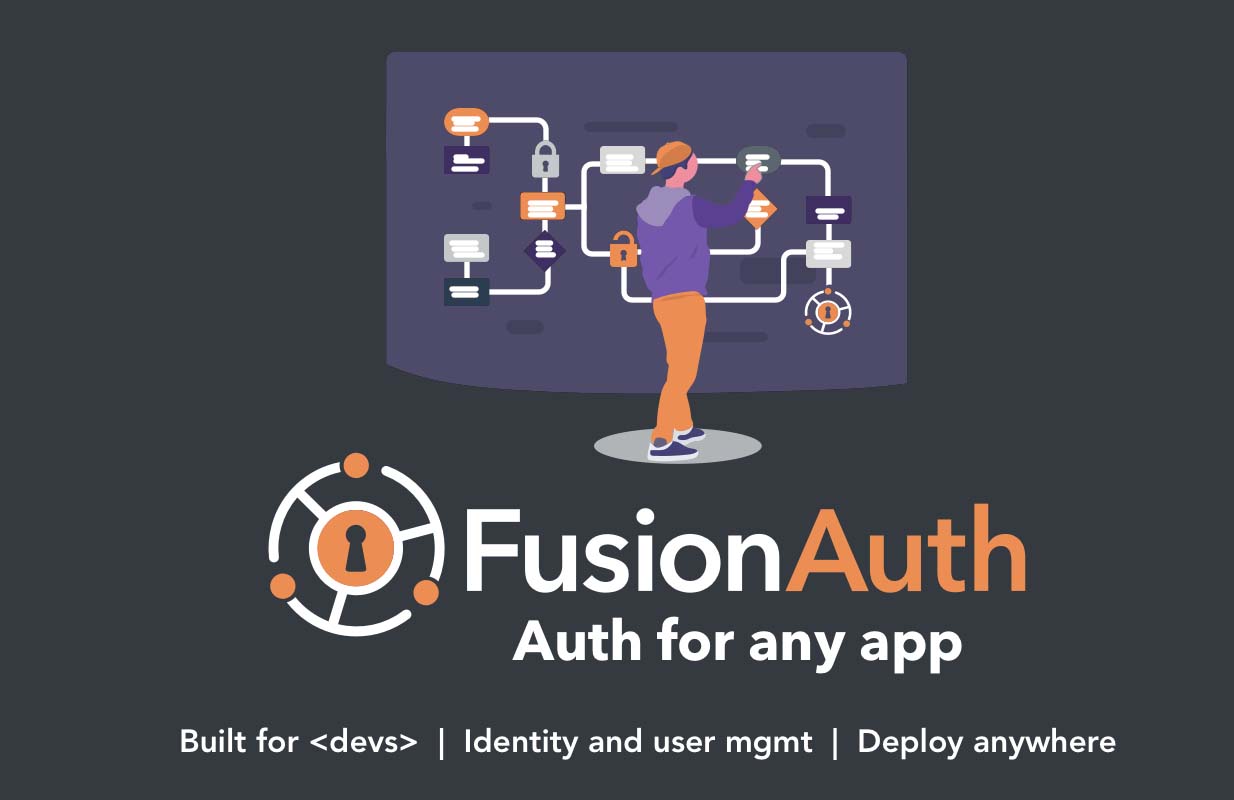 If you have been keeping a close eye on the Software industry, then you have probably heard the terms "steady growth" or "expanding market" to identify market trends.
Every month thousands of applications are released to the market, be it mobile, desktop, IoT, and beyond.
It is a common requirement for applications to register, login and manage their customers. FusionAuth is a solution that provides a streamlined platform for application developers to add all of the identity and user management features they need. Plus, FusionAuth is specially designed to scale to hundreds of millions of users easily and without the need for overly expensive hardware or licenses.
What is FusionAuth?
 FusionAuth is one of the most flexible and highly secure customer identity management solutions and is available at an affordable price range. Developers can download and install FusionAuth with a few simple clicks and use it for free. It has a robust set of features and APIs that developers can use to quickly and easily control the authentication and authorization of their users and employees.
Developers can implement FusionAuth by self-hosting it or they can leverage the FusionAuth Cloud for fully managed hosting. Both self-hosted deployments and FusionAuth Cloud provide the ability to manage multiple tenants in a single deployment. This provides additional flexibility for business that have complex customer requirements.
Since FusionAuth was developed for web-scale applications, it can easily support millions of active users, which makes it ideal for any business from startups to global enterprises.
FusionAuth Video
What problems does FusionAuth solve?
Secure registration, authentication and user management are required components of every app and require experienced senior architects to build. It is a massive expense that doesn't earn you revenue—you just need it. FusionAuth is free and provides bank-level user security in minutes, saving weeks, months or years of development time and money.
FusionAuth installs on any computer, anywhere in the world easily (Linux, MacOS, Windows, Docker, AWS, etc.) and gives developers full control over the flow and physical location of their data. It also provides flexible control of user registration including adjustable password and hashing strength, common social sign-on integrations, and brand-able sign-in and email templates.
Features of FusionAuth
 FusionAuth has many incredible benefits including a flexible architecture, authorization control, user management tools, password control, email settings, authentication options, and so on. Some of the most prominent and advanced features of FusionAuth are mentioned in detail below.
Maximum users- FusionAuth was built from the ground up to handle any number of users. Companies can rest assured that FusionAuth will scale as their app takes off and millions of users start registering and logging in.
Full-Featured identity tool- FusionAuth provides essential tools required by modern identity management, including single sign-on, multi-factor authentication, and customizable communication options. It also provides user reports along with user segmentation options that can used in for marketing and communication channels. Rather than building an in-house identity platform, FusionAuth can be dropped into any application quickly and reduce time and costs of an in-house solution.
Compliance with data policy- FusionAuth has a single-tenant architecture that allows easy compliance along with complex regulatory restrictions across various industries and countries. Regulated industry benefit from FusionAuth because they gain complete control over how user data is stored, transmitted and managed. FusionAuth provides an easy solution for companies that are required to comply with all the regulations and laws in their specific geographical region.
Reporting and analysis- Reports and analytics are a vital component for all businesses to succeed in today's market. FusionAuth provides reports for daily or monthly users, logins, and registrations automatically as well as numerous data access points for complex analytics.
Custom feature development- FusionAuth is company that is dedicated to ensuring that their customers are successful. They provide the ability for customers to submit feature requests that are integrated into the core product. This customer focused approach eliminates issues with other solutions that are unable to work closely with their customers. Rather, FusionAuth works closely with their customers to identify specific challenges they face with managing users. FusionAuth then builds features into the core product that solve these challenges.
Enterprise identity unification- FusionAuth provides a solution for large enterprises that need to merge multiple, legacy user backends. Rather than layering another solution on top of legacy backends, FusionAuth makes it simple to migrate or merge everything into a single deployment. Migrations can use FusionAuth tenants to isolate the legacy data sets. Or merging provides ultimate control to system administrators who will be able to have a single view of a user.
Specifications of FusionAuth
Built as an API first solution, the REST APIs of FusionAuth provide access to every feature of the platform including authentication, authorization, registration, user management and much more. Plus, the core APIs are free for developers to integrate with.
FusionAuth was built for the developer community and it can easily be installed in a few minutes on any system, anywhere in the world. It can also deploy on any platform, including MacOS, Linux, or Windows. Developers can deploy FusionAuth to any hosting or cloud provider, including Google, AWS, Azure and many others. Further specifications of FusionAuth include:
Support for complex integrations via Webhooks
Control of tokens and attributes via Lambdas
Full API documentation
Numerous tutorials and guides
Support for web, mobile, desktop and device applications
Benefits of FusionAuth
Some of the incredible advantages of FusionAuth are webscale identity, quick implementation, better user management, single tenancy, and many more. Below are details on the benefits of FusionAuth.
Webscale identity- FusionAuth is specially designed for web-scale. Due to its flexible architecture, it can easily scale from a single user account to hundreds of millions of users. This is ideal for organizations that expect quick growth of their user base.
Quick implementation- unlike traditional solutions which take months to implement, FusionAuth only requires a few minutes, and the job is done. All you have to do to install FusionAuth is copy-paste one of the quick install commands and let it run. Even production deployments are simple using Debian or RPM packages, Docker, Kubernetes or your favorite orchestration tool. Integration is also a breeze using one of the client libraries FusionAuth provides for whatever language you are using.
Comprehensive user-management- FusionAuth provides complete control right from the start. A full-featured, fast and simple user management UI comes out-of-the-box. No more building a customer user admin dashboard by hand. From FusionAuth's admin UI, user managers can control user permissions, lock accounts, update data and control all aspects of your users. You can also implement your company's security requirements and rules easily so that your users are protected and secured.
Single tenancy- Multi-tenancy means that various companies share the same server. Multi-tenant solutions suffer from tenant leaks, where data from one customer is leaked to another customer. Also, hackers often target large multi-tenant solutions since all the data is stored in a single location. FusionAuth prevents both of these issues by using a single-tenant approach. Each customer has a separate deployment of FusionAuth, eliminating the possibility of tenant leaks and reducing the likelihood of hacking.
Highly customizable platform- FusionAuth provides the ability to completely customize the login UI all the way down to the HTML, CSS, JavaScript and messages. You can ensure that the login experience matches your brand and style. You can even provide custom text, messages and errors that match your company style guide. FusionAuth's login system can also be localized into any language needed to ensure your users have the best experience possible.
Security measures
 In terms of security, every application has different requirements. Some might require HIPAA or SOC 2 compliance, while others need FedRAMP and FIPS security. FusionAuth is continually tested and analyzed by leading security firms and researchers to ensure it is as secure as possible. Regular penetration tests and compliance audits ensure that your data is secure. Furthermore, you no longer need to spend your time and money on security consultants since FusionAuth has you covered.
FusionAuth also allows you to utilize various password rules, hasing schemes and constraints for different groups of people and uses. This provides maximum flexibility for complex business needs.
FusionAuth also monitors and secures your users by analyzing threats such as brute for logins and breached passwords that are being sold on the dark web. FusionAuth detects these threats and can take action immediately to protect user accounts until an administrator decide to check for further steps.
Pricing plans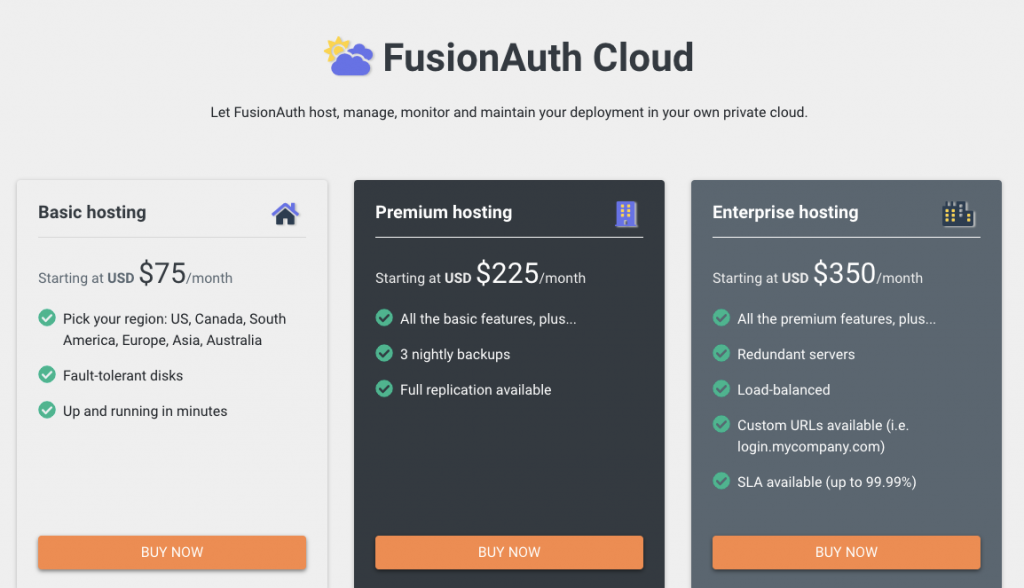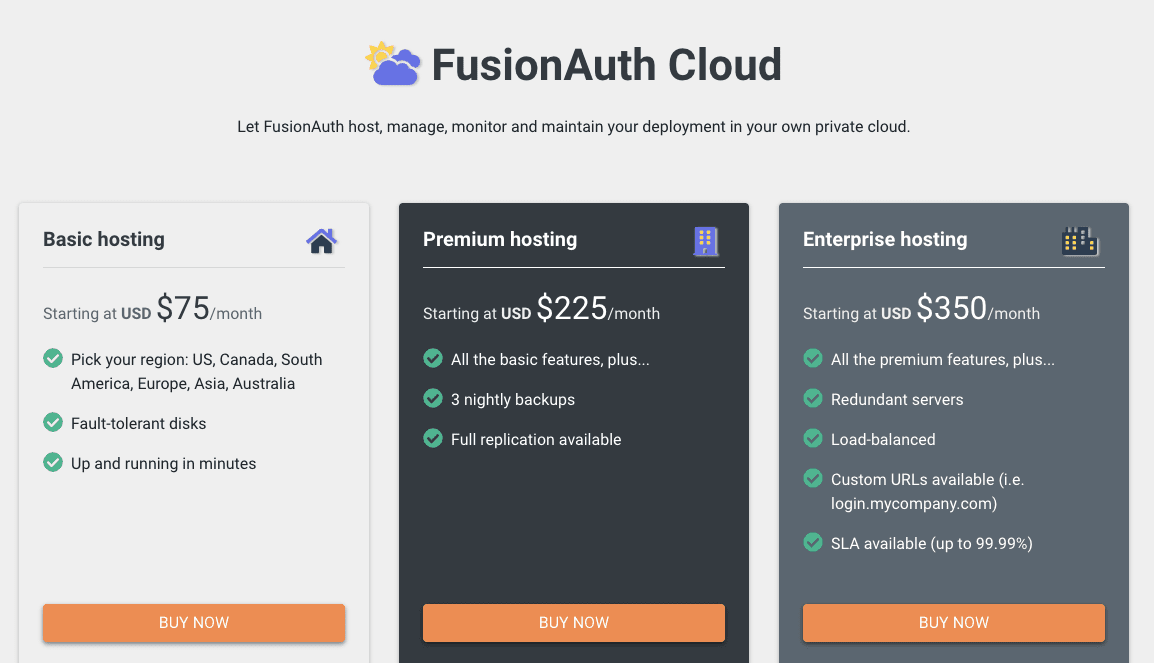 The pricing for FusionAuth starts at $75.00 per month. FusionAuth has 5 different plans:
Basic Hosting starts at $75.00 per month.
Premium Hosting starts at $225.00 per month.
Enterprise Hosting starts at $350.00 per month.
Premium Edition starts at $250.00 per month.
Enterprise Edition starts at $500.00 per month.
FusionAuth also offers a Free Plan with all the core features that developers need.
Learn more about FusionAuth Pricing.
Conclusion
 FusionAuth provides excellent integration of authentication, authorization, single sign-on, user management and much more. It provides a centralized platform that can handle multiple applications. Built as an API first solution, FusionAuth's REST APIs provide industry leading integration possibilities. Developers can get started with FusionAuth quickly and easily using numerous installation methods and robust documentation.