Collaboration has always been an essential part of the success of teams and companies of different size. With the spread of remote work, it is gaining more importance today. To improve their workflows, more and more companies choosing collaborative software tools that can ensure high productivity even when the employees are located in different parts of the globe.
In this article, we have put together some free online solutions for collaborative work that you can use to increase your team's performance. The idea of this list is to give you more options that you may find useful when working and collaborating online with your colleagues.
Slack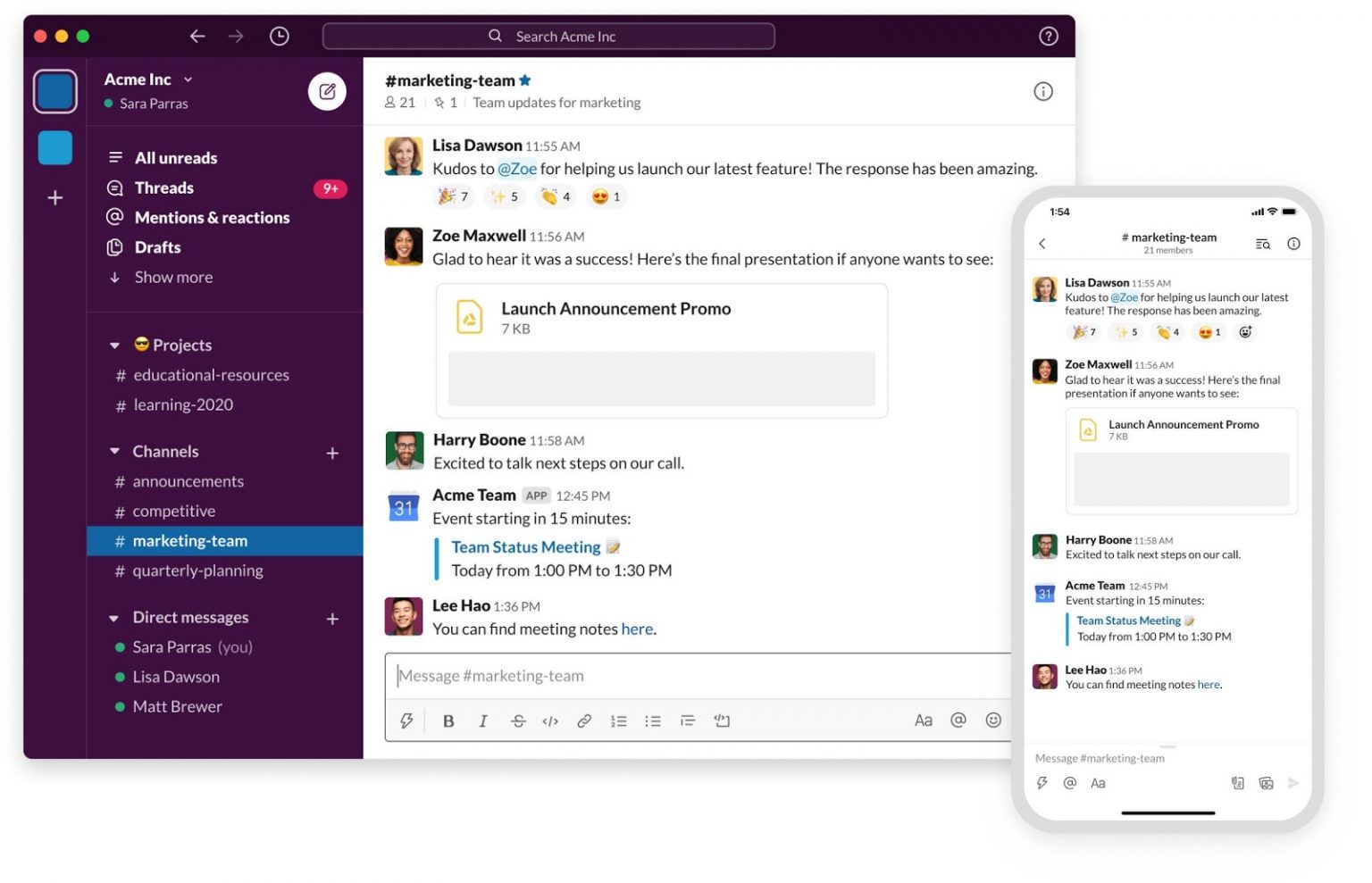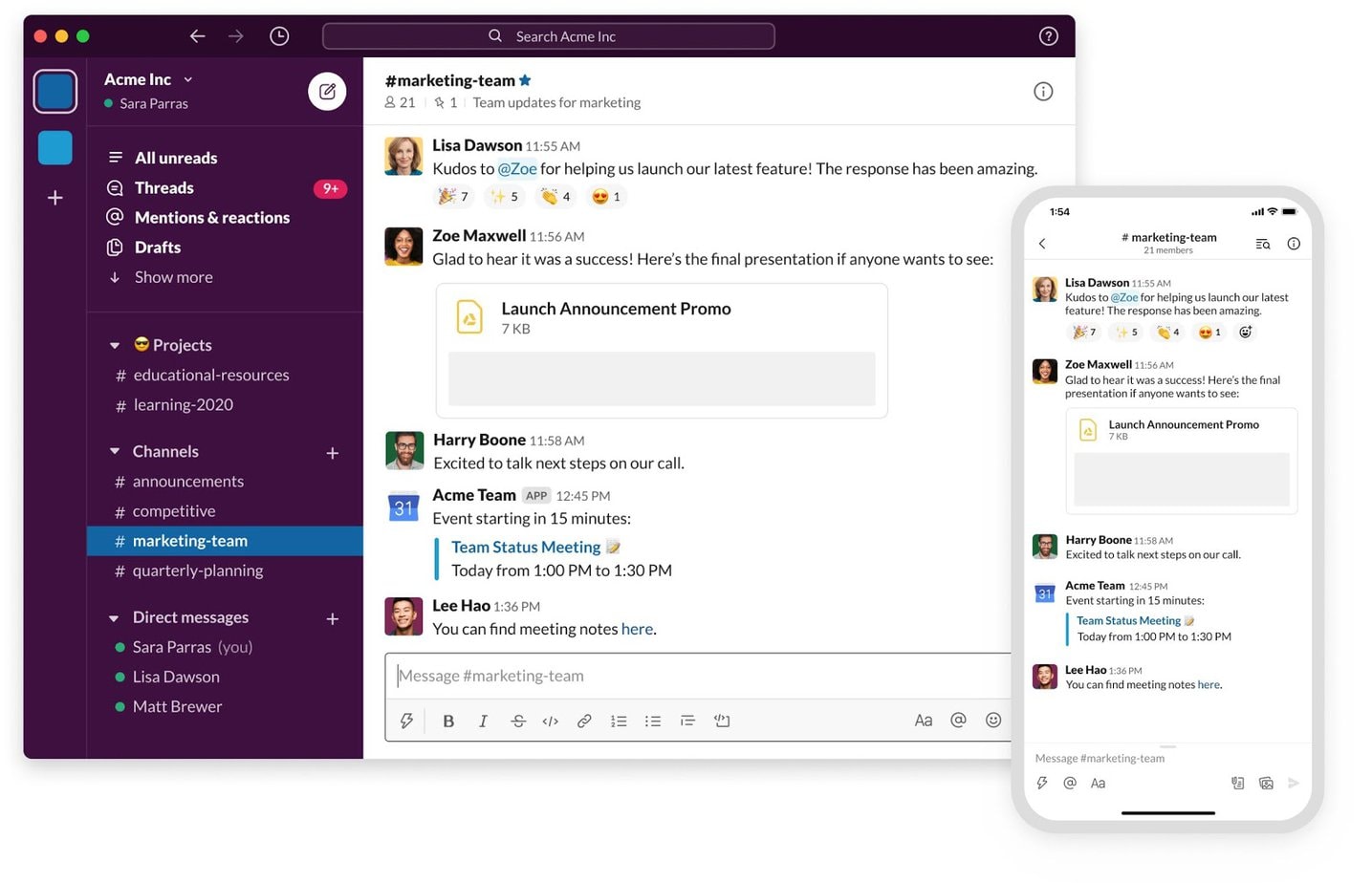 Slack is a popular collaboration tool with millions of users around the world. It is essentially a channel-based messaging platform that allows you to send direct messages, files or images to your colleagues or teammates, in groups or individually. You can easily organise a separate working space for each department of your company by creating its own channel and adding all its members so that they can communicate in real time and work together.
Slack also supports voice and video calls allowing you to talk to your team members about the latest developments taking place. You can share your screen to show exactly what you see on your computer — you can even draw on your screen while you're screen sharing.
In Slack App Directory, you will find plenty of third-party solutions that you can easily integrate with your workspace. Do you need more file management features? No problem, just connect your Box, OneDrive, SharePoint or Google drive accounts and access your files directly from Slack. You can also choose from categories like analytics, customer support, developer tools, productivity, sales, marketing, project management and so on to add the features you really need.
Slack's free tariff plan for small teams offers 5 GB of disc storage, 10 integration apps and some basic security features, such as data encryption (at rest and in transit) and two-factor authentication. It also allows you to keep 10K of your team's most recent messages and make one-on-one calls. Paid tariff plans with more advanced features start from $6.67 per active user/month when paying once a year.
Trello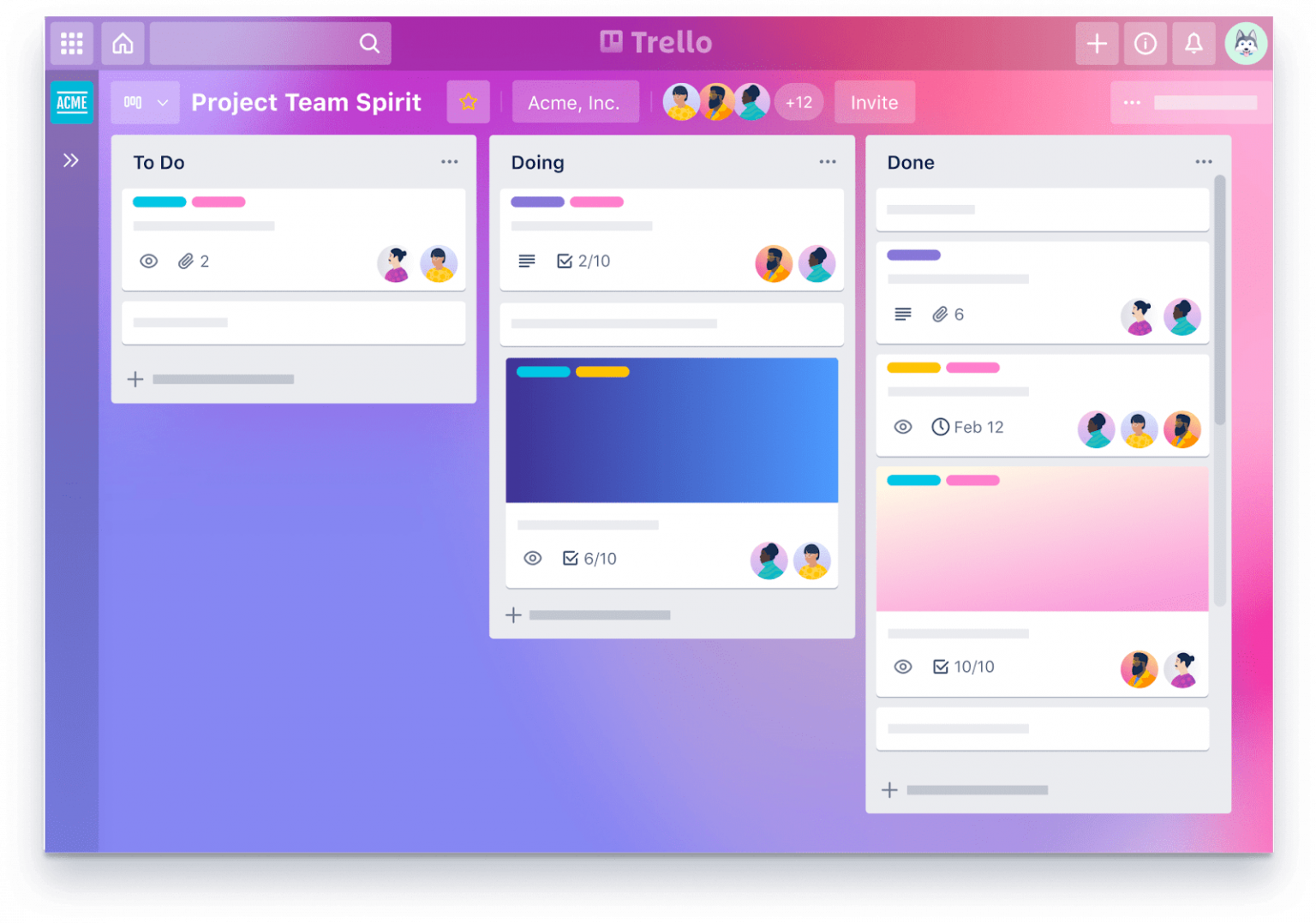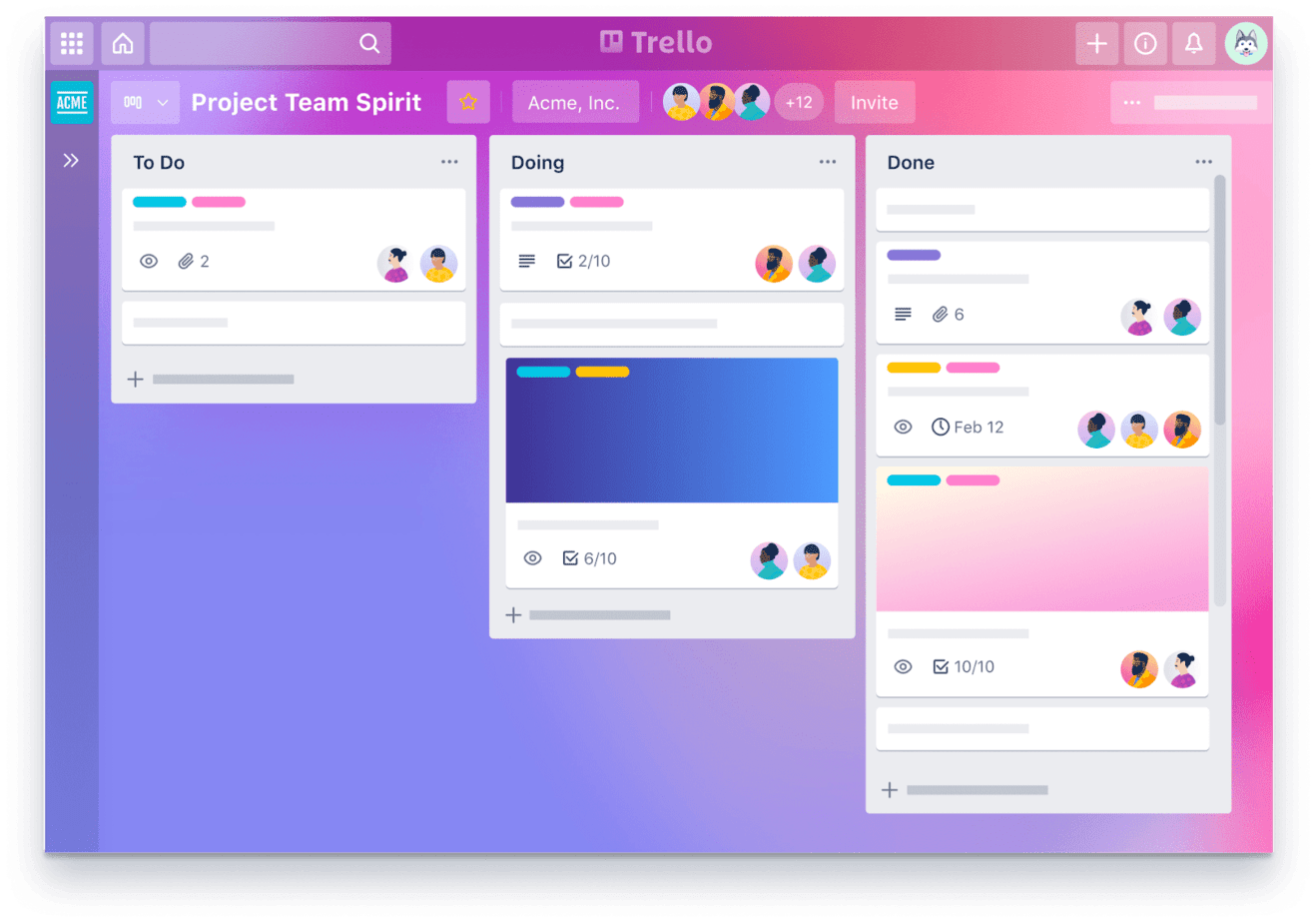 As an online project management and collaboration tool, Trello is one of the best. It is based on the idea of using customizable task cards and lists that are placed on boards. Trello cards help you efficiently organize your work — every single part of your task can be managed, tracked and shared with teammates.
You can also invite your colleagues to the boards via their user names, emails or by sharing an invitation link. It is also possible to customise the background and colours of the boards. You can use task assignments, timelines, productivity metrics and calendars to quickly set up and customize workflows. The drag-and-drop feature makes the process as simple as possible.
If you are tired of tedious repetitive tasks, Trello's built-in automation tool, Butler, helps you to reduce the number of clicks on your project board. It uses natural language commands to automate almost everything via moving lists, create custom buttons and schedule teammate assignments
Signing up for free, you get unlimited personal cards, members, storage, activity log and up to 10 boards. However, for more security, more team boards and more automation commands, you must sign up for a paid tariff plan that starts from $10 per user/month billed annually.
TickTick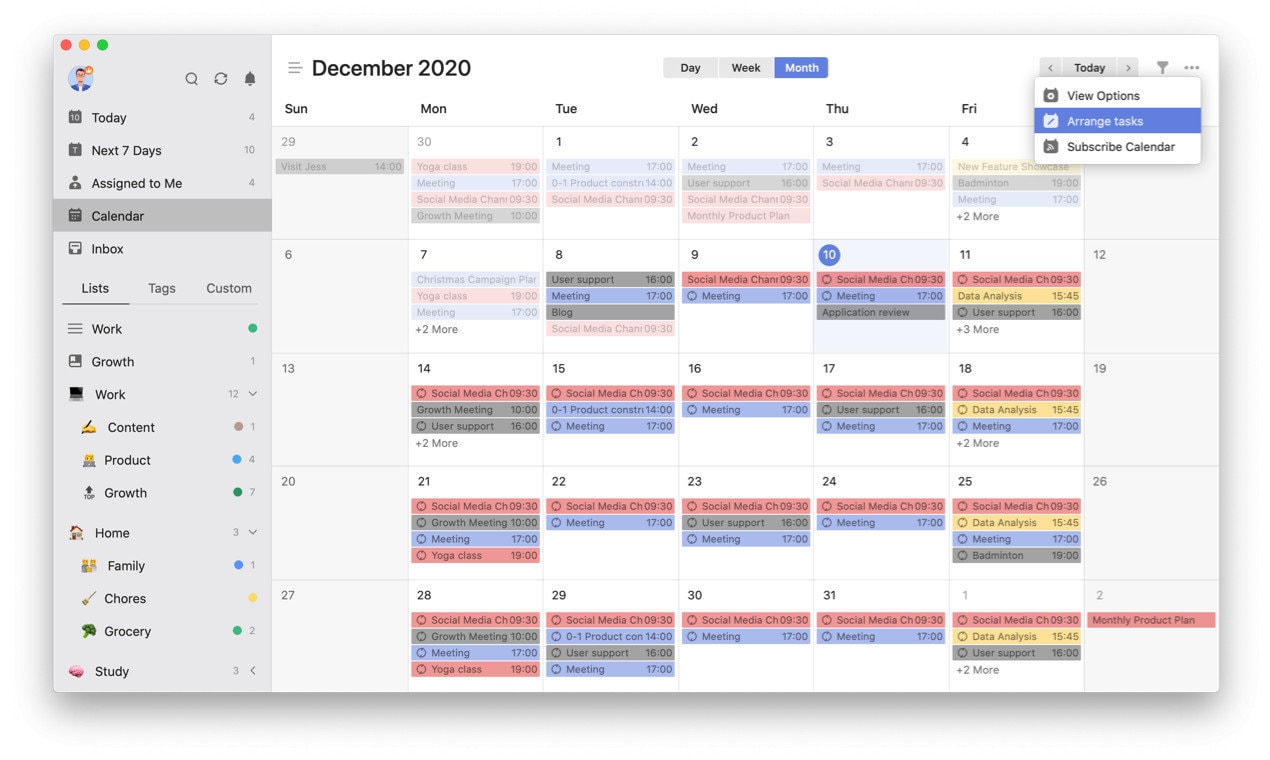 TickTick is a simple but powerful productivity and task management tool that allows you to create project lists in collaboration with other team members. You can assign tasks to certain people, set priority levels, create calendars and set reminders to ease your mind off worrying about missing deadlines.
The solution is web-based and also available on all popular platforms, whether it be Windows, Mac, Android, iOS or even Apple Watch. Seamless synchronization is guaranteed on all your devices so you can stay productive in any situation.
In TickTick, there is also an achievement score to help you keep track of your time. The more tasks you complete on time, the higher the Achievement Score you get. If a delay occurs, the Score could be decreased as well.
When it comes to online collaboration, TickTick makes it possible to create lists and share them with others to get things done together. You can assign individual tasks to a particular teammate, view and control task activities and keep track of the entire list as a true team leader.
All the basic features of TickTick are free to use. But, if you need additional functionality, you can sign up for a premium plan at $27.99 per year. You'll get full access to the calendar and advanced settings, as well as more lists and tasks. Moreover,  it allows you to track progress and shared projects with the "Historical Statistics" feature.
Diagrams.net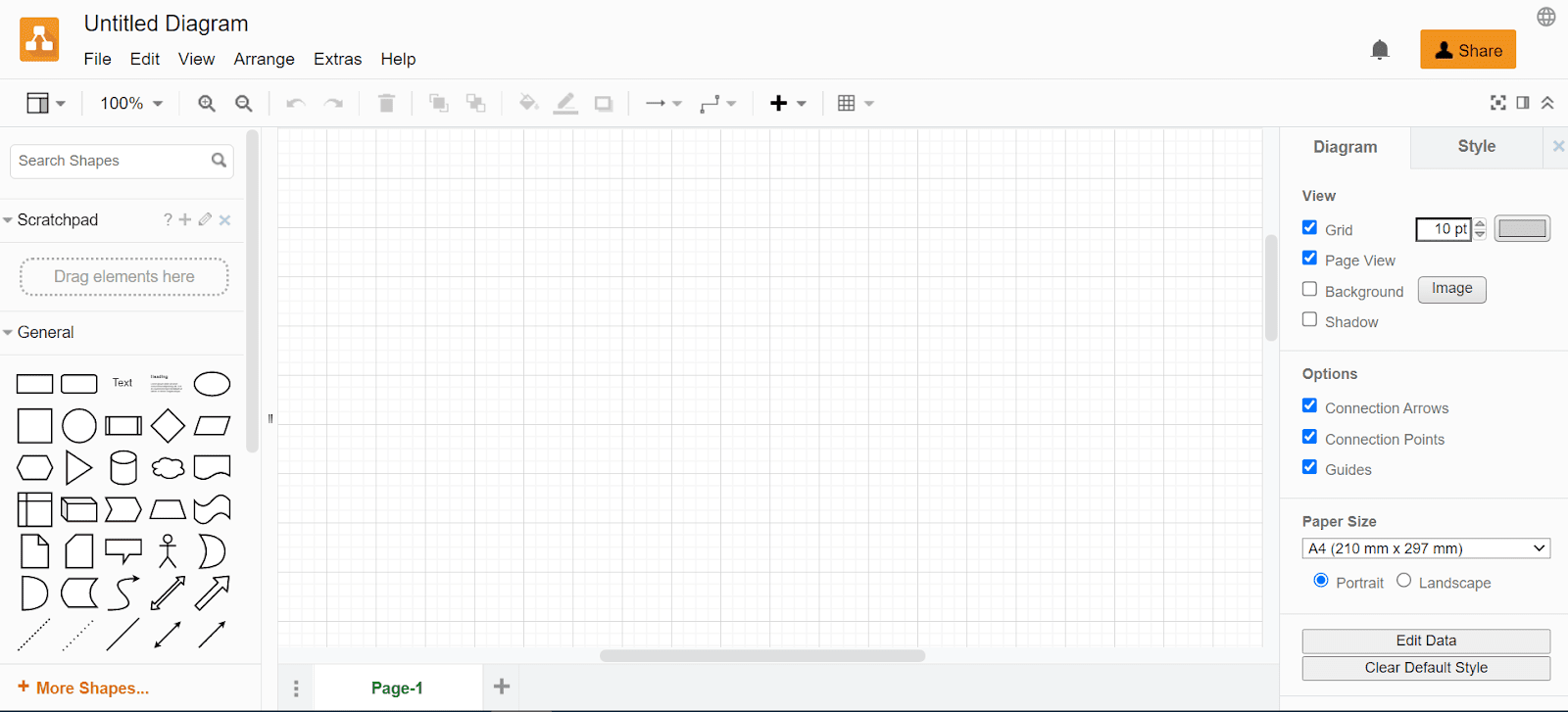 Diagrams.net is a free open-source software tool for making flowcharts, process diagrams and network diagrams online. It easily integrates with Google Drive, Github, Trello and Dropbox to enable real-time collaboration. You can create a diagram, generate a link and share it with your colleagues with the corresponding editing permission rights to coedit it together.
Due to the rich functionality of the software and a large collection of shapes and templates, you can create different types of diagrams depending on your needs. Like in spreadsheets, there is a multi-page option, so you don't have to open new files if your project requires more than one diagram.
The program interface is translated into more than 30 languages which makes it a great tool for international teams working online. It can also be used offline by downloading the official desktop application available for Microsoft, Linux and macOS.
This tool is completely free and open source. It's very useful if you need a quick solution to show your project workflow.
ONLYOFFICE Workspace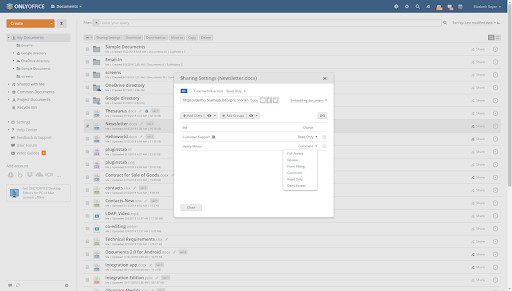 ONLYOFFICE Workspace is an enterprise-level collaboration platform that allows you to create a secure office in the cloud that covers all the needs of any company or remote team. It is designed to handle all business processes: document and project management, CRM, email, calendar, corporate social network (blogs, forums, polls, news boards, bookmarks, wiki, etc.) and chat. All the modules are closely linked to each other, so users can perform different tasks within the same solution without having to resort to other third-party applications.
Apart from the collaboration platform, ONLYOFFICE Workspace also includes a word processor, a tool for editing spreadsheets and a programme for creating presentations. That's why you can create and edit all types of documents, spreadsheets and presentations right in your web browser. This online office suite is fully compatible with Microsoft Office formats (DOCX, XLSX, PPTX) and supports other popular formats, too. You can also connect Box, Dropbox, OneDrive or Google drive to keep all your documents together and even DocuSign to sign them digitally.
With this solution, you can also share documents with other users to edit them collaboratively in real time. Flexible access rights (full access, review, comments only, form filling or viewing) allows you to control who can access our documents. Two co-editing modes, Fast and Strict, make it possible to choose the preferred form of collaboration: display changes in real time and make them visible only after saving.
If you sign up for free, you get a cloud office with 2 GB of disc storage and all basic features for up to 5 users. If you need extended management functionality and more advanced security, you can opt for the Business tariff plan starting from $5 per user/month when paying once a year. The VIP cloud at $8 per user/month would be an ideal choice for those who want a secure online office on a dedicated server with exclusive benefits.
We hope that this article was useful to you. Let us know what you think about the best software tools for collaborative work in the comments section below. Do you know any other solutions that are worth mentioning? Don't hesitate to share your thoughts. Your feedback is always appreciated!