Are you a big music lover?
If yes, then showcase your love for music in your home décor. Music is as old as mankind and is the best way to relax the mind. When it comes to decorating your interior in music vogue, there are so many options to choose from.
Walls are the best space in the home, which you can utilize to decorate in any style and design. Music themed wall art, and wall décor adds unforgettable charm to any home.
Moreover, the music-inspired wall decoration is a great way to express your affection for music.
So, follow the below ideas to decorate the blank walls with musical theme pieces.
Hang guitar on guitar stand
https://www.shutterstock.com/image-photo/hanging-guitar-on-wall-1575118744
Guitar is a symbol of music, and every music lover, singer or artist has respect for this instrument.
You can hang the guitar on your wall to show your love for music. Whether it is an electric guitar or normal guitar, this incredible musical tool looks amazing on the wall of any room.
Also, hanging a guitar on the wall stand is convenient and is aesthetically pleasing.
Canvas music wall art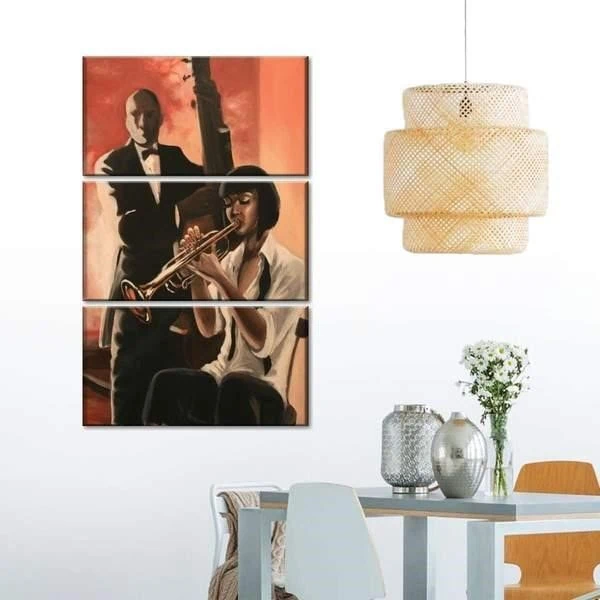 Source: Elephantstock
Another amazing way to dress up walls with a music theme is wall art. The options with wall prints are limitless; from canvas prints to abstract painting, you can choose any musical themed art piece to hang on your walls.
If you like a wall free from too many vibrant colors, consider choosing a neutral colored art print. On the other side if you love bold shades, then choose music-themed abstract painting.
Inspired by musical instruments, singers, and even orchestras, wall arts come in different sizes and styles.
Old radio display
https://www.shutterstock.com/image-photo/holambra-sao-paulo-brazil-august-19-1689409141
Most music lovers love to listen to songs on the radio as well. Or, we can say that the radio is a perfect symbol of your love for music. So, consider hanging an old radio on the wall of the living room or bedroom.
This will not only decorate your room with a musical theme but also add an antique charm in your home. Old radio is also a great way to decorate an industrial style interior, which is in trend these days.
A small addition of radio on the wall can turn any ordinary room into a classic interior.
Go for music tones bookcase
Sometimes a small change in the home can have the most impact in the interior. And, for musical themed wall décor, restyling bookshelves is one such small change.
Whether you want to display your favorite reads or wish to store books in style, consider having a music tones bookcase. This will not only showcase your love for music but also gives a unique touch to your walls while allowing you to store books.
Try wall stickers
https://www.shutterstock.com/image-photo/black-white-modern-home-office-music-483948955
Are you looking for wall décor that falls within your budget? If yes, then wall stickers are the best option. They are also known as wall murals and can transform your space in no time.
The best part is that you have a myriad of options to choose from when it comes to musical themed wall stickers. Not only can these stickers add sophistication and a new look to the interior.
Moreover, you can easily remove this wall decoration.
Create a music wall gallery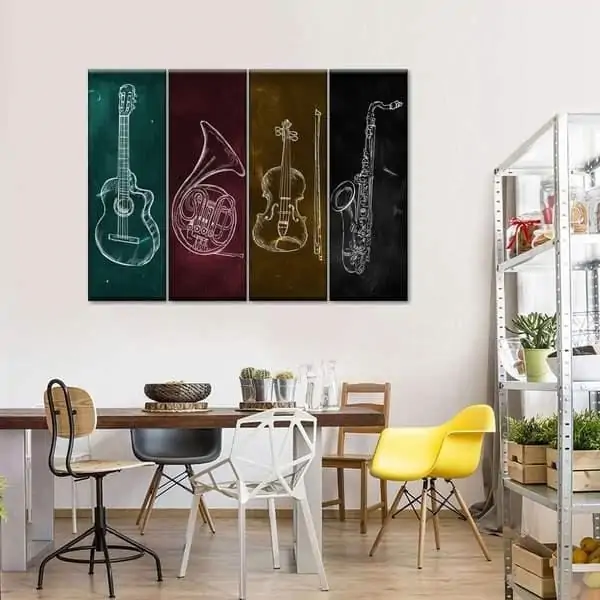 Source: Elephantstock
You can create a music wall gallery to give your interior a personalized touch. The benefit of creating a wall gallery is that you can display all your favorite items related to music.
For example, you can hang framed wall arts of musical instruments and mix them with singers or musicians' canvas prints. Further, to add more charm in the room, consider hanging wall arts of different sizes and shapes.
Add music posters in the room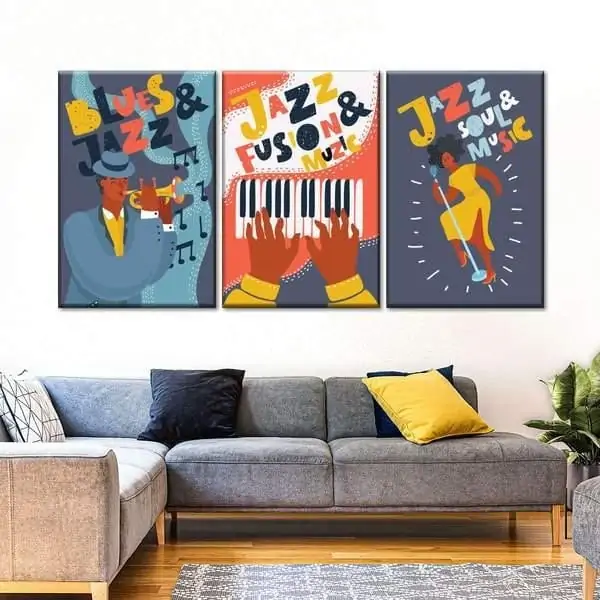 Source: Elephantstock
As you decorate walls with a musical theme, do not forget to add a music poster in the room. Posters are an amazing way to show your love for a particular music style. For example, if you love pop music, consider hanging a pop art poster or a famous pop song on your wall.
Also, you can consider displaying small posters of various popular songs and singers. You can have a wall with some of your favorite music posters.
Final words
Music is a very important part of many people's lives. If you love music or a musician who is looking for the best ways to decorate his house, then consider music themed wall decoration. It is an amazing way to spruce up your interior while showcasing your love for music.
When you decorate your walls according to your taste and style, it will give you immense peace and refresh your mood too. You can take help from the above ideas to dress up your walls with music themed wall decorations.