Connecting with influencers is one of the most effective digital marketing strategies today. When brands collaborate with influencers, they promote their businesses and maximize the opportunity to reach more users. But identifying the right influencer for a brand is crucial because the choice will either bring in more sales or sever customer engagement.
Given that reality, how do brands choose the right influencer? Is there a platform that makes this process easy? With so many influencers around the world, how can a marketer come up with the perfect fit?
To answer these questions, yes, there is a way, and that is through InfluenceGrid. We made things easier for you and put together this InfluenceGrid Review, so you know exactly how this search engine works and take advantage of its features for your brand.
What Is A TikTok Search Engine?
A TikTok search engine like InfluenceGrid helps you find influencers to work with or collaborate with. A database with advanced filters, username search capabilities, and detailed influencer profiles make it easier to run influencer searches for your specific needs.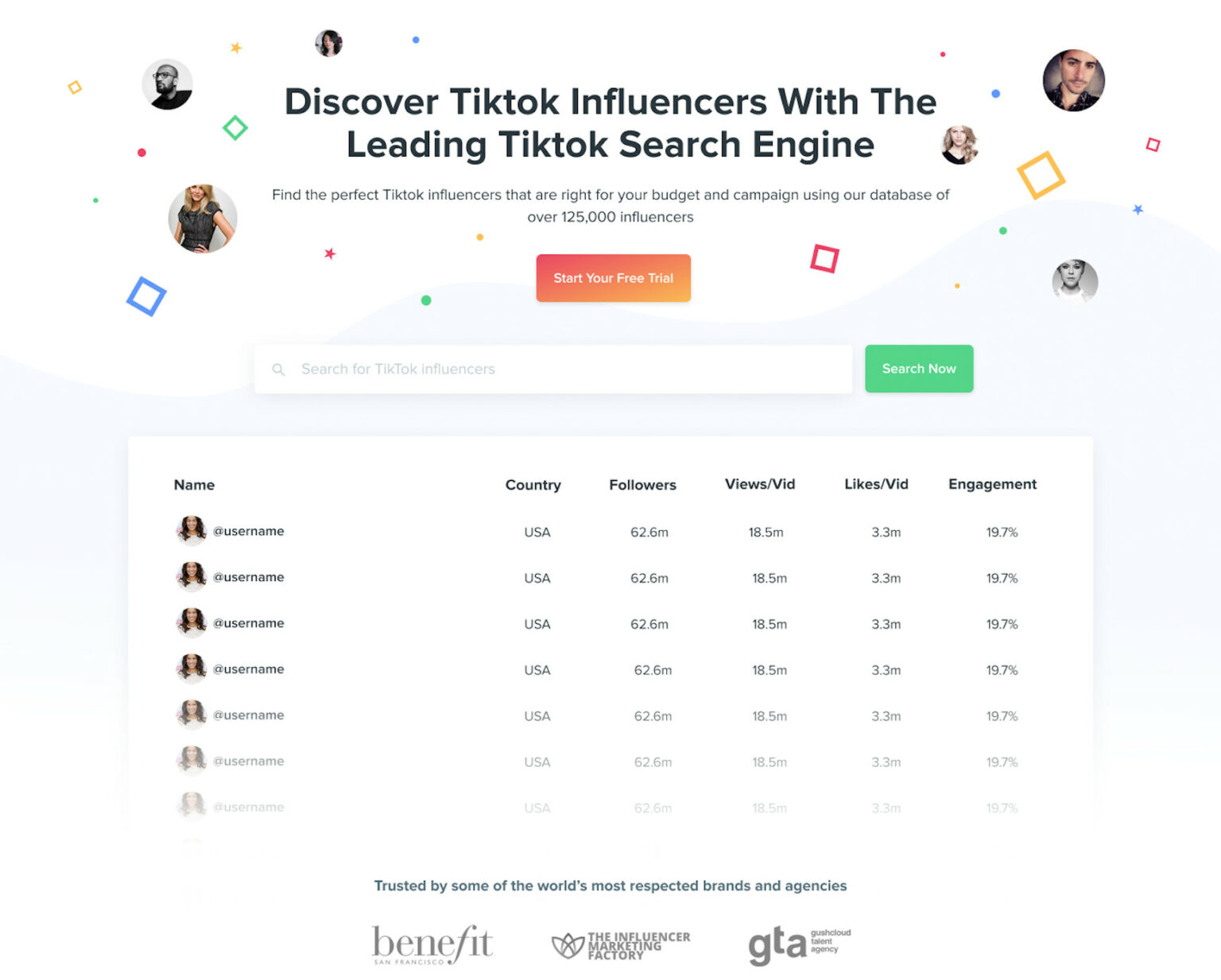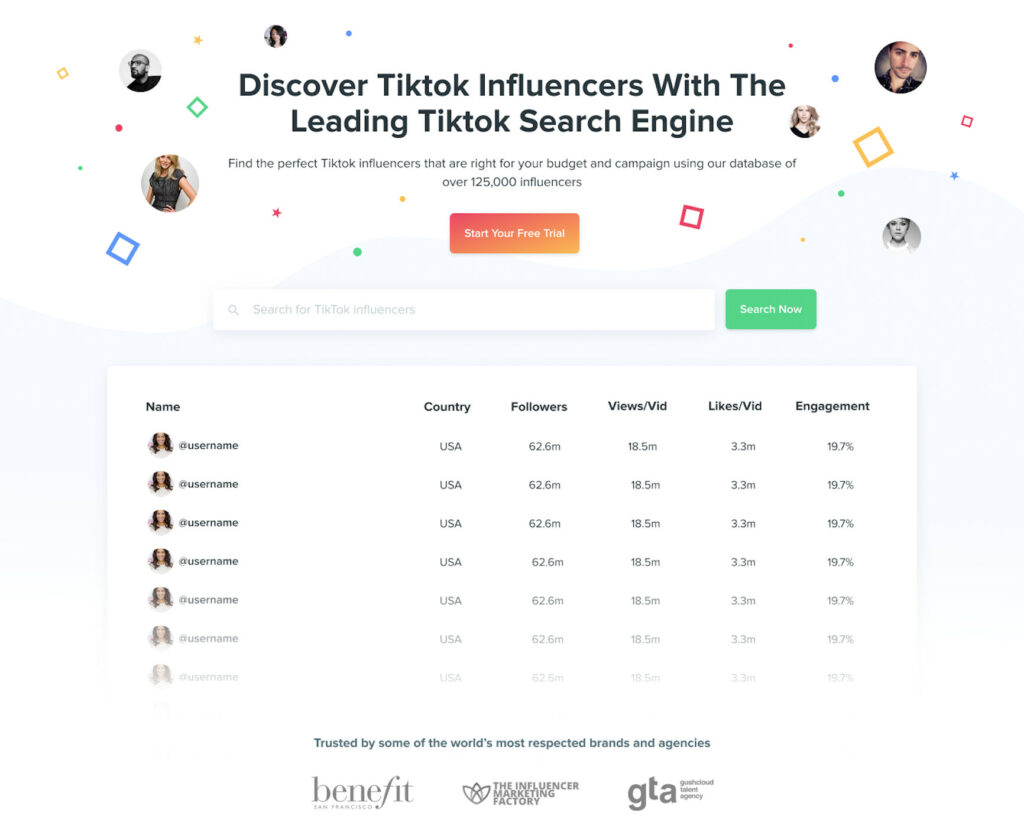 Information you get from a TikTok search engine provides numerous benefits.
It quickly helps you find and connect with influencers to work with on TikTok.
It helps you decide which influencers are the best fit for your brand.
It helps you make your preparations for your influencer marketing campaigns more efficient.
It helps you find out which influencers followers trust the most. This is key to getting conversions.
It's easy to vet TikTok influencers for potential promotional campaigns.
InfluenceGrid Review: TikTok's Best Search Engine
InfluenceGrid easily became TikTok's best search engine because it is a cost-effective and easy-to-use solution in identifying TikTok influencers who can endorse your business. With a database of over 125 000 influencers, you'll find it so much easier to sort through millions of influencers and find the perfect fit for your brand and budget.
How It Works
Since InfluenceGrid is designed to help marketers, it works as a TikTok influencer search engine and database. If, for example, you type in "fitness influencers," InfluenceGrid will pull up data of the most popular TikTok users in that specific niche.
You can search three ways: by niche, by location, or by username. But know that results don't just give you names. The results provide valuable data on an influencer's number of followers and engagement rates. You'll also know what country they're from and how many views their videos have, plus so much more. All these details make it easier for marketers to choose who to work with.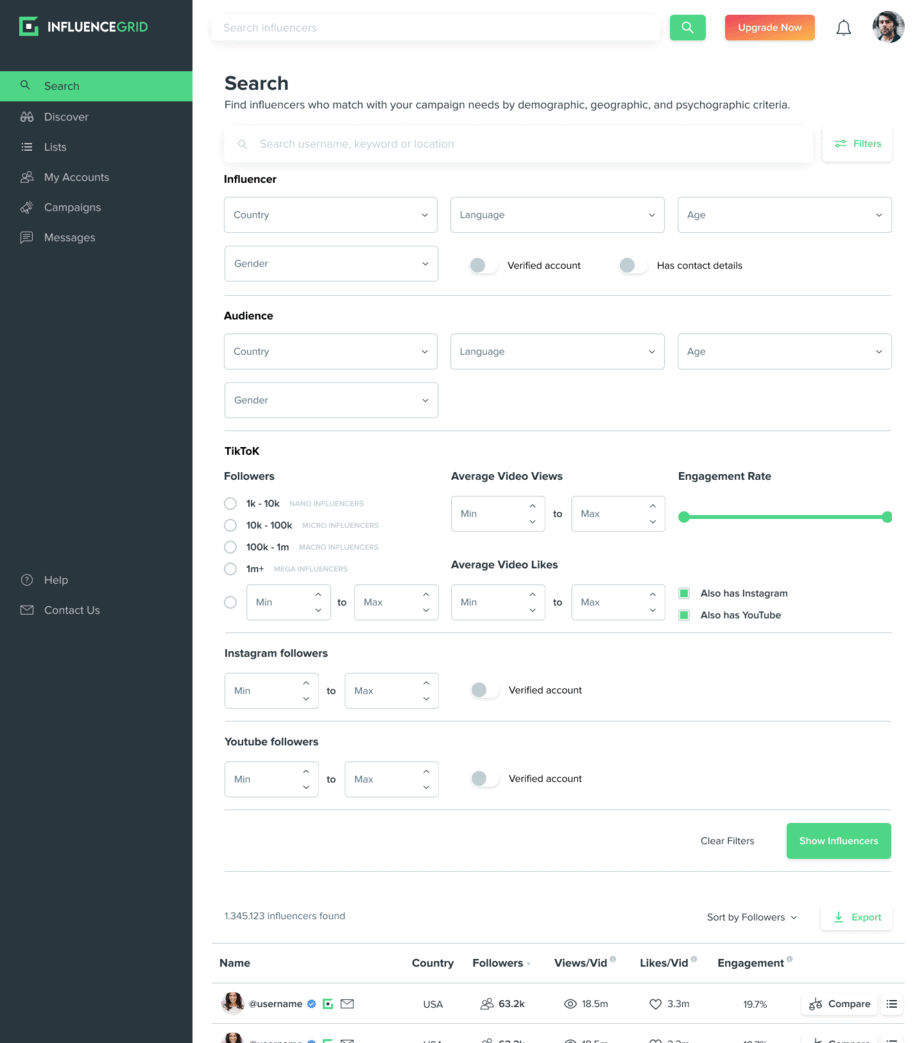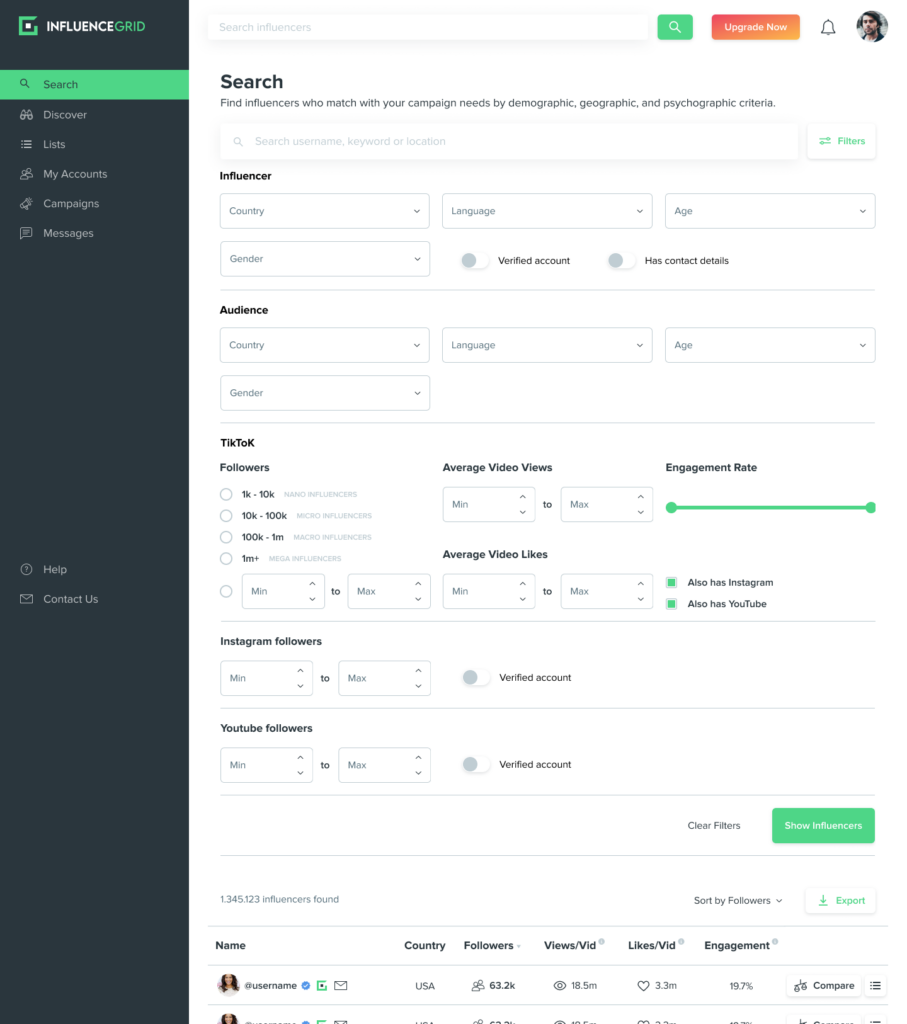 Additional Features
In addition to InfluenceGrid's main search engine, the platform provides even more functional features that help you make critical decisions for your next campaign.
TikTok Influencer Analytics
With TikTok Influencer Analytics, you get in-depth insights on any TikTok profile. You can see the influencer's overall performance and analyze, track, and measure an influencer's performance in a click. You'll know how many posts were made per day, the influencer's engagement rate, recent videos, and average video views. Since it's not easy to pick one influencer from a list of 50, the influencer analytics feature is most helpful.
Tiktok Money Calculator
InfluenceGrid's TikTok Money Calculator lets you know how much a TikTok influencer can earn based on the influencer's engagement rate and follower count. These numbers, though, are only estimates. Still, this TikTok money calculator is a great way to understand how much influencers make on the platform.

TikTok Email Finder
It is now easier to search TikTok users through the Email Finder feature of InfluenceGrid. When you run searches, the email addresses that return are verified by InfluenceGrid. This means you'll know a TikTok user's contact details and reach out to them easily. Just tap the email icon beside the TikTok influencer's username, and you'll get the contact information.
Create Custom Influencer Lists
After running your search in InfluenceGrid using your preferred filter settings, you can create and save lists of your search results of the TikTok finder for future reference. Each list can view up to 20 recent videos posted by each influencer. You'll get first-hand information on the type of content they share, making it easier to decide if it suits your brand requirements.
Export Search Results
You can save your TikTok search engine results and export them to a CSV file. You'll have every datapoint like niche, bio, and engagement rate.
Pricing
There are four different pricing tiers to choose from with InfluenceGrid: Free, Freelancer, Team, and Business.
Free ($0)
The free version is suitable for startups that have a limited budget for marketing. Only five results are visible for followers and the report on an influencer's engagement rates. This version lacks many features of InfluenceGrid, like audience filters, engagement filters, and more.
Freelancer ($30 per month or $288 per year, billed annually)
The Freelancer plan gives you everything in the free version, including unlimited searches, 500 influencer exports per month, full influencer reports, and the followers filter.
Team ($60 per month or $576 per year, billed annually)
This version gives you everything in Freelancer plus engagement filters, audience filters, and up to 1,000 influencer exports per month.
Business ($150 per month or $1440 per year, billed annually)
The Business version is an even more enhanced Team version with influencer exports increased to 1,500 per month. If you need more exports per month, Influence Grid can give a personalized quote.
All yearly plans come with a 20% discount.
Pros And Cons
Upfront, InfluenceGrid has more pros than cons, but it's still good to know both sides of the coin before investing.
Pros:
You save time on finding TikTok influencers
You get helpful resources for influencer comparisons
You can export your influencer lists
You get niche and location sharing
You get access to tools like the TikTok Money Calculator, Email Finder,
TikTok Analytics, and more
Cons:
The free version is limited
InfluenceGrid Review: The Verdict
InfluenceGrid has proven to be a great tool that helps marketers and TikTok users to find the right influencers. Its added features and various pricing plans make it an easy and risk-free platform to grow your TikTok today.