In today's ultra-competitive digital world, users are so smart and looking for quick solutions that make their lives easy and offer comfort. This is probably why there are millions of apps available on the Play Store and App Store.
But they all are not a big hit, few of them are even removed before it gets success. . Why is this happening? Well, there is no perfect answer for this because everyone's choice and preferences are different. Some might not find the info they are looking for; some might face trouble navigations or some found error. So there are endless possibilities.
Brands that don't provide a seamless experience and modern usability on their app might lose a large chunk of their customers. You may wonder, but 21% of mobile apps that are installed globally are only used once within the first three months, and more than 55% of apps are removed within the first month. These figures may seem disappointing, but you need to work hard on usability, which can be key to overcome these issues.
Let's discuss how to improve the app's usability and accessibility that ensure a first-class user experience.
What is Mobile App Usability
For the app development professionals, usability stands for the attributes that assess how easily you can create an interface that impresses users and interacts with them accordingly.
In a nutshell, usability is all about the effectiveness and satisfaction users get while accessing your app. If a consumer encounters issues or bugs, you need to work hard on it.
App Usability and Navigation
App's usability can be defined and applied to specific features of an application that can be tested for better performance. When you concentrate on app usability and navigation, you need to consider the following points,
Are buttons and features in their appropriate location?
Will it be easy to scroll the menu of the application?
If you click on a certain feature, does it open quickly or take time?
Are all fonts and texts visible and readable?
The above questions resolve your major issues related to app usability and allow you to deliver seamless user experiences without investing that much effort and time.
Ways To Improve App Usability and Accessibility For Better ROI
If an app is not working up-to-the-mark and delivers a poor user experience, 62% of users will uninstall it without blinking their eyes. Thus, proper app usability has the power to ensure a pleasant user experience for customers, which can then improve conversion rates and enable you to engage with people on a personal level.
Understand the customer's pain point and try to put yourself in their shoes. Here we have addressed several ways that will help you improve app usability and avoid common issues.
Reduce Loading Time
Loading time can make users frustrated and compel them to remove your app at the same moment. Today, people appreciate instant gratification as they use high-speed internet, so it is obvious that their expectations also have risen. To fulfill those expectations, one has to offer seamless user experience .
An app that takes too much loading time and keeps customers on board for long, studies have said that users will abandon that app and look for an alternative. Thus, it is crucial that your app loads quickly and assists customers without much effort.
Try to use impressive animations that distract users' minds and keep them occupied while the app loads.
Keep It Simple 
These days people use apps that are efficient, simple and actually drive down their patience and concentration. If your app design is complex, users will get irritated and uninstall it at the same moment.
To provide a better user experience, make sure you offer a simple design and easy navigation options from product search to checkout. It will increase app usability and please users. Here are some tips that help you design a simple yet appealing app,
Use easy navigation
Go with a minimalistic approach
List out your products and services properly
Apply simplified designs
Make Content Easily Readable 
Indeed, content is king, but people don't like to read too much information. As the quality of content increases, the readability of the concern decreases. Make sure your content is to the point and concise because too much content will confuse users and annoy them, eventually that leaves a negative impact on their mind.
If you want to increase the readability of your content, you should consider certain techniques such as:
Bold the important aspects
Use headings
Write short lines and points
Utilize the power of lists
The above points will make your content easy to read and increase the usability of the app. Quality content and knowledge ensure that the reader will continue reading the page and won't leave it mid-way. Below factors affect the readability of the text,
Font choices
Size of the font
Height
Background color
Spacing
Once you consider all the aspects mentioned above, the app's usability will improve and keep users engaged.
Consider Functionalities For Improved User Experience 
Make sure an app is designed to make a consumer's life simple and more comfortable. So try to offer all those features and functionalities that add value to your business and deliver a seamless experience to users. Whether it is an eCommerce app, a food delivery app, or a banking app, the idea is to make the process easy and productive.
Thus, it is important to consider all measures that keep your consumers engaged with your brand whenever they access it. There are several techniques, such as:
AR/VR technology:  This is an exceptional technology that enables users to try clothes or furniture at their home without stepping out.
Offline Capabilities: When users are unable to access your app when the signal is down, it would be great if you offer some content that can be accessed offline.
Social Media Integration: Instead of filling long-form, social media login options, encourage users to install your app and share it with their friends.
Location Optimization:  Allowing your app to access the user's location and then deliver customizable results gives your brand an edge over your competitors.
These are several ways that can help you improve app usability and increase customer retention ratio.
Personalization
These days, customers love personalization because it makes them valued. They will quickly move to another brand if they are not entirely satisfied with your services. Therefore, it is imperative to make them feel special and valued at every stage.
Personalize your app by collecting data about customer's age, preferences, history, and requested visited pages. Suggest products based on their preferences. Send them personalized emails and notifications on special days.
These little things will increase app usability, maximize ROI, and ultimately foster customer loyalty.
In a Nutshell
Usability and accessibility define any app's greatness, and therefore it plays an important role in its success. No matter how many features you offer to users, it won't be a success if it lacks usability. Irrespective of business size and type, if you want to build long-lasting relations with consumers, you have to deliver them unmatched user experience to build brand loyalty and establish the brand image in the market.
Author bio
Deep Moteria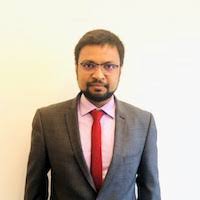 Deep is an aspiring entrepreneur and Co-founder of Elluminati Inc. Deep having led 75+ startups on the right path with their information-admiring entrepreneurial skill and guidelines. Along with that he loves to craft content on topics including on-demand economy, entrepreneurship, technology trends and many more.