Apple announced the first iPad Pro back in 2015, and since then, Cupertino giant released three generations. Instead of ordinary 9.7'' iPad and iPad Air, the Pro version suggests it is ready for serious working.  Latest iPad Pro comes with two screen sizes: 11 and 12.9 inches, beautiful retina liquid display and the most potent mobile processor Apple A12X Bionic. iPad Pro comes with up to 1 TB of storage, FaceId, and improved 12MP and 7MP cameras. For full productivity, you will need to upgrade it with a smart keyboard and second generation of Apple pencil accessories.  
Apple pencil is crucial for productivity because of the great productivity apps that can take advantage of gesture controls, wireless pairing, and exceptional performance for graphics professionals. 
Apple app store is more lucrative, with thorough checking of all software and is regarded as the best. Among thousands of great apps, we made a list of 10 best productivity apps. 
Apple application for better productivity
Vast listings of excellent applications for iOS platform gave us a real headache to choose the absolute best. Apps that utilize pencil could have their Top 20 list without trouble. Looking through Apple applications, we tried to include productivity software for different purposes. So, without further ado, here are Top 10 iPad Pro productivity applications. 
1. LumaFusion
LumaFusion is a video editor with much more depth than iMovie. With editing possibilities for three video and audio tracks with professional options side-by-side videos editing, trimming, and resizing. The app has PAL support, audio mixer, lossless export, and advanced titles. LumaFusion also supports Chroma key so you can create a virtual studio or other effects easily if you film your material against a green background. 
2. Linea Sketch
Linea Sketch is a semi-professional drawing app that excels in simplified, clear design with toolbars situated on the sides. The downside is that some of the cool features are hidden In menus. The app has a canvas approach, it lets you draw in layers, and you can make multiple canvases and organize them In projects. When doing a project, you can have unlimited layers, transform tools, grids, ruler, and there are several pens, color palettes, and background textures. 
3. Notability
Note taking app Notability lets you write your notes with Apple Pencil, keyboard and even to record audio. This could be appealing to students as an excellent tool for taking notes in classes. App offers infinite scroll and has page brakes. You can export your notes as PDF or print them. 
4. Edu Birdie
Another excellent service for students that lets you free up your time to be more productive in your preferred field, and let the writers from Dissertationhelp that is trusted by UK students dissertation writing help. That way, you could focus on coding for Computer Science, photo or video editing, or artistic impressions with a blank canvas and Apple pencil. 
5. Pixelmator
Pixelmator is an Image editor with lots of options, but not at the level of Photoshop or Lightroom. Besides quickly photo edits, Pixelmator lets you arrange photos, create shapes, add text, and work in layers. Apple pencil gives you another level of options like selecting parts of images you want to edit. There are numerous brushes, and you could also write over images. 
6. Duet Display
With Duet Display, you can turn your iPad into a second screen for Mac computer. It does cost $15, but you will get another hi-res screen for increased productivity and with almost no lag. 
7. Any.do
One of the most popular manager apps has a simple and intuitive user interface. It has a seamless way to connect all your task, make lists, and sync it to other devices. With the calendar app, you can keep track of your progress, and you'll get smart reminders so you won't forget anything.6.  
8. Scanbot
This app allows you to scan different types of documents. With the help of iPad Pro camera, you can scan text, then covert it, change it if needed and send it through all available communication apps. Great OCR features can help you digitalize your content in an instant. 
9. PDF Expert
Once you export the document as a PDF, you can choose the PDF Expert app. This software allows you to read, edit, and annotate PDF documents. Creating notes and highlighting text is ease, and there are advanced options like replacing images and hiding confidential data. Similar to other document processing apps, cloud service lets you track changes made on the document. 
1. Ferrite
A Ferrite is a perfect tool for podcast creators and journalists. Along with the recording feature, Ferrite comes with a full editing suite. You can add all your audio tracks, automate the cleaning of the silence parts, enhance audio with dynamic compression. The app has a tremendous auto-leveling option for adjusting the sound on individual tracks and the final mix.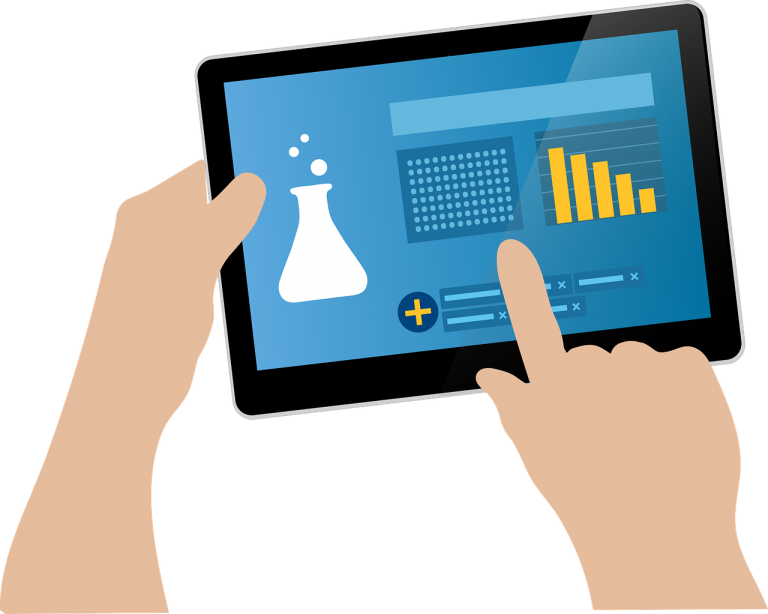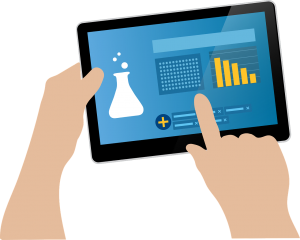 There is a high number of high-quality productivity apps for the iOS platform, and we should mention other notable products. Affinity Designer is a designer app with vector design support. Procreate utilize Apple pencil and is one of more popular drawing and painting apps. Many notes taking apps couldn't make it to our list. Among the most popular are Apple Notes and GoodNotes 5. Microsoft Office is available on iPad Pro, and it still has the best word processor and spreadsheet tools. Slack, Trello is an excellent collaboration app, Things 3 excellent iOs task manager, MyScript Nebo translates handwriting into text, while PCalc is an advanced calculator. 
Conclusion 
Apple iOS application store has probably the greatest collection of productivity apps. High-end Apple iPad Pro tablet with a keyboard and Apple Pencil accessories offer professional-level productivity and almost desktop grade quality of software. High-resolution screen with the most powerful mobile hardware makes iPad Pro ideal mobile working solution, especially if you are a creative worker. Apple application for iPad Pro has solutions for photo and video editing, time management, and note-taking, artistic expression, and design, as well as word processors and coding.  
Apple iPad Pro has what it takes to provide great productivity, and with the recent announcement of iPadOS made especially for iPad tablets. 
Guest article written by: Michael Turner is a creative professional, long time freelance blog post and article writer. With a background in culture and technology, he thrives in topics revolving around the use of technology, and cultural, educational and art related articles. His mission is to absorb the complex nature of different art and tech forms and introduce them to the audience.