At this point it is not necessary to explain what a PDF file is, it is likely that you see and manage them on a daily basis, either for work or study issues. Documents in PDF format are everywhere, schools, universities, offices all over the planet … therefore we will need a tool as complete as PDFelement to be able to edit and modify them to our liking, whatever the device we are using.
PDFelement is a software developed by Wondershare and, as we will now see, it is available for both mobile operating systems (Android and iOS) and for desktop computers. Now, we are in the middle of 2021 and our smartphone has become a machine capable of everything. How many times have you needed to download, edit, sign and resend a PDF to someone else when you were away from your computer? Exactly, with the PDFelement application you can do all that and much more from your Android or iOS.
Edit, mark and annotate what you want in PDF documents
First of all, as is obvious, PDFelement allows us to open and read any PDF file, none of it will resist, but its benefits come to light in terms of editing and modifying that PDF file. In the application we find a PDF editing panel. We can highlight text in different colors, underline or cross out in a simple way any phrase or word. It allows you to select text, copy, paste or modify it as you please, since it also has font recognition to be able to add and / or change paragraphs without changes in the typography used.
In the same way, PDFelement has tools to add annotations, text boxes, shapes and striking stamps that we can use to highlight specific areas of the documents. Do you need to sign a text? Forget about printing it and rescanning it, you can add your own hand-made signatures and apply them directly in digital format (or import them directly from the gallery or scan it from another document).
All these tools are very useful for all those who frequently work with PDF files, such as students who can take advantage of the full potential to edit the documents directly on the screen of their mobile or tablet.
Convert a PDF to another format
Once we have finished editing a PDF, we have the possibility to save the changes in that same file, or create a new one. In that case, the final document does not have to be PDF, since the application integrates a converter with which to transform to common formats such as Word, Excel or PowerPoint, but also to EPUB, HTML or RTF, among others. Of course these conversions keep the elements, graphics and texts with the original structure that we have created.
Furthermore, PDFelement can also function as a tool to join multiple PDF files into a single final document.
Our smartphone can also become a whole document scanner, there are many utilities for this, but this function is also included. You will simply have to point the camera at the paper and convert a photo into a PDF ready to share with anyone through messaging or email applications.
Synchronization with cloud services in PDFelement
With the amount of cloud services that we have available, in many cases it is best to have all our documents hosted and organized there. Services such as Dropbox, Google Drive, Microsoft OneDrive or iCloud are the order of the day and the good thing is that PDFelement can be connected to all of them. In this way and from the application itself we can access the documents that we have there, as well as save the changes that we make in PDF directly in the cloud. It also supports wireless file transfer via WiFi.
This application is a Swiss army knife for PDFs, an all-in-one tool with all the utilities you may need on a day-to-day basis. PDFelement is available totally free for iOS and Android, and it also has a version for Windows and Mac. With the software, you can easily edit PDF text on Mac.
How to edit PDF text with PDFelement on your Mac:
With PDFelement for Mac, you can edit your PDF document by changing the font, size, and color.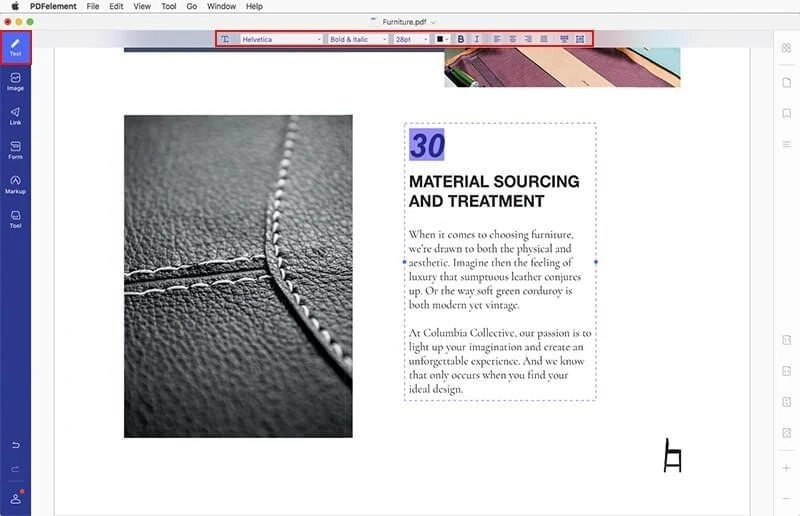 Here are the steps of text editing:
– You will see a Text button in the left hand column. Click it followed by clicking the desired text and the cursor will appear in a box, allowing you to enter the new text.
– Select Paragraph mode or Line mode on the top column to do the editing process.
– Then you can change the text size, layout, text color, and much more.
If you are having trouble editing your PDF text then you can take advantage of the OCR feature. The OCR process can allow non-editable PDF text to become editable. You will see a highlighted notice reminding you to go through the OCR process.
Enable the OCR feature by clicking "Perform OCR" in the highlight bar. You can also press "Tools"> "OCR Text Recognition". Here you can also make some adjustments to make sure the output file meets your expectations.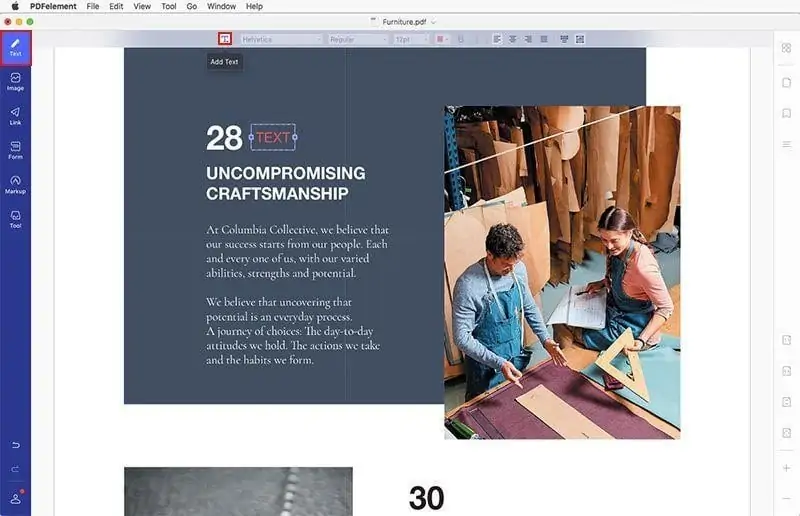 Want to add text?
Here are some of the steps:
– Click the Text button, as previously described, followed by clicking "Add Text".
– Then select the page where you will add the new text. An input box will appear where you can change the layout, size, font, color, etc.
Discounts on PDFelement
This month, PDFelement provides interesting discount offers for every new customer. The average is around 40%. Simply tantalizing! These discounts make PDFelement even more "unmatched" among its competitors.
Summary
Editing PDF documents is not a difficult task anymore. All thanks to the various features provided by PDFelement. With attractive discounts, of course this PDF editor cannot be ignored at all.