Your website will serve as the virtual storefront for your business, so you need to ensure every image you display on it shows your company in the best light.
Imagery can also be a very powerful tool for getting the results that you want. For instance, the right photos can help customers to feel a connection to your venture, get people excited about your services, and even make prospective customers imagine how your products will fit seamlessly into their lives.
Essentially, you need to be putting a lot of thought into how you're using images on your website. So, here, we're going to give you our top tips that will support you in getting the best results.
Help your ideal clients to imagine using your products or services
If you can help prospective customers to imagine themselves benefitting from your products or services, they'll be far more likely to invest in them. And the right imagery can really help with this.
There are a number of ways you can achieve this with your website imagery. Firstly, you should ensure that any people who model your products actually reflect your client base. So, for instance, if you're trying to reach an older audience, refrain from having younger people in your website imagery. You should also ensure your range of models is diverse, so all of your customers will be able to see themselves represented. So, for example, if you own a fashion retailer, you should ensure your clothing is shown on lots of different models with different body types, or for skincare or makeup retailers, you should ensure you show how all of your products work on different skin types and tones.
If you're struggling to create imagery that fully represents your customer base, you could even display user-generated content on your website. So, you could use photos your customers have sent you of themselves using your products or services. Just make sure you ask permission first so you don't run into any copyright issues.
Now, to give you some inspiration, let's take a look at some businesses that do a great job of using website imagery to help prospective customers imagine themselves using their products or services.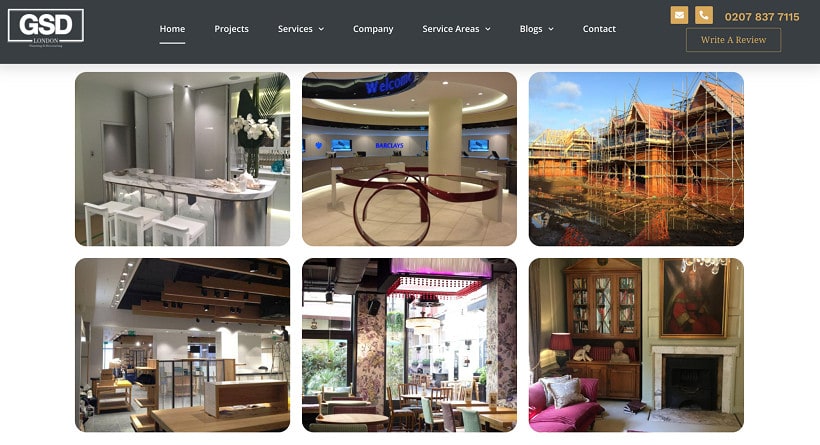 GSD Painting Contractors is a company that helps homeowners and business owners to bring their interior design ideas to life. And, on their website, they have a lot of imagery that shows off their best work and what they've achieved for past clients.
Anyone who lands on their website will start to imagine what their workplace or home could look like if they were to hire the company to help them make their interior decor dreams a reality. And, because the company has made a real effort to show off different kinds of projects they've worked on, prospective clients are very likely to see some elements they would like to have incorporated into their own spaces, which will make them even more likely to get in touch with the business to discuss their plans.
This is an approach a lot of different service-based businesses will be able to take. For instance, whether you're a hairstylist, party planner, or tattoo artist, showing off some of your best projects will get people excited about hiring you. And, they'll start to imagine what your work could look like if they were to invest in your services. So, for your own website, consider going down this route — it could do wonders for your conversion rate.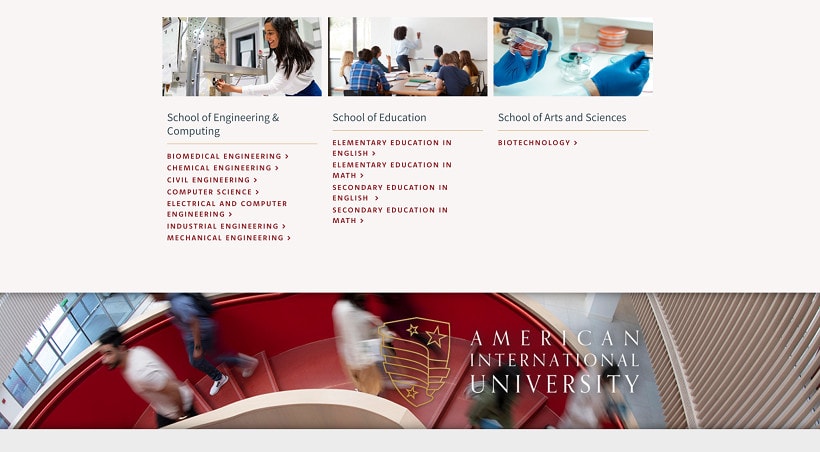 American International University also does a fantastic job of helping prospective students to imagine themselves studying there. For instance, on their academic programs page, they use imagery to show a wide range of their students conducting experiments, sitting in class, and working on exciting projects
Prospective students who are thinking about enrolling at the university are likely to see these images and start imagining what it could be like to attend those classes themselves. This will then get them excited about the prospect and will increase the chances of them actually attending the school.
If you have a business that offers courses or experiences, this is something you could also replicate on your own website. If you can show people just like your future customers using your services and enjoying doing it, you'll increase the chances of you securing more sign-ups.
Put a face to your business with photos of your staff
It's important that you try to humanize your business using your website. Consumers like to feel that they're buying from people, rather than a faceless entity, so going out of your way to show the team behind your company can help to build stronger connections and lead to more sales.
One of the easiest and most effective ways to humanize your business is by adding photos of your staff to your website. For instance, you could display images of your team on your homepage to draw people in, or even create a dedicated 'about us' page to introduce everyone.
You may even wish to publish blog content introducing your staff and ensuring your customers know their faces. This is sure to help you stand out from your competitors who may not have put as much effort into humanizing their companies.
To give you some inspiration, let's take a look at two companies that have already done a great job of putting faces to their names.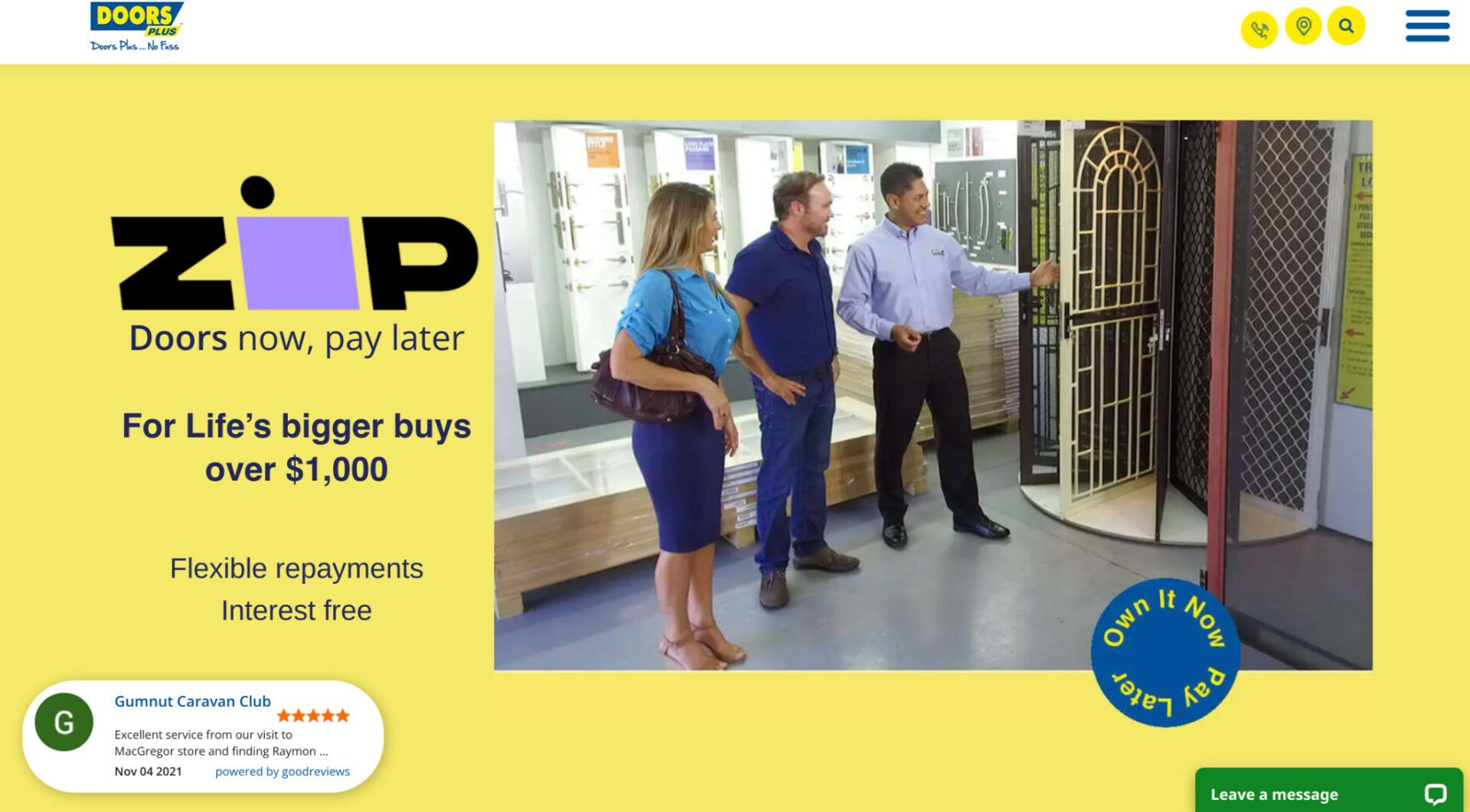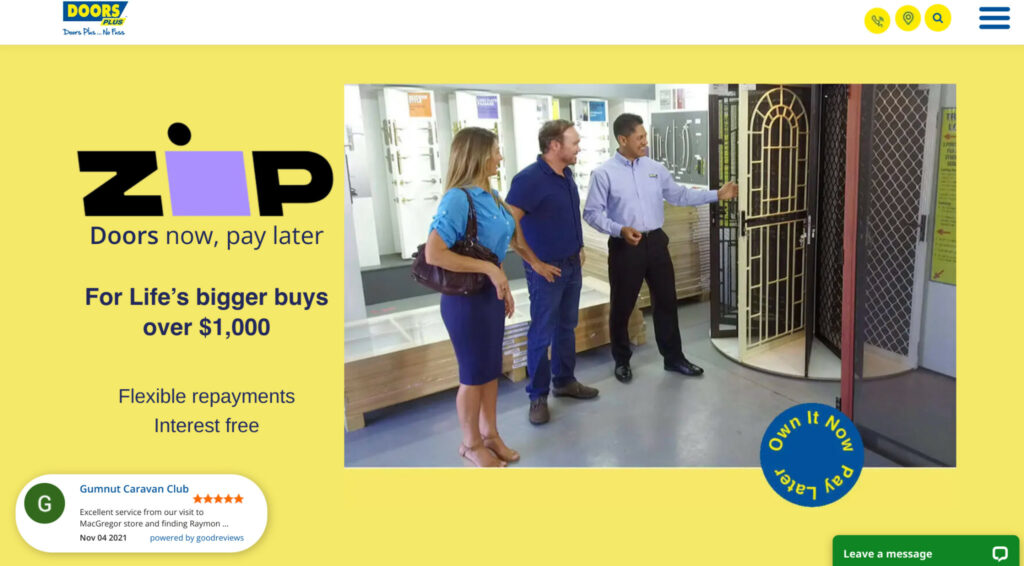 Doors Plus is a company that specializes in helping its clients with certain home improvements. And, on their website, they never miss an opportunity to show off their staff and how helpful they are.
For instance, above, you can see that they have an image on their homepage that shows a sales representative helping a couple of customers to find the right external door to suit their needs. While someone who lands on their website may be shopping online, the image gives the impression that they'll still receive this level of service and will help to put prospective customers at ease.
On your website, could you show your staff helping past customers to find the product or service that's right for them? This will help to humanize your company and show that you truly have your customers' best interests at heart.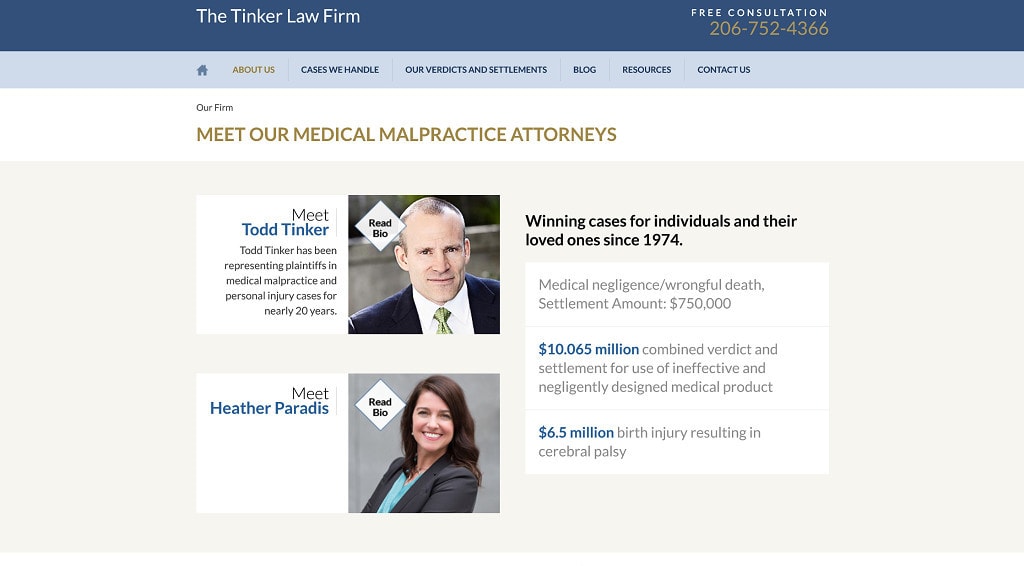 The Tinker Law Firm PLLC, a law firm that specializes in medical malpractice cases, also does a great job of humanizing its team. This is especially important for a company like a law firm, as people truly need to trust their attorneys — medical malpractice lawyers are often hired at one of the hardest times in people's lives. So, clients will want to feel a real connection to their lawyers and know that they can rely on them for expert legal and even emotional support.
By showing the faces of their staff, The Tinker Law Firm can help to put prospective clients at ease and ensure they feel confident in the company's abilities to represent them. Plus, the company has gone one step further and provided each of its team members with their own web pages, which also include a headshot and some information about their background. This is even more effective for humanizing the firm and is sure to appeal to its client base.
Humanizing your business in this way is sure to fuel your company's growth. People like to buy from people and, if you make a real effort to show who is behind your business and put some faces to your name, you'll certainly be on to a winner.
Choose imagery that will evoke an emotional response
If you can evoke an emotional response from your customers, they'll be far more inclined to buy from you. And, again, website imagery can really help with this.
Depending on what you sell, you may want to inspire a positive or even slightly negative feeling in your customers. For instance, if you're a wedding planner, kids' toy retailer, or pet accessories seller, you'll want your customers to feel excited when they visit your site. So, you could feature some joy-inspiring photos of brides and grooms, happy children, or adorable pets wearing and using some of your products.
You may also want to show clients that you understand they may be in a stressful situation. For instance, if you offer carpet cleaning services, you could add an image of a spilled glass of red wine to your website. Then, when people with this problem land on your website, they'll be reminded of their problem but will also feel relieved that you can help them.
If you have a law firm, for instance, you may also want to use imagery that can evoke a negative emotional response in prospective clients to encourage them to hire you to help. Depending on what area of the law you specialize in, you could use photos of vehicle crashes, damaged homes, or injured individuals. Showcasing images with a problem you can solve with your products or services can show that you understand your audience and are genuinely there to help.
Use images that show off your business's personality
Another way you can help people to feel connected to your business is by showing off your personality, and this is also something you can achieve with imagery.
Of course, the personality of your brand will entirely depend on what you sell. For instance, a children's toy manufacturer will want to appear very fun and exciting, so a business like this should use website imagery with a lot of color and possibly characters related to your products.
On the other hand, if you run a more serious business, such as an accountancy firm or medical center, you'll want to take a more professional approach. Use images of your polished workplace, staff members in formal clothing or uniforms, and people shaking hands. Personality means different things for different businesses, but the most important thing is that your images reflect what you're trying to convey to ensure brand consistency.
For the most part, it's best to invest in your own photography so your images are completely unique. But, to make your imagery go further, there's usually no harm in adding in some stock images, too. Just make sure that you don't ever give the impression that people in your stock images actually work for you — it's best to stick to more generic pictures if they aren't yours.
Show how your products or services work
Finally, one of the best ways you can use imagery on your website is to show how your products or services work. The better people understand your offerings, the more likely they'll be to invest in them. And the right images can help to remove any mystery from their browsing.
There are a number of ways you can use imagery to show how your items work. For instance, great product photographs are ideal, and they should show all of the different features of the pieces you stock. It's even better if you can show all of the different applications by providing images of people actually using your items.
GIFs or graphics can also be perfect for showing how a particular service or program works. These will allow you to explain a process with the help of some visual aids that will make it much easier for your customers to understand. This can significantly enhance their user experience and lead to more sales for your business.
Summary
There are plenty of ways you can use website imagery to improve your customer experience, get your audience excited about what you offer, and increase your sales. Take these tips on board and it won't be long before you start to see some great results.
Need more advice that will help you grow your brand? Check out Techolac's business articles for more hints and tricks that will provide you with the best chance of succeeding.
Author bio & headshot: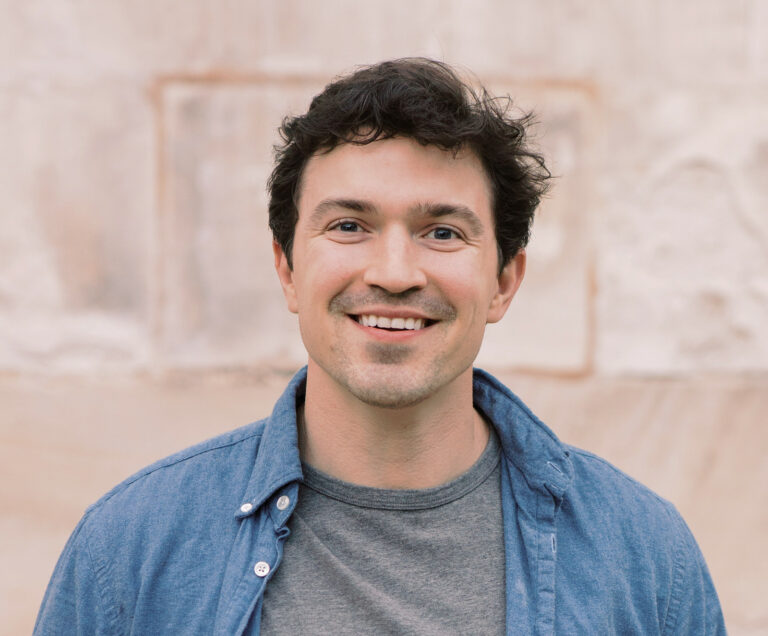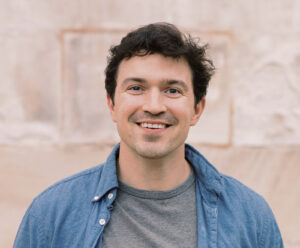 Adam Steele is COO and co-founder of Loganix, which is an SEO fulfillment partner for digital marketing agencies and professionals. The company provides the SEO services that businesses need to grow and achieve their goals. If you enjoyed this article, you can find more SEO guides and templates on the Loganix blog.