According to many case studies, Internet users have started to watch more videos every day. The number of videos on the Internet is increasing day by day. YouTube is the top online video-sharing platform available on the Internet.
But, you can only use YouTube to watch videos not download them. You may like some videos and want to download them, maybe watch them later. There are 3rd party apps available which you can use to download videos directly from YouTube. But, most of them are fake and do not work properly. They are filled with ads and pop-ups and do not provide good quality videos.
So the question is Which method is best to download videos from YouTube?
We present to you
SnapDownloader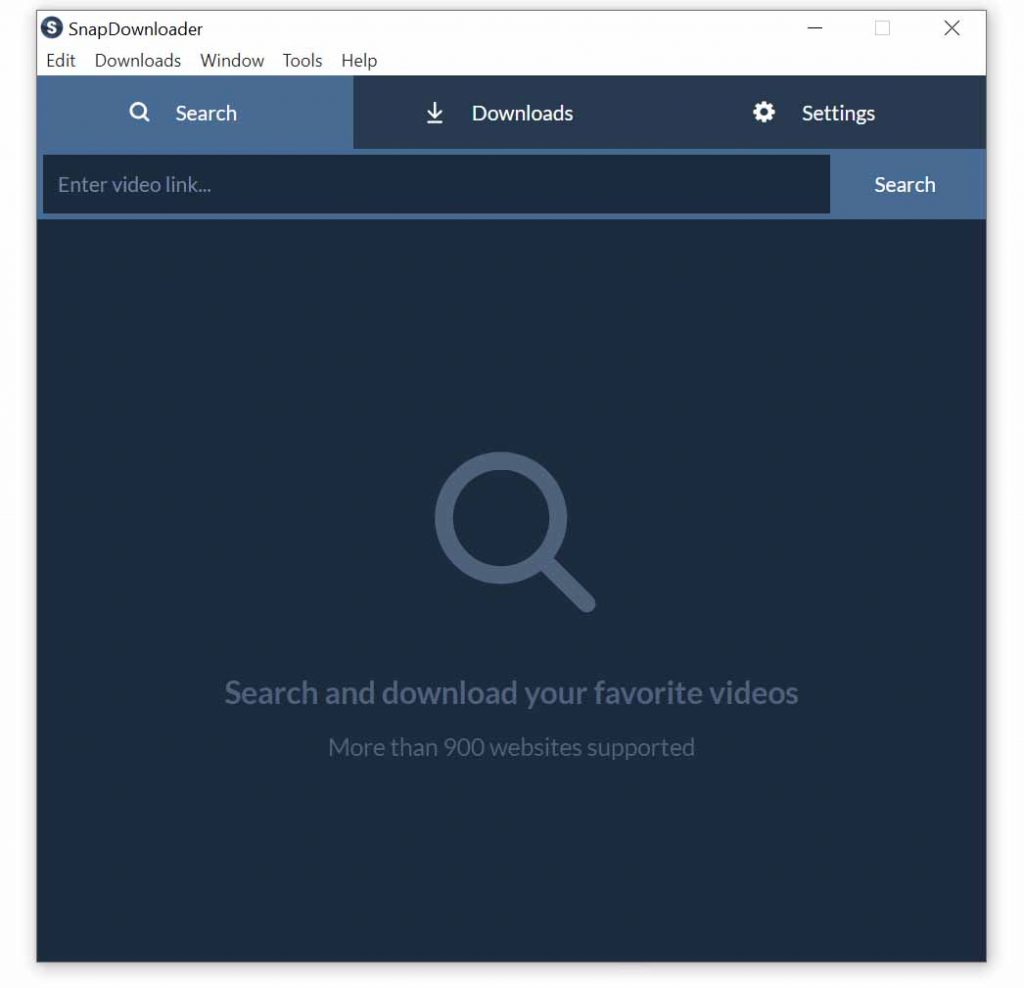 If you are tired of downloading video downloader that doesn't work, then, it's over.
SnapDownloader is a powerful and efficient YouTube video downloader. Not only, YouTube videos, but SnapDownloader is also capable of downloading videos from over 900 popular websites such as Facebook, Reddit, Twitter and more.
This downloader is enough for your all video downloading needs because of how many platforms it supports. You won't require a separate video downloader for each site.
Download SnapDownloader
SnapDownloader can be downloaded and installed on both Windows OS and Mac OS.
To download SnapDownloader, visit their website.


Let us discuss some other important features of SnapDownloader
Features of SnapDownloader:
SnapDownloader comes will many features besides just downloading videos from YouTube. All these features make it far better than its competitors.
Many video downloading applications are limited to only one OS, which is usually Windows. DnspDownloader is not like that. SnapDownloader provides support to users from both Windows OS and Mac OS.  So you don't need to worry about whether your OS will support it or not.
Support for Ubuntu will be added soon.
No need to depend on YouTube to watch 360° videos. With SnapDownloader, you can download VR videos from youtube at the highest possible quality easily. If you are looking for a VR video downloader, try SnapDownloader.
High-Resolution Support [Up to 8k]
In SnapDownloader, you can download videos to the highest possible quality. Depending on the platform, you can download the video in the best possible quality. For YouTube, you can download videos in 8k, 4k, QHD, 1080p, 720p, and more.
According to your need, you can download whichever quality that fits you best.
Extract and save Audio files
SnapDownloader is not only used for downloading videos and saving them to your computer. You can also use it for extracting high-quality audio files from the video. This way you can also get high-quality music files.
Download YouTube Playlists & Channels 
Rather than downloading videos one by one from a playlist, you can download the full playlist. Using SnapDownloader, you can download videos from whole playlists without any issues. This is applicable for YouTube channels as well.
Compatible with many websites
SnapDownloader supports over 900+ websites including popular sites such as YouTube, Reddit, Facebook, Vimeo and more. SnapDownloader is a one-for-all video downloading software. You won't require downloading software for each website.
You can queue downloads in SnapDownloader. You don't need to wait for one video to download and then download another.
SnapDownloader allows you to queue videos and download them one by one without any problem. So, you can use other apps or play games while videos are being downloaded.
Convert videos to MP4 or MP3
In SnapDownloader, you can also convert videos to MP4 or MP3 format. It is helpful for users who are looking to download audio files rather than videos.
Other features include :
Proxy Setup: If any video is restricted in your country, you can bypass it and download those videos and freely watch them offline. It will work on region-blocked videos.
High Download Speed: SnapDownloader is capable of downloading videos at high speed. So, you won't have to wait for hours to download videos.
Scheduled Downloads: Schedule your downloads. You can schedule videos to download automatically at a certain time and date. This feature is helpful for users who have limited Internet bandwidth due to which they cannot download videos all the time.
Customer Support 24/7: Customer support is available all the time 24/7. SnapDownloader is always there to assist you with any issues you face while using SnapDownloader.
How to use SnapDownloader to download videos from YouTube?
Using SnapDownloader is very easy and straight forward. The User interface is user-friendly which makes it easier to use for users who do not have any technical knowledge.
Step 1. Installation
Download and install SnapDownloader from their site. Install the downloaded file to your computer. Run the application. After launching the application, you will see a search box.
Open YouTube and copy the link of the video you would like to download. Paste the link into the search box. Then, just click on the search button.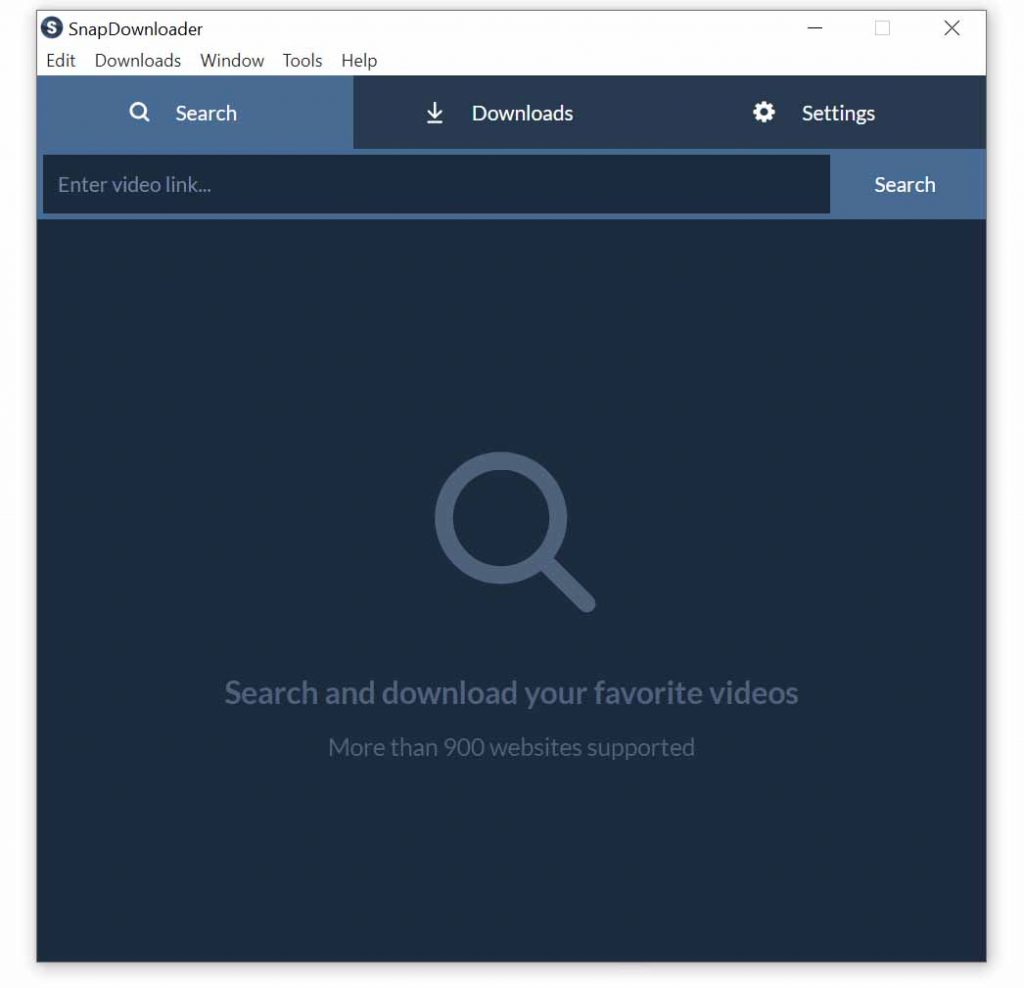 Step 2. Choosing the Output format and Video Quality
After hitting the search button, SnapDownloader will look for the video.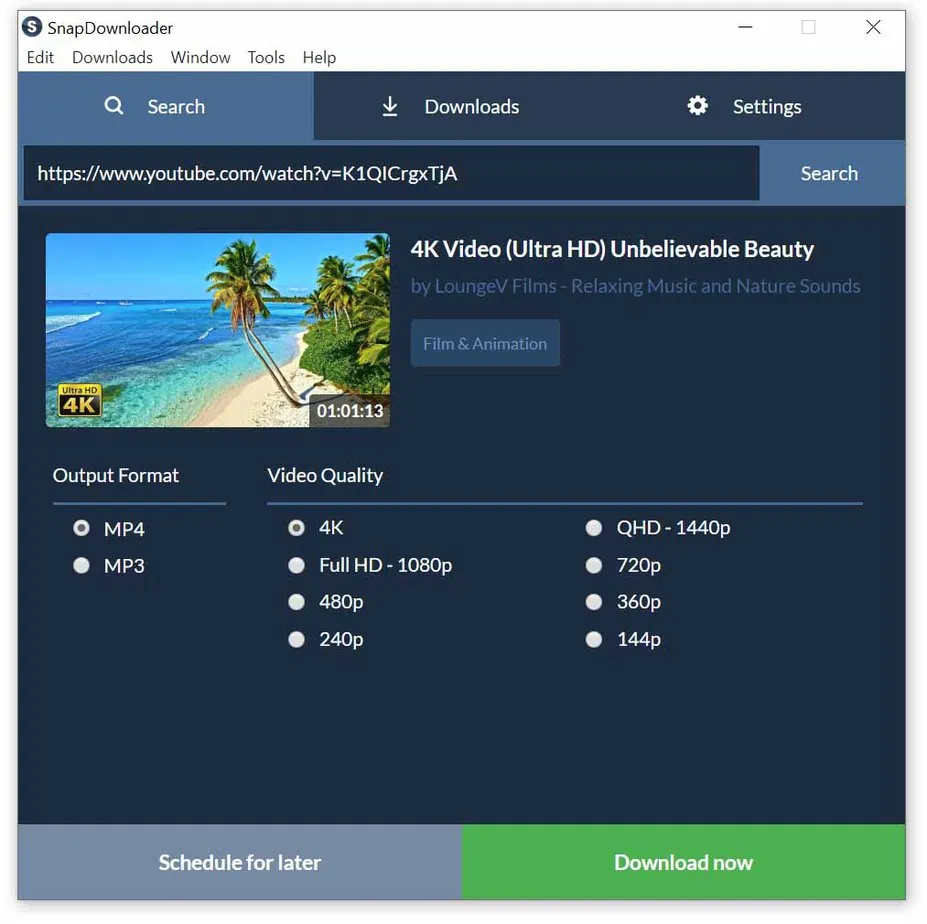 It will show some choices. Both for quality and output format. For output format, you will get two option: MP4 and MP3. Quality options will depend on the video. It will show you up to the highest available resolution.
Select the choice according to your requirement.
Step 3. Start downloading
After deciding which output format and video quality you want to download.
You can start the download process by clicking the download button. You can see the videos getting downloaded.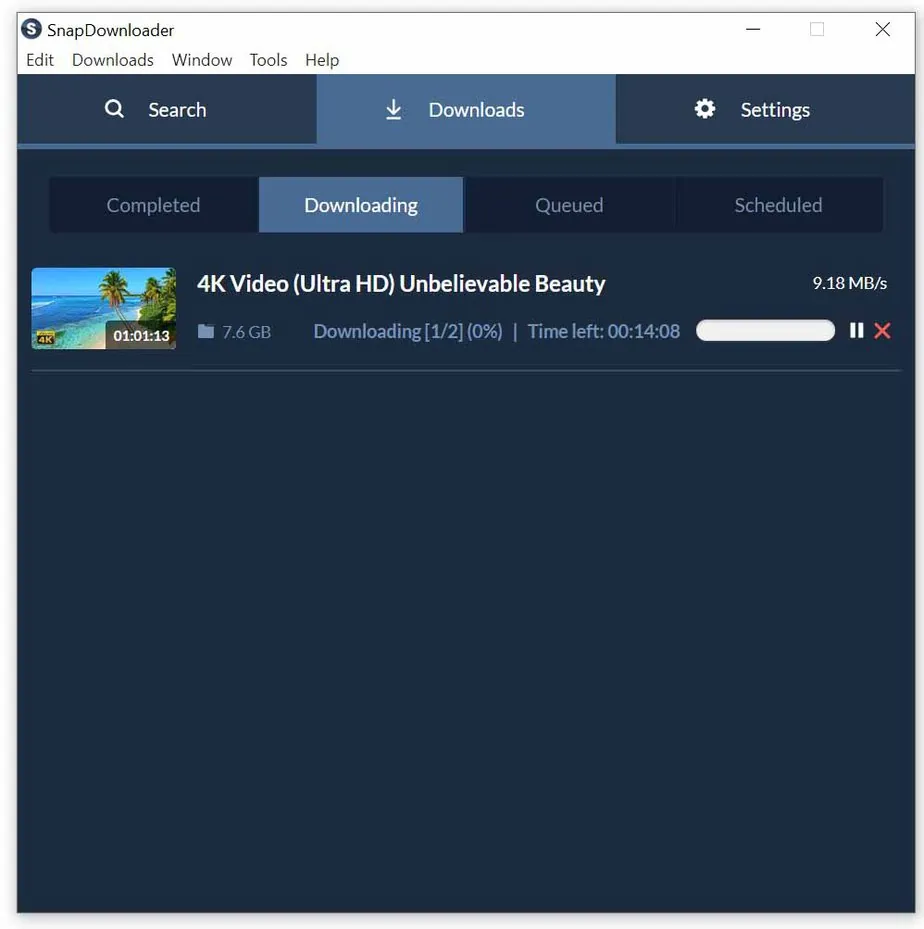 And that's how you download a YouTube video.
Final words
If you are looking for a YouTube video downloader or video downloader for any site, then, do give a SnapDownloader a try. It is very simple to use and you do not have to face advertisements as well.
It is one of the best choices you can make when choosing a video downloader since you also get the support of over 900 websites.