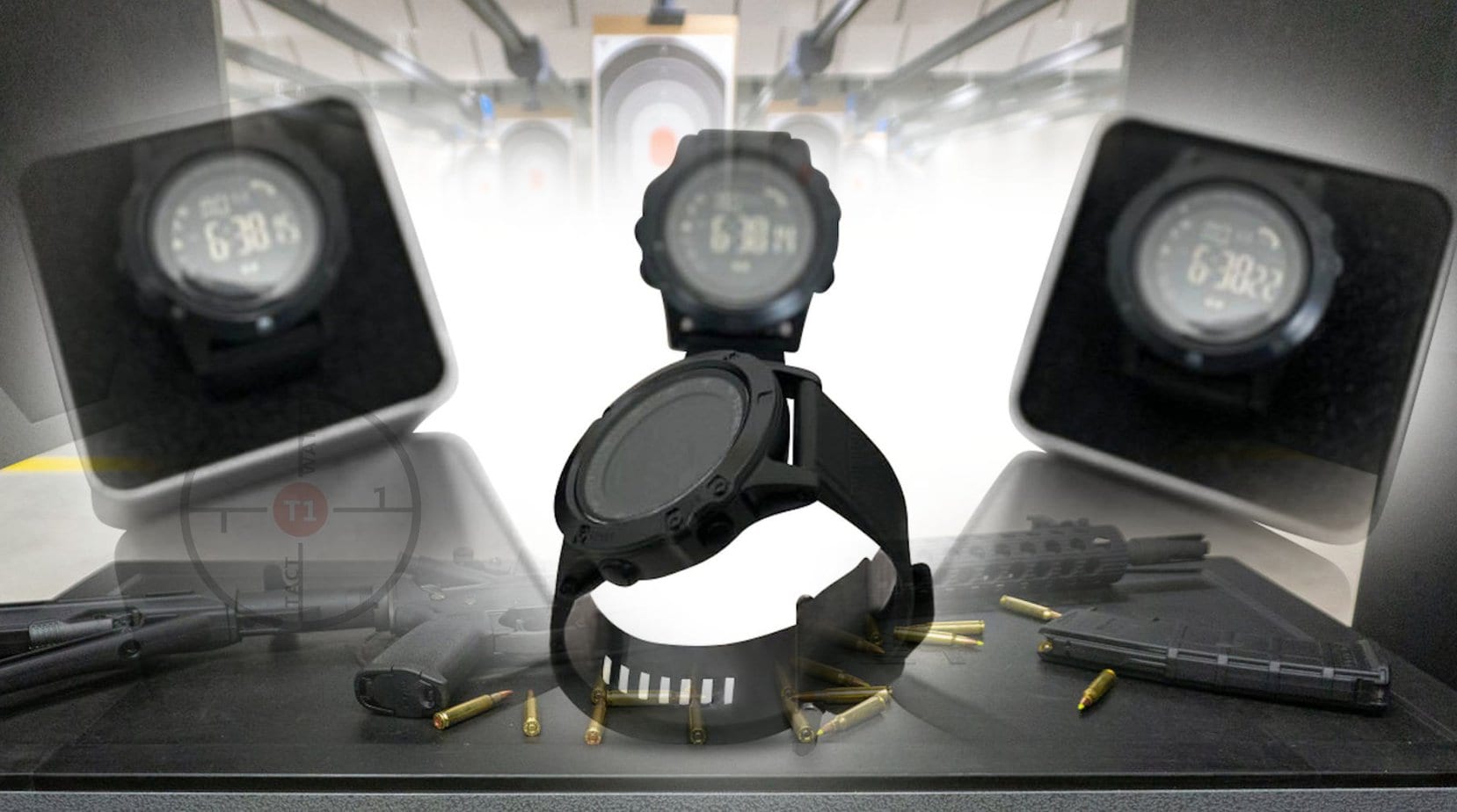 Tactical smart watch brand, T1 Tact Watch, has just released its latest smart watch called the 'Midnight Diamond'. However, there is still a lot to learn about this new tactical timepiece that is making waves online.
Covering everything from durability, key functionalities, and authenticity, here are 21 of your questions answered about the T1 Tact Smart Watch Midnight Diamond.
Durability
1. What makes the Midnight Diamond so tough?
According to the T1 Tact Watch website, the Midnight Diamond has 'Military-grade durability'. This is due to the watch's stainless steel body that is corrosion-resistant. On top of the stainless steel, there is also a layer of Diamond-like Carbon (DLC) coating that serves as extra protection.
The watch's face is also made of gorilla glass. According to the website, this enables it to 'deflect gunshots from a .22 caliber handgun without shattering'.
The Midnight Diamond is truly designed to withstand the world's most rugged conditions. Wearers can rest assured that this watch can endure drops, kicks, scuffs, scratches, and dings like a champ.
2. What is the Midnight Diamond's water resistance rating?
The Midnight Diamond's water resistance rating is 5ATM. This is fairly standard across the board for smart watches. Essentially, a 5ATM rating means the watch is water-resistant up to ten minutes in depths of water of 50 meters.
In practice, a 5ATM rating means that the watch can endure shallow activities in water at low speeds. This could include casual swimming or jogging through rain.
3. Does the Midnight Diamond have an IP rating?
Yes, the Midnight Diamond has an IP certification rating of 67. That means that the watch is protected from contact with harmful dust. This rating also means that it can be fully immersed in 1 meter of water for up to 30 minutes.
4. What kind of battery does the Midnight Diamond have?
The Midnight diamond is equipped with a cell battery. This battery lasts an estimated 33 months before needing a new one. This is very rare, given the fact that most smart watches require a rechargeable battery that only lasts 1-2 days.
Functionalities
5. What are the key functionalities of the Midnight Diamond?
The key functionalities of this tactical watch include:
Full connectivity with smart phones
Access to an app store
All-day health and fitness tracking
Push notifications display
Remote control function with a smartphone camera
6. What are the Midnight Diamond's tactical and military applications?
In terms of the watch's tactical applications, the Midnight Diamond can do a number of functions. This includes displaying the time down to the second in either civilian or military mode. It can also display a calendar, stopwatch, and alarm.
The watch's extreme level of durability is also very practical in tactical settings.
7. What are the Midnight Diamond's fitness applications?
This watch is also a wonderful fitness companion in the gym. There are a number of apps that the user can download that can track calories, steps, distance, and sleep. There is another application that analyzes workout data; helping you stay on track with your fitness progress.
8. Can the Midnight Diamond display push notifications?
Yes. In addition to displaying the basic time and date, the watch can also display a number of push notifications. This includes notifications for scheduled alarms, text messages, phone calls, social media alerts, and any other app-related notifications.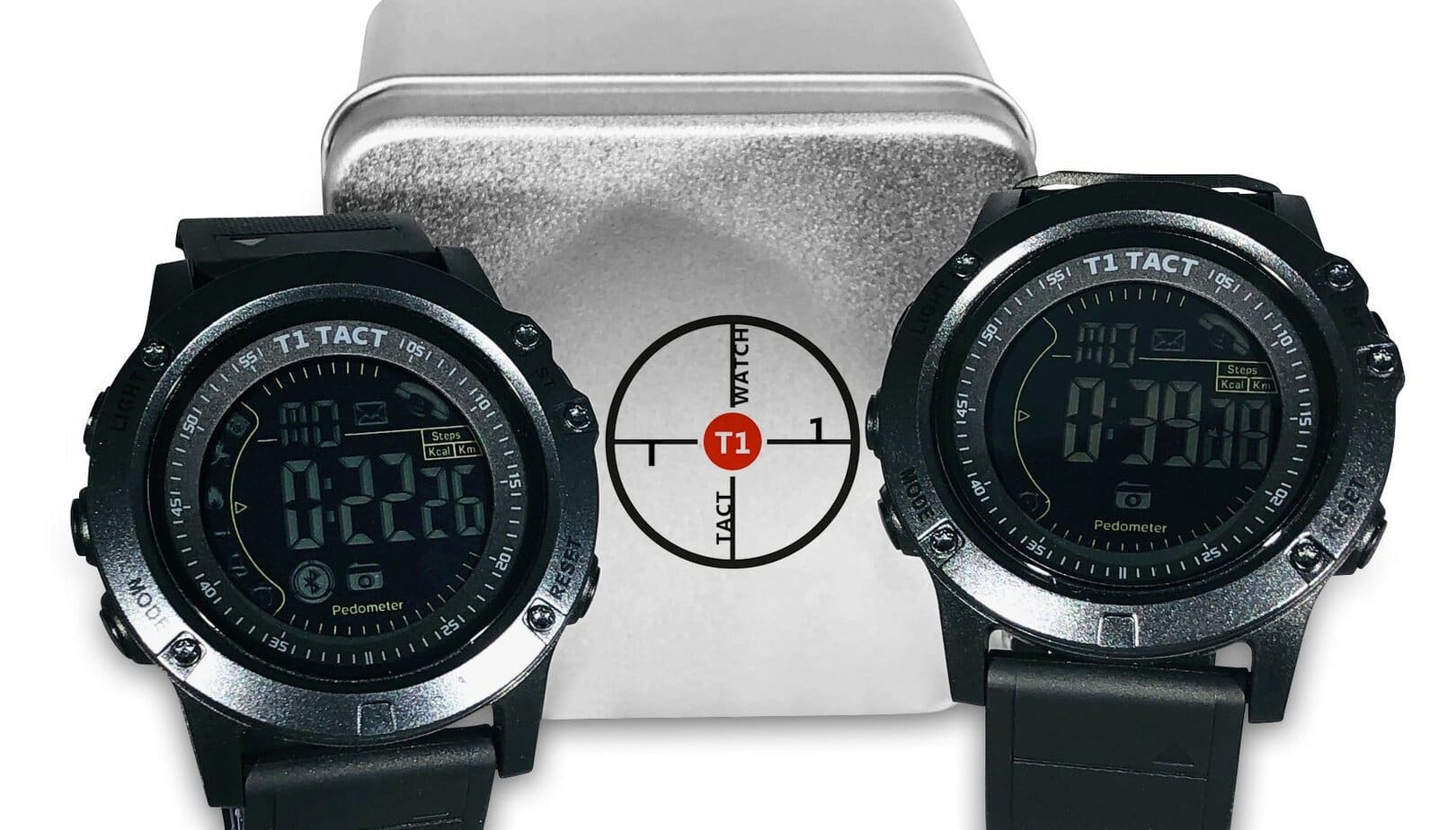 Connectivity
9. How does the Midnight Diamond connect to smart phones?
The Midnight Diamonds links to smartphones via Bluetooth.
10. Which smartphone operating software is the Midnight Diamond compatible with?
The Midnight Diamond can be paired with Apple, Android, Huwaei or Sony devices. However, those devices must be running at least iOS 7.0+ or Android 4.3+.
11. Can the Midnight Diamond connect to a tablet instead of a phone?
Yes. The Midnight Diamond can connect via Bluetooth with any tablet, as long as it is running Android 4.3+ or iOS 7.0+.
The T1 Tact Smart Watch Brand
12. Who are the people behind the T1 Tact Watch brand?
The T1 Tact Watch brand was founded by a fashion industry trailblazer of the digital age, associated with clothing labels of A-list celebs Jay-Z, Diddy, Jennifer Lopez, and more. The actual 'Midnight Diamond' however was designed by a team of former engineers, inspired by the US military's designers. The founders knew they wanted to design a smart watch. However, they wanted it to have the same durability standards found in traditional military and tactical watches for men.
For those interested in learning more about the T1 Tact Watch's brand, you can visit the 'About Us' section of the T1 Tact Watch website.
13. How can I verify if my T1 Tact Watch is authentic?
Recently, the T1 Tact Watch brand has been a victim of counterfeit sellers on websites like Amazon and Ebay.
In order to combat this, authentic Midnight Diamonds now have the T1 Tact Watch logo depicted on the dial, band clasp, and rear steel case. Additionally, all T1 Tact Watches are shipped in the official T1 Tact Watch metal box case.
Style
14. What color(s) does the Midnight Diamond come in?
Currently, the only color available for the Midnight Diamond is black. The strap, case, and bezel are all the same shade of black.
The face of the watch has the T1 Tact Watch logo written in white on the dial. The watch's monochrome digital screen has a black background with green numbers and letters.
15. What is the watch's band material made of?
The wristband of Midnight Diamond is made of silicone, allowing it to be flexible and fit most wrists. This material is also water-resistant and can withstand twists, bending, and regular use.
In terms of the band's length, according to the website, the band's circumference is 11 inches long. However, it is adjustable and can suit wrists half that size.
Buying
16. Where can I buy the Midnight Diamond?
The Midnight Diamond can be purchased directly from the T1 Tact Smart Watch website at www.t1tactwatch.com. Once you arrive on the website's homepage, simply scroll down to the green button that reads, "Check Availability: Buy Now".
17. What is the retail price of a Midnight Diamond?
To purchase a Midnight Diamond, the current retail price is $89.99. This is discounted from its regular retail price of $124.99.
18. Is there a discount for buying more than one watch at a time?
Yes, when purchasing multiple watches at a time the cost per watch decreases. For example, when purchasing two watches, the price is $84.99. The price per watch for three watches is $79.99 and the price per watch for five watches is $76.99.
This discount is super beneficial for groups and teams who want to order in bulk.
19. Can I purchase the Midnight Diamond from a third-party seller?
The Midnight Diamond should only be purchased directly from the T1 Tact Watch website according to the official Facebook, Twitter,  and instagram. Due to the number of online scammers and counterfeiters, this watch should never be purchased from a third-party website.
20. What is its estimated shipping cost?
For deliveries within the United States, shipping is free. Deliveries outside the United States are charged a flat express international shipping rate of $23.00.
21. What is included with a Midnight Diamond purchase?
Each Midnight Diamond purchase comes in the T1 Tact Watch exclusive metal tin box. Additionally, according to the T1 Tact Watch website, it comes with a repair tool for battery replacement and an official manual.
Cited Sources | Sites we used to make article & only other websites, we want linked to from our articles: