In today's world people from every age group are interested in keeping themselves fit. The pandemic was enough to teach us that surviving is difficult without a healthy body and a sound mind. The importance of maintaining good health can't be explained. Having good health does not only mean a fit body, it also means imped mental health.
A healthy body sets the stage for your day-to-day well-being and physical activities also regulate your sleep, making your body function better. However, in this busy schedule people seldom find time for exercising or keeping a track of their health and requirements. May it be getting the right amount of calories or a sleeping schedule, people have become concerned about their lifestyle. That's where these smartwatches come in use.
Staying in touch with the various health parameters that affect your body, can be a boon for not only the people having Blood-pressure and heart issues, but every human in general.
Here is a list of five smartwatches that do work as an alarm bell for your health concerns. This includes keeping your body fit by sleep monitoring, step counting, setting goals, workout reminders, and fitness apps. Smartwatches are trying their best to keep you healthy and after this pandemic the main goal anyone should have, is to maintain a healthy body.
1. Apple watch series 5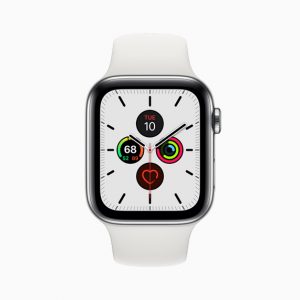 The Apple watch series 5 comes in two sizes- 40mm and 44mm. This ECG smartwatch Apple watch is one of the best health trackers available in the market. It has got a workout app that has modes to track activities such as usual running, walking, hiking, cycling and swimming, yoga, hockey, table tennis, football and even fishing! Day-to-day health tracking feature is also good.
The heart rate sensor measures your heartbeat per minute throughout the day. It can also keep you updated through ECG heat monitoring, making it even more irresistible.
Key Features –
Bluetooth 5.0
ECG Enabled Smartwatch
Includes messaging apps: Apple play and Siri
Apple S5 chip: 64-bit dual-core S5 processor
2. Fitbit charge 4
The Fitbit charge4 is the most feature-packed fitness tracker right now. It tracks your steps, floors climbed, calories burned and distance travelled by you. While running, it shows both the distance covered and also your pace. The GPS workouts get distance, pace, speed, time and heart rate. Runs are recorded in the Fitbit app, and they are nicely presented. You can see your split times per kilometer/mile and your heart rate zones.
There is a new metric called Active Zone Minutes, which uses your heart rate zones to calculate the intensity of your workout. By default the goal is set to 150 active minutes by the end of each week, but you can increase or decrease the target as per your wish.
Key Features –
5ATM water resistance
Seven days of battery life
Automatic run detection
Includes 4 GPS activities by default

3. Garmin vivoactive 4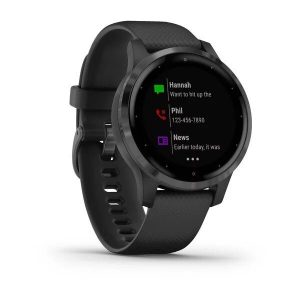 The Garmin vivoactive 4 has this unique body battery feature, which uses the level of exercise you've done, then measures how much rest you've had through the entire day, then tells you how much energy you have left within you.;
Vivoactive 4 is compatible with Bluetooth and ANT+ cycling speed/cadence sensors and footpods, both of which can improve the reliability of distances logged on, especially if you regularly exercise in areas with patchy signal. They are having touch screen trackers and hence they come with few buttons.
The Garmin vivoactive4 uses metric called heart rate variability which is the time between each heartbeat. This estimates if you are under stress or at rest, and gives you a score from zero to 100.
Key Features –
Gorilla Glass 3 screen protection
1.3-inch 260 x 260 transflective MIP screen
Offline built-in music player
PulseOx for 24×7 blood oxygen tracking
4. Samsung galaxy watch 3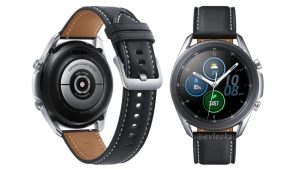 The Samsung galaxy watch 3 comes with a very responsive interface. You can use the Samsung Galaxy Watch 3 to track sleep, monitor blood oxygen levels. The watch is loaded with fitness tracking features and can automatically detect up to six activities and begin logging data such as heart rate, steps taken, etc, without needing your intervention.
Key Features –
Runs on One UI Watch Edition (v2.0)
4 Inch inch size
accurate fitness and health sensors
FDA-cleared electrocardiogram feature present
5. Fossil Gen 5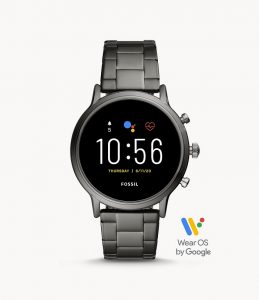 Fossil Gen 5 is the best Wear OS watch in the market. The fitness tracking capability of the Fossil Smartwatch tracks activities such as running and walking. It also helps you to set a goal and reach the same. The most interesting feature of the watch is that it reminds you to wash your hands in this current situation.  It can track a lot of workouts, and has both GPS and heart-rate sensors so you can install apps like Strava to track your running sessions, and get al the health data you'd hope to get in a fitness tracking watch.
Key Features –
Built-in speaker
Google Fi to monitor fitness tracking
Health tracking app- VO2 max
Big 1.28-inch circular AMOLED display
So, these are the 5 best smartwatches that has the best health tracking features. So, why wait? Grab one now.
You can also read plenty of such articles and detailed review of  various wearable at smartwatchspace site.