Leather watch bands age and break over time. Fabric or nylon watch bands get filthy as time goes by and they are difficult to be cleaned. Titanium ones are prone to scratches. They don't seem to last, unless you can put up with the noticeable taints or scratches. Steel watch bands are durable and can last. But they are inevitably heavy. Is there any other option?
Luckily, watch bands made of carbon fiber check all the boxes. PITAKA has recently released the world's first carbon fiber watch band for Galaxy Watch 4 and Galaxy Watch 5 series. Let's get down to the details.
Built to Last
Carbon fiber is lighter and stronger than almost all kinds of metal. And it has high mechanical strength, high stiffness, very low thermal expansion, and superior chemical resistance. This unique material is used to make the parts of airplanes, UAV, sports cars, etc.
PITAKA is the first brand to use carbon fiber to craft watch bands. Previously, they had launched carbon fiber wallets.
The carbon fiber watch band for Galaxy Watch is 100% made of genuine carbon fiber. So it won't age or break over time. It won't easily get stained either as it's resistant to water, sweat, and dust. If you spill something on the watch band, just wipe it off with a slightly wet cloth and it will be pristine again. Therefore, you can keep the carbon fiber band for many years.
Lightweight and Skin-friendly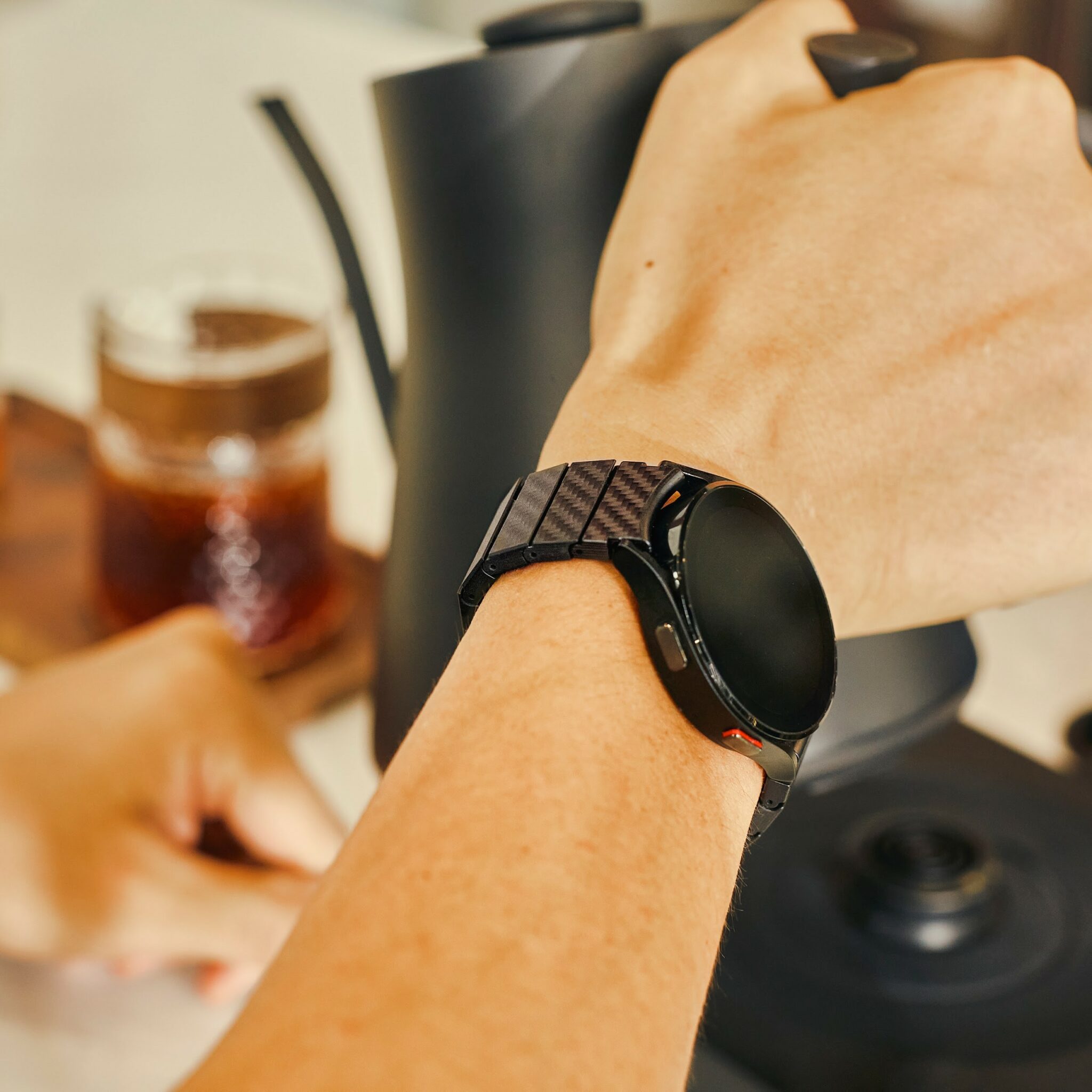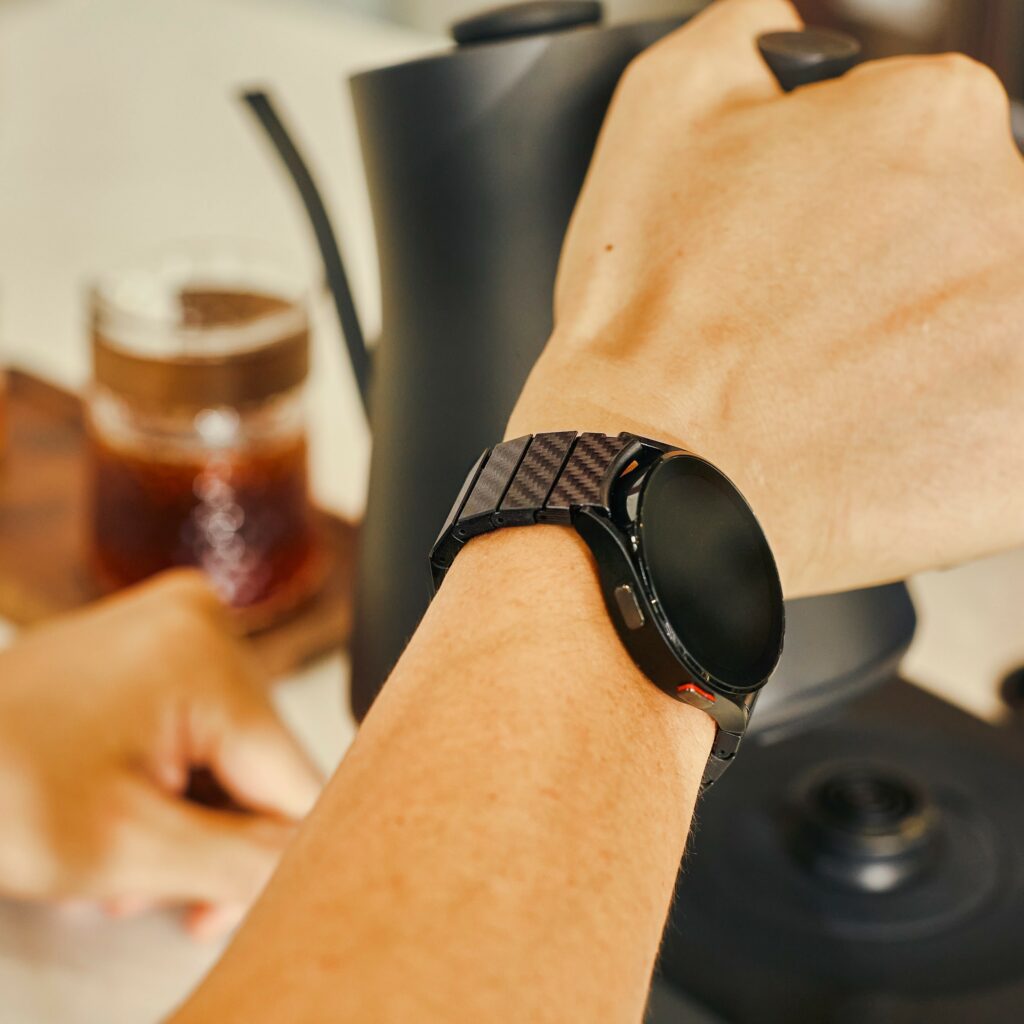 Despite having the look of metal, PITAKA's Galaxy Watch band weighs only 30g, about half of that of a stainless steel band.
And due to the characteristics of carbon fiber, the Galaxy Watch band will keep your skin cool in summer as it's water resistant and doesn't absorb sweat and keep your wrist warm in winter since carbon fiber doesn't carry heat away like metal does.
Easy to Install and Adjust Length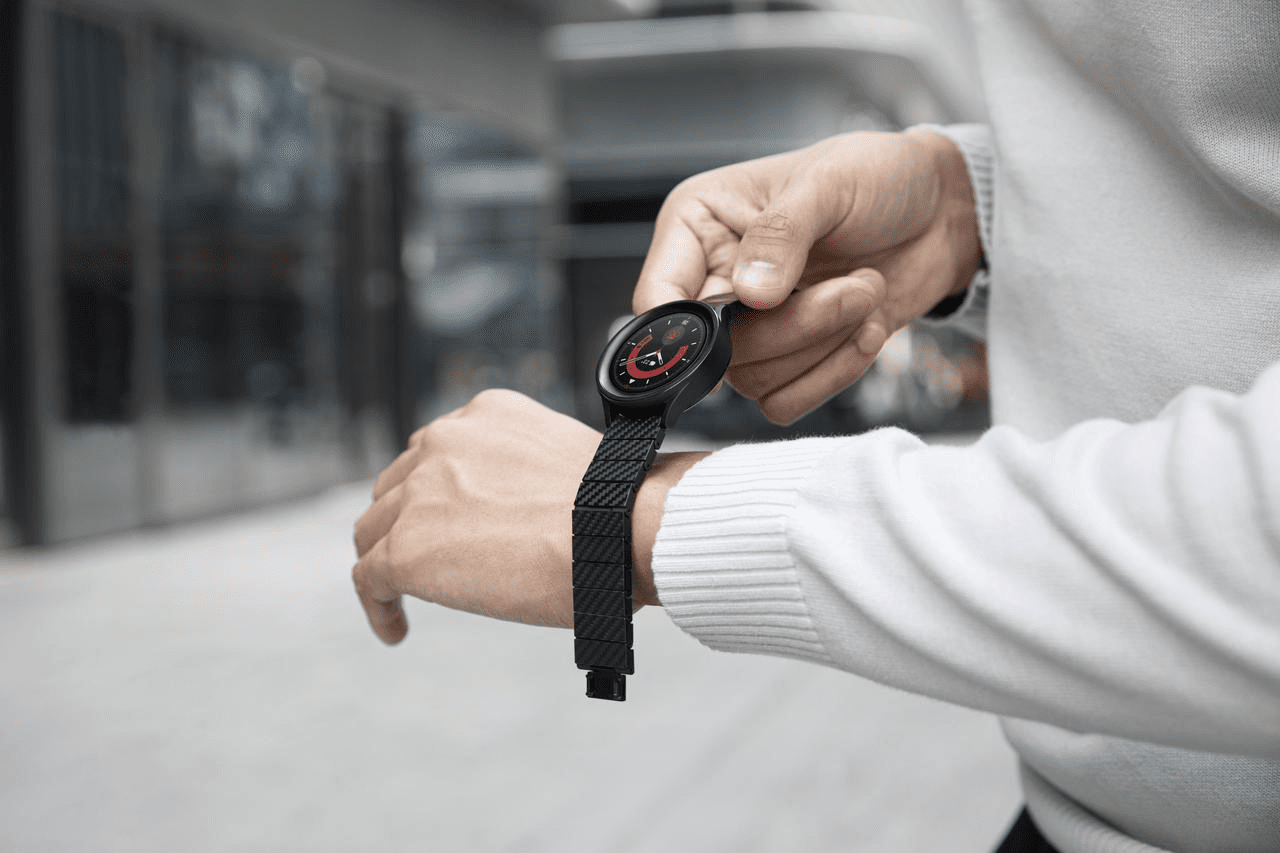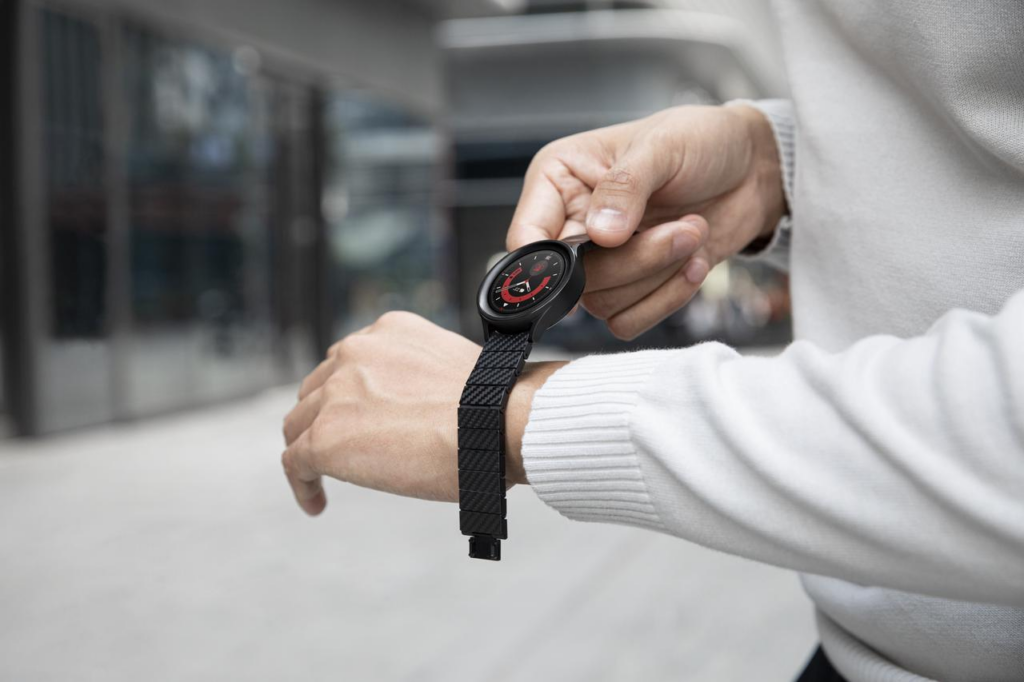 Instead of sticking holes or pressing the butterfly buckle, PITAKA's carbon fiber watch band uses a patented magnetic clasp and security lock to keep your Galaxy Watch 4/5 firmly in place. To take it down, just press the button on either side of the magnetic buckle.
The watch band fits wrists up to 178mm. If you need to reduce the length, use the provided tool to remove one or two links
.Additionally, the carbon fiber watch band is compatible with Samsung Galaxy Watch4, Watch4 Classic, Watch5, and Watch5 Pro.
Shop on AMAZON: Carbon Fiber Watch Band
Shop on Official Website: Carbon Fiber Watch Band