Children and the elderly are at a greater risk of falling to the ground or floor or other lower-level compared to other age groups. This occurs unintentionally and without any warning. The fall might be fatal or non-fatal. This is the reason fall detection tech used in smartwatches is a significant and essential feature in medical alert systems. This is especially important for older adults with dementia or physical disabilities that limit their movement.
According to World Health Organization (WHO), falls are a major health problem globally, especially in older people of over 60years and children; and result in more years lived with disability than transport injury, drowning, burns and poisoning combined.
Smartwatches with fall detection functionality automatically use fall detection technology to accurately detect movements related to falls and get speedy help from family members, neighbours and caregivers for the elderly at risk of falling.
With the advancement of wearable technology, fall detection watches can send SMS notifications, make phone calls, count steps, monitor heartbeats and ultimately detect when the watch's wearer has a fall. Some may also have enhanced GPS accuracy so that your precise location can be confirmed quickly and you get the help you need.
This article will explore the best two medical alert watches-Apple Watch SE and Samsung Galaxy Active 2- with fall detection. These two medical alert watches combine form, function, and even fashion.
Here is how fall detection alert system operates
A smartwatch with fall detection functionality uses the accelerometer, a radio wave tech sensor with low power for monitoring the user's movements and detect a fall.
The fall detection technology can assess the physical activity, body position, and acceleration of an individual's movements. Suppose the device detects that those variables are in a critical point and a fall has occurred. In that case, it will instantly prompt an emergency alert and put a call through to emergency response teams for assistance.
1. Apple Watch SE
Apple Watch SE has a built-in accelerometer and gyroscope. It can detect if you have fallen accidentally and connect you with emergency services. In an emergency, you can press and hold the side button to get immediate help. Compared to Apple Watch Series 6, the Apple Watch SE is relatively cheaper and of significant value. The Apple Watch SE has all the major Apple Watch Series 6 except an ECG and a blood oxygen sensor functionality.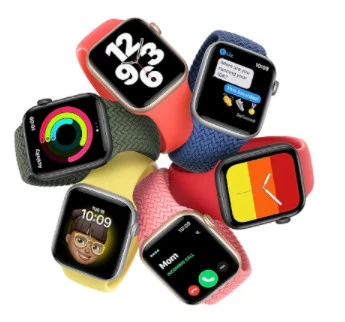 Pros:
It is the lower cost watch in Apple's Smart Watch Series
Fall detection
Optical heart rate sensor with notification
Supports Apple Pay
LTE and Non-LTE connection
Responsive and bright touch LCD
Cons:
It doesn't have blood oxygen sensors
Absence of ''always-on'' display
It can be slow when loading some apps
Requires charging daily
How to use the fall detection feature on Apple Watch
Ensure the Apple Watch OS and iOS is updated to the latest version before using the Apple Watch.
Follow the procedures below to turn on Fall Detection:
Open the Apple Watch OS on your Apple iPhone
Tap the My Watch tab
Touch Emergency SOS
Turn on Fall Discovery
Fall Detection:
When Apple Watch identifies you have taken a hard fall while wearing your watch, it taps you on your wrist, sounds an alarm and displays an alert.
Contact emergency service if you choose to dismiss the alert displayed by pressing the Digital crown or touch ''I am Ok''.
If the watch detects you are still moving, it waits for you to automatically respond to the alert displayed without contacting emergency services.
The watch will automatically make a phone call if it detects you cannot move for 60 seconds after identifying you have taken a fall.
The watch sends a message to your emergency contacts (using your Medical ID) with your GPS location after the call ends. Your emergency contacts are notified that your Apple Watch has detected a hard fall and contacted emergency service on the phone.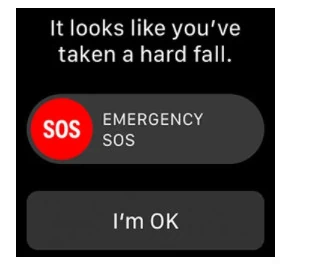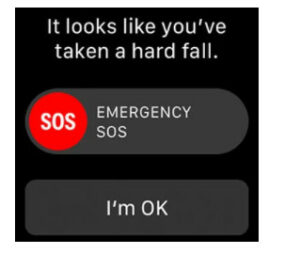 Visit Apple support on https://support.apple.com/en-us/HT208944 for more information on the Apple Watch fall detection feature.
2. Samsung Galaxy Active 2
Samsung Galaxy Active 2 watch is compatible with iPhone and Android phones, unlike Apple Watch SE, which functions with only iPhones. It runs on Tizen OS developed by Samsung. When operated with iPhone, you are unable to use the S Health or Replay functionality. 
Pros:
Lightweight design
It has an always-on screen
Requires less charging (the battery can be used for up to two days)
Effective health and fitness tracker.
Cost-effective
 Cons:
ECG sensor not present for most regions around the world
Absence of third-party apps
Limited functionality for iPhone users
How to use fall detection functionality on Samsung Galaxy Active 2 Smart Watch:
Ensure your Samsung Galaxy Active 2 watch is updated with the latest OS version, and it has a fall detection feature.
Open the Galaxy Wearable app
Touch SOS
Turn on Detect Falls
Tap Add Contact or Select from Contacts
Choose a contact to add to your "Emergency Contacts."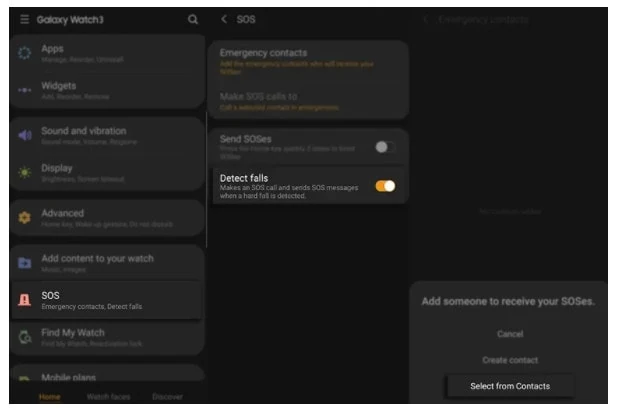 Fall Detection:
When you experience a hard fall, your watch sounds an alarm and vibrates for six (6) seconds.
You can choose to send an SOS or cancel the sound alert on your smartwatch.
An SOS call and SMS notification will be sent to your emergency contacts if you don't respond within a minute.
For more information on Samsung Galaxy Active 2 fall detection system, kindly visit Samsung Support at https://www.samsung.com/au/support/mobile-devices/set-up-detect-falls/
There are other valuable and great smartwatches with fall detection functionality. They are Apple Series 4, Series 5 and Series 6 and Samsung Galaxy Watch 3. They all have and offer the same level of protection using the fall detection functionality. The Apple Series 6 has ECG and blood oxygen sensor function.
Where to buy your SmartWatch with Fall Detection functionality?
Visit www.amazon.com to purchase any of the best fall detection smartwatches discussed in this article.