2020 may not be a good year for almost all businesses across all industries because of the global pandemic. Despite that, several tech giants are still on their game and continue to refine their wearable techs to keep up with the ever changing lifestyles of their consumers.
Smartwatches have taken the tech market by storm since it's introduction. And up until now, companies have been neck and neck with each other to see whose model can make our wrists even smarter.
We asked the guys from Auditech what's their take on the new Apple Watch SE, Samsung Galaxy Watch Active 2, and other smart wearables unveiled this year. And while we're at it, we also teamed up with them to form our very own Big 3 of smart watches of the year.
We rounded up all recommendations brought up and cooked up a list for an easy read. So whether you're new to the game and still testing the waters for your first smartwatch, or an early adopter who's always first in line for new products, this ultimate buyer's guide is for you:
1. Apple Watch SE
Key Features
Works with iPhone only
18 hours battery life
LTE/4G options available
Fitness tracking
Suitable for swimming
Heart rate monitoring
Notifications, make/take calls
If you've been an Apple user for a long time, and want to stay loyal to the brand, Apple Watch SE is the best there is. As expected from Apple, this smartwatch comes with high-end specs, sleek design and great features you never knew you needed until you get your hands on it.
Why buy it:
Well, why not? Apple Watch SE is a hit in the making, just waiting for you to jump in the bandwagon.
Who it's perfect for:
Anyone with an iPhone who wants an Apple smartwatch
What to expect:
With its premium design, top-of-the-line specs and great range of features, it's surprisingly cheaper than other high-end Apple smartwatches. It's a steal! However, the battery life of an Apple Watch SE is not the best there is, and it lacks always-on display. But if you're looking for the best Apple smartwatch for its value, you won't go wrong with Apple Watch SE.
2. Samsung Galaxy Watch Active 2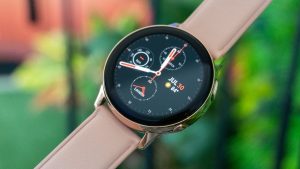 Key Features:
Works well with iOS and Android
24-60 hours battery life
4GB music storage (with offline Spotify playback)
Up to 5 ATM water resistance
GPS
Optional LTE
Heart rate monitoring
If you're into fitness and healthy lifestyle, it will be hard to pass on Samsung Galaxy Watch active 2. It's stylish, lightweight, has great battery life and boasts plenty of health-tracking features to keep you going in your fitness journey.
Why buy it:
You don't have to be a Samsung owner to enjoy the bunch of great features Galaxy Watch Active 2 has to offer.
Who it's perfect for:
Anyone who's active and wants to level up their fitness journey with the help of a well-rounded smartwatch.
What to expect:
Unlike Apple Watch SE, Galaxy Watch Active 2 flaunts a more impressive battery life. Depending on your activity, this wearable can go up to 24-60 hours to accompany you in your exercise or daily errands. It also has a solid fitness tracking and optical heart rate feature. Its built-in GPS and a new run coach will help you get more efficient with your runs and exercise drills.
3. Fitbit Sense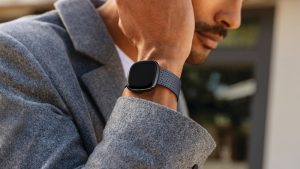 Key Features:
EDA
ECG
Temperature monitoring
Google Assistant and Alexa
GPS
50m water resistance
20+ sport tracking modes
6-day battery life
Fast charging
Now this is the ultimate health smartwatch. Fitbit Sense excels in sleep tracking, ECG and heart rate monitoring that are all crucial in detection of sleep and stress disorders to keep you attuned with your body and health.
Why but it:
Monitoring your health has never been this advanced and easy. It keeps you informed with accurate data like temperature, resting heart rate, breathing, oxygen saturation and heart rate variability.
Who it's perfect for:
If you're health-conscious and wants to get a much better look at your health in a single screen, Fitbit Sense is the wearable you should be wearing right now
What to expect:
The technology behind all the cool features that allow you to have a detailed look at your health, of course, comes with a price. If health is your priority right now, then Fitbit Sense is worth the hefty price tag. As a smartwatch alone, it's already impressive. But as a health-focused wearable, it might be the best there is.
There are other smartwatches out in the market that are worthy of your attention and budget. But for us, we already feel confident with our Top 3. Of course, what's best and what's not will always depend on what kind of activities you always engage in.
If you determine what's your purpose in buying a smartwatch, then weeding out all details, pros and cons, and prices of all smart wearables out there will be easy. Once you've hammered out all the info, then you must be ready to choose what kind of smartwatch to buy.
If you're looking for sweet deals for these nifty pieces of tech, our friends at Auditech can definitely help you out.