Best Bluetooth wireless earbuds are #1 matter of people who are striving to keep fit and maintain a healthy lifestyle as long as possible. These are not just audio electronics people put on to have fun while exercising. It's scientifically proven that working out to the beats stimulates energy and stamina. However, picking the best headset seems not that easy considering there are hundreds of them represented on the market.
In this piece, you'll find out about Treblab Bluetooth earphones and other brands. They are truly worthy of joining the list of the best Bluetooth wireless earbuds due to the number of features in one headset, affordability, and price vs. value ratio. Without further ado, let's get started.
TREBLAB X5: All in one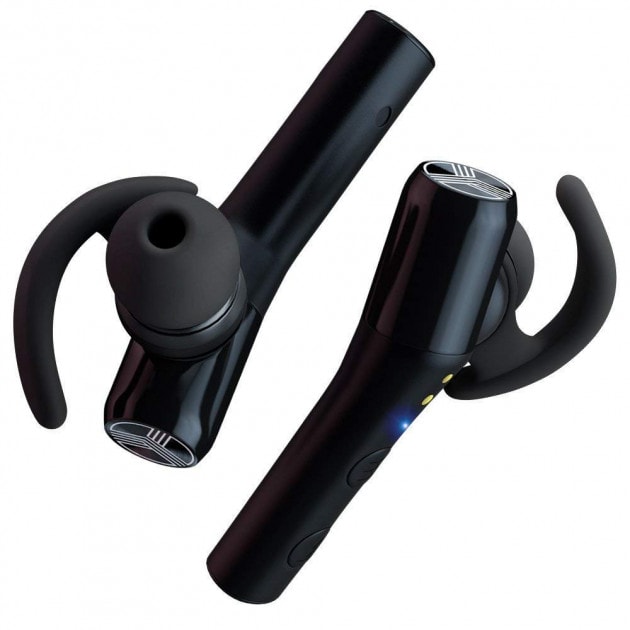 These are top Bluetooth wireless earbuds because they literally feature all the main characteristics truly wireless headsets should have. They are often called AirPods Killers thanks to sound potential, wearing comfort, and battery life capacity. They are capable of competing with the giants on the market: Bose, JBL, Sonny, and so on. Yet, they are way more affordable and work with any budget.
The X5 come in sleek glam top and bottom matter finish so that anyone can make it suitable for their sporty outfit. The audio quality stands out for signature True-HD Sound with powerful bass. The headset assures a great sound reproduction from both iOS and Android thanks to universally compatible AAc and SBC audio codecs. The listening experience is also protected with Advanced Passive Noise Cancellation.
The X5 feature the latest Bluetooth 5.0, which means an instant pairing and unbreakable connectivity. The signal range is 33 feet. The battery life is about 6 hours per charge. The flat-out portable charging case gives 4 additional charges that together with the initial charge makes about 30 hours of nonstop playback. However, the higher the volume level, the more battery power is being drained.
To provide a tight, firm seal, the manufacturer included three sets of silicone and foam ear-tips. Besides, the IPX4 water-resistance rating adds to the overall durability of the headset.
Pros:
True-HD Sound with powerful bass
Gorgeous design
IPX4 waterproof
Advanced noise cancellation
Cons:
In-ear design is not suitable for all
2-hour charging time
Cambridge Audio Melomania 1: No wires and great audio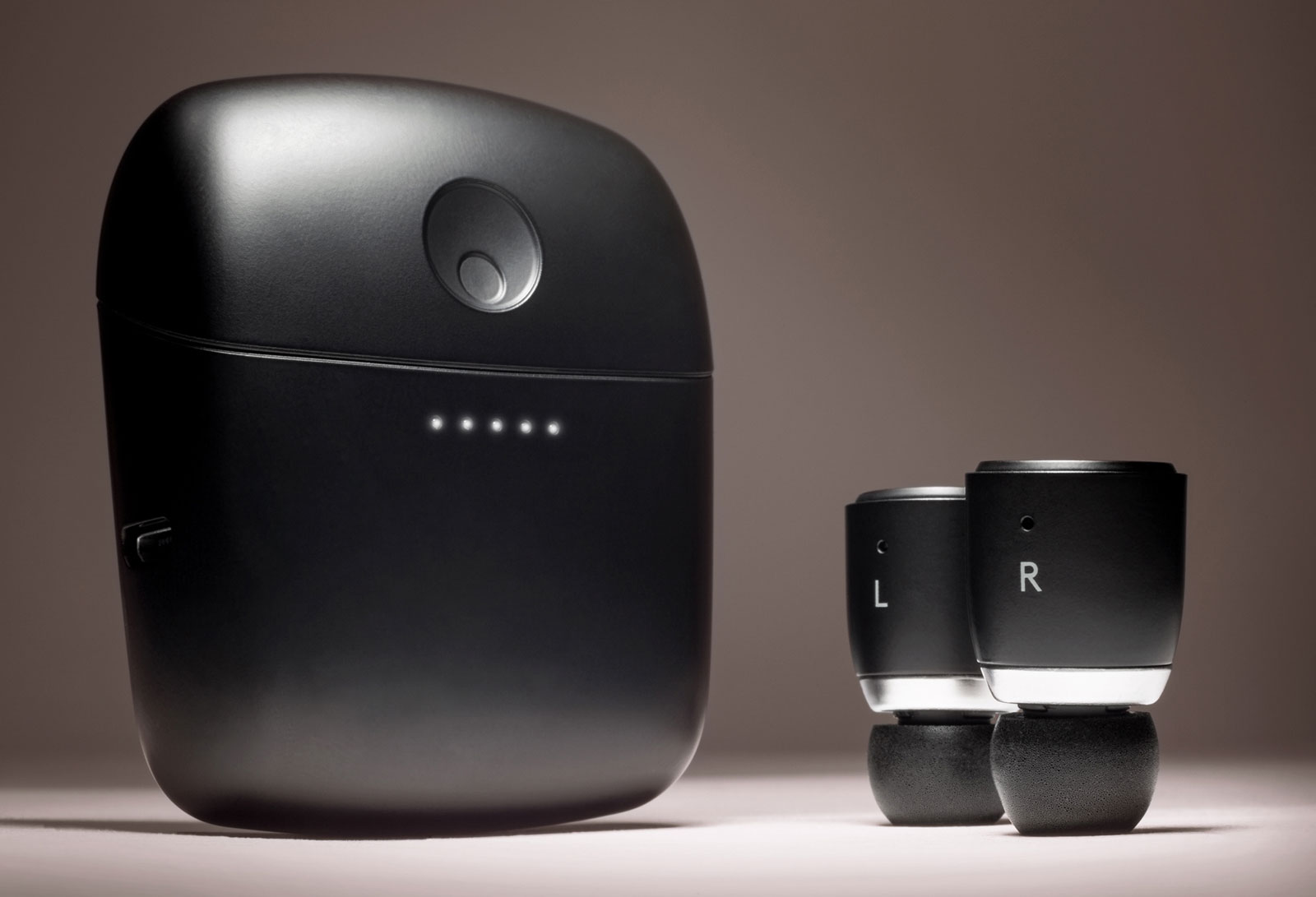 Any reviewer ever examined the Cambridge Audio would agree that these best wireless Bluetooth earphones have a competitive edge – amazing stereo quality. Moreover, they are even compared with some over-ear headphones by the way they sound.
The manufacturer claims the buds are made from graphene, the material that boosts the audio reproduction and adds to clarity and spades presence. The bass frequencies are also very detailed.
As for the design, they have a sleek look and come with a tiny charging case that fits any pocket. The exterior of each bud has a LED band that shows the level of charging and pairing status. The charging case features a row of five LEDs on the cover.
They also come with rubber and memory ear-tips so that anyone can find their perfect fit. The Cambridge Audio has IPX5 waterproof rating with means they withstand light jest of water.
The headset supports Bluetooth 5.0 providing an unbreakable connection and plays well thanks to AAC and aptX codecs. The battery life is up to 9 hours on a single charge and 36 hours from the charging case. Considering it is super portable, there are 45 hours of playtime available on the move.
Pros:
Excellent sound quality
Sleek design
Long battery life
IPX5 water resistance
Cons:
No noise cancellation
Controls buttons might be bothersome to use
EarFun Free: Impressive combo of low price and great audio quality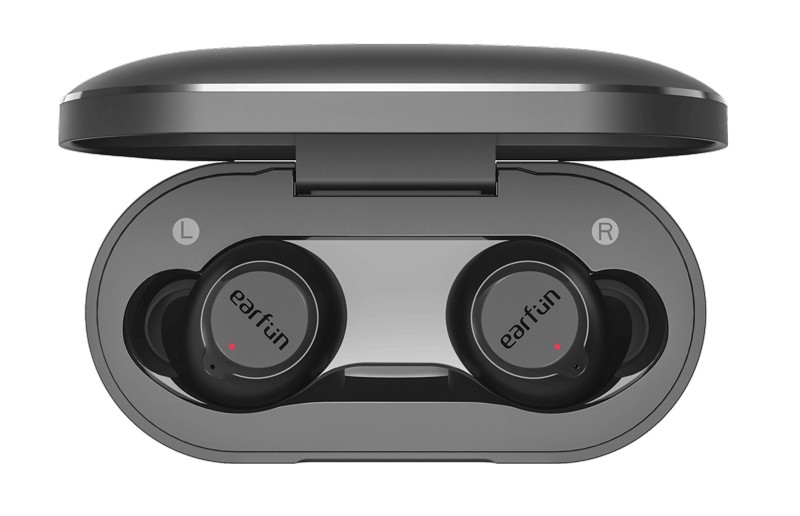 Amongst the top wireless Bluetooth earbuds, the EarFun can run the list mostly due to the affordability – $49.99. They have black and white versions, and the overall design is minimalist. To provide a snug fit, they come with three sets of silicone ear-tips for S, M, and L sizes.
The headset is capable of tolerating heavy splashes of water and rain thanks to the IPX7 water-resistance rating. They can be dropped into the water and stay there for 30 minutes without getting any damage.
The battery life is 6 hours on one charge and extra 24 hours from the battery case. Their huge asset is modern Type-C charging and wireless one on a Qi pad. They use Bluetooth 5.0 for a seamless connection and AAC and SBC audio codecs, which is good enough for audio transmitting from iOS and Android.
As for the sound, the bass is powerful and detailed, herewith even at highs. The latter are balanced and clear as well. The vocals are bright and crisp, which, in general, makes them the best sounding earphones for such a low price tag.
The only thing one might complain about is control buttons. They allow controlling the playback, Bluetooth pairing, incoming calls, and voice assistants activation. However, there's no volume control.
Pros:
Price vs. value ratio
IPX7 rating
Long battery life
Powerful bass and articulated highs
Wireless pairing on a Qi pad
Cons:
Volume control
No noise isolation
Best wireless Bluetooth earbuds for iPhone: Apple AirPods Pro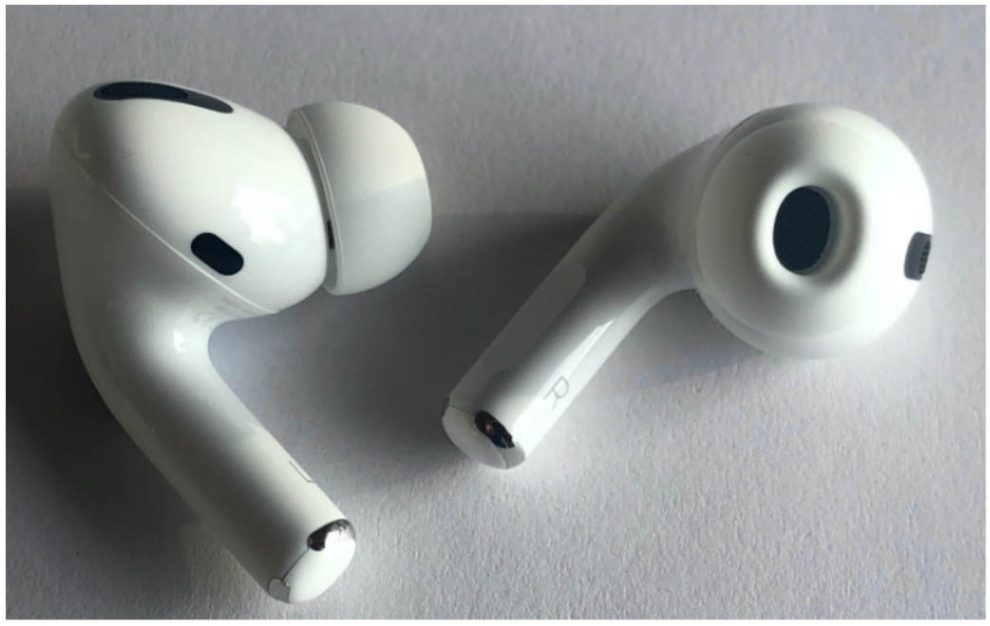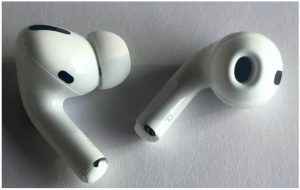 When the first generation came out, many users were complaining about their long stem. Good news for them: these ones come with way shorter stems for a more comfortable in-ear fit. This time, they come with three sets of silicone ear-tips. The case is compact and portable and allows wireless Qi charging or via Lightning.
The sound is neutral with good bass, balanced vocals and instruments, and amazing treble. To sum up, the listening experience is fine with this brand new gen of AirPods. Unlike previous ones, these AirPods feature Active Noise Cancellation that blocks out significantly ambient noise.
Apple attributed an IPX4 rating to them – enough for sweaty workouts. The headset has a 5.5-hour battery life – an hour more than the previous one. However, with 20-minute charging, one can get 70% of charge. As for the connectivity, they stay with the H1 chip for impeccable pairing with iOS devices. The latter allow light customization with the Pro, which is not possible at all with Android phones.
Unfortunately, the Pro cannot be dubbed the best Bluetooth wireless earbuds with microphone. They do have a mic but it's not that good, especially when users need to separate clearly street noise and vocals inside.
Pros:
More comfortable seal inside
Brilliant ANC performance
Advanced design
Great sound
Cons:
Light customization
Bad microphone operation
Best wireless Bluetooth earbuds for Android: Samsung Galaxy Buds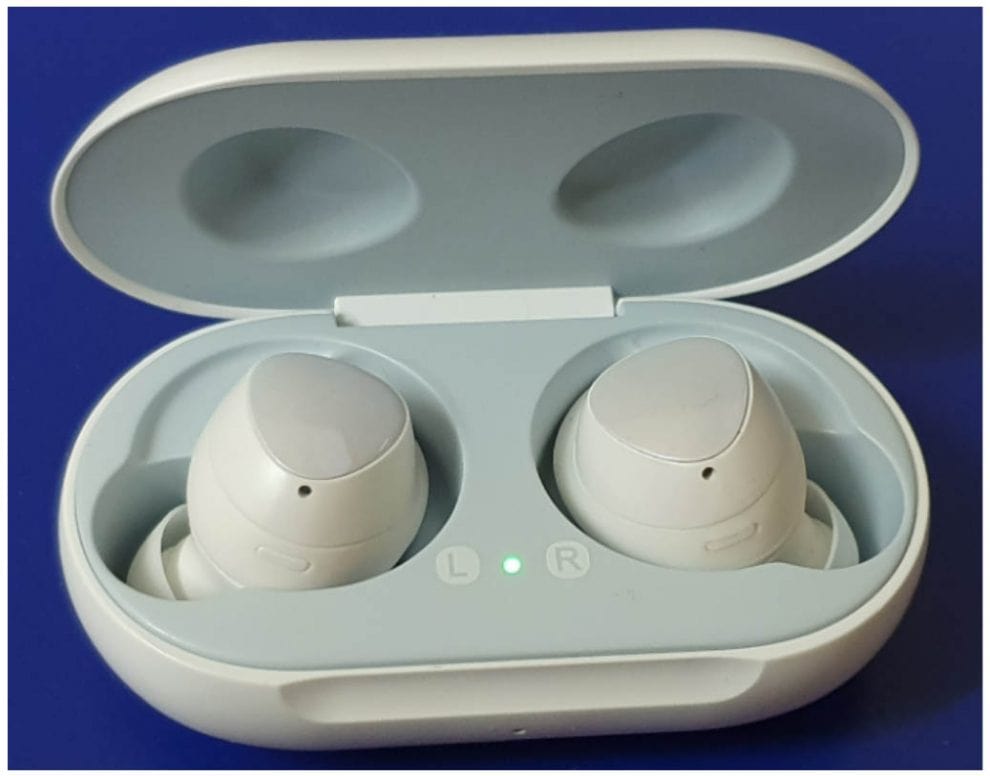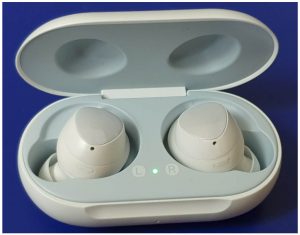 They are well-built, lightweight, and easy-to-use thanks to touch-sensitive controls. The charging case can be charged wirelessly as well. The Samsung Galaxy also come with three sets of ear-tips and include fin sleeves. So, anyone with any ear canal will find their ideal fit.
As for the sound, everything is articulated here: driving bass, equitable mid-range, and even and pleasant treble. But, for some the mid-range might seem too extra, and the treble – hushing and pointed. They don't have purposeful noise cancelling technology but the brand claims the tips themselves can isolate well ambient noise.
The earphones last for 7 hours on a single charge. The case can only provide one charge. So, in general, one can use the Samsung Buds for 14 hours. The headset allows the customization thanks to the Samsung Wear app.
The Buds can stream music wired and wirelessly. The connection is pretty good due to the latest Bluetooth 5.0. The microphone quality is not remarkable. Vocals might be muffled in both quiet spaces and noise ones.
Pros:
Excellent sound
Trendy look and comfy fit
Long battery life
Customization via the Samsung Wear app
Cons:
No water-resistance rating
No noise isolation
Plantronics BackBeat Go 410: great ratio of price vs noise cancelling capabilities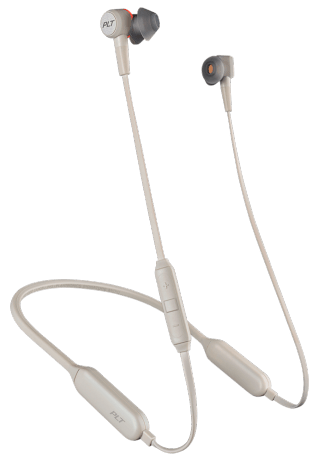 The brand claims the headset is waterproof, but it has no official IPX rating. The design features a neckband that houses battery and Bluetooth components. It works via Class 1 Bluetooth 5.0 providing a 98-foot signal range. So, the connectivity is enough solid.
The sound reproduction is satisfying with SBC audio codec which works equally well for both iOS and Android. The Plantronics deliver focused bass and intense vocals. The highs need more clarity. In general, the sound is pleasant. Moreover, it is protected with Active Noise Cancellation.
As for the battery life, it lasts for 8 hours with ANC and 10 hours without noise cancelling. If not in use for 90 minutes, the headset enters DeepSleep mode to save energy.
The microphone quality is excellent. It reduces ambient noise and boosts the speaker's voice. However, it is placed on a neckband and sensitive to its movements. Thus, one from the other side can hear buzz during a phone call.
Pros:
ANC
Available wired sound reproduction
Decent sound
Cons:
Mic position
Micro-USB charging
Klipsch T5 True Wireless: best wireless Bluetooth earbuds for music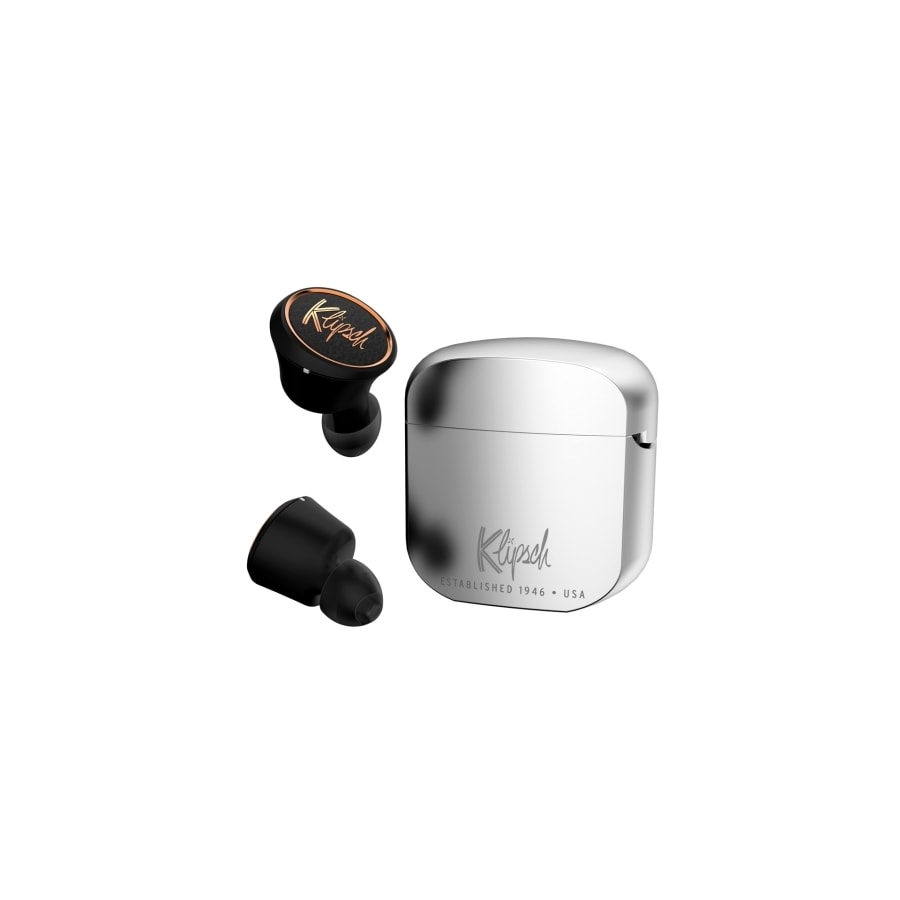 The are really representatives of the best sounding earphones on the market. The design is simplistic: large chassis, long tube, and one button on each earbud for intuitive controls. They enter deeply the ear canal, which is ideal for passive noise isolation. They come with the ear-tips of three sizes so that anyone can find their perfect fit.
The headset stands out for the sound quality – bright, balanced, and detailed, with shining mids and articulated highs. The instruments also sound detailed and crisp clear. The brands promises seamless pairing and connection on the move.
The battery lasts for 8 hours on a single charge and gets extra 24 hours from the charging case. However, the total time always depends on the volume level. The Klipsch feature the IPX4 waterproof rating, which tolerates moderate sweating.
If the style matters to you, then these pair of in ear Bluetooth headphones wireless is an obvious choice because of its super modern charging case. It has a metallic enclosure and looks like a lighter. The case is lightweight, compact, and super portable.
Pros:
Solid build
Excellent sound
Long battery life
Cons:
Deep seal might be uncomfortable
No support of aptx HD or LDAC
Conclusion
What are the best wireless bluetooth earbuds? These are the wireless earphones that enhance your lifestyle, empowers you to do one more push, and herewith provides the best possible comfort in every move.
For you to have an overall overview of top wireless Bluetooth earphones, here's a comparison table.