When your iOS device encounters system issues or becomes unresponsive, finding a reliable iOS system recovery tool is essential. These tools can help you troubleshoot and repair various iOS problems, restoring your device to normal functionality.
This guide will explore the factors to consider when choosing an iOS system recovery tool and recommend the best options for beginners and experienced users.
What To Consider When Choosing an iOS System Recovery Tool
There are a lot of free and paid iPhone data recovery tools on the internet. However, they are very different in how easy they are to use and how well they restore data.
Here are some things to think about when looking for an iPhone data recovery tool:
Reliability: Not all software is safe and reliable. There are many malicious and badly optimized apps that do more harm than good, so you should avoid them, or you might make a bad situation even worse.
Compatibility: The iOS recovery software you choose must work with your running system and support your iPhone. Since a new version of iOS comes out about once a year, it's best to choose iOS to restore software that is still being worked on and updated often.
Ease of use: Recovering lost data doesn't have to be hard, as long as you choose the right software. There are a lot of software options that let you get your info back from an iPhone with just a few clicks and no special knowledge.
Performance: The iPhone can open, edit, and make a huge number of different file formats, and the best iPhone data recovery apps can mend everything from pictures to audio and video files to documents and files.
Price: Just because there are lots of free iPhone recovery software options doesn't mean you should stay away from paid software.
If you care about your data, it usually makes sense to buy the complete version of one of the top iPhone data recovery tools on the market and get your data back on the first try.
What's the Best iOS System Repair Tool for Beginners
One iOS system repair tool we recommend for beginners is AnyFix – iOS System Recovery. Here are the reasons why:
Simple and Intuitive Interface: AnyFix – iOS System Recovery offers a user-friendly interface, making it easy for beginners to navigate the repair process effortlessly.
Detailed Repair Solutions: The tool provides many repair options to fix various iOS issues, including iPhone stuck on the Apple logo, a black screen, a frozen device, and more. It covers a comprehensive set of problems users may encounter with their iOS devices.
No Data Loss: AnyFix – iOS System Recovery focuses on repairing the iOS system without causing data loss. Your files, photos, and other data will remain safe and untouched during the repair process.
Compatibility and Versatility: The tool is compatible with all iOS devices, including iPhones, iPads, and iPod Touch, and supports the latest iOS versions. It ensures that you can use it regardless of your specific device and iOS version.
Steps To Use Anyfix – iOS System Recovery
Here are the steps to use AnyFix – iOS System Recovery:
Step 1. Download & Install AnyFix on Your Computer.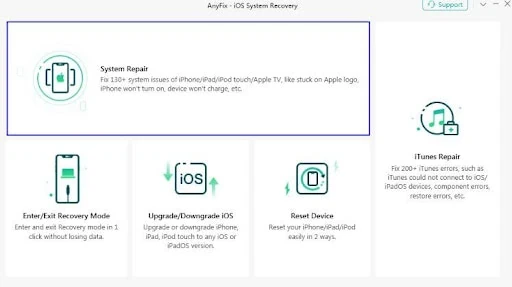 Step 2. Choose the "System Repair" Mode.
Step 3. Choose Standard Repair Mode and Download Firmware Package.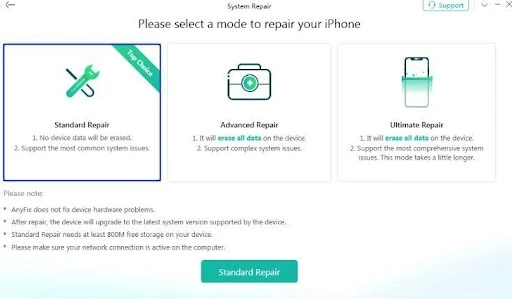 Step 4. When the firmware package has been downloaded successfully, please click Fix Now button.
What's the Most Powerful iOS System Recovery Tool for Old Hand
If you are an experienced user looking for a powerful iOS system recovery tool, we recommend Dr.Fone – System Repair. It is a powerful and versatile tool that can fix a wide variety of iOS issues.
There are many reasons to recommend Dr.Fone, but here are a few of the most important ones:
Powerful: Dr.Fone can fix various iOS issues, including iPhone stuck on the Apple logo, black screen, white screen, recovery mode, DFU mode, iCloud activation lock, iOS update failure, iOS downgrade failure, and more.
Versatile: It can be used to fix both minor and major iOS issues. It can also be used to downgrade or upgrade your iOS version and to erase all data on your iPhone or iPad.
Safe: This software is safe to use and will not damage your iPhone or iPad. Thousands of users have tested it, and it has a high success rate of fixing iOS issues.
Easy to use: Dr.Fone is easy to use, even for people who need to be tech-savvy. The interface is clear and concise, and the instructions are easy to follow.
Affordable: It is very affordable, especially considering its effectiveness. A free trial version is available, so you can try it before you buy it.
Dr.Fone is not the only solution to fix iOS system issues. Still, it is the easiest iOS system recovery solution with the highest success rate.
Steps for Using iOS System Repair
Here are the steps to use Dr.Fone – iOS System Recovery:
Step 1: Launch Dr.Fone and connect your iPhone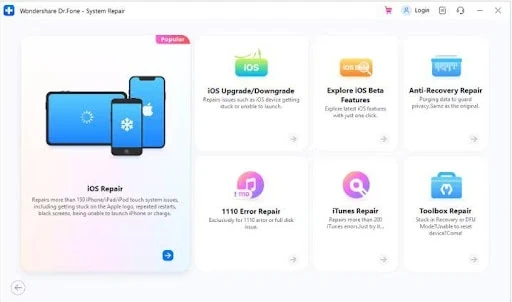 Step 2: Start to download the proper iPhone firmware.
Step 3: Choose the correct iPhone model and start downloading firmware.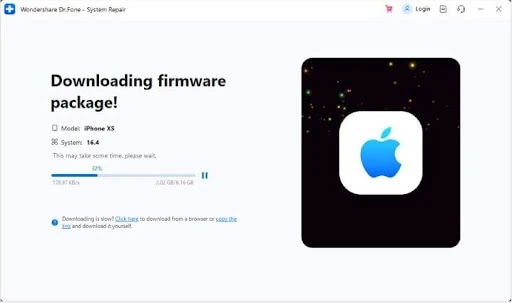 Step 4: Click Fix Now to start fixing iPhone to normal.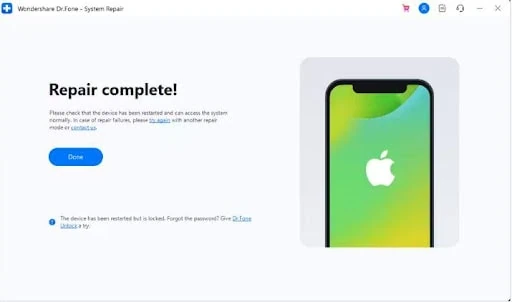 Conclusion
In conclusion, when it comes to iOS system recovery, choosing the right tool is crucial for a smooth and efficient process.
Throughout this guide, we have explored the key factors to consider when selecting an iOS system recovery tool and recommended options for beginners and experienced users. Dr.Fone is the top choice, catering to beginners and experienced users.
Its user-friendly interface, comprehensive features, and powerful capabilities make it an excellent tool for resolving iOS system issues.