Although as a reading format is unrivaled, editing PDF documents can give more of a headache. Since not everyone can afford to pay an Adobe Acrobat license, today we are going to review some of the best 10 alternatives to edit PDFs.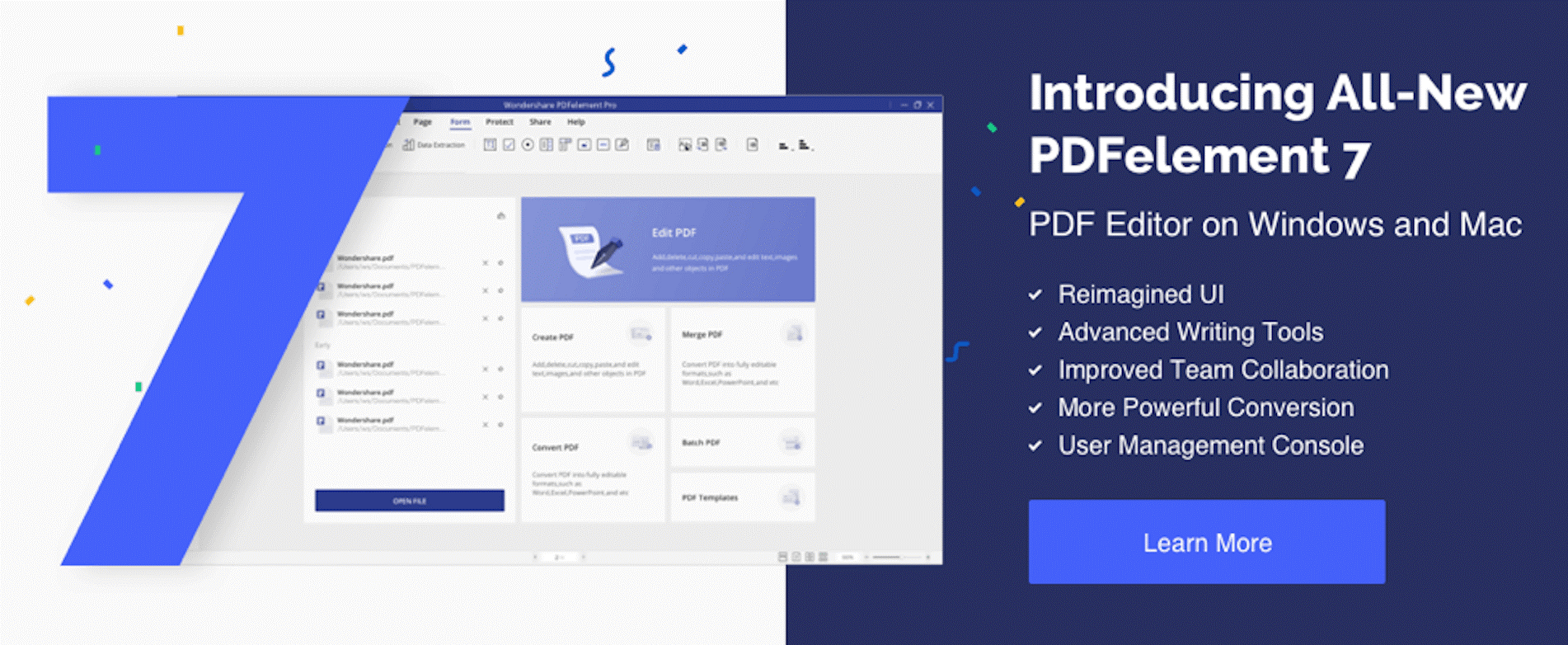 PDFelement is the best alternative for Adobe Acrobat! Now, let's see the below reasons:
First, all the edit feature you can covered using PDFelement standard.
You can easily add, delete or modify any element of an existing PDF document as if you were using a conventional text editor.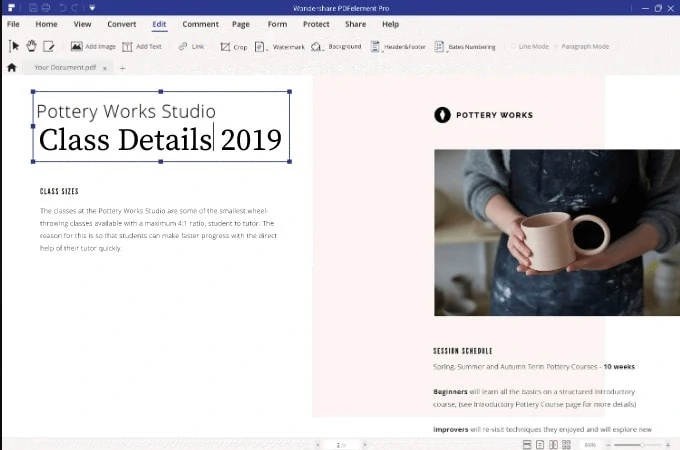 You can even change fonts and their attributes, add or move images, modify the background of the page and create or modify web links, among other things.

You can do all this easily through a simple and intuitive text editing interface that is very reminiscent of Microsoft Word. The editor includes advanced controls for creating or editing forms, as well as for signing digital documents.
It is also possible to convert a PDF document to Word, Excel or Powerpoint, as well as to the EPUB digital book format, an HTML web page, a text-only document or an image.
Other features you won't miss out like: protect your file, sign and annotate. If you think standard version still can't meet your edit needs, the Pro version has some advantages over the Standard version.
The first one I have to  mention that the great support for OCR (Optical Character Recognition). It support provided includes the ability to delete, edit, copy and paste, the ability to deal with no less than 25 languages to insert new text and images into a scanned PDF (in the form of images). With this great support you can reproduce PDF documents with all the changes you want; document layout, form elements, numbering and so on.
How does it work?

When you scan a text document (for example, an invoice or a book page), it becomes a bitmap (also known as a text box). In an optical character recognition system, the light and dark aspects of this bitmap are compared to determine alphanumeric characters. As the OCR recognizes each character, it converts them into ASCII text (plain text that can be edited in a word processor). You can then, for example, edit, search or copy the text quickly and easily as you would with a document in the Windows notebook.
Actually, Pro version can execute more functions over our expectations, such as extract data, batch process, reduce file size, redact and more. Check more features here>>
Here PDFelement provide trial version for Standard and Pro versions. You can download the PDFelement installer from its own web page for macOS and Windows. The trial version allows you to test almost all of its functionalities but adds a watermark to the result. If you like what it offers, you can convert the trial version to the full version later. The main feature of this tool is that it allows you to create and edit PDF documents easily.
Alternatively, you only need to pay $ 99 for the Pro version thanks to the large discount that is being offered at this moment. PDFelement offers a variety of features that are not inferior when compared to what is offered by Adobe. This is much cheaper than Adobe. With relatively balanced features (and in some aspects superior) and lower prices, this is the best alternative to Adobe Acrobat.
Confused? Don't worry because the customer service is ready to help you with extremely responsive to customers with 24H, plus they offer users guide, FAQ, YouTube Tutorial online..
2. ApowerPDF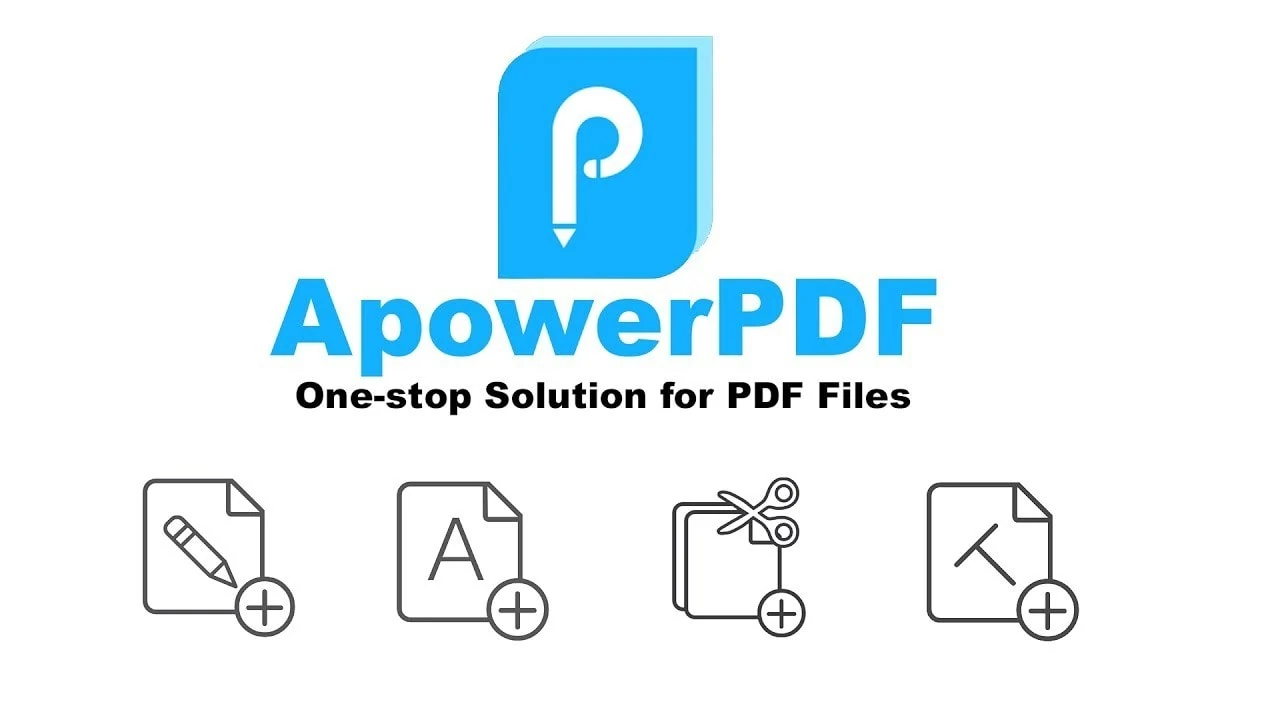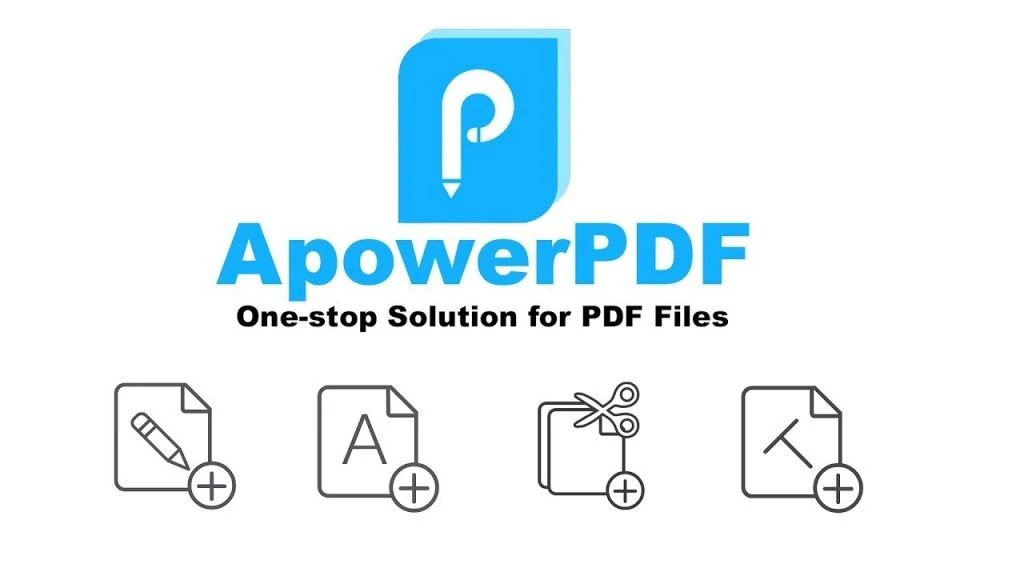 You can download the ApowerPDF editor on your computer or use the online version. The desktop version has some limitations, such as watermarks in the PDFs you edit, so we recommend that you use the online version. With this program you can, simply and intuitively, modify and add texts and graphics, insert images, protect documents with a password, convert the PDF into an image or add comments. It allows you to change the font color and size to add headers and footers or insert a rectangular link to open a page or file. One of its most useful features is the management of pages, with possibilities such as dividing files by pages, rearranging, deleting, inserting and rotating pages.
3. JotForm PDF Editor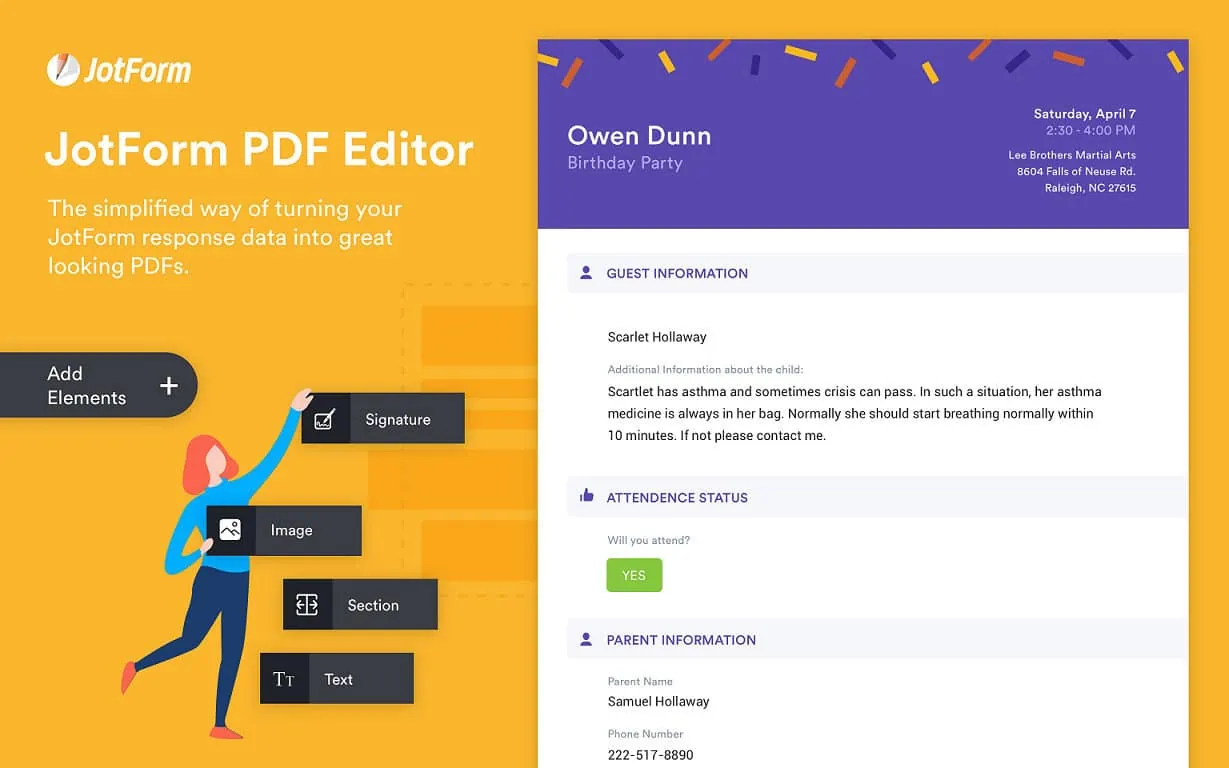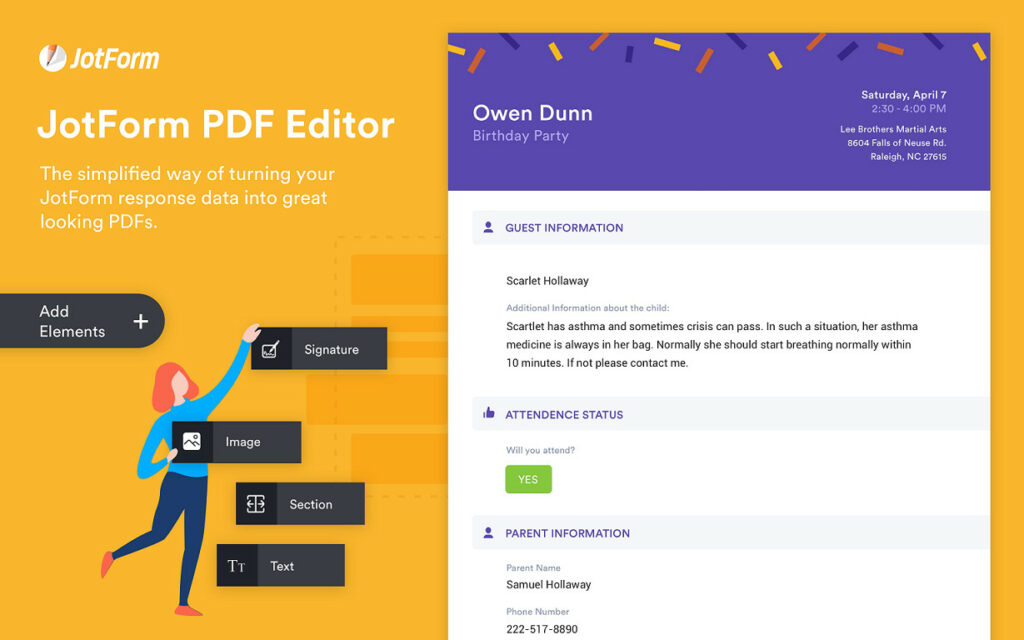 JotForm PDF Editor 
is a total productivity tool that allows users to automate the PDF creation process with well-designed and great-looking ready-to-use templates, it also allows users to create and edit PDF documents from scratch. With many different integrations such as Google Drive, Zoom, Slack, and many more, you can seamlessly adapt JotForm PDF Editor to your workflow.
4. PDF escape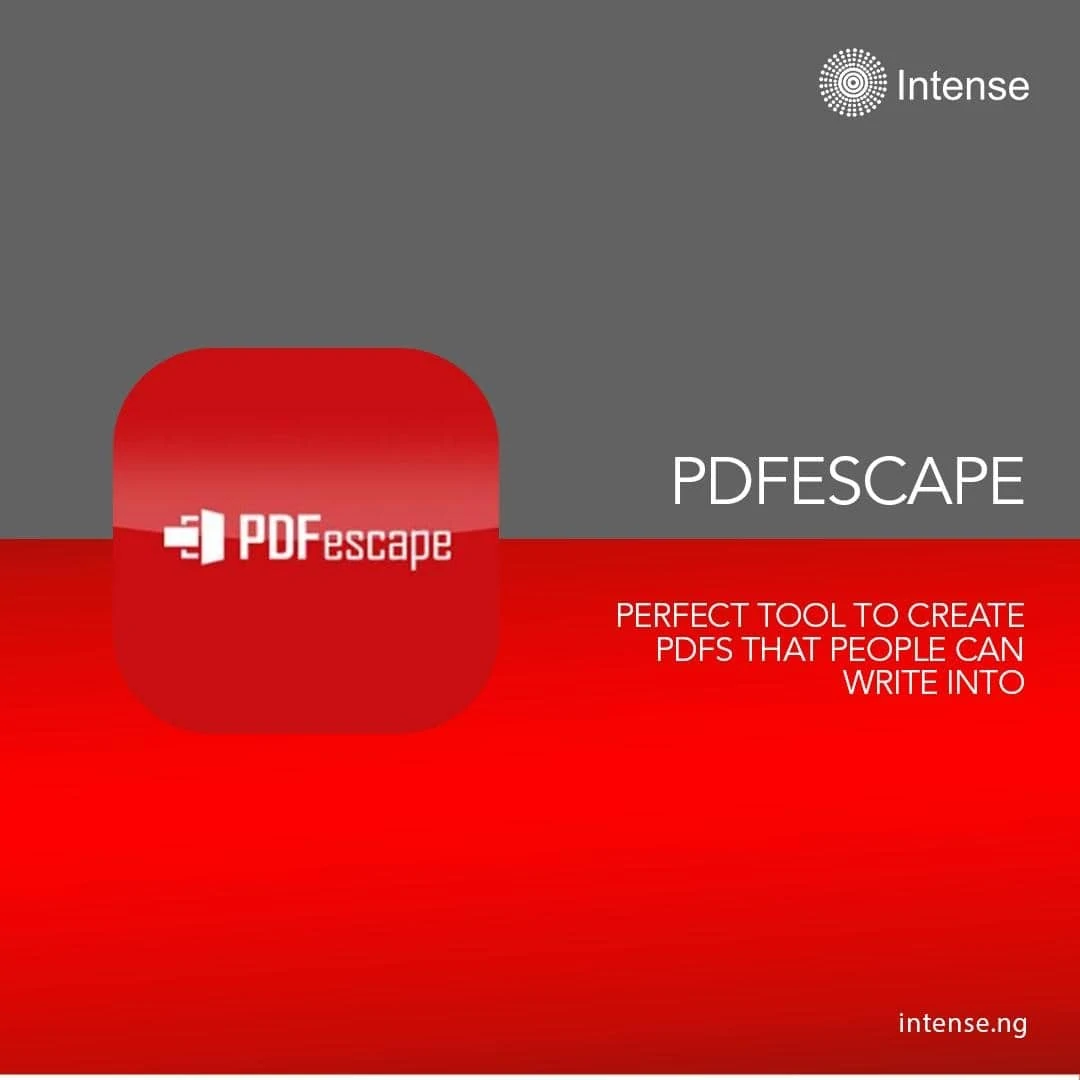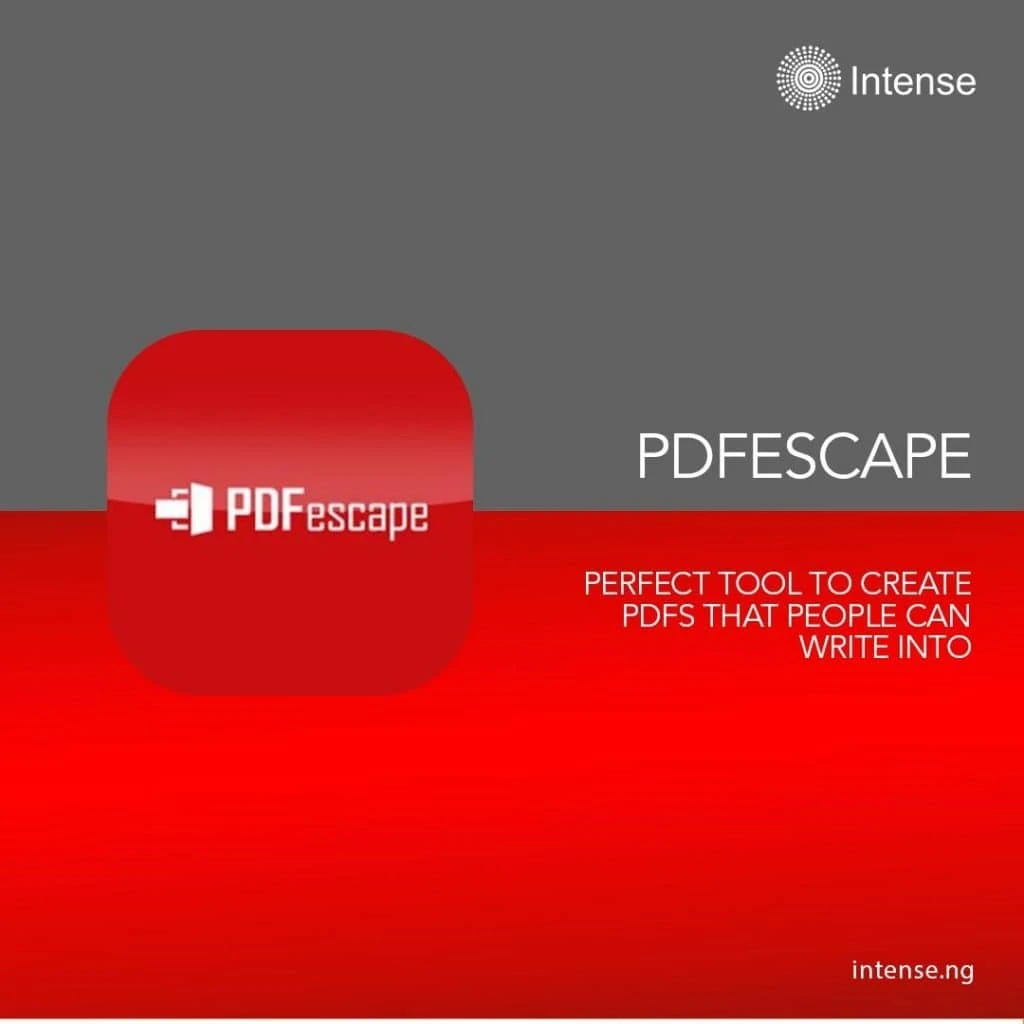 The PDFescape editor also has free online version and desktop version for Windows. In the online version, quite complete, it allows you to edit PDFs, annotate, password protect documents, fill out forms and even create basic PDF forms. If you use the desktop version, you will also have access to numerous advanced features such as editing images, printing in PDF, converting to other formats, combining documents or inserting watermarks.
5. PDFsam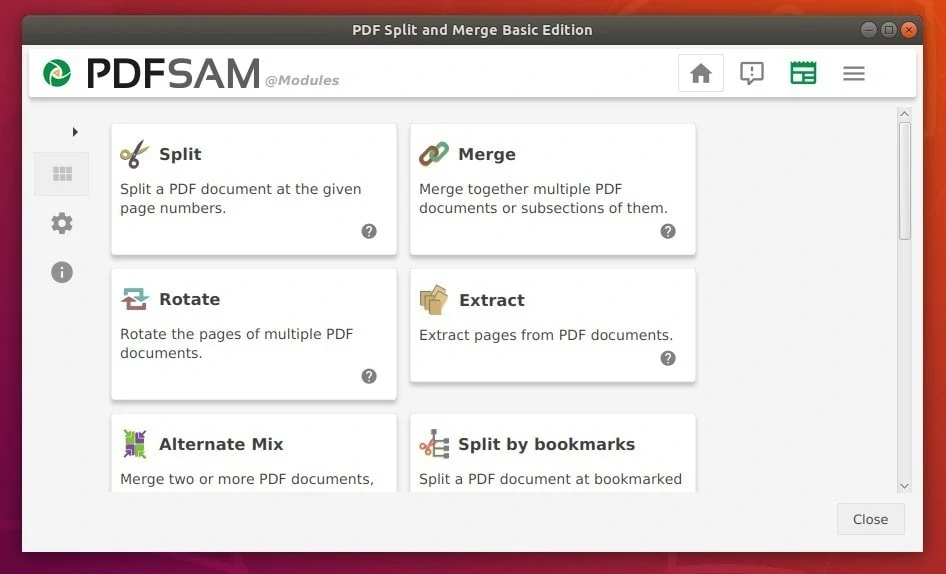 If your goal is to move between PDF pages to form more complex documents, PDFsam is all you need. It is an extraction tool that you can use to extract and change any PDF page within a file, or between several PDF files, to create the document you need. You can divide PDF files through custom bookmarks, page size or limit, and rotate pages as needed.
6. ZonePDF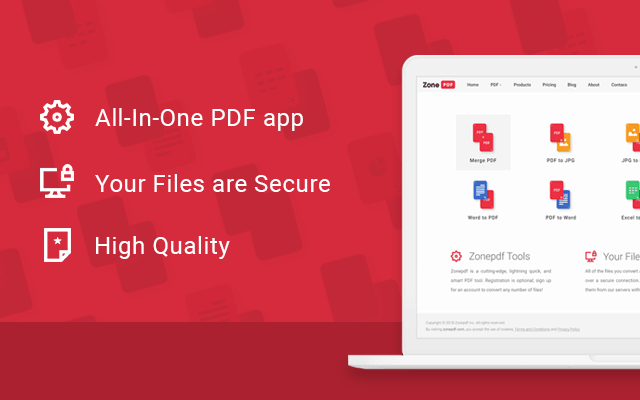 This is a free page that offers eight different tasks related to the PDF format. Specifically, you can join several PDFs, divide one into several, compress a PDF of excessive size, convert a PDF to JPG or vice versa and convert a Word, EXcel or PowerPoint document to PDF format. If you are concerned about security, you have to know that ZonePDF offers a secure connection (HTTPS). In addition, uploaded documents are deleted within a few hours.
7. iLovePDF
If you have to work with PDF but do not want to acquire a professional editor, usually expensive and complicated, in iLovePDF you will find most of the functions you need. Like ZonePDF, it does not require registration. But if you do, the files will be kept online, if you want, to share them with your contacts online. What will you find in iLovePDF? Join PDF, split PDF, compress, convert from Excel, PowerPoint and Word to PDF and vice versa, convert from JPG to PDF and vice versa, include a watermark, turn pages, number them and even remove the password of a protected PDF.
8. SmallPDF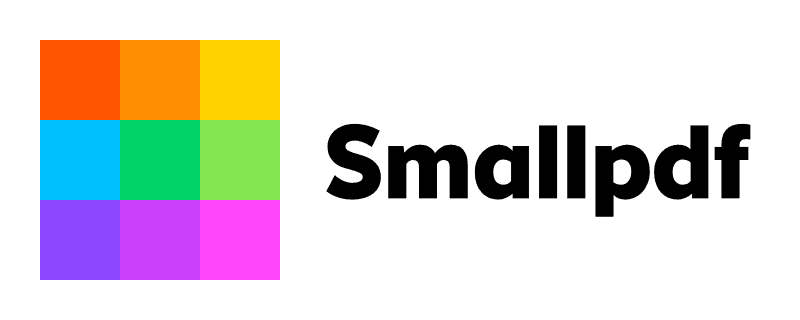 Originally this page was used to compress large PDF files, but today it is much more. SmallPDF converts Word documents, Excel and JPG images to PDF and vice versa, allows you to join PDF and divide PDF into several files, etc. The most outstanding functions are the possibility of protecting a PDF with a password, or quite the opposite, including an electronic signature or editing the PDF from the browser.
9. PDFCandy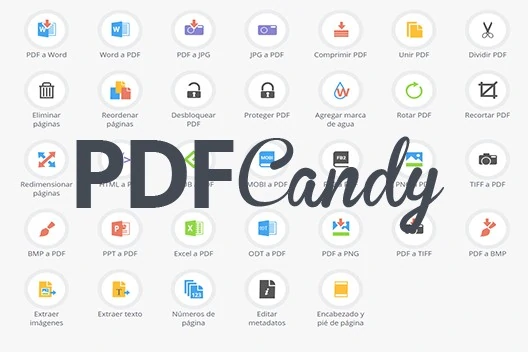 Maybe you prefer PDFCandy, full of advanced features. On the one hand, you can convert to PDF documents and files Word, JPG, EPUB, MOBI, FB3, Excel, ODT, TIFF, PPT, BMP or PNG. But, in addition, PDFCandy allows you to include a watermark in the PDF, compress large PDF, join or divide PDF, delete specific pages and protect a PDF with password.
10. Sejda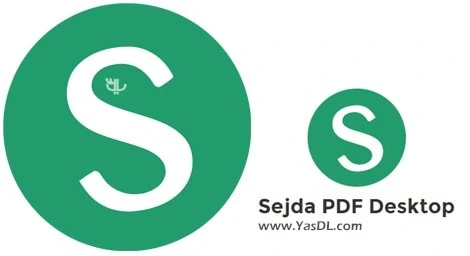 Finally, another Swiss army knife to work with PDF online. Sejda Its list of functions is impressive. As in the previous cases, you just have to choose the function you need, upload the file or document and little else. Sejda allows you to divide a PDF by size, text, extract specific pages, join PDF, convert Excel and Word documents into PDF, add watermarks, edit the PDF directly with your own online editor, etc. You can work with Sejda totally free. The only limit is 200 pages or 50MB per file, more than enough for what is usual.