There can be many ways you can travel to Russia in 2021 i.e., train, airplanes, roads, and ships. One of the adventurous and mesmerizing ways of commute can be via Siberian Railways.
The trans-Siberian Railway is the longest railway line in the world, which stretches from Moscow, Russia, and goes all the way to Vladivostok, near the border of China.
Trans Siberian Railways:
As we all know, Russia is the biggest country in the world. Hence there must be some practical means of travel so passengers can quickly move around the country.
The trans-Siberian Railway is 5772 miles long and runs through 7 different time zones. This longest train in the world is not only used by tourists but also by business people, students, and soldiers for going back and forth to their destination.
Where does it connect?
One of the most significant benefits of using the trans-Siberian railway is it connects Russia from both east and west. From the west, you can take the European rail network and can go to London, Paris or anywhere in Europe.
From the east, it connects Chinese railways so you can quickly go to Japan, China, Korea, and Southeast Asia. Amazingly, you can travel to three different continents by using this railway.
Planning your journey
Let us help you plan your vacation to Russia, where you can witness the beauty of this beautiful country by Trans Siberian Railway. Here are all the answers to the question and tips you must have in mind before using the Trans Siberian Railways:
Best months to travel:
This railway network is not only a comfortable and affordable means of travel but also one of the safest in Russia. Solo tourists and ladies widely use it. Operated throughout the year, but the month between May to September is mostly famous due to pleasant weather conditions. In winter fewer people use the railway service, so tickets are cheaper and easier to get.
Planning your Route:
Here are three popular routes offered by Trans Siberian railways. Every other day, the train leaves from Moscow to Vladivostok. Another train leaves every Tuesday from Moscow to Beijing via Magnolia. The third route is from Moscow to Beijing via Manchurian. All three course takes about 6-7 days to reach its destination.
Where to take a stopover:
You have to decide before starting your journey where you want to stop off. Since you can't get off and hop on anywhere you want, you should plan your trip and schedule wisely to take full advantage of this railway service.
It allows you to see Russia's small towns, villages, and cities so you can explore the real heritage and culture of the country. The accessible stop overused by tourists is Yekaterinburg, Kazan, Krasnoyarsk, Irkutsk, and Ulan Ude.
How to book the tickets:
If you have a fixed itinerary and limited time, it's always better to book the tickets beforehand.  Tickets are issued 45 days ahead of traveling time. Tickets can easily be purchase from travel agencies situated all over Russia. You can also find the cheapest rates online by searching for different sites and can choose the one, which offers the best prices. For more flexible passenger tickets are also sold at railway stations, but there can always be the possibility of selling out.
Which class to take:
Trans-Siberian railway – thetranssiberianexpress.com offers three different kinds of categories, and you can opt for the ones that best suit your budget and comfort. Spain or the first class has two berths on the lower level. The second class, also known as Kupe, has four compartments berth. Two situated at a lower level and two at upper levels. Both first and second class have doors with locks to ensure privacy.
The third class compartment is open and consists of 6 berth compartments without any door.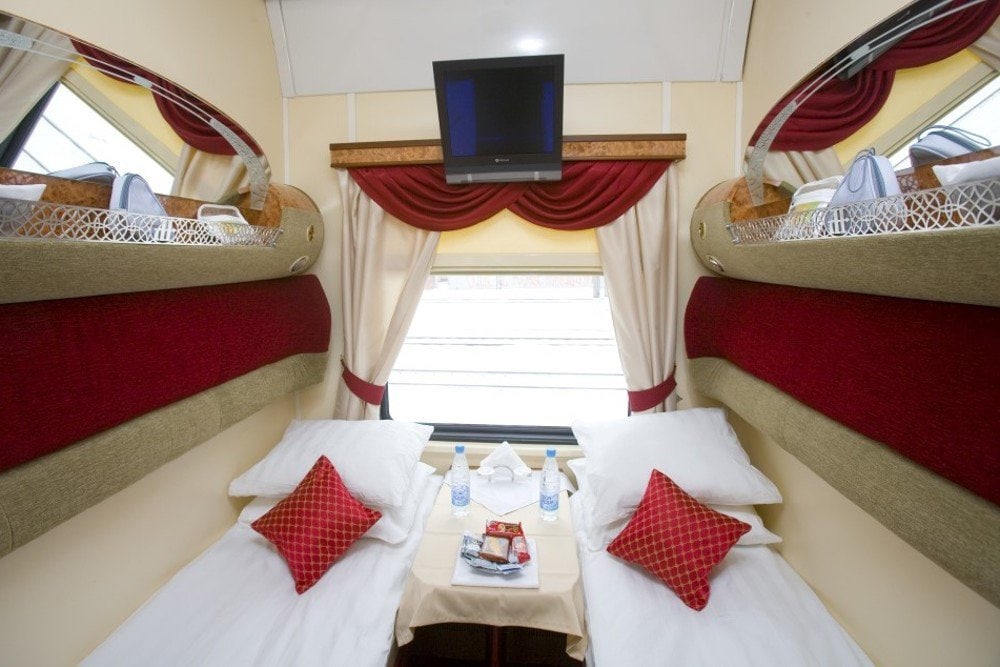 How much do the tickets cost?
The cost of tickets is influenced and depends on the number of factors. If you want to travel in the first class, the price of a card will be higher and vice versa. Summers are considered peak season for tourism, so tickets are usually more top during that time of the year. Sometimes you find a suitable offer or discount online, which lowers the cost of tickets. If you opt to stop off on the way, tickets will be higher as compared to a direct journey.
Toilets:
Each carriage has a shower and washroom with sinks. The toilets are a lock sometimes during the journey, but the schedule provided when it will be close to avoid any inconvenience. The bathrooms are clean and washed at regular intervals by the carriage attendants.
Food:
The trains have a restaurant car from which you can purchase the food, but it is mostly overpriced. You can also buy food fro the vendors or kiosk when the train stops at the stations.
Water:
Unlimited boiling water is available in the train so you can enjoy steaming cup of tea or coffee while enjoying the beautiful scenery and views from your window. Don't forget to take coffee sachet, tea bags, and milk with you.
Power sockets:
All the trains have power sockets so you can quickly charge your electronic gadgets. Passengers also have shaver sockets situated in the washroom and corridor. Remember to take the adaptor as waltz may vary from country to country.
Punctuality of trains:
The trains running within Russia are almost always punctual. However, there may be a little delay when crossing frontiers as checking of visas and other necessary documents may take a little while.
When does train stop:
After every few hours, trains stop for 5 to 20 minutes at the stations that come along. You can quickly grab some food, newspaper, take clicks, or stretch your legs by getting out of the train for a few minutes. The schedule when the train will stop and all the other necessary information will be in the handbook given to you.
Traveling on the trans-Siberian railway is an experience of a lifetime that should not miss if you travel to Russia.  However, it requires much planning in advance, so be sure to go through all the routes and travel tips before boarding this train. The most scenic months for taking this form of travel would be May- September, so we encourage you to book your tickets in these months to optimize your unforgettable experience!